If you are looking for the Honor 9N display replacement, you are in the best place on the web.  The display you see here is 100% original screen replacement for Honor 9n, which you can utilize to replace a broken display or touch screen glass. This combo also comes with the outer frame, so you just need to swap the motherboard into the new combo, and that's all.
What is the meaning of Honor 9n Display Combo?
The product you see on this page is a complete display unit of Honor 9n along with the outer frame. The simple meaning of Honor 9n Combo is a whole unit consisting of the display and touch screen glass into a single unit. So if you buy a combo, it means that you are buying display and touch screen glass both. Honor 9n Folder or Honor 9n Combo is the same thing, so don't confuse yourself.
The Honor 9n combo is a readymade full display unit that allows you to replace a broken display (or touch screen glass) very quickly. It is just like replacing a defective part with a new one. You just need to take off the broken piece from your phone and fix a new one in place of it. The replacement of the screen is straightforward with a combo, and this is how the service center repairs the phones.
What is the use of an outer frame in the combo?
The outer frame is the middle portion of the phone, which holds the display firmly in place. Some people also call it an outer ring, bezel and outer casing of the screen. It is the frame where the Power and Volume Up/Down buttons are mounted.  So If you buy the combo, you also get brand new side keys (Power and Volume Up/Down Keys) along with the flex cable.
Let's talk about another advantage of buying the Honor 9n display with the outer frame. In this format, the combo comes pre-affixed in the frame, and you don't need to paste it manually. You can consider this part as a complete phone except for the back glass.
This combo supports all variants of 9N, so It doesn't matter If your phone is 3GB or 4GB or If you have a 32GB or 64GB or 128GB variant. This combo will correctly work in all the variants. If you are looking for a quality screen replacement for Honor 9N, you don't even need to look anywhere else.
How can I replace only the touch screen glass?
Please also note that display and touch screen both parts are closely combined in Honor 9N, and you can't replace them individually. If you try to separate them and do other cheap workarounds, you will destroy the quality of your display.
Customers usually spend a hefty amount on a brand new phone, but when it comes to repairs, they will try to find the cheapest options. We suggest that you don't compromise with the quality of display just for the sake of saving a small amount. Your phone is your best friend and never destroy its quality just for a tiny amount.
Some customers always ignore the suggestions and try to replace only touch screen glass considering they have got nothing to loose. In most cases, during the separation of display and touch screen, both parts will eventually break. Even If you are able to replace only the glass, you will face lots of issues with the touch screen and overall display quality. As we don't want to sell subpar solutions to our customers, we don't refrain from glass replacements.
Honor 9n Combo Specifications
| | |
| --- | --- |
| | The combo is 100% original, brand new and suitable for Honor 9N (Model: LLD-AL20) |
| | The Honor 9n display size is 5.84″, display type is TFT LCD and resolution is 2280 x 1080 Pixels. |
| | We can ship this product all over India including the smallest villages and towns. |
| | The combo is already pasted in the frame and manual pasting is not required. |
| | The main touch screen glass is protected by 2.5D curved strengthened glass. |
| | It offers 100% same colors, quality and brightness as your original combo. |
| | We test the display on actual Honor 9n motherboard before sending to our customers. |
| | We back our products with 30 days return, refund and replacement guarantee. |
| | All the parcels are insured during transit so no worries about intransit damage. |
| | The combo is readily available in stock and transit time is very fast. |
| | You can order the product using Cash on Delivery or Online Payments. |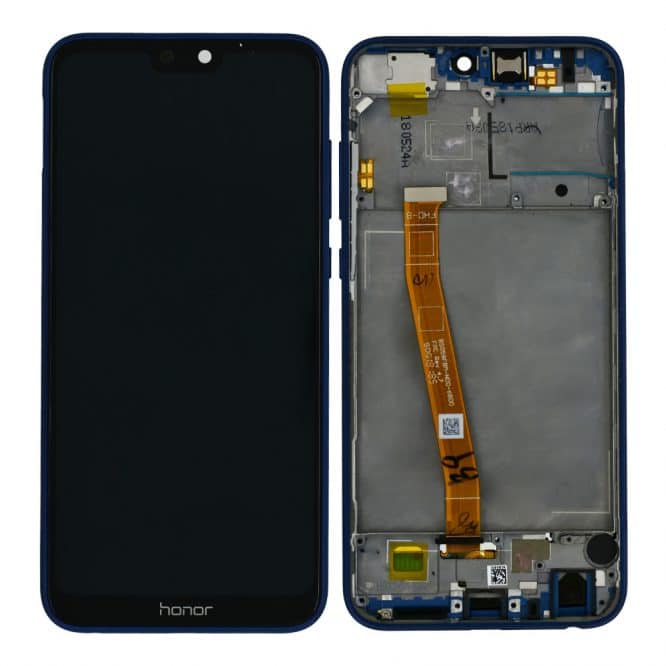 Frequently Asked Questions.
Q: How much does it cost to replace a broken Honor 9n display in India?
The price of a 100% original Honor 9n display replacement is around Rs 2800-3000. If you buy a first copy screen replacement, then the combo costs about Rs 1300-1500 in India. You also need to pay installation charges to a local technician who will fix the display on your phone.
Q: Can I replace the Honor 9n display myself at home? 
As this screen replacement of Honor 9n comes with the outer frame, It is relatively very easy to fix. You don't need to do all the tough work like decoupling the broken combo and pasting a new combo in place of it. As everything comes ready, this screen replacement is way easier in terms of self-installation.
The hardest part will be removing the back glass, and if you succeed in doing that, the remaining stuff is quite easy to do. Still, If you are not sure about your expertise, you should simply pay a technician who can install the display for you.
Q: Is it possible to claim a broken display under warranty? 
The warranty does not apply to any kind of physical damage, and there is no way to claim it from the official service center. You likely dropped the phone inadvertently, but still, you have to pay the full price for the combo replacement. You can't ask for a free replacement from the company.
There is one ray of light, and that is, If you bought the phone on finance, then you might want to check if you also bought the insurance cover for the phone. Some companies have made the insurance cover mandatory for all the customers, and when you buy on installments, you also pay for the insurance. You might want to check with the financer for more details.
Q: Why do the local technicians recommend glass replacement? 
Our business goal is to sell 100% original parts, and the price comes second to us. However, for local technicians, it is all about making money on glass replacements regardless of whatever happens with the customer's phone. The local technicians buy the cheapest quality spare parts from the local market and do other workarounds to repair your phone, but the outcome is the worst quality display having lots of issues. These issues are :
The glass replacement is entirely manual, and you'll see lots of dust between the display and touch screen glass.
You will face lots of issues with the touch screen as ghost touching, the incorrect response of the touch screen, and reduced smoothness.
The duplicate touch screen is not durable and will scratch again very quickly.
The color of a duplicate touch screen will be much different from the rest of your phone.
You will end up wasting a lot of money as a mechanic will loot a massive sum from you for a low-quality part.
In the local markets, technicians recommend the solution which can make the most money to them. We recommend you buy the original Honor 9n display, and it will surely be costly at first, but in the long term, you'll appreciate the quality and durability.
Q: How can I test the display before fixing it permanently on my phone? 
There is no need to fix the display directly in your device because It is a regular pattern to test the screen first and then fix it permanently. To check the Honor 9n display, you just need to connect it to your phone's motherboard in an open condition and turn on the phone. The screen will turn on as usual, and you can easily take a trial before you affix the display permanently.
Before shipping a display, we routinely take a trial and then send it off to the customer. After testing the display, there are no cases of defective screens. You can also take a trial before you fix, and we offer a 30 days return, refund, and replacement guarantee for your satisfaction.
Q: Do you accept returns in case the display is not working?
We take pride in testing each display before sending it off to the customers. Historically, we've never had a case of a defective screen, and we are 100% sure that It will never happen due to our strict testing procedures. Still, you are welcome to return a product if it is not working, but we want to reinforce that it is never going to happen!
Q: What If we receive a broken display inside the parcel?
We have a separate packaging team that assesses how to pack the parcels most protectively. They have taken several trials and adopted a flawless packing mechanism. We use this mechanism to wrap our parcels, and our in-transit damage rate is 0%.
Yes, we've never had a case of in-transit damage.  We make use of hard plastic boxes, accompanied by bubble wrap, thermacol, and a rigid corrugated box. Admittedly, our packing cost per parcel is a little high, but we are incredibly confident about the safety of the content.
Still, all the parcels are insured, and you can record an unboxing video when you receive the parcel. If you receive anything damaged, this video will serve as a proof, and we'll provide a free replacement to you.
Q: Why the Honor 9n display price in the local market is so low? 
The price of a product directly connects to its quality, and that's why the local market sells Honor 9n display for low costs. It is because they are selling duplicate first copies and not the original products.
Many customers think that online prices are so high, and the local market is offering them the best deals, but the truth is harsh. You are getting super low-quality duplicate products in the local market while we sell 100% pure original products. So the price difference is inevitable, but original parts are worth the investment in the long run.
Shipping, Return and Refund Policy
All the products supplied by us come with 30 days return, refund, and replacement guarantee. To return a product, It should be in the same condition as we sent. You can't use or fix the items If you want to return. For complete details about Shipping and Returns, please click here.