Are you looking for Huawei Nova 2 Plus complete display and touch screen combo? The model number of Nova 2 Plus is BAC-L21 and sold under various model numbers like BAC-L21, BAC-TL00, and BAC-AL00. The model number is different in different countries, but the model name is always the same, Nova 2 Plus. So If you are sure that you are using Huawei Nova 2 Plus, you can buy this combo without any hesitation.
Accidental damage to the mobile phone screen is nothing new and happens all the time to all types of phones. To date, even when gorilla glass is protecting many phones, still the screen is very prone to damage. If you drop your phone accidentally for one time, in 85% of cases, the screen will damage. It is quite easy to break the display, but you can replace it very easily as well.
What is the meaning of the Huawei Nova 2 Plus display Combo?
Huawei Nova 2 Plus combo means a complete set of display and touch screen both parts. The photos you see on this page represent the actual combo of Nova 2 Plus, which you get after you place your order.  In this combo, display, and touch screen glass, both parts are combined. You can use this complete display unit to replace a broken display or touch screen glass.
After buying Huawei Nova 2 Plus screen replacement, you can get it replaced with the help of a mechanic. It is quite easy to replace and can be done anywhere by a local mechanic. The Huawei Nova 2 Plus combo, which we supply, is 100% Original, tested, and comes with a money-back guarantee for any defects. Nova 2 Plus display combo is available in Black and White colors.
Can I use this display If I bought the phone Overseas?
Yes, the display works perfectly, and all foreign variants. We are fully aware that Nova 2 Plus phone was not launched in India, and most people brought it from other countries. So If you've migrated to India and now looking for Huawei Nova 2 Plus display, feel free to buy the product as It will fulfill your needs without any issues.
What are the supported model numbers of Huawei Nova 2 Plus?
These are the supported model numbers of the Huawei Nova 2 Plus phones. You can match your phone's model number to one of these :
BAC-L03 (Europe, Global Single-SIM)
BAC-L21, BAC-L23 (Global Dual-SIM)
BAC-AL00 (China)
BAC-L22
In case you are sure that you've Nova 2 Plus phone and you can't find the model number listed above, please feel to contact us. Please send us a message on Whatsapp at 9587954273 with the model number so that we can dig into this further.
How can I replace only the touch screen glass?
We don't recommend the replacement of only touch screen glass due to lots of quality issues. The glass replacement is never approved as a perfect solution, and you shouldn't expect it a home run. The glass replacement is just a hack that can rarely work, and even if it does, you will face lots of quality issues.
First of all, please keep in mind that only glass is always duplicate. If you thought that you'd buy an original glass, that's just your theory because original glass is never available in the market.
If you buy from the local market, you'll find a duplicate glass worth Rs 40 and you'll be betrayed into paying a huge sum. This is an everyday business in local markets because of the customer's attraction towards low prices which is always dangerous. You are never going to get the original spare part for low prices.
Huawei Nova 2 Plus Combo Specifications
| | |
| --- | --- |
| | This combo is 100% original, tested and suitable for Huawei Nova 2 Plus (Model No. BAC-L21). |
| | The Huawei Nova 2 Plus display size is 5.5″, display type is LTPS IPS LCD and resolution is 1080 x 1920 pixels. |
| | It is a complete unit of display and touch screen screen combined into one. |
| | The main touch screen glass is protected by  2.5D Curved Gorilla Glass. |
| | The Huawei Nova 2 Plus display offers 100% same colors, quality and brightness. |
| | We test each display on actual motherboard before shipping to the customers. |
| | The display works perfectly in all Foreign Variants. |
| | We supply spare parts with 30 days return, refund and replacement guarantee. |
| | We pack your products very carefully in hard plastic boxes accompanied by additional protection. |
| | The combo is readily available in stock and shipping time is very fast. |
| | We offer Cash on Delivery and Online Payments for your convenience. |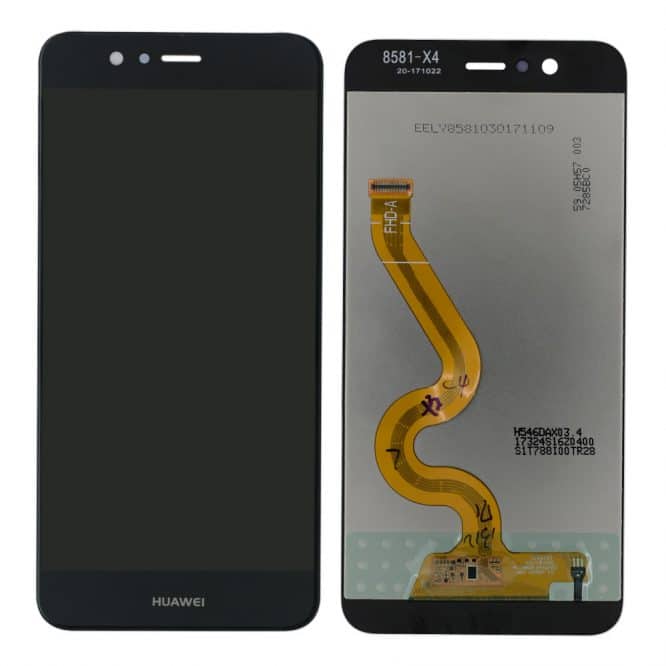 Frequently Asked Questions
Q: How much does it cost to replace a broken Huawei Nova 2 Plus display in India? 
The price of a 100% original Huawei Nova 2 Plus display replacement is around Rs 2800-3000. If you buy a first copy screen replacement, then the combo costs about Rs 1300-1500 in India. You may have to pay additional repairing charges on top of the display's price to a mechanic.
Q: How can I replace the display after buying from you? 
Many customers call us in anticipation that we'll send a technician to their doorstep, and he will fix the phone on the spot. Although it sounds too good yet right now, we don't have arrangements to repair the phone. We are operating as a part supplier and not conducting the actual repairs. To install the display in your Huawei Nova 2 Plus phone, you need to seek the help of a technician.
Q: Why can't I find this screen in the local market? 
Many customers report that they searched for Huawei Nova 2 Plus screen tirelessly in the local market and still couldn't find it. Please keep in mind that this model is not directly sold in India and It is an unusual model in the market. The vendors in the local market usually don't want to accumulate deadstock, and thus you can't find this display there.
As we are operating online, we have got a much bigger customer base who need a wide variety of mobile phone screens. That is why we stock some peculiar models which are hard to source elsewhere.
Q: How can I get this screen for less than Rs 1000? 
A few customers inquire about the Huawei Nova 2 Plus screen price on Whatsapp. Even though the price is publicly visible on the website, they will ask again for the price. When we quote the price, they say that they want a screen in less than Rs 1000.
We are not surprised as this is usual behavior in India from uneducated people who consider themselves as the smartest and most cunning person on the earth.  We simply tend to ignore such people as they are not worth a reply.  You simply can't get a quality product for such a low price.
Q: What If the screen gets damaged after three months? 
Please note that you are buying a display from us, not insurance. If you don't safeguard your phone and damage it again, It is your responsibility. So if you break the display again, you've to buy a new one. Many customers ask us how they can replace the screen for free if they break it in the future, and this question is as silly as it sounds.
Q: How much do I need to pay for installation charges? 
Generally, the installation charges for Huawei Nova 2 Plus display are as low as Rs 150-200. There are a few factors that can affect the installation charges because mechanics tend to charge more if customers do not have any alternate in their hands.
If you live in a small village where only 1-2 mechanics are available, they might try to charge you a lot more because you are not buying the display from them.
Q: Why do local mechanics discourage online shopping? 
As you might have noticed, more consumers are moving to online platforms to buy the products they need. The advantage of online shopping to the customer is better service, lower prices, and easy returns.
These are the local technicians who have robbed customers for years by installing duplicate parts in their phones and charging a lot of money. That time is now going backward as people can easily compare prices and tend to buy from the place they like. This behavior of the customer is putting an end to the technician's monopoly, and that's why they willingly mislead the customers. They want to stop customers from buying screens online.
You will understand it better with an example. The mechanics buy the first copy display from a wholesaler for Rs 1000 and sell you for Rs 2500, including installation charges. So they made a whopping sum of Rs 1500 from one customer. Now the customer buys the display online, and they can't make money on the spare part. The installation charges are like Rs 150-200, and mechanics are losing a big chunk of their income. It is the sole reason why mechanics misinform customers about online shopping.
Q: How buying a Huawei Nova 2 Plus display online is beneficial? 
You have to pay money to buy the new display either online or offline.  Now, if you buy a Huawei Nova 2 Plus screen online, you can certainly pay the same amount as the offline market and still get the original product. Even if the original display is a little more pricey, you are going to enjoy quality and durability in the long run.
Shipping, Return and Refund Policy
All the products supplied by us come with 30 days return, refund, and replacement guarantee. To return a product, It should be in the same condition as we sent. You can't use or fix the items If you want to return them. For complete details about Shipping, Returns and Warranty, please click here.