If you found this page while searching for the Infinix Hot 10 Play display replacement, you are on the right web page. Infinix has become a famous mobile phone brand in India, and many customers own Infinix devices. However, when it comes to screen replacements, you might have difficulty finding the proper product in the market.
The vendors in the local market mainly focus on other popular brands; while they know about Infinix, they don't stock Infinix's spare parts. They might have a few Infinix models, but all those are duplicate screens you surely don't want to purchase. If you are also going through such a situation, Touch LCD Baba is here to help you. On this page, you can buy a display replacement for Infinix Hot 10 Play and find answers to all the burning questions in your mind.
What is the meaning of the Infinix Hot 10 Play display combo?
Many customers are initially confused about how the display replacement works and which parts need replacement. For example, you dropped the phone and broke the front layer of touch screen glass. Now you've no idea whether you've broken the glass or the touch screen and which part you should replace.
Please note that any mobile phone's display mainly consists of two main parts, the inner display, and the touch screen glass. In this case, the Infinix Hot 10 Play display combo consists of an IPS LCD and touch screen digitizer glass, and both these parts function as one.
Now, If you damage the front layer of glass or the inner display, you must replace the complete display unit. A combination of the display and touch screen glass is called a combo, and that's how the display replacement works. You replace the broken display with another new original spare parts and restore the working condition of your phone very easily.
Why would I also replace the display when only the glass has cracked?
We receive this question from many customers because they have broken only the touch screen glass and the inner display is fully functional. At this point, they can use the phone without any issues, but the cracked glass bothers them. Customers mull about replacing only the glass and reusing the same display to spare some cash.
You should know that only glass replacement is possible, but it is a workaround to restore a broken display. After glass replacement, you'll not get the original display's quality, and that's why only glass replacement is a big no. The glass replacement also comes with drawbacks; often, the inner display breaks while separating the broken glass. If the display also breaks, the technician doesn't owe any responsibility. In this process, you'll bear all the risk of damage.
According to the set quality standards, we don't recommend glass replacement, and the official service center also disapproves of it. You are free to try glass replacement at your own risk, and if something wrong happens, you must purchase the complete display combo.
Infinix Hot 10 Play Display Specifications
| | |
| --- | --- |
| | This display combo is 100% original, tested, and suitable for Infinix Hot 10 Play, model number X688B. |
| | The Infinix Hot 10 Play display size is 6.82″, the display type is IPS LCD, and the resolution is HD+ 1640 x 720 Pixels. |
| | You get a complete unit of display and touch screen digitizer glass merged into one. |
| | Our testing engineers test each Infinix Hot 10 Play display for 100% perfect working before dispatch. |
| | We sell 100% original display, which offers the same quality as your stock display. |
| | You will not face any issues with the brightness, color reproduction, or touch screen smoothness. |
| | We buy our stock from the OEM factory that makes original screens for the company. |
| | You can also test and verify the working condition of the new display before installation. |
| | It is not a first copy or diamond quality display you purchase locally, but it is a 100% original product. |
| | The Infinix Hot 10 Play display/combo is readily available in stock and the turnaround time is fast. |
| | We offer Cash on Delivery and Online Payments (10% additional discount) as payment methods. |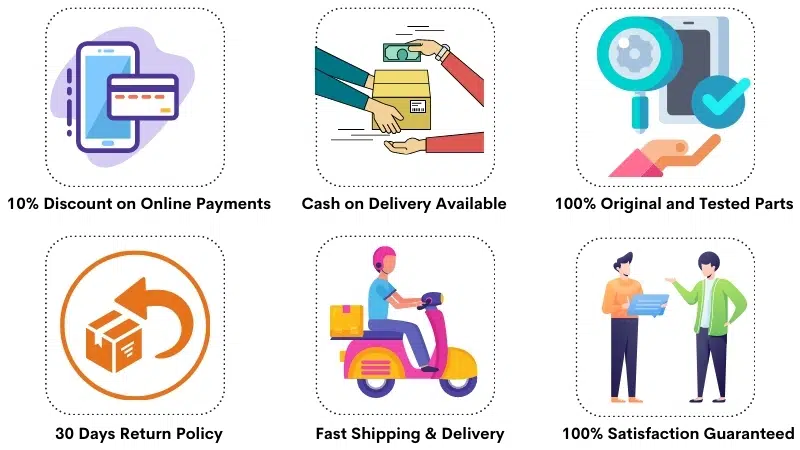 Frequently Asked Questions
Q: How much does it cost to replace a broken Infinix Hot 10 Play display in India?
The price of a 100% original Infinix Hot 10 Play (model number X688B) display replacement is around Rs 3200-3300. If you buy a first copy (or diamond quality) screen replacement from the local market, the combo costs about Rs 1300-1500 in India, but duplicate screens always render terrible quality.
Q: Is this a 100% original display of Infinix Hot 10 Play? 
Yes. We offer a 100% original display replacement like the one you get with a brand new phone. When you purchase the original product, you don't compromise on the quality. The display's colors, brightness, and all other aspects stay the same, and you won't feel any difference. That's the beauty of original spare parts and if you've never tried an original display replacement yet, try for once, and your existing theories will completely change.
Q: The technician has suggested the glass replacement. Is that a good option?
If the inner display of your phone is in working condition, all the mobile phone technicians will suggest replacing only the glass. That's because glass replacement is the main source of earning money for a technician. A duplicate touch screen glass costs around Rs 50-70, and a technician will charge around Rs 600-700 for you.
The glass replacement uses a duplicate touch screen glass to replace the broken glass, and it is not a good durable option. Surely, you can restore the working condition of your phone on a budget, but you'll get stuck into a loop of repeated glass replacements. That's because a duplicate glass cracks too easily, and you must replace it again.
Mobile phone technician never suggests a solution that is beneficial for a customer in the long term. That's because they want to make money, and they know that almost all customers shy away from costly solutions and easily get convinced by a cheap solution.
Q: I don't want to buy a display combo. Do you sell only the glass?
No. We don't offer counterfeit products, so selling only glass is beyond our business policy. You can easily purchase a duplicate touch screen glass online as many other websites sell such products because customers demand them.
.Please note that only buying the glass is not enough because if the display also breaks during glass replacement, the money you spent on the glass will go waste. Such products are sold non-returnable because sellers know all the risks and potential problems.
Q: What are the benefits of purchasing an original Infinix Hot 10 Play display?
You should know that buying the original display is the only way to restore your phone's original condition. All the other options are workarounds and never furnish the same quality as the original display. You might find tons of options in the market, but these benefits are accessible only if you buy an original display replacement :
You get 100% original colors, brightness, and touch screen smoothness.
The original display accompanies the original touch screen glass, which is quite sturdy.
The touch screen input accuracy is astounding when you purchase the original display.
You get the same fitting and avoid many other related issues common with duplicate screens.
As per our industry experience and customer feedback, the original display is unbeatable in all aspects. You shouldn't consider other options if you can afford to spend a little extra on the original display replacement.
Q: I am ready to buy the product. Do you also provide display installation services?
We are sorry, but we currently don't provide display installation services. You can easily find many technicians in the local market who ask for Rs 200-300 to install the display, and the options are endless. In our view, finding a technician is way too easy but finding an original display in the offline market is tough.
Before you order the product, you can consult with a technician about installing the display and his fee. Once you reach an agreement, you can order the product, and the display installation will become very easy.
Q: Is it possible to verify the new display's quality before installation?
Absolutely! You can easily test and verify the original display's quality before installation. Testing the new Infinix Hot 10 Play display in an open condition is easy and accurate. Follow these steps :
First, carefully take off the back panel using the proper technique.
Open all the required screws to access the motherboard.
Find the display's connection on the motherboard and gently eject it.
Connect the new display's flex cable there and turn on the phone.
The new display will start working, and you can test it to your satisfaction.
Please also note the following tips :
You don't need to remove the old display first to test the new display.
You can connect the new display on the rear side of your phone, and there is no need to place it into the frame.
After connecting the display on the rear side, place it on a bubble wrap, and don't hold the display in your hands.
Q: What if the new display doesn't work upon testing?
You always get 30 days to test the display before installation. The only condition to return a product is that it should be completely unused, and you can't change its original condition. After delivery, you've got 30 days, and you can take your time to test the display in an open condition.
If you face any problems while testing, you can return the product to us in good condition. Before we ship the Infinix Hot 10 Play display to you, we always ensure its working condition. Still, if you have any issues with the motherboard or any other unforeseen problems which obstruct the working of the new display, you can return the product to us. Contact us, and we'll arrange a pickup for you.
Q: What can I do if a broken display comes out of the parcel?
We assure you that you'll never receive a broken or out-of-shape product from our store because we manually inspect the product before shipment. If you have any doubt, you can always record an unboxing video, and if you find anything out of the normal, please forward that video to us, and we'll provide a free replacement. Please note that you must have a proper unboxing video to claim any damage because we also want to avoid all forgery attempts.
Shipping, Return and Refund Policy
All our products come with 30 days return, refund, and replacement guarantee. To return a product, It should be in the same condition we sent. You can't use or fix the new Infinix Hot 10 display if you want to return it. For complete details about Shipping, Returns and Warranty, please click here.