If you need a Mi A1 display and touchscreen combo with the outer frame, then you are on the right web page. Here, we offer the Mi A1 screen replacement that comes pre-fitted in the outer frame. It is a perfect solution for all cases of screen or touch screen damage.
See the Mi A1 Display Testing Video
This video shows how we examine each Mi A1 display before sending it off to our customers. We follow this procedure for every customer and never leave any room for defective products. So if you order a screen from us, rest assured that it is tested and verified.
What is the actual need for the Outer Frame?
Sometimes, the accidental damage is beyond normal when a car runs over your phone. In such cases, when the mobile phone display or the outer body is severely damaged, you can't repair the phone just by buying a new display. If the outer frame is cracked, bent, or damaged from the corners, you can no longer fix a display inside it because the display will not stick properly in the frame.
When the outer frame of your Mi A1 is damaged, you should buy the display with the outer frame. You don't even need to do any manual pasting to fix this part, and this is why you can expect excellent seamless fitting of the product.
Contrary, when you paste the display manually by using glue or double tape, you'll see gaps on the side, and the display light will leak out from the corners, but with the Mi A1 display with the frame, everything will be in order and perfect.
Please also note that this is a 100% OEM (Original Equipment Manufacturer) part that offers the same colors, sharpness, resolution, brightness, and perfect touch screen experience. So there will be no degradation in the quality of your mobile phone. It will work as smoothly as It was working before so you can buy this part with 100% confidence.
What is the MI A1 Display Combo With The Outer Frame?
The meaning of the Mi A1 display with frame is a complete unit of IPS LCD accompanied by a touch screen glass. It is a complete display unit used to replace a broken touch screen glass or the display.
Apart from the display and touch screen unit, you also get the outer casing that holds the display. So effectively, you get a front half portion of your phone in brand new condition, and what else can be better than this. If you replace the broken Mi A1 display with the screen provided by us, you can easily use your phone for another 2-3 years without any issues.
What are the benefits of buying the Mi A1 display with the outer casing?
The outer casing is essential to fix the display in place. In some cases, when the screen damage is beyond normal, the frame also loses its shape. Customers call this frame by using different names like Outer casing, middle frame, outer ring, bezel, etc.
If the outer frame twisted, then you can't affix a new display inside it. A bent frame can't hold a display firmly in place, and that's why many cases require you to replace the display with a frame.
Just so you know, the official service center always uses the display along with the outer frame, regardless of if the old frame is bent or in good shape. So you should also consider replacing the MI A1 display along with the frame for maximum durability of the screen in the long run. Here are the main benefits of buying the display along with the outer frame :
A) The display comes already glued in the frame, and you don't need to paste it manually.
B) It is just like buying the front half portion of the phone in brand new condition.
C) The combo resolves all the issues related to a broken display, touch screen glass, or the outer frame.
D) As the screen comes pre-affixed in the frame, you can even conduct the display replacement at home.
E) This part is like a blessing for the customers who don't want to compromise with the quality.
All in all, nothing beats a Mi A1 display with the frame when it comes to quality. If you had a bad experience with a display replacement you bought for a low price, we request you to give us a try. We'll change your perspective of how you look at screen replacements online.
Why buying cheap screens will not help you?
In India, a lot of customers are entirely biased towards cheap solutions like first-copy duplicate screens, only the touch screen glass replacement, and other similar activities that are not a definitive solution to the problem. Many customers play with the core of their phones just because they want to save some cash and easily get entrapped by thieves in the local market.
If you focus on finding the solutions for the least possible price, no one is going to provide an original display to you. A lot of technicians are just fooling the customers by installing counterfeit screens into their phones while charging them a very hefty price. So we won't say that customers don't pay the money always, but some deceivers cheat with customers even though the customer is spending so much money on the original screen; they will still sell him the first copy.
We know from our experience that all cheap solutions will fail miserably within a very short period of time. When that happens, you've to run into a loop of repeated screen replacements which will be very troublesome for you and burn a hole in your pocket. That's why we recommend buying the original Mi A1 screen replacement and feel the joy of having your mobile phone back to its 100% original state.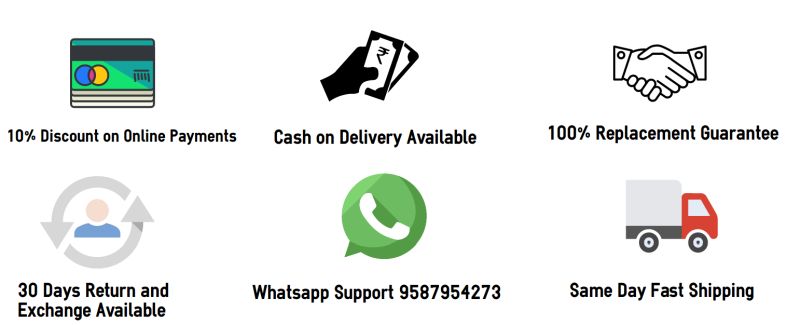 Mi A1 Display With Frame Specifications
| | |
| --- | --- |
| | This display is 100% original, brand new, tested and suitable for Mi A1. |
| | The Mi A1 display size is 5.5″, display type is LTPS IPS LCD and resolution is 1080 x 1920 [email protected] |
| | The top layer of the touch screen glass is protected by Corning Gorilla Glass 3. |
| | It is a complete assembly of display and touch screen glass fused into a single unit. |
| | We source the new MI A1 display from OEM manufacturers so that you can enjoy 100% original quality. |
| | After display replacement, there won't be any difference in the brightness, colors or sharpness. |
| | We make sure to test each combo for 100% perfect working before dispatch. |
| | We offer 30 days return, refund and replacement guarantee If you face any issues during testing. |
| | The ordering process is 100% hassle-free and we can deliver almost anywhere in India. |
| | The screens are readily available in stock and shipping time is very fast. |
| | You can order the display using Cash on Delivery or Online Payments. |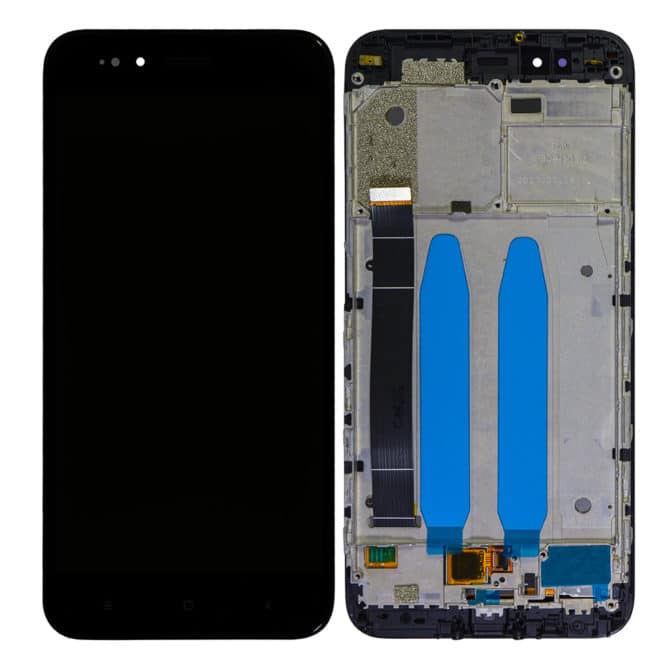 Frequently Asked Questions
Q: How much does it cost to replace a broken Mi A1 display with a frame in India?
The price of a 100% original Mi A1 display with a frame is around Rs 2600-2800. If you buy a first copy screen replacement, then the combo costs about Rs 1200-1400 in India. You may have to pay additional repairing charges on top of the display's price to a mechanic.
Q: How can I recognize the original Mi A1 display myself?
Many customers want to learn the nitty-gritty of this business over a phone call. They want to know how to recognize the original Mi A1 in the blink of an eye while quite contrary; It is not that easy to understand the terminology. It takes years of experience to understand the depth of this business.
For your information, nearly a whopping 99% of mechanics in your city are in the same boat as you. They also don't know anything about the original Mi A1 display, how to recognize it, what is OEM, where the factory is, etc… Still, they pretend themselves like the jack of all trades and do an excellent job of fooling the customers. These technicians are just into sourcing first-copy duplicate screens from the local market and sell them to you with knife-edge marketing.
For your information, the original screens come from a particular factory or a specific OEM (Original Equipment Manufacturer) vendor. These vendors also provide the original screens to the main company. We source our products directly from the OEM factory, and that's why we are so sure about the quality. If you think that a very small local shopkeeper is having contact with the OEM manufacturers, It is simply not true.
Q: Can you please give me some insights about the original display?
Yes. We can. The original screen has a very different feel, and the best way to recognize the original screen is by taking a trial run of the display. You also need to check the quality of glass to see If it is precisely the same curvey gorilla glass or just ordinary thin glass.
Always ask the technician to connect the display temporarily to your phone and use the display yourself. You can identify the duplicate screen in less than 10 seconds because it will have very low brightness, dull, faded colors, and a stiff working touch screen. The display will have a faded brightness and disrupted whiteness on the screen. It is very easy to recognize a first copy display and always make the decision wisely.
Q: I want to purchase the original display for Rs 1000. Can you do that? 
Indeed, lots of morons have asked this question to us, and they won't stop daydreaming. Our answer is also very straightforward, and many will find it offensive, but It won't stop us from telling the truth. You can never get an original screen of Mi A1 for a throwaway price.
There is no such vendor/seller who will provide the original display of Mi A1 to you for a throwaway price and make a loss. It is simply not possible, no matter how offending you find it, but stop yourself from acting like a dolt. People often tend to satisfy their ego with silly questions, but It isn't going to help. If you want willfully want to be a victim of thieves, just go and buy anything cheap for yourself.
Q: Can I claim a broken display under the official service center warranty?
There is no way to claim a broken display under the official service center warranty. Even if your phone is still in warranty, It is not going to protect you from the losses that occur because of physical damage. The physical damage is always considered as the customer's fault, and no excuse is going to yield a free display replacement for you.
Shipping, Return and Refund Policy
All the products supplied by us come with 30 days return, refund, and replacement guarantee. To return a product, It should be in the same condition as we sent. You can't use or fix the items If you want to return them. For complete details about Shipping, Returns and Warranty, please click here.