The Oppo F1s was marketed as a Selfie Expert phone, and it is one of the most successful Oppo phones ever. If you broke its display or touch screen glass and want to purchase a new Oppo F1s combo, you are on the right page. Here, we offer a 100% original display replacement for Oppo F1s, which you can use to replace a broken display or touch screen glass.
First, it is not the first display replacement you have bought for low prices. Many of you might have purchased duplicate screens for throwaway prices from the local market, but we don't offer such products. If you want to purchase a duplicate display, Touch LCD Baba is not the right place for you. The Oppo F1s display available on this page is 100% original, and that's why it is comparatively costly, but the experience of using an original display is spellbinding.
What is the meaning of Oppo F1s display combo?
The simplest meaning of a display combo is a complete unit of inner display and front layer of touch screen digitizer glass. This combo can replace a broken display or touch screen digitizer glass. You might have broken only the display or the glass, and this combo resolves both problems.
When you drop the phone, one of the inner displays or the front layer of touch screen glass will break. In most cases, it leaves you perplexed because you can't decide whether to replace the display or the glass. It would help if you remembered that both parts are combined, so you always need to replace the complete combo.
Why are all local market screens duplicate ones?
You'll be surprised that roughly 99% of screens you buy from local markets are duplicates. These screens are sold as a first copy (or the diamond/OG quality), and their output is extremely bad compared to the original display. Customers' greed towards purchasing a product for the lowest price is the reason behind the inception of duplicate products.
As soon as the Oppo F1s display breaks, customers rush to the local market to replace the display. A vast majority of customers want to repair the phone for the lowest price, like Rs 1300-1500, and that's why they never get access to the original display replacements. Shopkeepers are aware of the average customer's paying capacity and maintain stock of duplicate screens marketed as a first-copy display.
As customers don't purchase original screens, shopkeepers are forced to keep the cheapest quality products in stock, and that's why you get a duplicate display in the local market in 99% of the cases. Only 1% of customers ask for the original screens, but they usually can't find the desired products in the local market for obvious reasons. For your information, duplicate screens sell like hotcakes and are considered the fastest-moving item in the mobile phone repairing industry.
Oppo F1s Display Specifications
This combo is 100% original, tested, brand new, and suitable for Oppo F1s, model number A1601

.

The Oppo F1s display size is 5.5 inches, the display type is IPS LCD, and the resolution is 720 x 1280 pixels.
You get a complete set of inner displays and touch screen digitizer glass front layers merged into one.
The original display replacement allows you to enjoy the same colors and brightness.
You get Corning Gorilla Glass 4 protection pre-installed on the new Oppo F1s display.
We always test and verify each display for 100% perfect working before dispatch.
We send insured parcels to customers, and any damage during transportation is our responsibility.
You can easily test the new display and verify its quality before installation.
We pack the content securely in hard plastic boxes with additional protection.
You can always contact us at 9587954273 if you face any problems with the product.
We offer Cash on Delivery and Online Payments (10% Additional Discount).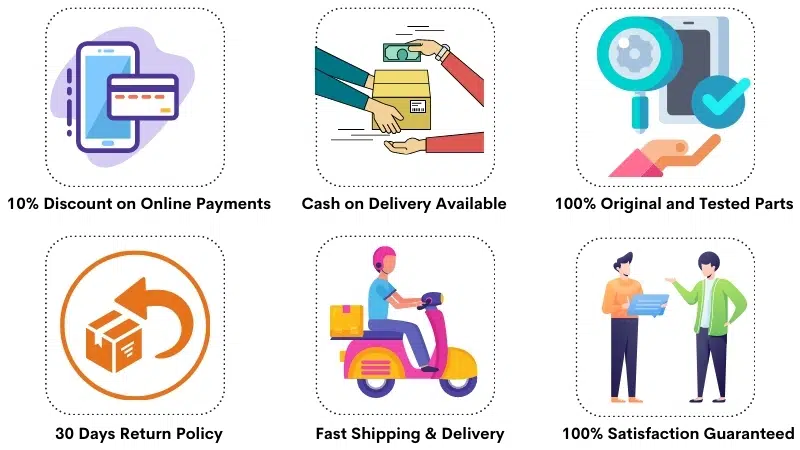 Frequently Asked Questions
Q: How much does it cost to replace a broken Oppo F1s display in India?
The price of a 100% original Oppo F1s display replacement is around Rs 2300-2500. You can purchase a duplicate display replacement for this model for as low as Rs 900-1000 in the local market, but their quality and durability are terrible.
Q: I bought many local screens before, but they all wear out very soon. Why?
The original display takes its shape by using robust quality raw materials. Such original screens go into brand-new phones, which is why customers are so happy when they purchase a new phone. When you purchase a display from the local market, you typically get a low-quality display that is not equivalent to the original display in any aspect.
These local screens are marketed as OG Quality/First Quality/Diamond Quality screen replacements. The quality of the material is very low on local screens, and that's why they never last long. You've to replace the display several times a year, and your final investment will be way more than the original display's cost.
Q: Can I install the Oppo F1s display at home?
Installing the Oppo F1s display at home is reserved for advanced users. If you've not done this before, you shouldn't try this at home. To a customer, replacing the display might seem very basic when watching a pertinent video on YouTube. However, things might get complicated when you practically try to do that yourself at home.
In some cases, you might accidentally damage your phone's new display or other components, which is why we don't recommend self-replacement to everyone. If you are not confident, we suggest you seek the help of a professional technician and pay a small amount, like Rs 200, to install the display on your phone.
Q: Can I purchase the original display from the official Oppo service center?
The Oppo F1s phone is now aged; its launch date is August 2016. The official service centers tend to support a particular device for a maximum of 3 years; after that, you can't find the desired spare parts. So the service center option doesn't seem very bright to us. You can still inquire there if you want to, but the chances are very gloomy.
Q: Is it a good idea to replace the touch screen glass separately?
The separate replacement of touch screen glass is possible but not recommended. The touch screen glass available separately is always a duplicate spare and doesn't offer the same smoothness and input accuracy. Sometimes, you might have noticed when you press a letter on the touch screen; something else gets pressed automatically.
Such things happen because of a duplicate touch screen glass, which doesn't offer the same smoothness and typing accuracy. Apart from that, the duplicate touchscreen glass doesn't come with Corning Gorilla Glass 4 protection so it will break very quickly in the future.
Q: What to do if the new Oppo F1s display doesn't work on my phone?
Customers often worry that a new display combo might not work on their device and their money will waste. Please note that we supply tested and verified screens, and you won't face any problems. We also protect your money in the following ways :
You get a 30-day testing warranty after delivery.
It is possible to test the new display before installation.
You don't need to install the display to test it.
We offer a 30 days return/replacement policy in unused conditions.
You can easily test and verify the new display before installation, and when you are 100% satisfied with the product's performance, you can finally install the display on your phone.
Q: How to test the new display without installing it?
You should be aware that open condition testing helps you verify the new Oppo F1s display before installation. Please follow these steps :
First, you must dismantle the phone and decouple the broken display from the frame.
Clean the frame completely and remove all the remaining glue and dust.
Gently place the new display inside the frame and put the display and touch screen flex into appropriate places.
Make the display and touchscreen connection with the motherboard.
Turn on the phone, and you can easily test the new display like it's installed on your phone.
Please note that open condition testing is accurate and allows you to test the new display without installing it. That's how you can test the display before installation, and all mobile phone technicians do the same before pasting the display on the phone.
Q: Is it easy to find a technician in the local market?
In our opinion, finding a technician in the local market is very easy. Almost all cities/villages have a dedicated mobile phone market where you can find a lot of technicians. The normal installation charges vary from Rs 150-200 depending on the location. If you are worried that you won't be able to find a technician later, you make the necessary arrangements in advance and then order the product so that it is a smooth experience for you.
Oppo F1s Display Photos
Please refer to the images below if you want to see the actual product photos of Oppo F1s. If you've any questions about the display or need further clarification, please get in touch with us at 9587954273.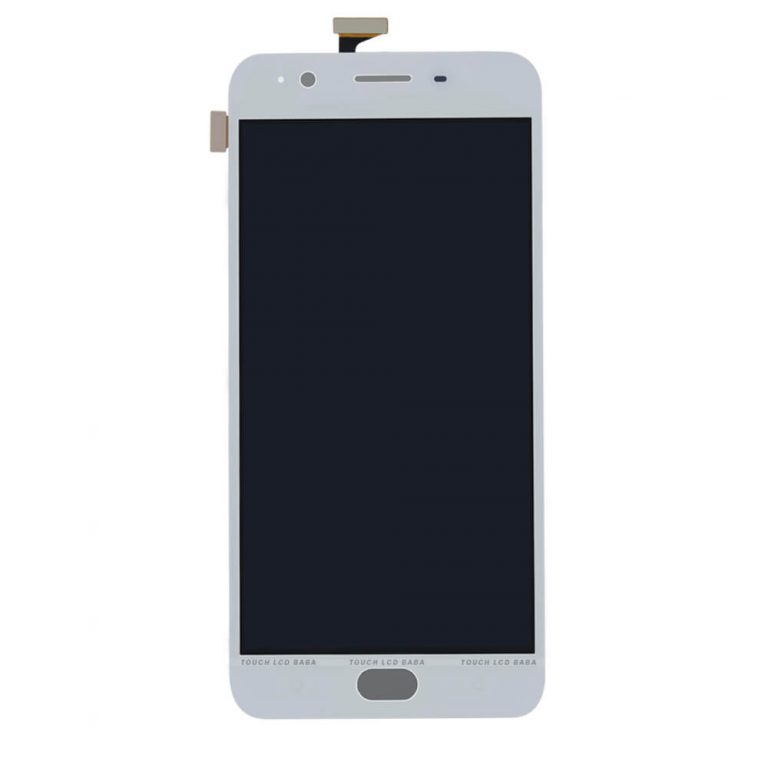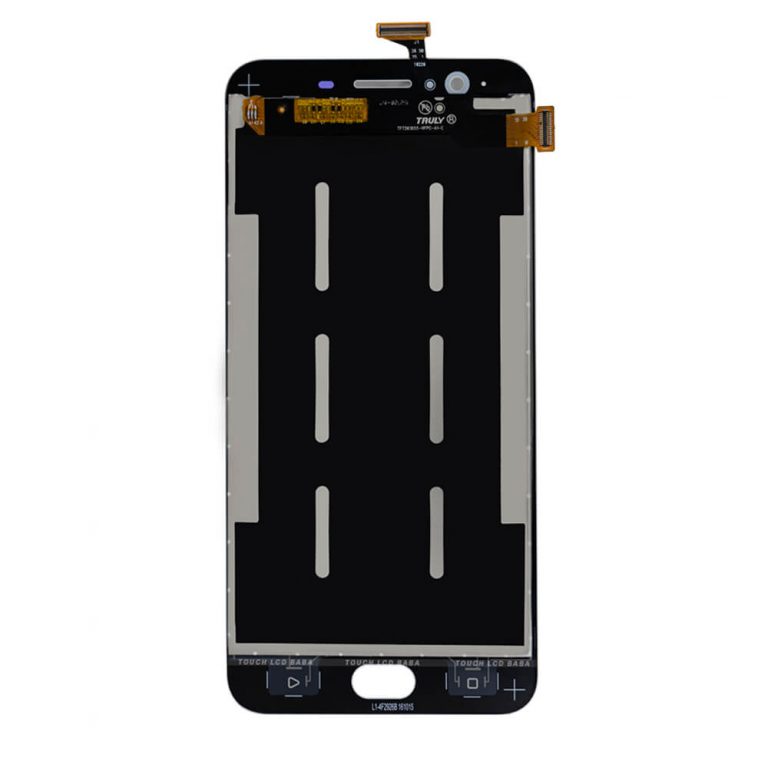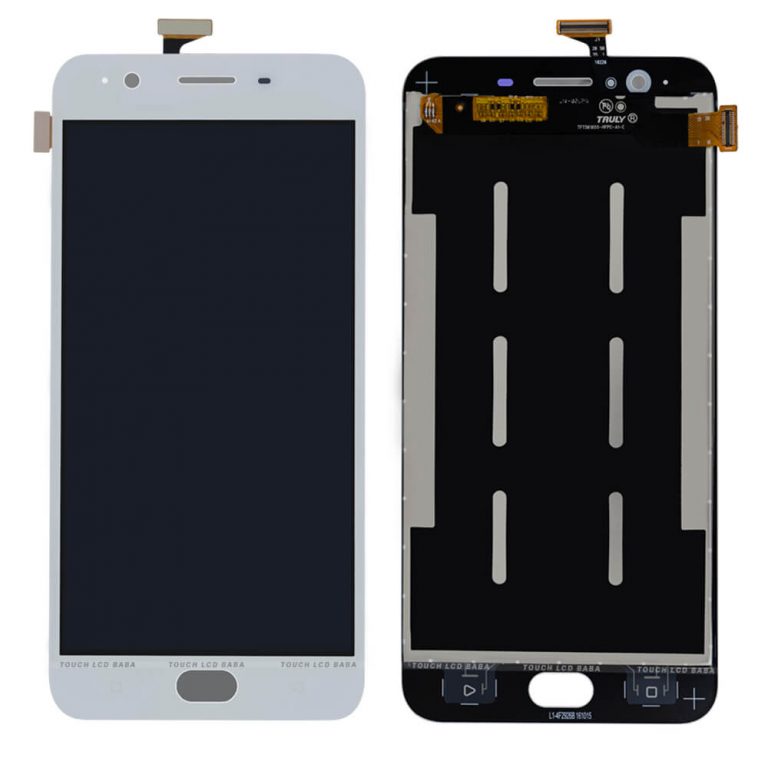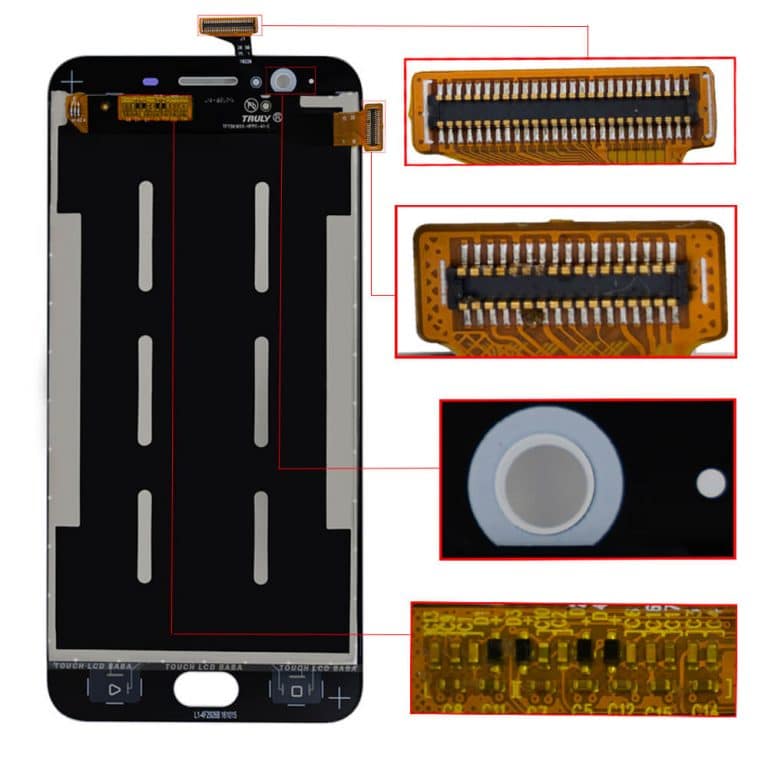 Shipping, Return and Refund Policy
All our products come with 30 days return, refund, and replacement guarantee. To return a product, It should be in the same condition we sent. You can't use or fix the new Oppo F1s display if you want to return it for any reason. For complete details about Shipping, Returns and Warranty, please click here.