Looking for a Panasonic Eluga X1 display price? If you are facing a broken display issue with Panasonic Eluga X1, we have its complete screen replacement available here. On this page, you can buy a Panasonic Eluga X1 complete display and touch screen combo, which you can use to replace a broken display or touch screen glass. The spare part you see here is a complete display unit comprising both the display and the touch screen glass.
What is the Panasonic Eluga X1 Combo?
In Panasonic Eluga X1, display and touch screen glass both come combined in a single unit, and we call this a Combo. Now in most cases, when the mobile phone drops accidentally, you will end up breaking only the touch screen glass. However, You can't separate the touch screen glass from the display, and that's why you need to replace the complete combo of Panasonic Eluga X1.
How can I replace only the glass without changing the display?
At first glance, all customers look to replace the glass only. Some people think that it's just a glass which can be replaced very easily while others think It is not the main glass but another layer of glass. However, that's not true. The glass broken is the main touch screen glass.
There are many cheap alternatives available to replace the glass, but none of those solutions are quality.  For this reason, we always recommend the complete screen replacement of the Eluga X1. Mechanics always suggest what suits them best to make money. However, you can even confirm with the official service center. Anyone doing quality screen repairs will always suggest combo replacement and that's why the service center will never do or suggest the glass replacement.
Why can't I find this screen in the local market?
This phone is not very popular, and dealers in the local market are looking to sell popular goods for fast rotation of the money. If they will buy uncommon models and keep the stock for a more extended period, it might cause dead stock.
The marketplace in online business is huge and customers from all locations try to find solutions to their screen issues. That's why we can stock, even the rare models and still find a customer who is looking for the product. So if you couldn't find the Eluga X1 display in your market, don't worry, you can easily order it online.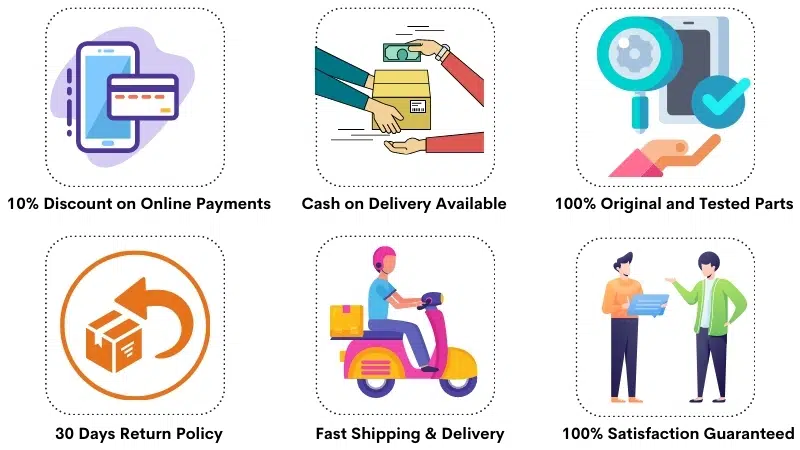 Panasonic Eluga X1 Display Specifications
| | |
| --- | --- |
| | The combo is 100% original, brand new and suitable for Panasonic Eluga X1. |
| | Panasonic Eluga X1 display size is 6.18″, display type is In-cell and resolution is Full HD+ 1080 x 2246 pixels. |
| | You can use this combo to replace a broken touch screen glass or inner display. |
| | The main glass is combined with the display hence forming a complete display unit. |
| | The screen is 2.5D Curved with Corning Gorilla Glass 3 protection. |
| | It offers the same colors, quality and brightness as you original display. |
| | The spare part comes from the same manufacturer who makes for the company. |
| | We back our products with 30 days refund, replacement and return guarantee. |
| | We offer doorstep delivery and pickup services all over India. |
| | The part is readily available in stock and shipping time is very fast. |
| | We also offer Cash on Delivery services all over India. |
Frequently Asked Questions
Q: How much does it cost to replace a broken Panasonic Eluga X1 display in India?
The price of a 100% original Panasonic Eluga X1 display replacement is around Rs 2800-3000. If you buy a first copy screen replacement, then the combo costs about Rs 1300-1500 in India. After buying the display, you will need to visit a technician's shop to install it.
Q: What happens to the data on my phone when I replace the display?
The data on your phone has no connection between the display. So even if you replace the display, the data stored on your device will stay intact. The data is stored in the internal memory of the phone, which is on the motherboard. If you replace a display, it is going to have no impact on the data.
Q: Can I do the display replacement myself at home? 
It depends on your expertise and although self replacement is possible yet we don't suggest this approach for starters. If you don't have prior experience of replacing the display, please don't try this at home. Simply visit a technician and pay him installation charges, like Rs 150-200, to install the display on your phone.
Q: Why are the display and touch screen combined?
A few years ago, the display and touch screen were separate parts. In case of any damage, there was an option of replacing only the touch screen or only the display. Due to the customer's demand for more high-quality displays, companies started combining the display and touch screen together.
This resulted in more sharp screens and a very smooth touch screen experience. The problem of dust entering between the display and glass was resolved completely with a pasted display. A pasted display and touch screen module are proved to provide additional clarity, better color reproduction, and brightness. That's why these days all mobile phones use the combined modules of display and touch screen and these are essentially called Combo
Q: Why does the duplicate display never last long? 
The duplicate display is called the first copy in the local markets. The product you buy from the local market is of very bad quality and low-priced. This is why many customers are attracted to such products but the lasting is very bad. A first copy display of Panasonic Eluga X1 will not last more than 1-2 months. This is because such products are a temporary solution to the problem. That's why we still suggest investing in quality products for long-term benefits.
Q: Why does the mechanics suggest replacing only the glass? 
You might be looking for cheap solutions yourself and that's why you are inclined towards glass replacement. The mechanics in the local market offer glass replacement to grow their business. They can easily sell you a product for Rs 900, which is not worth more than Rs 60.
Yes! you are reading it right. The touch screen glass is worth Rs 40-60 and mechanics can charge you anything for that. That's why we suggest going for combo replacement to get a better quality product and to get the full value of the money spent.
Shipping, Return and Refund Policy
All the products supplied by us come with 30 days return, refund, and replacement guarantee. To return a product, It should be in the same condition as we sent. You can't use or fix the Panasonic Eluga X1 display if you want to return it. For complete details about Shipping, Returns and Warranty, please click here.