Panasonic Eluga X1 Pro phone was sold mainly via Flipkart, and lots of customers have this phone. If you've dropped your Eluga X1 Pro and scratched its display or touch screen glass, you can purchase a new display from this page and replace the broken one.
A broken Eluga X1 pro display may prevent you from using the phone for your daily activities. If you've important data on the phone which you need to access urgently, then you can get into trouble. If the display is broken and the touch screen is also not working, you should replace the display immediately to avoid the hassle.
What is Eluga X1 Pro Display Combo?
If you don't know about the combo, we will clear all your doubts here. The simple meaning of the combo or folder is a combined unit of display and touch screen. By design, the display and touch screen glass are two separate parts. When companies create a combo, they combine both parts using a special LOCA glue, and then the complete display unit is fitted on the phone. So if you hear the word Combo, understand it as a unified unit of display and touch screen glass.
Can I Replace Only The Touch Screen Glass?
We know what you've got in your mind, and many customers want to do the same thing, and that is, changing only the touch screen glass. Customers explain that their phone is working just awesome, but only the top glass layer is broken. They elaborate further that the display is simply perfect, and everything is still visible. The only thing they want to know is how to replace only the glass and use the same display.
Please note that only touch screen glass replacement is the worst solution to the problem. The mechanic will try to take off the touch screen glass using a thin metal thread on a separator machine. Even if only glass replacement is successful, you are going to have a low-quality display with reduced brightness and colors. The glass replacement is a cheap solution opted by customers who are indeed looking for low-quality products. It is not for customers who need a 100% quality display replacement for their phone.
What are my options to replace a broken Eluga X1 Pro display?
You have got three options to replace a broken Eluga X1 Pro display. You can choose an option which suits you best according to your time and budget. These options are :
Visit the Official Service Center
To replace the broken display, you can visit the official Panasonic Service center in your city. Normally, as per the trends, service centers usually charge a hefty price, which may be well off your budget. The spare parts are normally not readily available there, so you might have to wait for a few days until the new display comes in. The service center may not be easy to locate, and most locations will not have a service center. In such cases, the service center option might not suit your needs.
Go to the Local Market For Screen Replacement
As soon as the Eluga X1 Pro display is broken, you might want to visit the local market and find a repair shop that can replace the broken screen for you. The major problems in the local markets are:
Usually, the display is not easily available in the local market.
The parts sold there are mostly first copies, not originals.
Mechanics may ask you for additional time to arrange the display from somewhere.
You might spend a lot more in the local market and still get a bad quality product.
Numerous times we have observed that mechanics charge a lot more for a counterfeit product, and for the same amount of money, you can buy an original product online. That time is long gone when you were dependent on the local mechanic for the spare parts. Now the things are evolving, and you can easily buy a genuine spare part online.
Buy an Original Display Online and Fix It in the Local Market
Online shopping is a new trend that is emerging, and you can quickly get the desired products for low prices with authenticity. The area of spare parts is also not untouched, and you can find the Panasonic Eluga X1 Pro display in our store. This display is 100% brand new, original, and tested. We even offer a 30 days replacement guarantee on all our products.
After buying the display, you can visit a local technician and have him fix the display for you. This method is very easy and convenient for customers who are having trouble finding the display locally. When ordering online, please buy from the trusted sites only and don't rush for cheap prices.
Product Description
| | |
| --- | --- |
| | This combo is 100% original, brand new and suitable for Panasonic Eluga X1 Pro. |
| | Panasonic Eluga X1 notch display size is 6.18″, display type is Full HD+ with a resolution of 1080 x 2246 pixels. |
| | You can use this combo to replace a broken display or touch screen glass. |
| | It is a unified combo and perfect for any case of display replacement. |
| | We make sure to test the combo before we ship it out. |
| | It offers 100% same colors, quality and brightness as your original one. |
| | We use Panasonic Eluga X1 Pro motherboard to verify the working condition of display. |
| | You can easily install the display at home or visit a technician's shop. |
| | We proudly back our products with 30 days return and replacement guarantee. |
| | The product is readily available in stock with fast shipping time. |
| | We also offer Cash On Delivery Option facility. |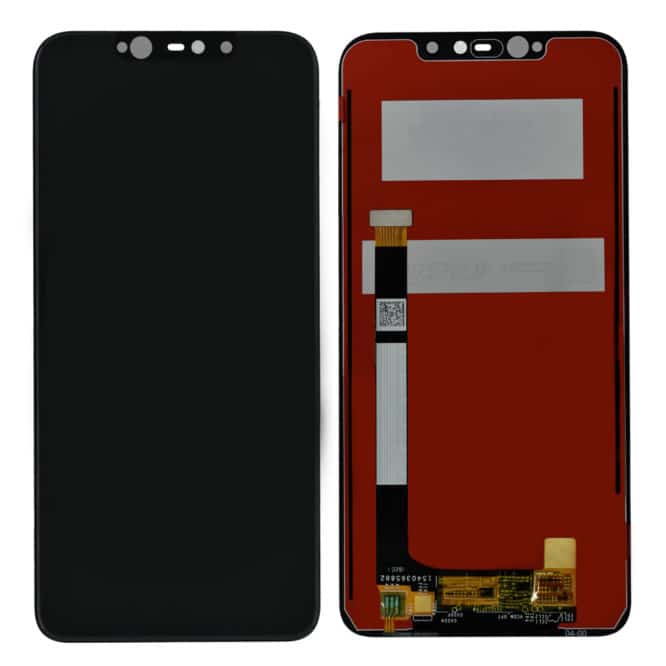 Frequently Asked Questions
Q: How much does it cost to replace a broken Panasonic Eluga X1 Pro display in India?
The price of a 100% original Panasonic Eluga X1 Pro display replacement is around Rs 2700-2900. If you buy a first copy screen replacement, then the combo costs about Rs 1300-1500 in India. You may have to pay additional repairing charges on top of the display's price to a mechanic.
Q: Can I install the combo myself at home?
Yes. Panasonic Eluga X1 Pro is straightforward to repair, and you can surely install the combo at home if you've got basic skills. If you are a total first timer trying the display replacement for the first time, you might not be able to do the job. So the DIY job depends on your expertise. If you are unsure, visit a technician's shop and have him replace the display for you.
Q: Do you offer returns and replacement options If I face any issues? 
Yes. All our products come with 30 days replacement and return policy. To claim a return, refund, or replacement, you should return the part in unused condition. We don't accept used or fixed products back because we supply brand new products, and we can accept return in brand new condition only.
Q: How can I test the new display without fixing it on my phone?
It is quite easy to test the display without fixing it permanently. You need to connect the new display to your phone's motherboard and turn on the device. Then you can test the display in open condition just like you use your phone daily. Thus It is certainly possible to check the display before fixing. Many customers are confused about how they will know if the display is working or not, and the solution is, testing the display when the device is open.
Q: What If I receive a defective display that is not working? 
We always test the products before shipment, and practically, there are no chances of receiving a defecting product. The products can be defective if they are not tested, but according to our protocol, we don't ship any products without testing.
If a product supplied by us isn't working for you, you can take a video of the problem and send it to us. We are sure some issues are present on your phone, or you are not doing it the right way. You also have a 30 days return period, which allows you to return the product in an unused condition, so there is nothing to worry about.
Shipping, Return and Refund Policy
All the products supplied by us come with 30 days return, refund, and replacement guarantee. To return a product, it should be in the same condition as we sent. You can't use or fix the items if you want to return. For complete details about Shipping and Returns, please click here.