Looking for Panasonic Eluga Z1 display price? If yes, then welcome to Touch LCD Baba. On this page, you can find Panasonic Eluga Z1 complete display and touch screen combo, which you can use to replace a broken/damaged/scratched display or touch screen glass. In this combo, display, and touch screen, both parts are combined, and this is what you need to replace after accidental damage.
What is included in Panasonic Eluga Z1 Combo?
Panasonic Eluga Z1 display is a combination of LCD and touch screen glass. It means that two individual parts get pasted together in a single piece, and that is called the Panasonic Eluga Z1 Combo. After the accidental damage of the display or the touch screen glass, you can buy a new combo and replace it easily without any issues. After replacing the screen, your phone will resume its earlier working condition.
Many people want to replace only the touch screen glass without understanding the facts about the Combo. Still, they will try to separate the LCD and touch screen glass and end up damaging both parts. For this reason, always make sure that you replace the complete combo of Panasonic Eluga Z1 to avoid any hassles later. It is very easy to replace the combo, and this process is easy, fast, and hassle-free. These days all mobile phones come with a pasted display and touch screen modules.
After buying the Panasonic Eluga Z1 screen replacement, please visit a local technician to get the product fixed. What he will do is, he will attach the new display to your phone temporarily and test it. When everything is working fine during testing, he will fix the screen on your phone. If you find any issues during testing, we have 30 days replacement period to protect our customers.
How much does it cost to replace the Panasonic Eluga Z1 display in India?
The Panasonic Eluga Z1 display replacement price varies according to the quality of the screen you want to obtain. If you purchase an original display replacement, It costs you around Rs 2500-2800. If you are willing to spend less and prefer the first copy, you can buy it for as low as Rs 1100-1200.
Please note that there is a direct connection between the quality and the price. So If you are paying less, then you are not buying an original spare part. A first copy spare part is not satisfactory in most cases, and there are a lot of compromises you have to do. For this reason, make your decision wisely.
How To Test The Eluga Z1 Display
It is very easy to test the screen even without fixing it in your phone. Many customers believe that there is no way to know If the screen is working or not without fixing it first. To clear this doubt, you don't need to paste the screen on your phone to test it. You don't even need to dismantle the broken display from your phone.
All you need to do is, just connect the new display's flex to the motherboard of your phone and you can easily take a trial. This is exactly how we take a trial before shipping the screen to our customers. Please watch the video and see how we are testing the display in open condition without fixing it in the phone.
Product Details
| | |
| --- | --- |
| | This combo is 100% brand new and never before used. It also comes with protective screen guard. |
| | Panasonic Eluga Z1 display size is 6.19-inch having a Notch. |
| | Panasonic Eluga Z1 display type is HD+ Notch IPS and display resolution is 1500 x 720 pixels@269 PPI. |
| | This is a complete combo having the display and touch screen glass both parts. |
| | We verify the working condition of the display before dispatch. You can test it as shown in the Video. |
| | The new combo offers the same quality as before. |
| | It is possible to test the display before you fix it so there is absolutely no risk |
| | We have Ready stock available and shipping turnaround time is less than 24 hours. |
| | The product comes with a 30 days return and replacement guarantee. |
| | You can also order the combo on Cash on Delivery. |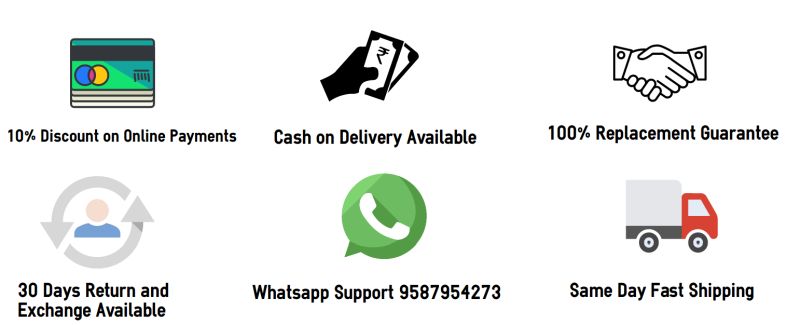 Frequently Asked Questions
Q: How will I install the Eluga Z1 Display after purchasing it? 
A: To install the new display on your phone, you will need to find a mechanic in your city. We recommend that before you place the order, you talk with a local technician who is capable of fixing the display on your phone. Although it is very easy to replace the display yet, you should always do the preparation first to avoid hassle later.
The normal installation charges are like Rs 150-200 to install the display. If someone asks you for more, It simply means that you are overpaying for the installation. There are some exceptions when mechanics are not easily available, and you may need to pay extra to install the display.
Q: Can I install the new display myself without a mechanic? 
A: If you are afraid about installing the display and you think that it is tough, It is not. Anyone having a basic idea of mobile repairing can easily install the display, and lots of helpful videos are available on Youtube for your guidance. You will also need some tools like a screwdriver, hot air gun, and glue to affix the new display on your phone.
We don't recommend that you spend money on Tools for a one-time requirement as you will not do the repairs frequently. So considering that buying tools is a wastage of money for you, you should consider going to a technician for installation as It will cost you less.
Q: What If I get a damaged display inside the parcel? 
A: We pack our products very carefully and use all types of measures to avoid in-transit damage. First, we place the product inside a bubble wrap and then place it inside a hard plastic box. After that, we use additional layers of thermacol and place the plastic box inside a hard cartoon. The packing style we use is probably the safest one, and so far, we have never had any case of damage during transit.
Q: Do you also provide the Glue to paste the display? 
A: We don't provide the Glue along with the display by default. However, we can send the glue on special request, and there are no additional charges for that. Please get in touch with our support team and tell them about your requirements. Please do it as soon as you place the order because, after dispatch, we can't send the Glue.
Q: Do you accept Cash on Delivery orders? 
A: Yes, We do accept Cash on Delivery orders. Please make sure to order the product only if you are serious about your decision. Don't place any others and later refuse them because we ban the customers from purchasing any product in the future. It is a real marketplace, and we don't welcome any fake orders.
Q: What are the standard precautions when replacing the display?
A: Panasonic Eluga Z1 display replacement is straightforward, but you should be prudent enough. These are the precautions for you.
Don't hastily open the back panel as its internal locks can break off, and after that, the rear panel won't fit properly.

Use a limited amount of Glue to paste the display as an excessive amount can go inside the screen and form white spots.

Don't use excessive rubber bands over the display when the glue is drying up.

You should make sure that the display is evenly pasted all around the frame.

Don't put any pressure on the display as It can break easily in open condition.
Q: Can I claim a broken display under the official service center warranty? 
A: There is no warranty applicable on a broken display, and you can't claim it from the official service center. If you have damaged the screen, then you have to pay the price for it.
Q: Can I replace the display and touch screen individually?
A: The Eluga Z1 display is essentially made of two components, display, and touch screen glass. Now when the damage occurs, many customers want to replace the display or the touch screen glass individually. However, It is not advisable as both parts come combined.
People usually start searching for only glass or only display without even thinking about how they will replace it. Just buying the parts will not help you because you also need to install them on your phone. When it comes to separating the display and touch screen and installing the individual products, 99% of attempts fail miserably. So in our opinion, searching for cheap solutions will waste your time and money. Finally, you will need to opt for complete combo replacement.
Shipping, Return and Refund Policy
All the products supplied by us come with 30 days return, refund, and replacement guarantee. To return a product, It should be in the same condition as we sent. You can't use or fix the items If you want to return. For complete details about Shipping and Returns, please click here.