If you are troubled by a broken Panasonic Eluga Z1 Pro display, we can help you get a brand new and original screen replacement. The display unit you see on this page is suitable for Panasonic Eluga Z1 Pro, and we've already sold so many of these. You need to take out the broken screen from your phone and fix a new one. By replacing the display, you can again use your phone without any problems.
What is Panasonic Eluga Z1 Pro Display Combo?
The word combo means the display and touch screen combined in a single unit. When you drop the phone accidentally,  you will either damage the touch screen glass or display and touch screen glass both will scratch. In both conditions, you will need to replace the complete combo.
It is not advisable to replace the part individually as you'll pay more and have a low-quality product at the end. The Panasonic Eluga Z1 Pro combo is a ready-made product, and you need to install it on your phone. These days, all mobile phones work on folder technology. It merely means that display and touch screen glass both parts are closely combined, and you can't replace them individually.
Can I continue to use the phone with a broken display?
If the touch screen glass is slightly scratched and everything else is working fine, you can continue using your phone for some time. You can ignore a minor scratch and don't need to replace the display immediately. At a later stage, when there is additional damage to the display or touch screen glass, and it stops working, then you can replace the folder.
On the other hand, If the damage is severe and the display is broken badly, then it requires immediate attention. A broken touch screen glass can hurt your fingers and even allow dust to enter inside the phone, and it is not a good idea to risk your phone. In such cases, buy a new screen for the Eluga Z1 Pro combo and replace it.
Who will install the new Panasonic Eluga Z1 Pro display for me?
After purchasing the display online, you need to have someone install it on your phone. As you are not a technician, you might not be able to fix it yourself. To install the display on your phone, you will need to take the help of a technician.
We don't recommend installing the display yourself as you might hard the phone even further. Installing the display requires technical skills and some tools handy. Installing the display the wrong way can even damage the new screen. That's why it is always a better idea to pay Rs 150-200 as installation charges to a technician.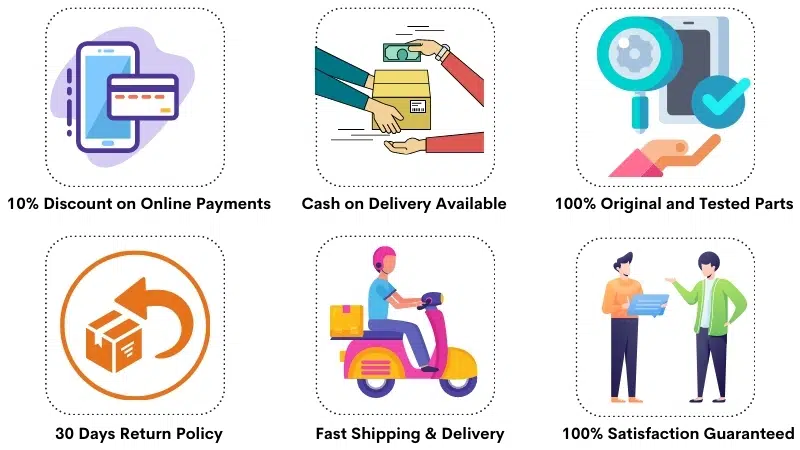 Product Description
| | |
| --- | --- |
| | This combo is 100% original, tested and supports the model Panasonic Eluga Z1 Pro (EB-90S62EZPN). |
| | Panasonic Eluga Z1 Pro display size is 6.19″, display type is HD+ IPS In-cell display with a resolution of 1500 x 720 pixels. |
| | This combo supports all variants of Panasonic Eluga Z1 Pro. |
| | It comes with a pasted module of the display and touch screen glass. |
| | The combo offers 100% same brightness and color reproduction as your original display. |
| | We test the combo by using Panasonic Eluga Z1 Pro motherboard and then dispatch. |
| | All parts are 100% tested and verified, therefore leaving no room for defective products. |
| | We back our products with 30 days refund, return and replacement guarantee. |
| | You can even return a product to us within 30 days after receipt. |
| | The folder is readily available in stock and shipping time is quite fast. |
| | You can order the product using Cash on Delivery or Online Payment. |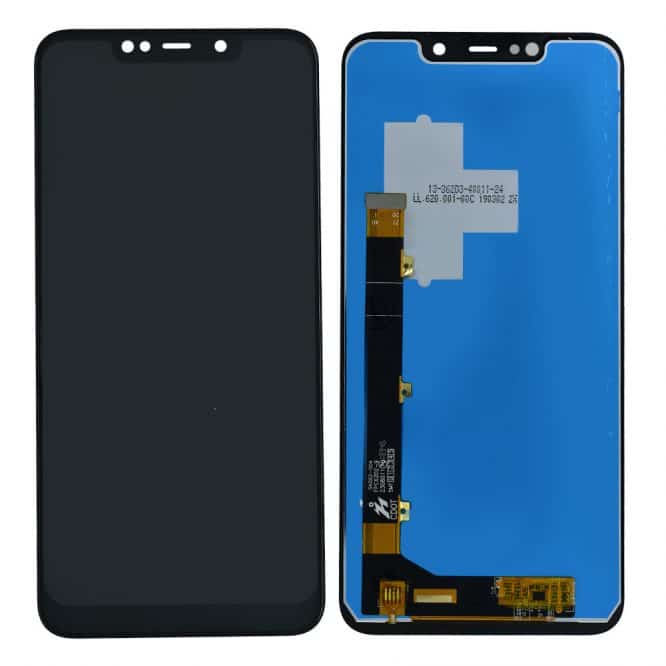 Frequently Asked Questions
Q: What is the price of the Panasonic Eluga Z1 Pro display replacement? 
The price of a 100% original Panasonic Eluga Z1 Pro display replacement is around Rs 2800-3000. If you buy a first copy screen replacement, then the combo costs about Rs 1300-1500 in India. You may have to pay additional repairing charges on top of the display's price to a mechanic.
Q: Is there any warranty for the broken screen?
The warranty is applicable for manufacturing defects only and doesn't cover accidental damages. It can be true that you dropped the phone unintentionally, but still, it is considered as your fault, and you've to pay full price for display replacement.
Q: How long does it take to deliver the product? 
We can ship a parcel all over India, and the normal delivery time is 2-4 days depending on the location. If you live in a village or a remote area where transportation is not easily viable, it can take additional time to deliver the product. Don't order the product in a hurry and expect it to arrive in 1 day because it is simply not possible.
Q: What if the new display is not working?
We ship products only after testing them properly, and so far, there is no such case when our parts were defective. Still, we offer 30 days replacement, return and refund guarantee on all our products. If the product we supplied is not working during testing, you can share a video with us on our WhatsApp support number 9587954273, and we'll assist you further. Any customer having a genuine complaint doesn't need to worry at all.
Q: How can I replace only the glass without changing the display? 
Mechanics in the local market usually suggest glass replacement if the display is intact. We are not selling only glass because It is not a quality solution to the problem. Mechanics do glass replacement for their benefit as they can use a duplicate glass worth Rs 40 and charge like Rs 1000 from you. Lots of customers rush towards glass replacement because they think they are saving money.
The glass replacement is just another name for destroying the overall quality of the display. In most cases, glass replacement will not be successful, and even if the mechanic succeeds in glass replacement, the display quality will be very poor. As we are not into suggesting below-par solutions to our customers, we don't recommend glass replacement.
Q: Why I can't find the Panasonic Eluga Z1 Pro display in the local market? 
Most vendors in the local market focus on selling items that are in demand. As this model is not extremely popular, you might face trouble finding its stock in the offline market. There is nothing to worry about as you can purchase the display online and have a technician install it for you.
Q: Where is the official service center of Panasonic? 
There are Panasonic service centers in India, but you might not be able to find them easily. If you are from a small town, the service center may not be available in your area. In such cases, if you want to get the display replaced from the service center only, you have to travel to the nearest metro city having the service center.
Shipping, Return and Refund Policy
All the products supplied by us come with 30 days return, refund, and replacement guarantee. To return a product, It should be in the same condition as we sent. You can't use or fix the items If you want to return them. For complete details about Shipping, Returns and Warranty, please click here.