It would indeed be highly upsetting for anybody when they break the display of their Redmi 6 Pro by accident. Mobile phones have become enormously important, and it isn't possible to live without a phone for even a day. The Redmi 6 Pro display replacement is mostly an urgent requirement if your work is dependent on the phone. We all use mobile phones to stay connected with our friends and family. If one day, we don't have access to the phone due to a broken screen, it would feel like a very deadening day for us.
The Redmi 6 Pro offers a fantastic display, and if you don't replace the broken display with an identical quality spare part, you can't rejoice in the same display quality again. Please note that it is easy to find the display replacement, but it is not easy to find the original display because many counterfeit goods prevail in the market. Such duplicate screens often come for low prices, but all the quality of your screen demolishes permanently. On this page, we'll discuss all the vital aspects of the Redmi 6 Pro display replacement.
Which parts should be replaced after a broken Redmi 6 Pro display?
Most customers get confused about what they should replace once the phone is damaged. The utmost confusion comes with similar words like display, LCD, screen, glass, touch screen glass, etc. We want to make it easy for you to understand, and the display unit (also called Combo) consists of these two parts :
The Inner IPS Display (Also called LCD/ Display/Screen)
The Top Layer of Touch Screen Glass (Also called Glass, Touch Screen Digitizer, Glass, Touch Screen).
If you drop the phone and we assume that drop is relatively softer, then you'll end up damaging only the top layer of touch screen glass. In case of a harsher drop,  you might end up breaking both the display and the touch screen glass. The touch screen glass is always the first part that hits the hard surface, and that's why it breaks in almost all cases. The touch screen glass shields the inner display, and hence it breaks only if the pressure is very high and touch screen glass can't absorb it alone. You might still be able to use the phone after breakage if you are lucky, but you would need to replace the display sooner or later.
Now, which parts should you replace? Please note that the top layer of touch screen glass comes in close connection with the display. For this reason, even if only the touch screen glass cracks and the inner display is fine, you should still replace the complete display unit if you want to retain the original quality of the screen. If you don't care about the quality, you can try your hands on only the glass replacement.
What is the meaning of a Redmi 6 Pro Combo?
The elementary meaning of a combo is a complete set of display and touch screen glass. The combo is a spare display unit and ready to assemble on the phone. Whenever you drop the phone and break the display (or the touch screen glass), you need to replace the combo, and that's how the service centers replace the broken screens.
The combos are available in two qualities, original and duplicate. The duplicate products also work on your phone but furnish a much lower quality than the original, and that's why such replacements are available for cheap. On the other side, the original combos are original, lasts long, and provide a mesmerizing viewing experience. The fluidness of the original touch screen glass is perfect, while a duplicate touch screen always malfunctions and never works well.
Redmi 6 Pro Display Specifications
| | |
| --- | --- |
| | This display is 100% original, tested, and suitable for Redmi 6 Pro, model number M1805D1SI. |
| | The Redmi 6 Pro display size is 5.84″, the display type is IPS LCD and the resolution is 1080 x 2280 pixels. |
| | It is a complete unit of display and touch screen glass combined into one. |
| | You can use this combo to replace a broken display or touch screen digitizer glass. |
| | We buy our stock from OEM manufacturers to ensure 100% original display quality. |
| | The new display offers 100% the same colors, quality and brightness as before. |
| | We test each display on the actual motherboard of Redmi 6 Pro before dispatch. |
| | We back our products with a 30 days return, refund and replacement guarantee. |
| | The display is readily available in stock and shipping time is very fast. |
| | We offer both, Cash on Delivery and Online Payments (additional 10% discount). |
| | You can also test the display before installation and ensure its working condition. |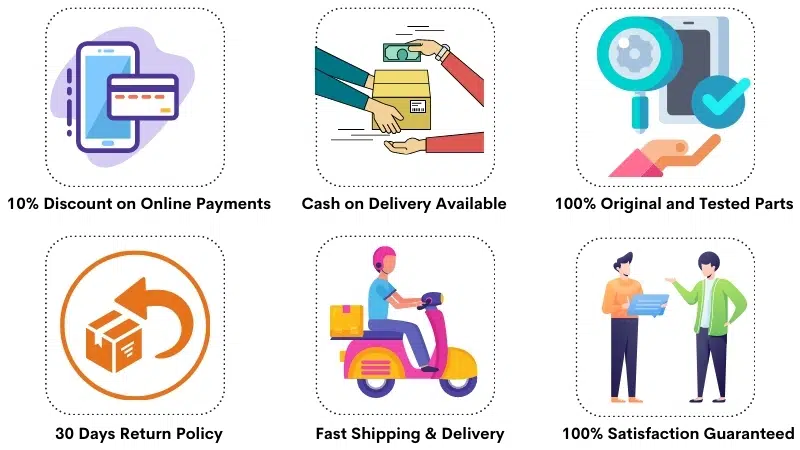 Common Customer Questions
Q: How much does it cost to replace a broken Redmi 6 Pro display in India?
The price of a 100% original Redmi 6 Pro display replacement is around Rs 2400-2600. If you buy a first copy screen replacement, then the combo costs about Rs 1300-1500 in India. The charges for fixing the display on your phone are extra and need to be paid to a technician of your choice.
Q: Why are the local market screen replacements not a worthy investment? 
You will find that new products arrive in the local market every day, and customers can select from various price ranges and choose the product that suits their requirements the most. However, this boon is also a bane because with so many choices, and you'll get confused and ultimately get ripped off with counterfeit screens.
The local market calls the same product with many different names. A duplicate screen replacement is called OG, Diamond Quality, best quality, 99% quality, and the first copy in the local market, and you might have a hard time understanding the difference between them. For your information, all these products are duplicates and synonyms to each other. Shopkeepers and technicians use different names to lure customers into purchasing the product and even charge different prices for the same product in different packings.
The final product is mostly duplicate, and it will never turn out to be a worthy investment. In the local market, rarely you'll find a seller dealing in original screens because customers are looking for deals and not willing to pay for the quality. The original screens are available, but vendors don't want to source them because of customers' natural inclination towards low prices.
Q: What is the difference between the first copy and the original display product?
There are several differences between an original and a duplicate Redmi 6 Pro display. They have only similar looks/appearance; rest everything else about them is very different. Both the products are made of a very different material, and both have a very different display output quality. The price of both products has a huge difference. It is quite clear that the original displays are much costlier than duplicate ones because the original Display uses rich quality material and hence produces a high display output quality. In contrast, a duplicate is made of some cheap, low-quality material, which is why their display output quality is also low, and they are ultimately very low priced.
Sure, if you do not look closely, it is hard for a common man to figure out the difference between them by just looking at them. However, in terms of quality, the duplicate display does not carry the potential to match up to an original display's quality. Due to the low-quality material used, the duplicate displays wear off sooner than you realize, and you would start seeing various display issues too. Commonly faced issues are regarding the display screen's brightness, contrast, saturation, and color distribution. The price difference between both products directly correlates with a relative quality difference.
Q: What should I do if the new Touch LCD Baba's Redmi 6 Pro display doesn't work?
It would be really shocking for us to know that a display supplied by us is not working. We make sure to test each display before shipment and don't leave any room for errors. We test the screen by using the Redmi 6 Pro's actual motherboard, and that's why we are so sure about the quality. If the display works on our phone, it is bound to work on your phone as well.
Still, we stand behind our products and support 30 days testing guarantee on all the products. Upon receiving the new display, you can connect it to your phone's motherboard in an open condition and test it to your satisfaction. If you face any problems while testing the product, you can always contact us for a return, refund, or replacement. Please note that only unused parts are eligible for that the return policy. You can't use (or remove the screen guard) the display and then return it to us because that violates the return policy.
Q: Why is it hard to find the original combo of the Redmi 6 Pro?
Any manufacturer or seller would produce and sell only those products which are demanded more by the public. They want to incur quick profits, and therefore anything that appeals to the customer the most is produced and sold more. The same case applies to duplicate displays. Duplicate displays are relatively low costing, and therefore the customers demand them more and more.
In local markets, the duplicate displays sell exceptionally well and quickly as well. It overshadows the importance of original displays. Therefore, the sellers keep no stock of original display products and all duplicate ones. The original display products are costlier, and customers do not prefer buying them often, which slows down the sellers' profits. Therefore you ultimately find it hard to get the original display screen for your Redmi 6 Pro from the market.
Q: Is the glass installation at home recommended?
It is recommended to only those people who are professional technicians. Unless you are a technician with proper skill and experience in the field of smartphones, you should undoubtedly avoid attempting self-replacement at home. You are not only putting your money or the display at risk through this, but the entire smartphone comes at stake. A small mistake could damage the smartphone. Instead of taking such a big risk, you can appoint a technician and save yourself from all the troubles. Get display replacement done safely at a low cost because technicians do not charge more than 150-200 rupees.
Redmi 6 Pro Display Specifications
These photos show the actual product you'll be getting. This is a complete combo of Redmi 6 Pro consisting of display and touch screen glass both. This is exactly what you need to replace in a broken Redmi 6 Pro mobile phone. This part is a combined folder of the display as well as the touchscreen glass.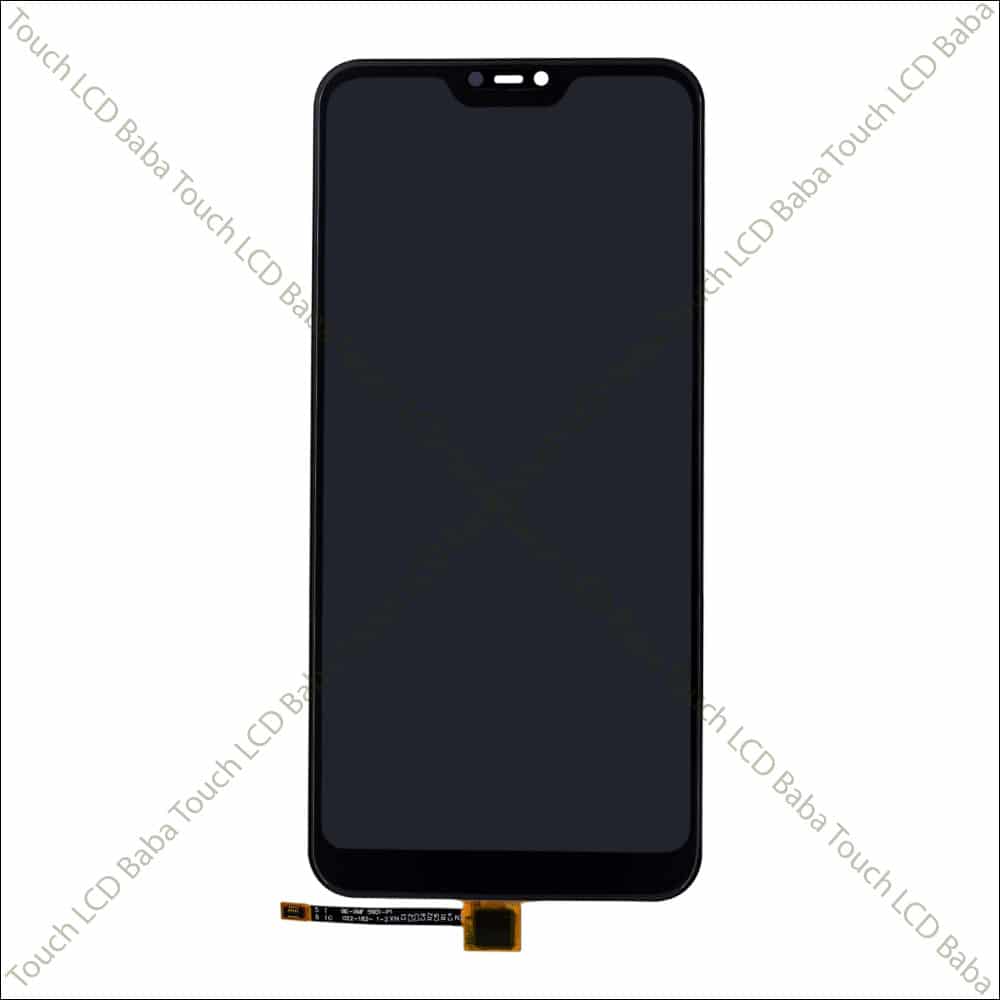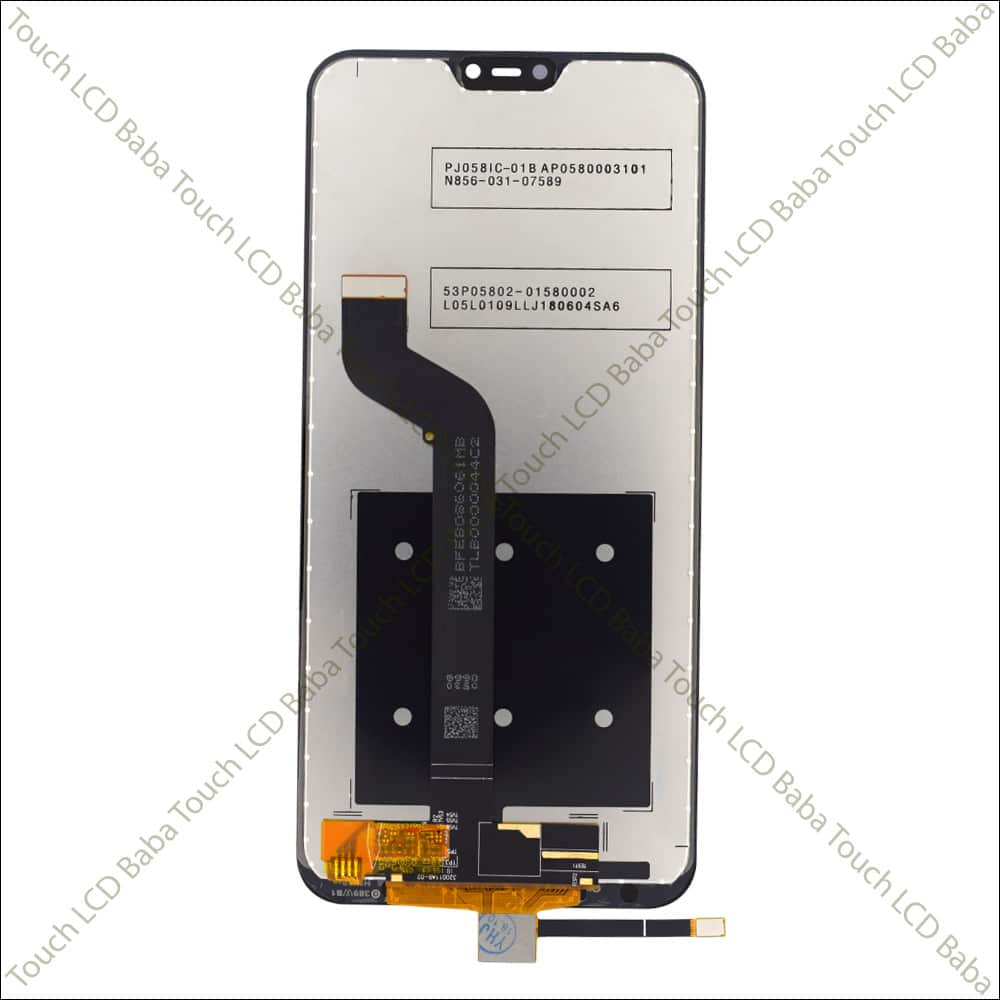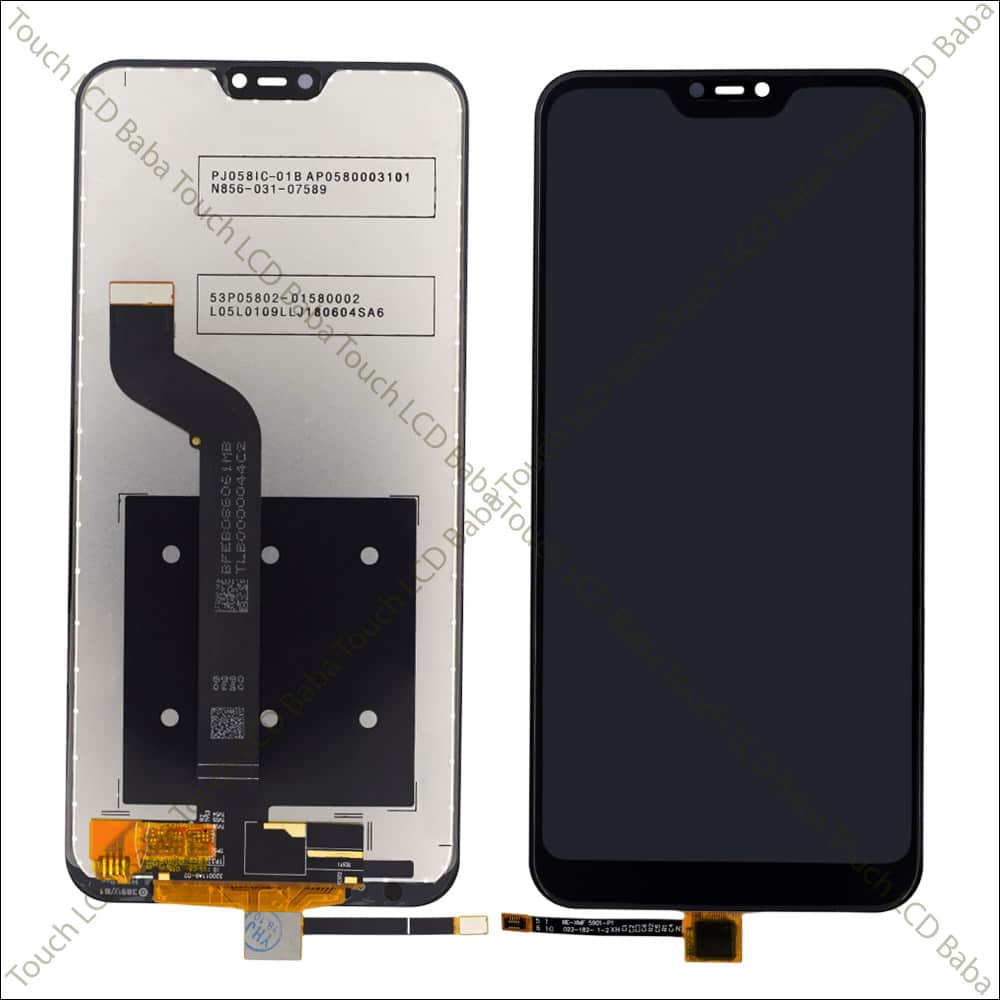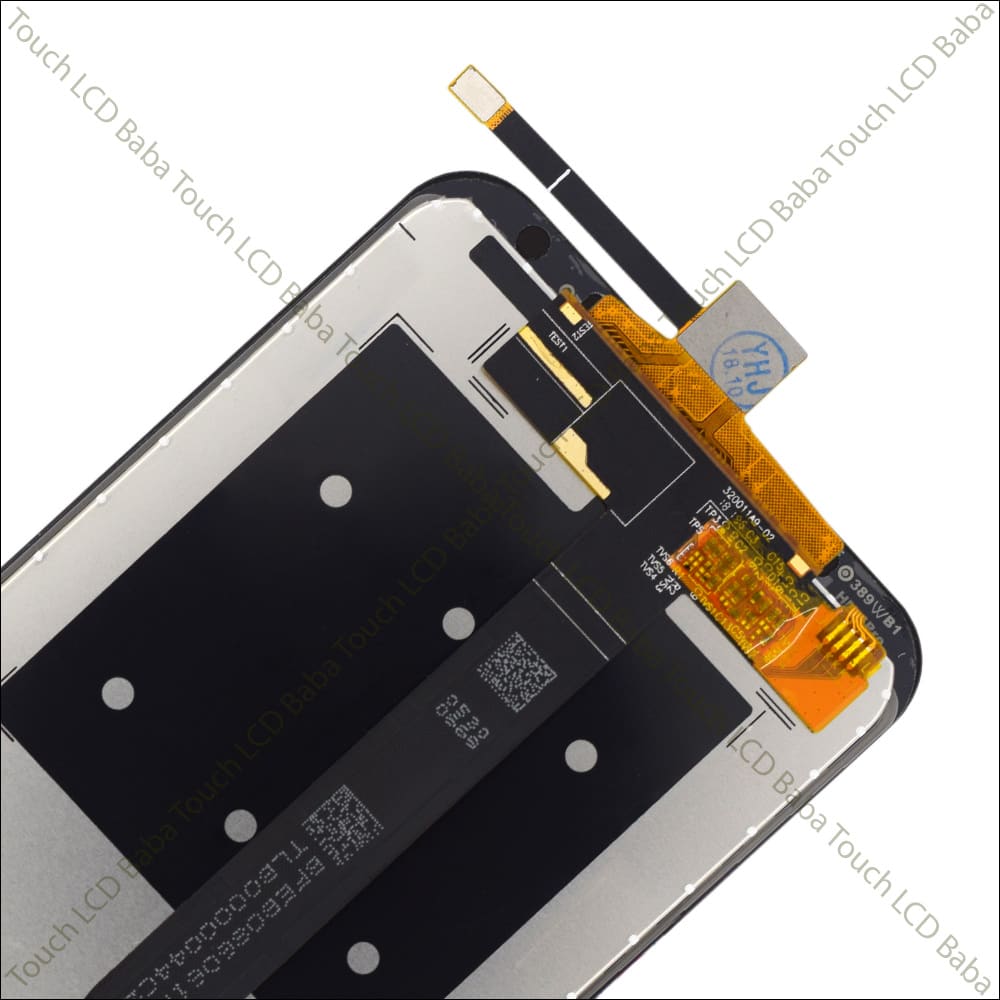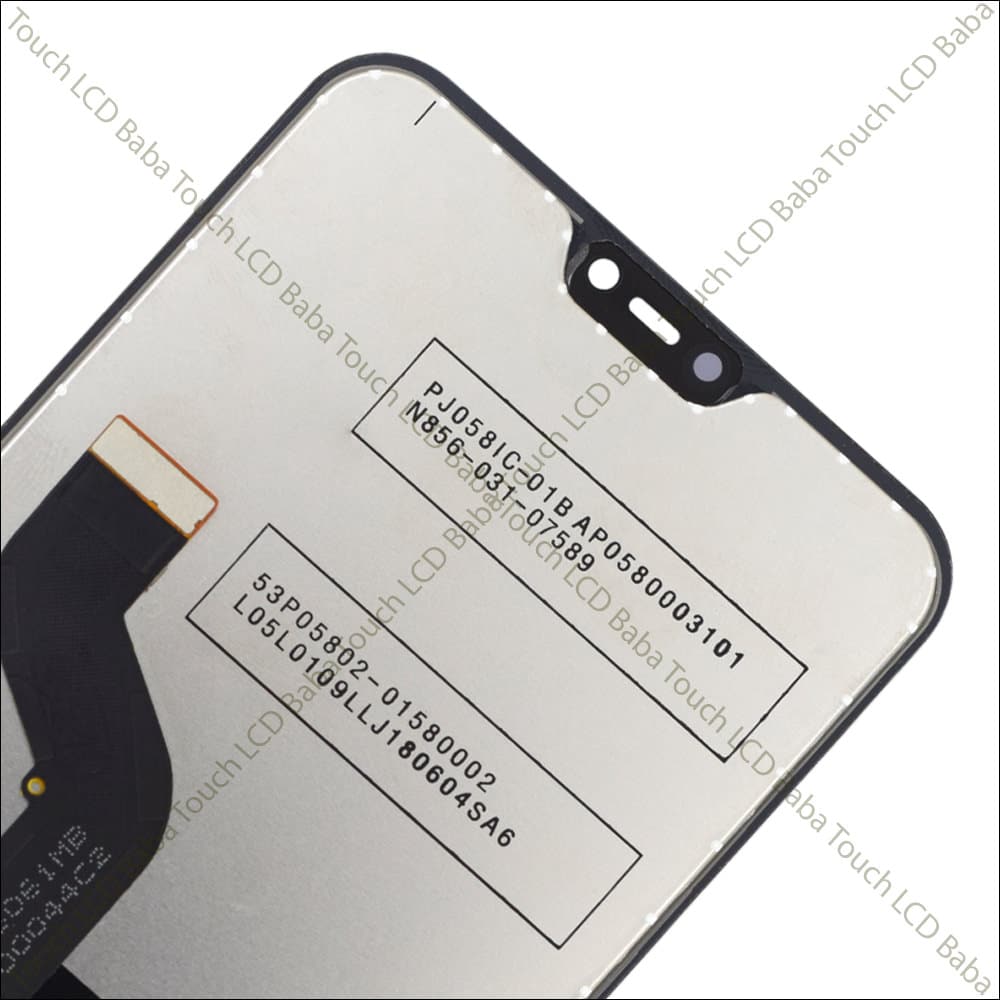 Shipping, Return and Refund Policy
All the products supplied by us come with 30 days return, refund, and replacement guarantee. To return a product, It should be in the same condition as we sent. You can't use or fix the items If you want to return them. For complete details about Shipping, Returns and Warranty, please click here.