OnePlus seven is one of the best phones offered by OnePlus. It is a flagship device that offers many great features, and customers are delighted with its performance. We understand that you are here because you broke the OnePlus 7 display and need a replacement. A broken display is nothing new and happens to almost everyone.
First of all, you shouldn't be worried because a new OnePlus 7 display is easily available. If you are one of those customers who are excessively worried about the display quality, please calm down because original screen replacements are available to make your life much easier. If you replace the broken OnePlus 7 display with an identical original display, you won't face any issue whatsoever.
You might have heard from other people about the problems they faced after replacing the display, and those problems are a result of purchasing low-quality duplicate screen replacements. On this page, we'll furnish complete details about the OnePlus 7 display replacement so that you can understand all the aspects and then make a wise decision.
OnePlus 7 Display Specifications
| | |
| --- | --- |
| | This display is 100% original, tested, and suitable for OnePlus 7, model number GM1901. |
| | The OnePlus 7 display size is 6.41 inches, the display type is Optic AMOLED and the resolution is 2340 x 1080 pixels. |
| | The top layer of touch screen glass comes with Corning Gorilla Glass 6 protection. |
| | This product is a complete unit of display and touch screen digitizer glass merged into one. |
| | You can also use the in-display fingerprint functionality with this display. |
| | It offers 100% the same colors, quality and brightness as the original display. |
| | We always test each display for 100% flawless working before dispatch. |
| | You can easily test the new display on your phone without pasting or gluing it. |
| | After delivery, you get a 30 days time to test and verify the product to your satisfaction. |
| | The display is readily available in stock and shipping time is very fast. |
| | You can order the display using Cash on Delivery or Online Payments (10% additional discount). |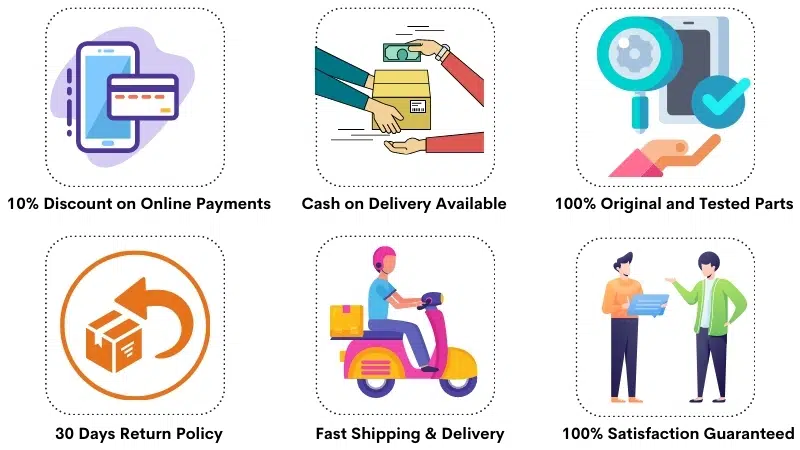 What is the meaning of the OnePlus 7 Display Combo?
The meaning of a display combo is a set of the display and a top layer of touch screen digitizer glass. When the display and touch screen glass are combined into a single unit, a combo or folder or display assembly is the result. All mobile phone service centers and technicians use these display combo to replace a broken phone.
If you take your phone to the official service center, they recommend replacing the complete combo. When a new model is launched in the market, manufacturers also make a lot of spare screens for future use. Such screens are supplied in the market so that service centers can easily repair the phone. We hope now you completely understand the meaning of a display combo.
What is an AMOLED display?
An AMOLED display is the best display quality you can get. For your information, AMOLED screens work pixel-by-pixel and are capable of producing brighter colors. These screens furnish perfect blacks and consume way less power than the traditional LCDs. You should also know that AMOLED screens are thinner, and that's why you should install these with extreme caution.
It is worth mentioning that cheap screens available in the market are not AMOLED but TFT/IPS quality screens. These screens offer 40% quality of the original, and that's why these are cheap. So if you were confused about why someone is offering a OnePlus 7 display to you for Rs 2500, you should know that you are getting a fake product.
Common Customer Questions
Q: How much does it cost to replace a broken OnePlus 7 display in India?
The price of a 100% original OnePlus 7 display replacement is around Rs 6800-7000. A duplicate display of the OnePlus 7 costs less, but that's not going to be a satisfactory choice. If you buy a duplicate display, you'll often face blinking issues, and the under-display fingerprint scanner will also not work.
Q: Does the new display come with Corning Gorilla 6 protection?
Yes. The new display comes with Corning Gorilla Glass 6 protection. For maximum safety of your device, you should always install additional tempered glass on your phone to protect the display. Please note that Gorilla Glass is sturdy, but still, it isn't invincible. It is always a great idea to use the best quality tempered glass to protect the screen from scratches.
Q: What to do if only the glass is shattered and the display is intact?
Typically, customers assume that if a glass is shattered and the touch is still working, everything is fine, but that's not the right assumption. Both the touch screen glass and display form a display combo, and if one of these breaks, you still need to replace the complete display unit if you follow the set standards.
If you want cheap solutions, you'll find many technicians in the market doing glass replacement. In our opinion, glass replacement is an alternative solution that allows you to repair your existing screen without replacing it completely. The resulting product after glass replacement is not immaculate but full of flaws because of the manual replacement. In the past few years, glass replacement has become bread and butter for technicians. A glass which costs Rs 100 is sold for Rs 1500 or even more because the technician is also replacing the glass for you and doing the complete assembling.
Indeed, replacing the glass isn't easy, and there is always a risk of breakage during the replacement, and technicians take full advantage of this. Customers also feel glass replacement is a win-win situation because they have already enquired about a new display in the service center, and glass replacement seems very cheap and reasonable.
Q: Can I open the parcel and check the display first before paying?
No. You can't open the parcel before paying, and you should know that. We are sorry if you are looking for open delivery; we don't entertain such requests. As a customer, you can surely record an unboxing video when you open the parcel, and we take full responsibility for the content inside the parcel.
Customers are afraid of fraud, but the same is also true for the sellers. Many customers are also involved in frauds, content swapping, and collaborating with the delivery person. Numerous such cases happen every day when customers make forgery attempts. Therefore, we don't permit open delivery in any condition, and if you disagree, you are most welcome to take your business elsewhere. We can share product images or videos with you before shipment because we understand that your money is important, but so is ours, and you should also understand that.
Q: It is easy to install the OnePlus 7 display at home?
As we mentioned before, AMOLED screens are slim, and you should install them with extreme caution. It would help if you don't try that at home; otherwise, you are responsible for the consequences. We have seen countless cases when a customer considers himself a jack of all trades and messes up things at home. After that, they try to blame their inability on us, which never works out well. Therefore, please don't do this at home because you will incur a loss to yourself. A skilled technician normally charges around Rs 250-300 to install the display, and that's a reasonable charge.
Q: Do I also get the backside glass (back panel) with the display?
No. You don't. Please note that the display and back panel are two separate parts, and you don't get a back panel with the display. This page is all about the OnePlus 7 display, which you get in the package. Please don't expect to get other accessories not listed or mentioned here.
Q: Can you come to my place and also install the new OnePlus 7 display?
We are sorry, but we don't provide display installation services. Once you get the delivery, you need to seek a professional technician's help to install the display on your phone. It would be best to discuss the installation with a technician first, and when you get the delivery, you won't have to wander here and there for installation.
Q: Do I get this display in OnePlus packing?
Some customers have asked whether they will get the product in a OnePlus branded envelope or box, but that's not the case. If you examine your old display, you won't see any branding or logo on your screen, so ours also doesn't have any such identity. As we mentioned earlier, original screens come from a certain factory, and you've to rely on the vendor for its quality. Apart from that, one can forge all the packing and other identities, but it is impossible to fake the original display's quality and functionality.
Q: Where can I locate the official OnePlus service center in my city?
We are sorry, but we don't have a ready list of OnePlus service centers in India. You might want to visit the OnePlus India website to locate the official service center in your city. In most locations, you can't find the official service center, and you've to send your phone to a bigger city for repairs. You might have a collection center in your city, but a service center might not be available.
OnePlus 7 Display Photos
These are the actual product photos that show the actual product you'll get. As you can see, the display and touch screen glass are merged. This display also supports the fingerprint scanning feature and proximity sensor, as you can check the photos. For any questions, you can call us at 9587954273.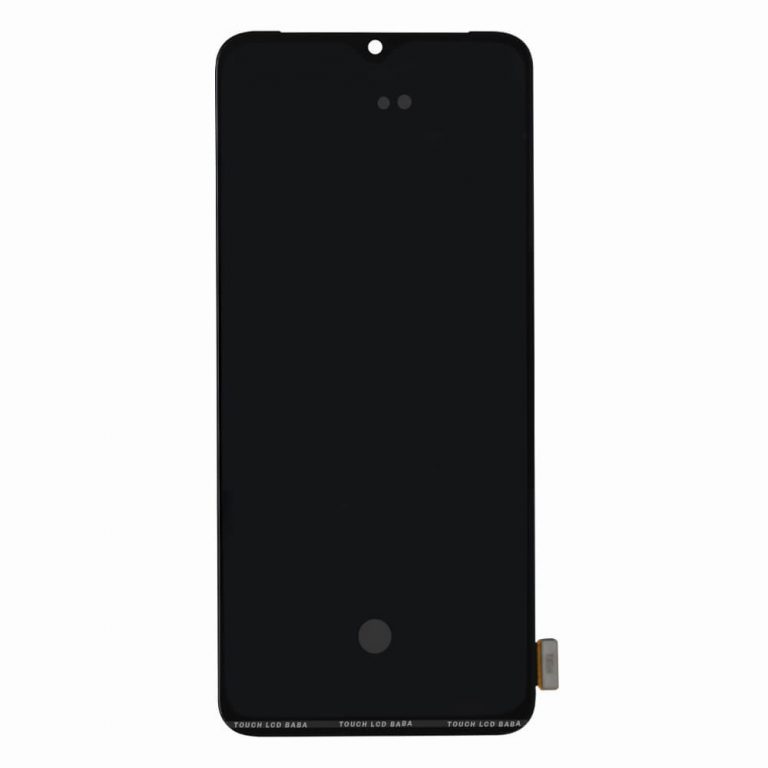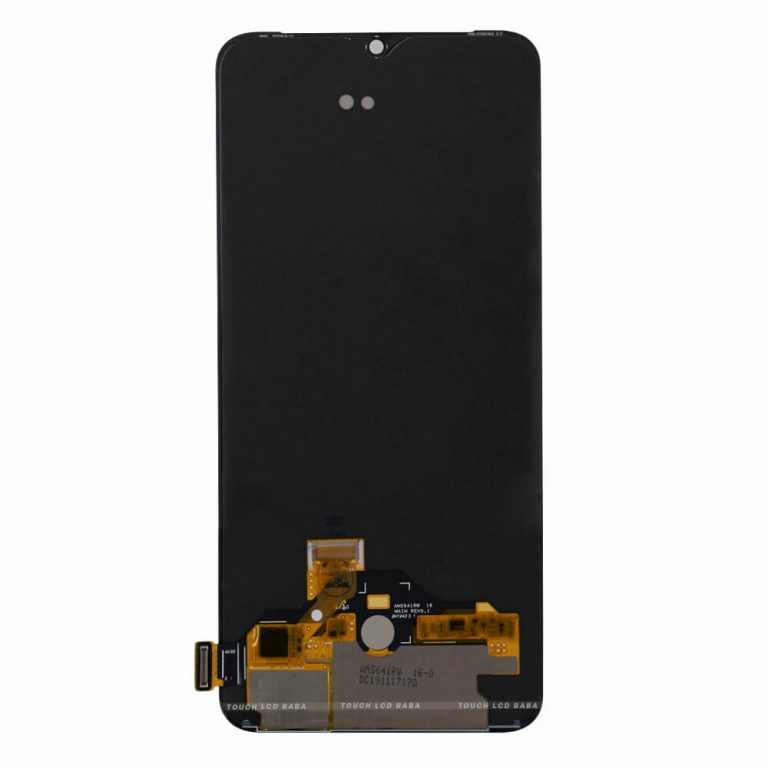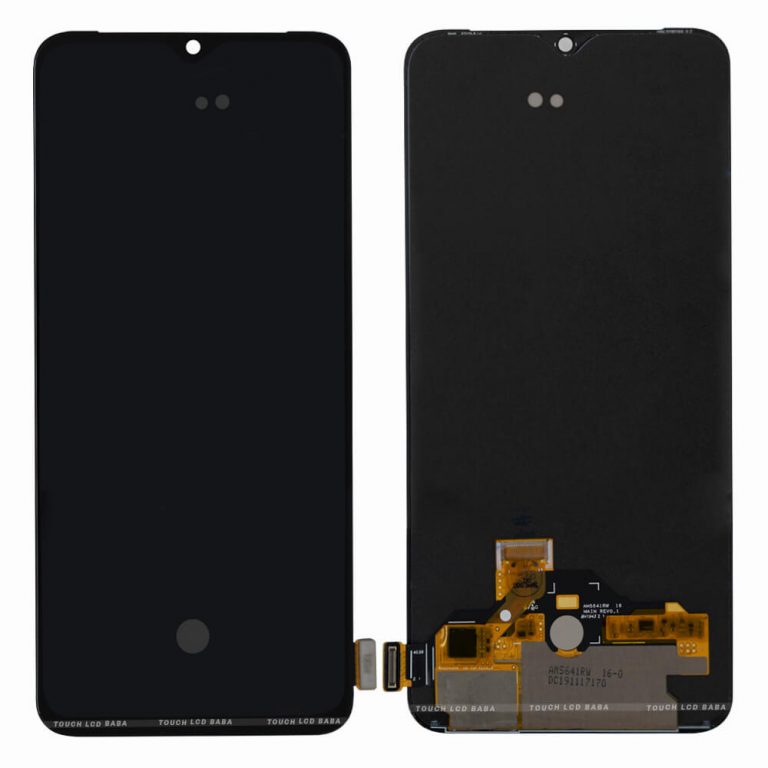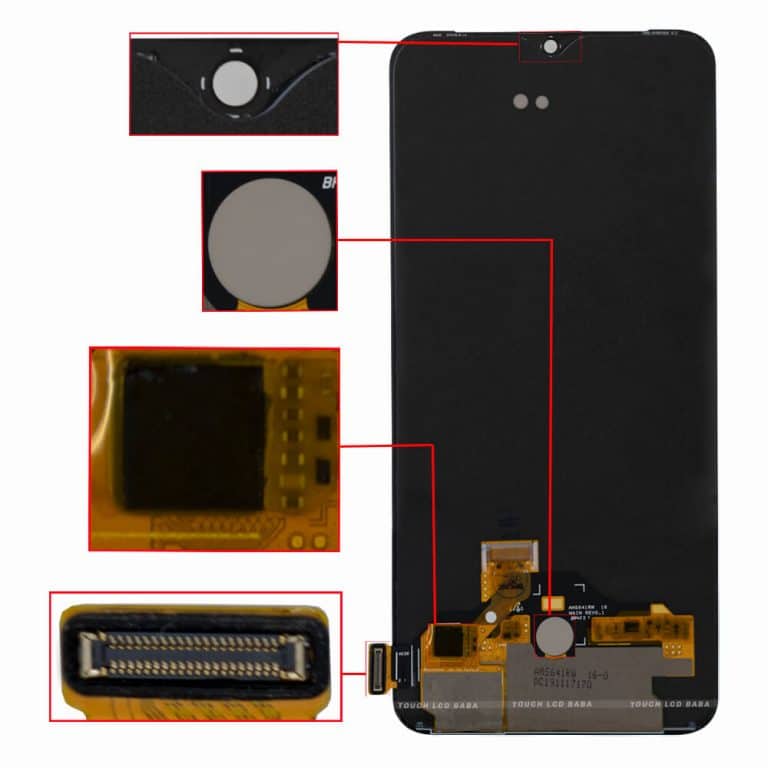 Shipping, Return and Refund Policy
All the products supplied by us come with 30 days return, refund, and replacement guarantee. To return a product, It should be in the same condition as we sent. You can't use or fix the new OnePlus 7 display if you want to return it. For complete details about Shipping, Returns and Warranty, please click here.