We want you to know everything before you order. As an esteemed customer, you should know all the policies so that you are in full control of your purchase.
We have tried to make these terms and conditions very clear without hiding anything. You can find answers to all the questions regarding returns and refunds here. In case you still have any questions lingering in your mind, give us a call and clear it up. Our contact number is 9587954273, and you can call or WhatsApp on this number for any assistance.
Shipping and Delivery Time
Our leading courier partner is Blue Dart. We also send shipments via DTDC, First Flight, ECom Express, Delhivery, and India Post. Please let us know If you have any questions about shipping. We can also use a shipping provider according to your preference.
If you order before 6.00 PM on working days (excluding Sunday), then your order will be shipped on the same day itself. That is because we want to deliver your products as quickly as possible. You will also receive the tracking details which you can use to track your shipments online. If you face any problems, you can always call us for assistance.
Delivery time (or say Transit Time) depends on your location. We ship your products from our Bikaner (Rajasthan) office, and the average delivery time is 2-4 days. To Metro locations, we can deliver within 48 hours in most cases. If you are in a remote area, then delivery can take a little longer. You can always call us to know the transit time.
We take insurance for our parcels for any damage during transit. Since we are selling fragile items, we take the utmost care to pack your products, but still, we take full responsibility for any in-transit damage. You are advised to make a video when you open the parcel. All our packages come in sealed condition, and It is not possible to temper them easily. We also apply our branded tape on the box so that you can receive it in sealed condition only. If someone tries to tamper with the parcel, the branded seal will tear itself, and that can be detected easily. Though as we are shipping with reputed companies, we have never had any issue with content getting stolen during transit, so there is nothing to worry about.
Still, as a customer, you can always record a video when you open the parcel. If you find any issues, you can forward the video to our Whatsapp Support 9587954273, and we'll be pleased to assist you.
Payments
We accept Payments via all types of credit cards, debit cards, net banking, ATM cards as well as Wallets like PayTM, Mobikwik Etc. All the payments are processed under a secure environment and we don't store any sort of information on our server.
We also offer Cash on Delivery Payments all over India. On-line Payment is the best way to Pay for the product as your order gets processed very quickly and all purchases are covered by our refund guarantee.
Contact Us
For any questions regarding our products, please feel free to call us on 09587954273. You can also send us a WhatsAPP Message on 09587954273 and we'll be very happy to assist you with all your queries. We have extensive knowledge of all mobile phone parts, and you can ask us any questions to clear your doubts!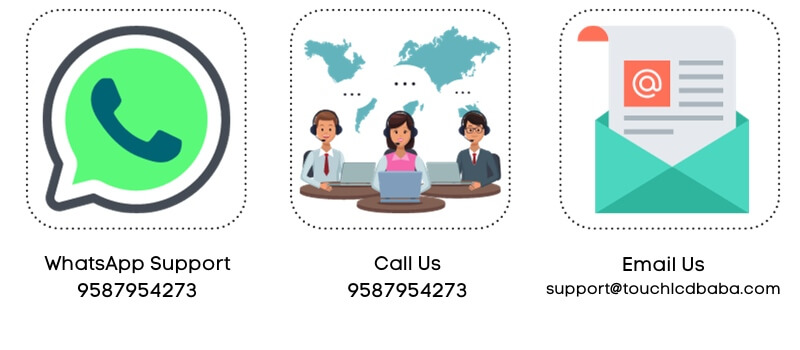 Refunds and Returns
When you are buying an item online, you may certainly worry about the Return Policy. You might be thinking about what will happen if the product is faulty? I want to clear all your questions about returns here.
First of all, we do accept returns provided the item is in original condition. When you order an item from us, we check it for perfect working and then send it to you. In rare circumstances If you face any problem with the product, you can return it for a replacement provided you don't tear off the front Lamination.
In other words, when you'll receive the product, there will be a protective layer (or say Screen Guard type thing) on the item. You need to make sure that you don't remove that before testing the product
When you order and receive our product, please connect it to the motherboard of your handset and test it for perfect working. You can connect the Display Combo to the motherboard without removing the front lamination. Just fit in the panel temporarily (without using any glues, tapes, or another adhesive) and test the panel thoroughly by turning on the handset.
If you find any problems, call us, return the faulty item and get a replacement completely free of charge. Most of our items work like a charm, and in case of any issues, we are always here. Just make sure that you don't remove the front or back lamination in any condition.
A) You can return the products which you have not used and fixed on your mobile phone. We request that you inspect your products carefully when you receive them. We don't accept returns after 30 days from the original receipt date. To return the product, you need to return it in the same condition without using or fixing the part in your phone. We don't accept used parts back in any condition. You must get authorization from us before you return any product to us. We handle all non-defective returns on a case-by-case basis. Money-back is also available on returned products.
B)Shipping Cost and COD Charges are non-refundable items. If you return a product to us, please be aware that you have to pay return shipping charges, and you'll not get a refund for the shipping charges (and COD Charges), which you had paid earlier.
C) We don't accept returns If you've removed the protective screen guards from our items and have used them in any way. Before fixing the item permanently, please check it checked carefully with a nearby mechanic. You can easily connect the display to your phone and test it without removing the protective screen guard. Please don't contact us with any complaints after fixing the items permanently.
We can't accept used items back as we are selling brand new items, and we don't re-stock used items back. We don't accept returns if you tear off the screen-guard or fix the product permanently. Also, there is no need to fix the display permanently as you can easily test it before fitting. Many people ask how they will know if the display is working or not. So to clear this, you can easily connect the display to your phone and test it without fixing it permanently.
D) We don't allow anyone to misuse the return policy. Several customers want to abuse the return policy by sending their old broken items back to us.
To avoid such issues, you will need to send a photo or video of the actual problem depending on the situation before we authorize the return. You can send a message to our Whatsapp Support number 9587954273. Any genuine customer having a valid reason will never have any issues with this policy. This policy is to curb customers who try to cheat us using different tactics.
E) The return process is very easy and straightforward If you return the item in the same condition as you received it. We don't have any questions to ask, and there are no hidden charges. We want to receive the part in the same condition as we sent to you. That's all.
F) Returns are not available for pricing reasons as all parts have different quality and make. If you want a low-quality product for a low price, don't compare it with ours, and It will not be a ground for returns.
G) There are a bunch of customers who want to misuse the return policy. What they generally do is, they will order a product online and after receiving the part, they will show the part to the mechanic and try to source it for a cheaper price from somewhere else.
If they find it for a cheaper price or an alternative, they will falsely accuse the seller that the display they ordered online is not working and other similar things. We will not accept any return based on such things because our time, resources, and money are not to be consumed for free. If you have got a genuine problem with our product, we will support you beyond the limits, but no fabricated returns are accepted.
To avoid such issues, you will need to send a photo or video of the actual problem depending on the situation before we authorize the return. You can send a message to our Whatsapp Support number 9587954273. Any genuine customer having a valid reason will never have any issues with this policy. This policy is to curb customers who try to cheat us using different tactics.
Any unexplained returns without having a proper reason, the customer has to pay the shipping and reverse shipping two-way charges. The free shipping is not applicable to any cases which are not a result of any issue from our side. For example, you order a product and your phone itself is defective, then you have two pay two-way shipping charges in case of COD and Prepaid. We reserve the right to make a final decision on this.
H) We reverse the right to deny a return request If we feel that It is not a valid request. For example, If your mechanic is not competent enough to fit the product, It will not be a ground for the return. We sell screens that are worth more than 10k each and we can't send them for testing and then return.
I) There is no option to return a display after installing it on your phone. If you assemble a display in your phone, place the motherboard, battery, and tighten all the screws, take off the seals, then you can't return the display after that. A used part is a used part and we can't take it back.
J) We don't allow anyone to misuse the return policy. We have faced some deceitful customers who order high ticket items (very costly screens), use them to take backup of their phones or other similar purposes, and then scolding sellers about the quality and then try to return it. Please note that in rare cases, we can completely deny the return request when we believe that buyer is a completely dishonest person. In the best interest of our business, we fully reserve the right to protect the integrity of our marketplace.
Customer Feedback
Your Feedback is essential to us. Positive feedback from a customer means a lot to us! We want that our customers are always satisfied and we are always here to help them. We request that after getting the product, you share your experience on our website. If you like our products, please feel free to share our website with your friends and family. Give us a facebook like or tweet for us! It will make us very happy!