A broken OnePlus 7 Pro display or touchscreen is truly depressing, and it is one of the most popular mobile phones from OnePlus. Regarding display replacements, the OnePlus 7 Pro combo is one of the most expensive screens when buying an original AMOLED display from the OEM manufacturer. Please note that we don't facilitate the selling of duplicate/fake screens, so if you were looking for budget solutions, we are sorry to disappoint you because no fake display will work properly with this phone.
Please note that AMOLED screens offer the highest display quality because of their self-lighting pixels. When you drop the phone on a hard surface or the display gets pressed inside the pocket, the display can either break or turn defective because of pressure. In many cases, the AMOLED display's demise starts with one blue spot that slowly spreads all over the display. That's a widespread phenomenon with AMOLED screens, also called screen burning. You might feel that it has happened automatically, but that usually starts after a blow to the display.
What is the meaning of the OnePlus 7 Pro display combo?
You need a new OnePlus 7 Pro display unit called a combo to replace a broken display. A OnePlus 7 Pro combo (or folder) refers to a complete unit of display and touchscreen glass combined and functions as a unified product. The front layer of glass comes in close conjunction with the display, making the display and touchscreen almost inseparable. If you try to separate the broken glass from the display, in most cases, the inner display will break or become defective somehow.
You might have broken only the touchscreen glass, and many customers go through the same situation. You'll surely want to replace only the touchscreen glass and salvage the inner display, and it is easier said than done. The manufacturer combines the display and touchscreen concretely; separating them without damage is not child's play. Recently, many tools and separator machines have arrived on the market, but they are not complete when separating curved screens. Most cases will result in a damaged or flawed glass replacement.
Isn't glass replacement a reality and easy to accomplish?
As a customer, you'll surely want to minimize the repair costs. As the mobile phone turns older, a customer becomes reluctant to invest money and often embraces low-quality solutions. In this hunt, customers often try glass replacement services in the market without understanding that it has a success rate of less than 10%. Most shopkeepers cannot replace the glass successfully, and they always damage the customer's display while experimenting with the glass replacement. OnePlus 7 Pro only glass replacement is not easy to accomplish and quite risky.
You should understand that glass replacement is possible but not always successful. Considering the complex nature of glass replacement, replacing the complete display unit is much cleaner and effortless. You can try glass replacement, but mentally prepare yourself that if glass replacement fails, you'll need to invest around 13-14k for the original display replacement. Please also note that a technician loses nothing if the glass replacement fails because you must bear the risk of this process, and if something bad happens, you'll become empty-handed.
OnePlus 7 Pro AMOLED Display Specifications
| | |
| --- | --- |
| | This OnePlus 7 Pro AMOLED display combo is 100% original, tested, and suitable for all variants of the 1+7 Pro. |
| | The OnePlus 7 Pro display size is 6.67″, the display type is Fluid AMOLED, and the resolution is 1440 x 3120 pixels. |
| | The new display combo comes with Corning Gorilla Glass 5 protection on the front. |
| | We always test and verify the working condition of new displays before shipping them to our clients. |
| | You'll get the same display as assembled with a brand-new phone. |
| | The new display exhibits 100% original colors, quality, and brightness, like a new phone. |
| | We source our products from OEM manufacturers to ensure original quality. |
| | You can also test and verify the working condition of the new display before installation. |
| | The display is truly Fluid AMOLED, 90Hz, HDR10+, and supports Always-On and Gestures. |
| | The OnePlus 7 Pro display is readily available in stock and has a fast turnaround time. |
| | We offer Cash on Delivery and Online Payments (10% additional discount) as payment methods. |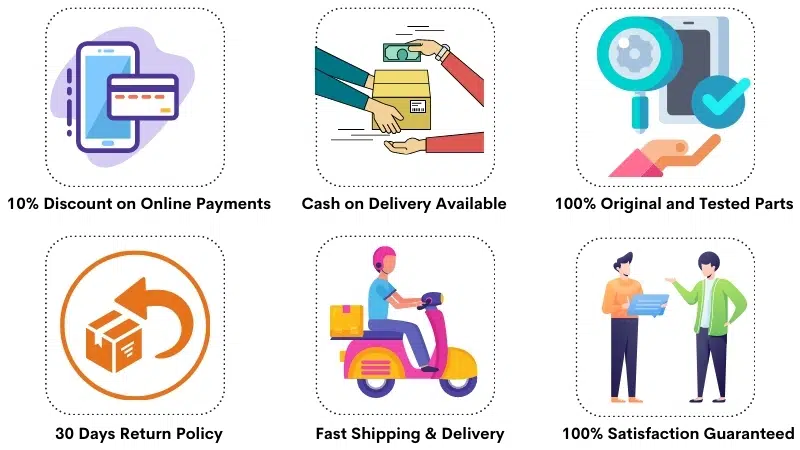 Frequently Asked Questions
Q: How much does replacing a broken OnePlus 7 Pro display cost in India?
A 100% original AMOLED OnePlus 7 Pro display replacement costs around Rs 13500-14000 in India. This price is valid for a 100% original AMOLED panel that offers the same quality as a factory-fitted display. We are unsure about duplicate/compatible screens for this model, and as per our knowledge, you'll not find fake screens for this model anywhere.
---
Q: Does the new OnePlus 7 Pro display support the in-display fingerprint?
Yes. As you can see in the product photos, the display comes with a round transparent hold meant for the fingerprint reader. It is where you place your thumb to use the fingerprint unlocking feature. Please note that the under-display fingerprint works only in AMOLED display, and there must be a round transparent figure.
Please also note that the fingerprint scanning is not entirely dependent on the display. That's because the optical reader is placed under the round square, and that hardware is responsible for reading/scanning the fingerprint. The optical reader looks like a camera and is placed in the middle frame, just underneath the transparent square in the display. The display combo on this page supports in-display fingerprint scanning without problems.
---
Q: It is such an expensive display. How do I know that you've sent a working product?
We always test and verify all the aspects of a new display and then ship it to you. You won't receive a non-working product from us, and that's for sure. We understand that you might have your doubts, and to clear them up, we always send our customers a personalized testing video of the display. This video will show the particular product you'll get, and we'll write your order number on the display's screen guard, and you'll receive the same product you can match.
The purpose of sending the testing video is to assure you that we've tested the display before shipping it. Many customers fear receiving a product that doesn't work, but we don't leave room for errors or guesswork, so we test each OnePlus 7 Pro display and ship it out. If you've any questions, please call us at 9587954273.
---
Q: Why is the OnePlus 7 Pro display expensive and newer models are cheaper?
New models launched after OnePlus 7 Pro indeed have cheaper screens, and that's because those screens are different. Each display's manufacturing is different, and a curved display is typically much more expensive than a flat display. All phones have different screens for different prices, and the price greatly depends on the demand and supply also. So if you count on the price on a single ground, that's unjustified. The price will automatically increase if the display is short in the market.
Normally, if a new model's display is in the market, it will be cheaper because the OEM factory is still making new screens. After a certain time, the production of new screens halts, and if there is greater demand in the market, the remaining stock soars up wildly, and prices increase everywhere. We suggest you always buy the original OnePlus 7 Pro display regardless of the price, which you can never control.
---
Q: Does the new display support the in-display fingerprint scanning?
The in-display fingerprint is the most convenient and favorite feature of many customers. Many customers are ready to buy a duplicate display if the in-display fingerprint scanner works, but unfortunately, the in-display fingerprint scanning works only on original screens. The display sold by Touch LCD Baba supports the in-display fingerprint scanner.
If you look at the product photos carefully, you can see a transparent, round figure at the place where you place your thumb to unlock the phone. In duplicate screens (if available), you'll not find the transparent, round figure because they don't support fingerprint scanning. The original AMOLED display supports the in-fingerprint reading, and you shouldn't worry about the other similar features. The original display supports all the features like gestures, multi-touch, and Always-On display, and you shouldn't worry about the individual features.
---
Q: Do you also install the display on my phone or only deliver it?
We don't install the display on your phone but only deliver it to your doorstep. Please note that original screens are unavailable in most places, and we're here to fill that gap. You can find hundreds and thousands of mobile phone technicians installing for a fee in every location. To install the display in your locality, consult a local technician and order the product.
Please also note that installing OnePlus 7 Pro display requires expertise, and you shouldn't have someone install the display without expertise. AMOLED screens are sensitive and proper installation is always a must. Always choose the best technician in your area; the installation charges should be around Rs 500-700 for a skillful technician.
---
Q: What If I receive a cracked display inside the parcel?
We understand your fear, which comes from other customers' horror stories after buying a product online. You'll find many customers who are always skeptical when buying a display online and feel that someone will deceive them and they will lose their money. Then they worry about other things like a cracked display inside the parcel, but we think that all these assumptions are a mindset problem.
We provide original screens and need customers to sell them for a small profit because most customers can't find a reliable vendor for their needs. A broken display inside a parcel is never a case because the seller must pay the final reimbursement if the display cracks in transit. We pack products very carefully in hard plastic boxes with additional protective layers. You can always record an unboxing video when you open the parcel, and if you find anything damaged, we'll reimburse you for that. We also request that you don't worry because nothing will happen.
---
Q: How to test the new OnePlus 7 Pro display without installation?
You can easily test the new OnePlus 7 Pro display replacement before installation, and we also do the same. Please note that testing and installation should be done by a professional, and you should never mishandle the screens because they tend to break or damage internally when you harshly treat them. To test the new display, please follow these steps :
A) First, blow hot air over the back panel of your phone to soften the adhesive.
B) Glide through the adhesive using a party tool and gently remove the back panel.
C) Then remove the ringer box at the bottom and gently eject the old display's connection like in this image.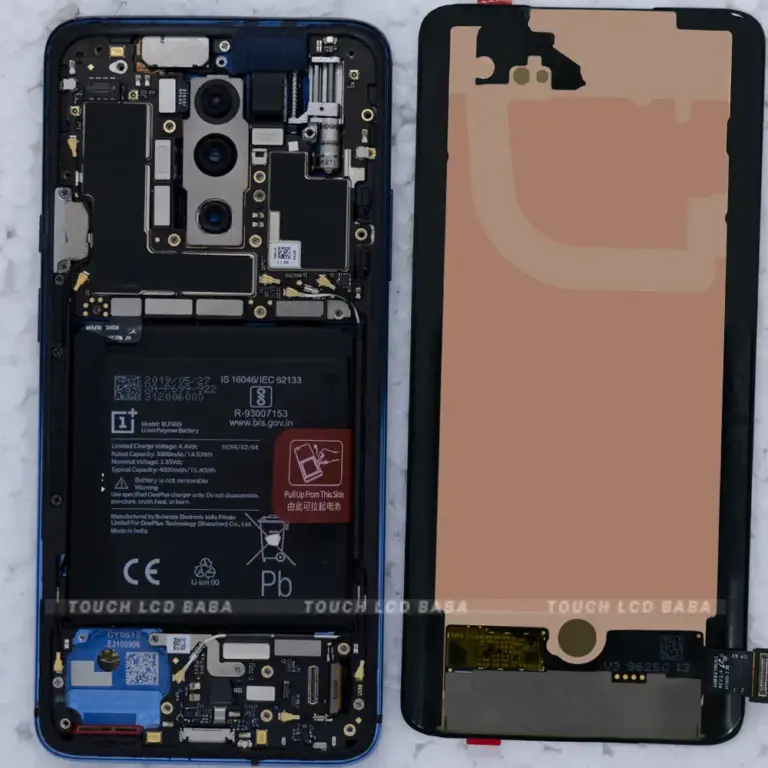 D) The OnePlus 7 Pro display connects to the charging PCB of your phone, like in this image. You can see in the above photo that we've already removed the old display's connection from the charging PCB, and you should also do the same before testing the new display. You can test the new display on the rear side easily as shown in the photos.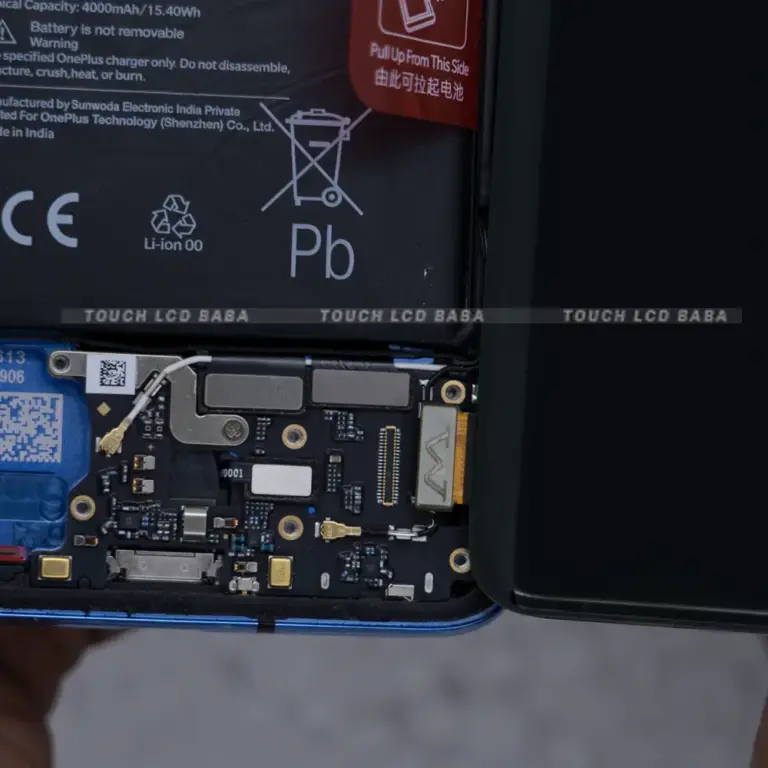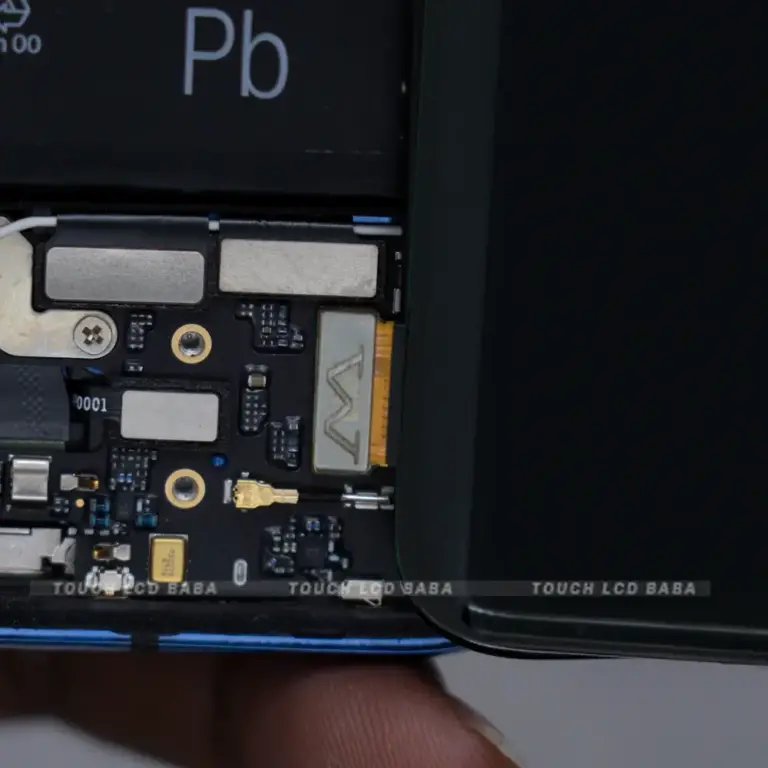 E) After connecting the display, press the power button to turn on the phone, allowing you to test the display and use the touchscreen. Please note that open condition testing is 100% accurate,, and you can easily check colors, brightness, and all other vital aspects of the display even before installation.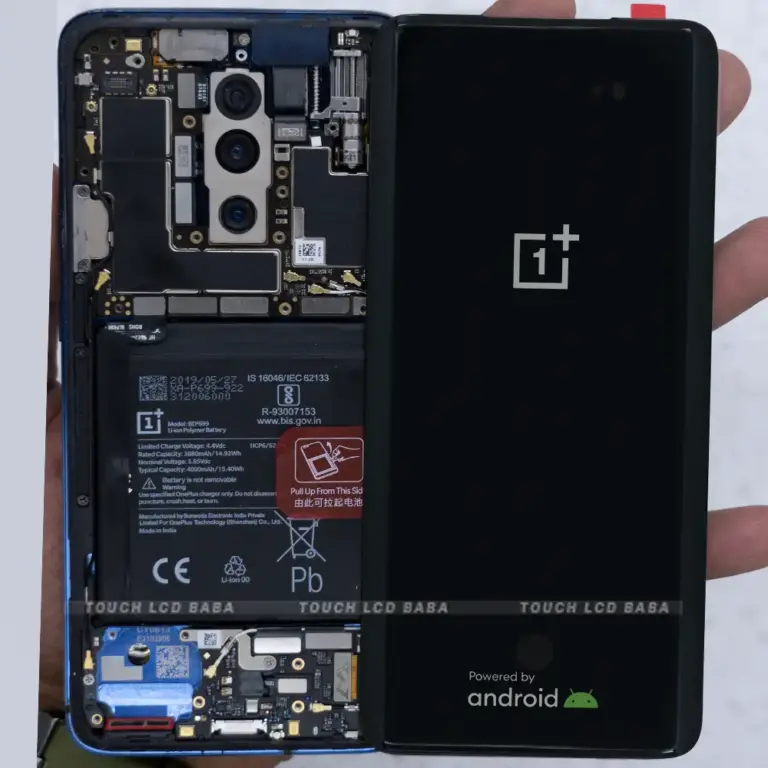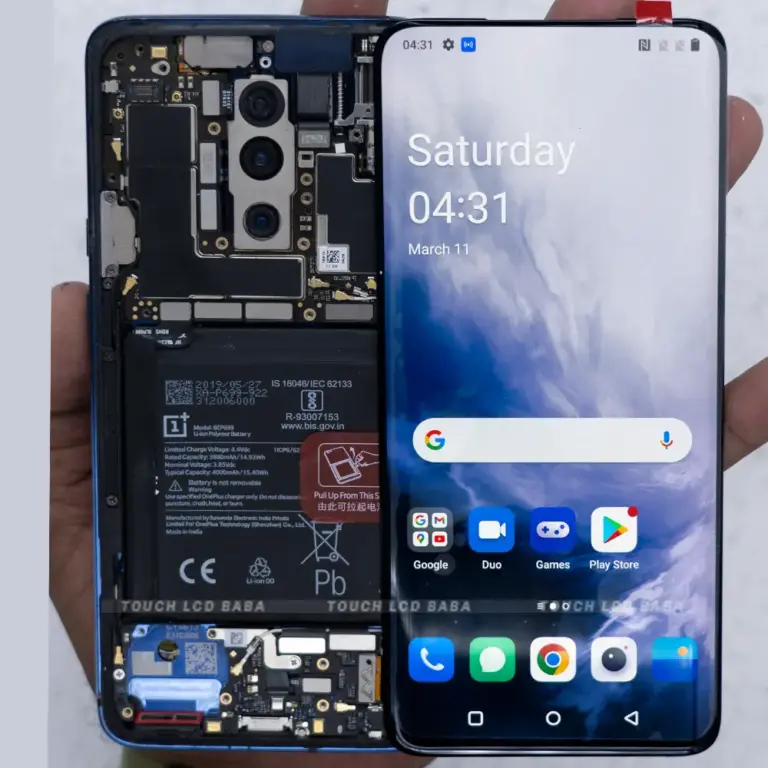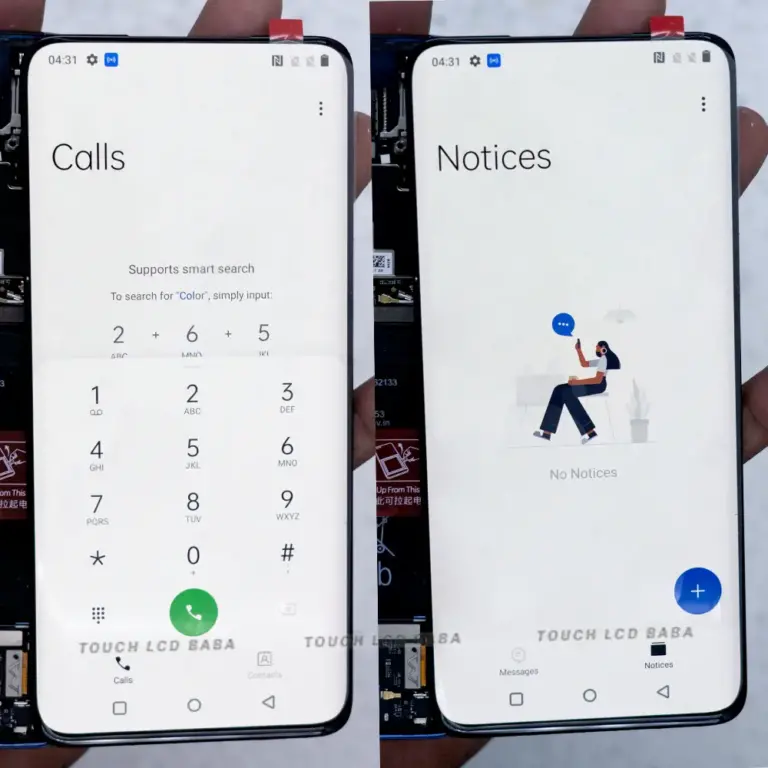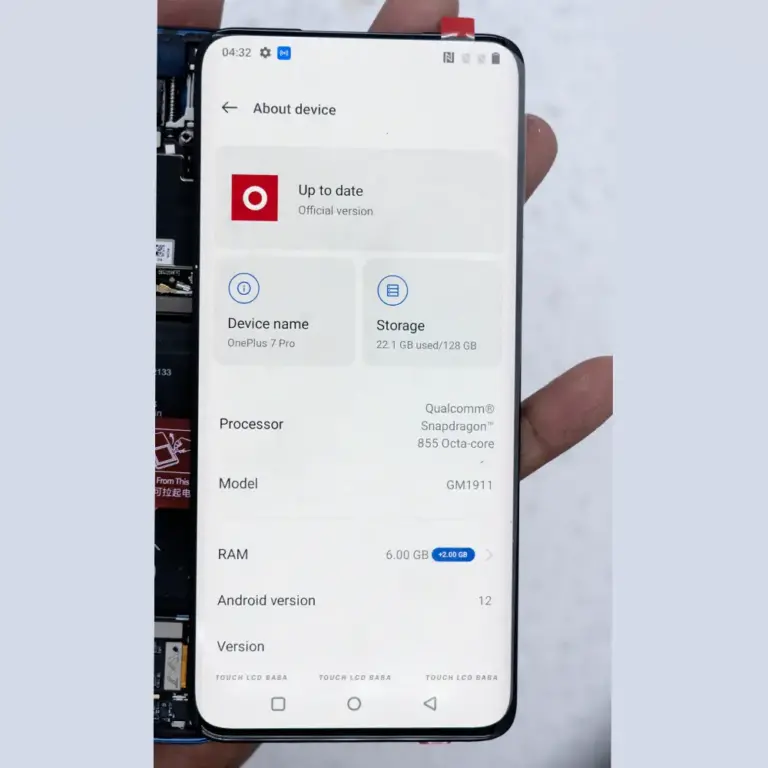 OnePlus 7 Pro AMOLED Display Combo Images
If you want to see the OnePlus 7 Pro Display photos, please check the images below. You can easily replace a broken touchscreen glass or internal display with this part and restore the original condition of your phone in less than 30 minutes.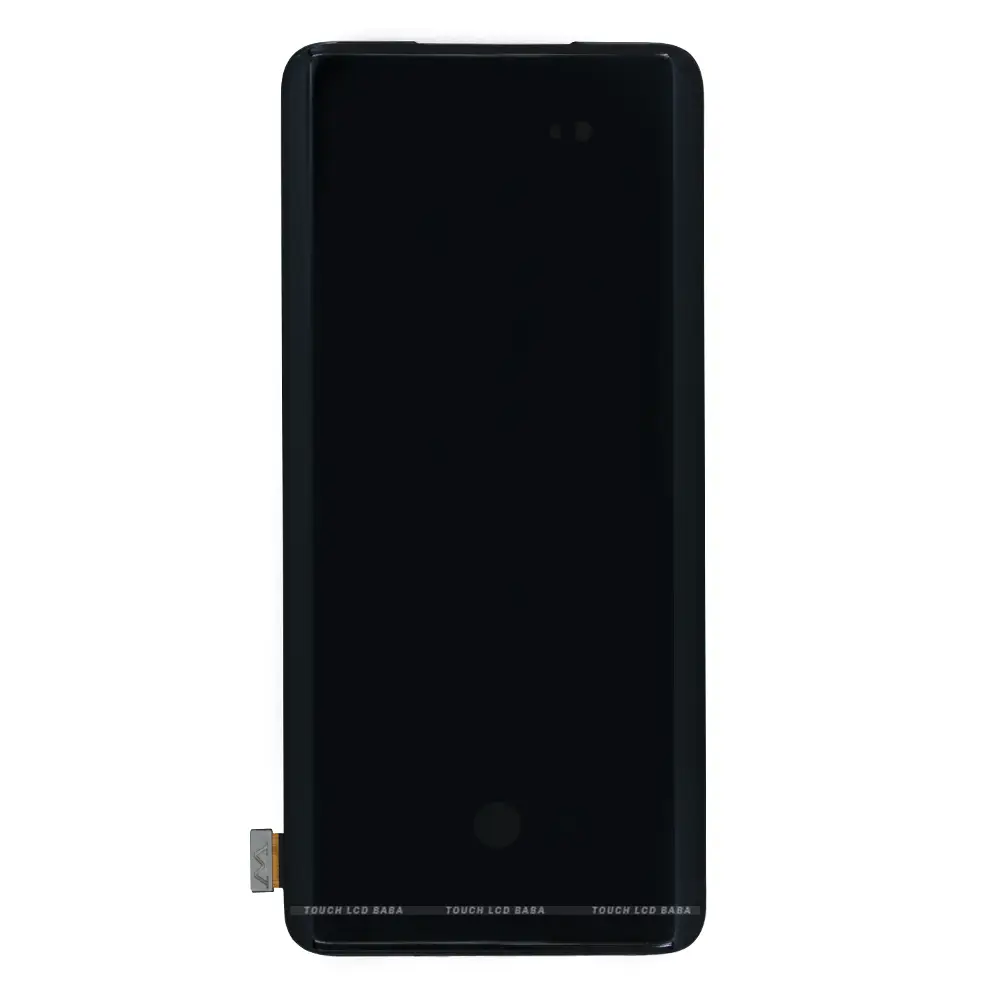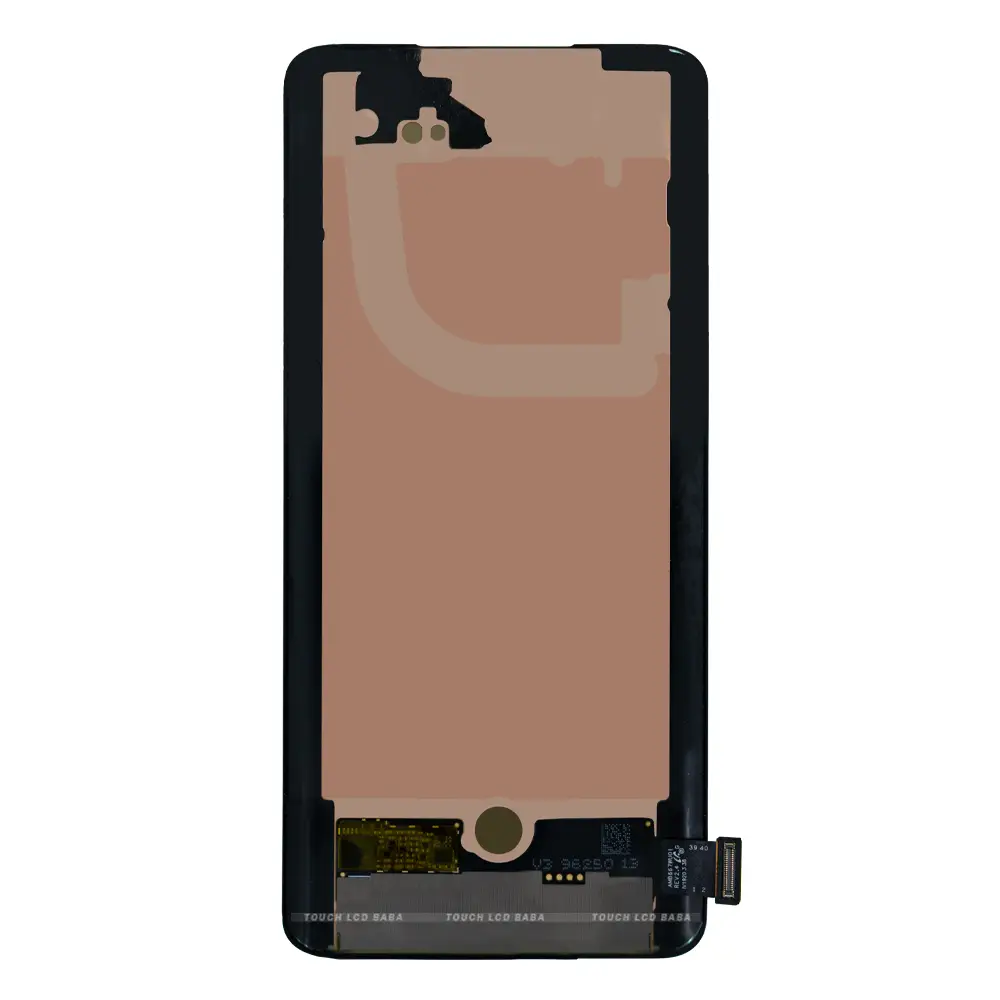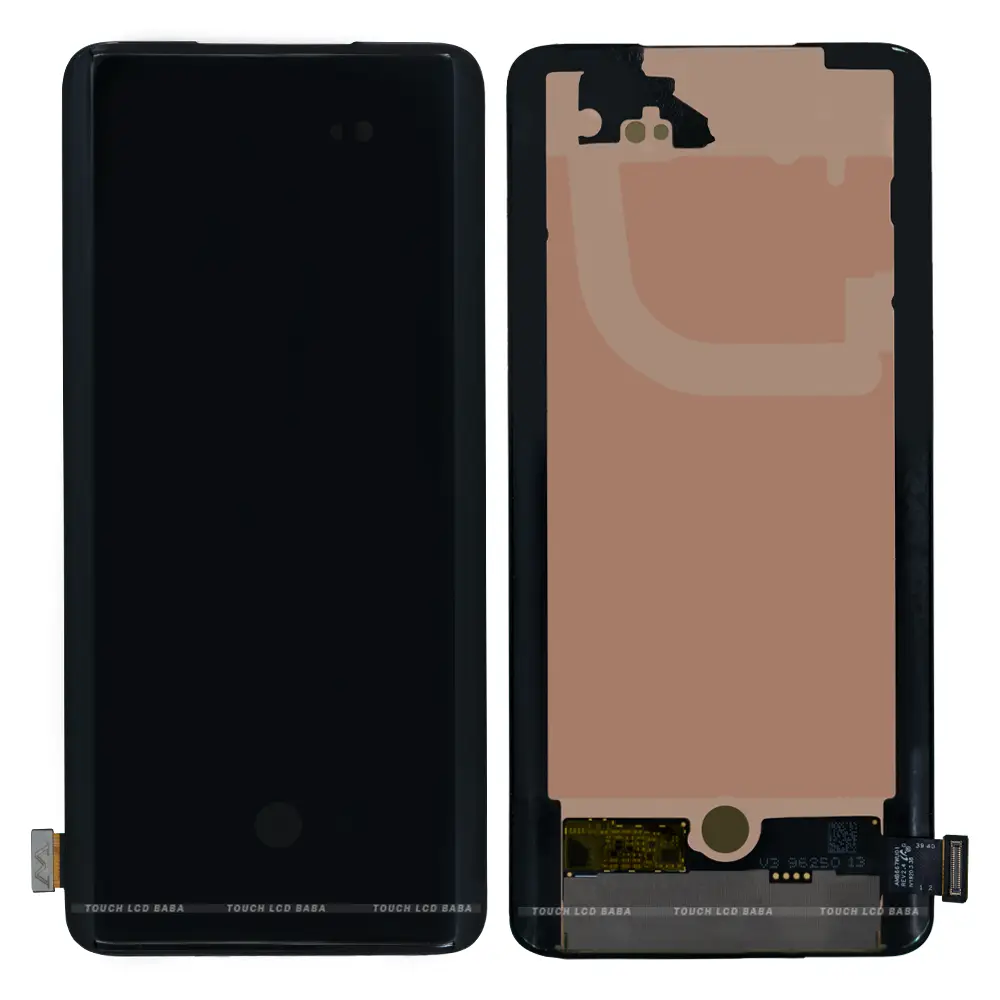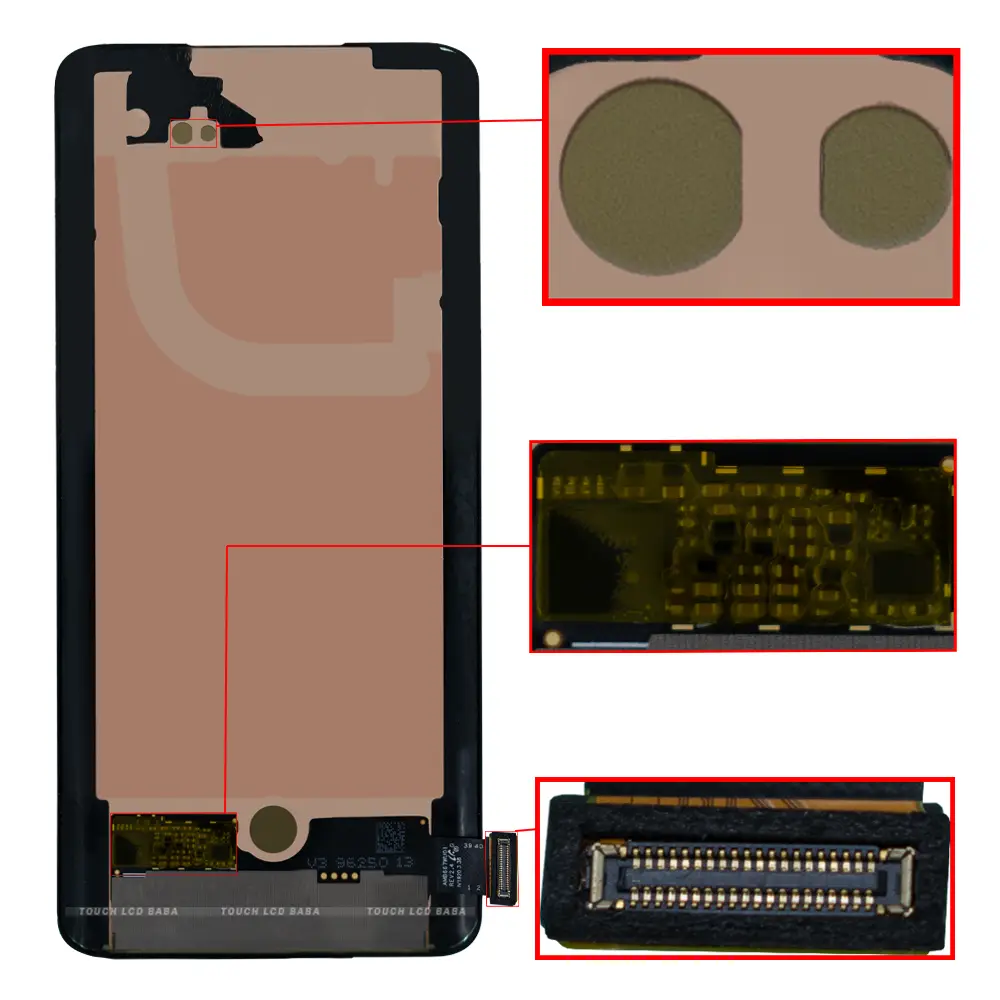 Shipping, Return, and Refund Policy
All our products come with 30 days return, refund, and replacement guarantee. To return a product, It should be in the same condition we sent. You can't use or fix the new OnePlus 7 Pro display if you want to return it. For complete details about Shipping, Returns, and Warranty, please click here.