If you arrived here searching for the Poco C3 display, you are on the right web page. You can order a 100% original display for Poco C3 and replace the broken display very easily. Almost everyone faces issues with the mobile phone screen sooner or later, and Poco C3 is not an exception to this.
If you drop the Poco C3 phone, you'll likely end up with a broken display or touch screen digitizer glass. Both parts don't need to break in one go, but you might also end up with a scratched touch screen glass and a functional display. Even after damage, the touch screen glass will continue to work and won't hinder your ability to use the phone. In such cases, you should use this time to replace the display as soon as possible.
Poco C3 Display Specifications
| | |
| --- | --- |
| | This display combo is 100% original, tested, brand new, and suitable for Poco C3. |
| | The Poco C3 display size is 6.43″, the display type is IPS Display, and the display resolution is 720 x 1600 pixels. |
| | It is a complete combo of inner display and front layer of touch screen digitizer glass. |
| | This combo is useful for all the cases of a broken display or touch screen glass. |
| | The touch screen glass comes with Panda Glass protection. |
| | We buy our stock from the OEM manufacturer to ensure you get a 100% original display. |
| | Our testing team tests each display for 100% perfect functioning before dispatch. |
| | You can also test the new display easily before you permanently install it on your phone. |
| | We back our products with a 30 days return, refund, and replacement guarantee. |
| | The Poco C3 display is readily available in stock and the turnaround time is very fast. |
| | You can order the product using the Cash on Delivery or Online Payments (additional 10% discount). |
Which parts should you replace after a broken Poco C3 display?
As a layman customer, you might not know about all the aspects of display replacement, and technicians can take advantage of that. Please note that when the phone drops, either only the touch screen glass will break or the display or touch screen glass both will break. In such cases, you must replace the complete display unit with the inner display and top layer of touch screen glass.
The replacement of the entire display unit is also called a combo replacement. It is a more straightforward method to replace a broken display or touch screen glass. All you need to do is, decouple the broken screen from your phone and replace it with a new one. You can quickly restore the working condition of your phone in no time.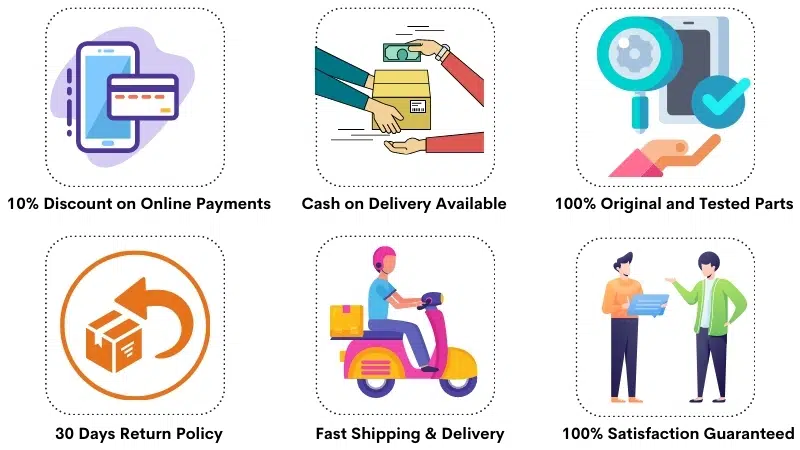 Is it possible to replace only the glass when the display is safe?
In many cases, when only the top layer of touch screen glass breaks and the inner display stays functional, you might think about replacing only the touch screen glass. Many customers choose this approach because it costs less, and spending less feels good to everyone. Before you go this route, you should know all the analogies because that will help you make a wise decision.
Please note that touch screen glass replacement is not an option in the official service center. Any other entity dealing in original spare parts never suggests this option because of so many quality issues. You should know these facts about glass replacement :
The glass replacement is a cheap hack designed to save money; it is not the recommended approach.
You can't enjoy the same display quality as before because the quality degrades itself after glass replacement.
The glass replacement is not a neat process, and many flaws will permanently stay inside the display.
A duplicate glass is used to replace the broken glass, which never lasts long.
You've to replace the glass again and again, which will cost you repeated expenses.
We always suggest all customers purchase Original Poco C3 display for long-term benefits because duplicate screens are not worth it. If you spend money several times on duplicate products, that will finally exceed the investment in the original display. That's why you should buy a solution once, but the display's quality should be your primary focus.
Frequently Asked Questions
Q: How much does it cost to replace a broken Poco C3 display in India?
The price of a 100% original Poco C3 display replacement is around Rs 2800-3000. If you buy a first copy screen replacement, then the combo costs about Rs 1400-1600 in India, but you will not get the same original quality as before.
Q: What are the model numbers of the Poco C3 phone?
The Poco C3 Phone sells under various model numbers, and if you have a phone that matches one of these, you can order the display shown on this page.
M2006C3MI
M2006C3MII
MZB07RIIN
MZB07RJIN
MZB07QAIN
MZB07RLIN
MZB07RKIN
MZB07RHIN
Q: I'm getting the same display in the local market for half price. Should I be happy?
All screens in the local market are duplicates, aka first copy screens. So if you get a display for around Rs 1600-1800, including installation, that's perfectly normal. The duplicate display costs Rs 1200-1300, and a technician keeps his profit of Rs 400-500, including the installation charges. It is ubiquitous for the first copy screens, and you shouldn't be happy.
Some customers think they found an awesome deal in the market, while the reality is the opposite. After replacing the display, when you'll use your phone in reality, like using WhatsApp, watching the movies, or capturing photos, only then you'll realize that the quality has degraded a lot. Purchase duplicate screens only if that is your intention but don't expect quality for throwaway prices.
Q: What is the meaning of the First/OG Quality or Diamond quality display?
The primary focus of the local market is selling duplicate screen replacements under different names. If you go to the market to repair your phone, you'll hear several confusing terms like a first copy, OG quality, and diamond quality. All these names indicate a duplicate product that gets sold under different names.
The first copy screens are lower-grade versions of the original display, which offer around 40-50% quality of the original display. When the quality goes down, the price automatically goes down. That's why you get low-quality screens in the market because their output is not up to the mark. So if you get a Poco C3 display for a low price, you will get a duplicate product for sure.
Q: Do you sell only the touch screen glass separately?
We are sorry, but we don't sell only the touch screen glass without the display. Although many customers ask for it, we know that this solution is not the right approach; we prefer not to sell products known for creating issues. A duplicate touch screen glass costs only Rs 50, and you can find it on almost all websites except us. So if you want a duplicate product, we are sorry, but we can't help in that regard.
Q: Why should I purchase the original Poco C3 display?
Many customers don't want to invest in an original display but prefer a duplicate one instead because of the price difference. The original display usually costs twice the duplicate display, and that's why customers shy away from the original parts. Please note an original display replacement offers many benefits and enables you to enjoy the same quality as before.
If you replace a broken display with a duplicate one, the overall quality will degrade by a huge margin. A duplicate display offers around 40% of the original, and that's why customers are typically not happy with duplicate products. On the other hand, an original display offers precisely the same output as before, and that's why all customers prefer original screen replacements.
Q: Why do other websites offer display replacement for low prices?
Please note that all mobile phone screens are not equal in quality and that's why different prices are certainly a possibility. The screens sold in the local market and what we sell are completely different. Lots of websites offer first-copy screens for low prices, and that's perfectly normal. You can find those screens for even lower prices in the local market.
We sell 100% original spare parts, and that's why our prices are higher. If you prefer original quality, you can order from us. If you prefer duplicate products for low prices, you can purchase from other websites. We request that you don't assume that you have bought an original display for Rs 1500 while we were offering it for Rs 3000. If you pay a lower amount, you'll get a duplicate product without any doubt. We suggest that you don't keep your expectations high for low-priced products because you'll get disappointed in the hand.
Poco C3 Display Photos
The product you see here is the complete display unit of Poco C3, consisting of the inner display and top layer of touch screen digitizer glass. If you've any further questions, please get in touch with us at 9587954273.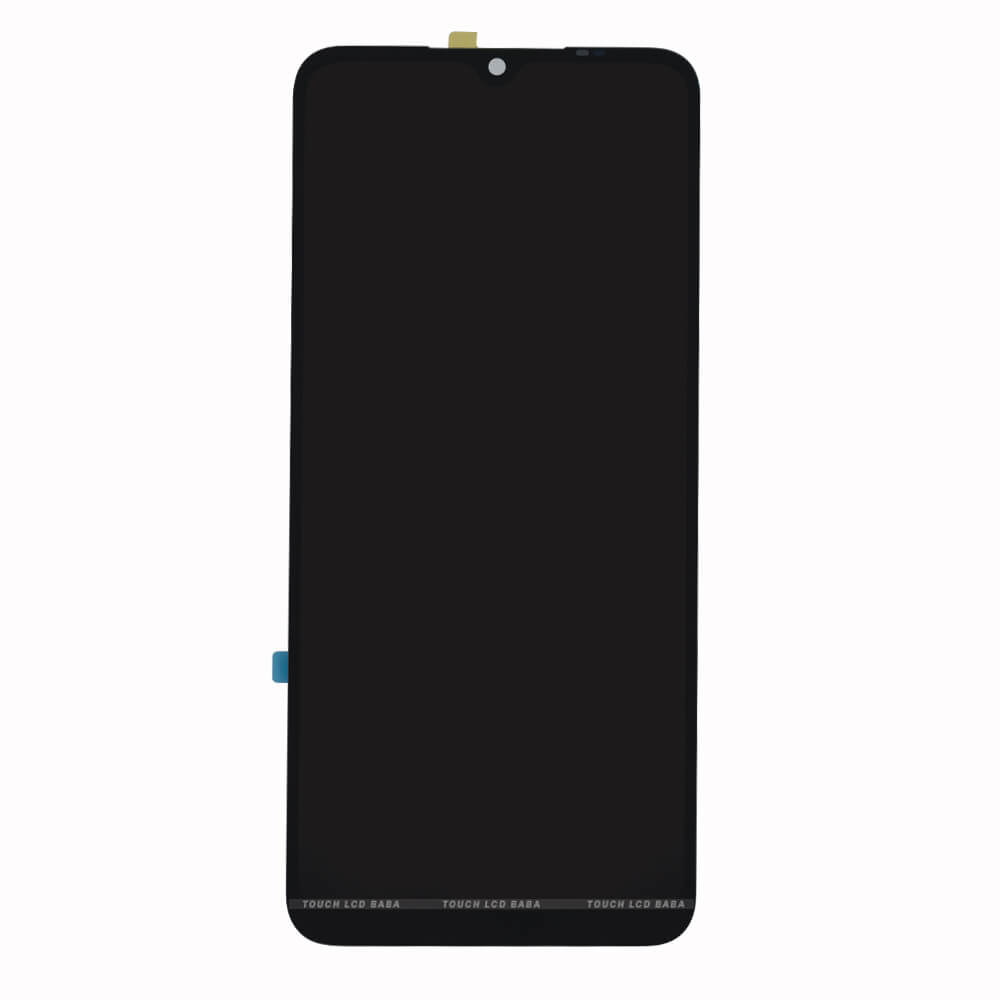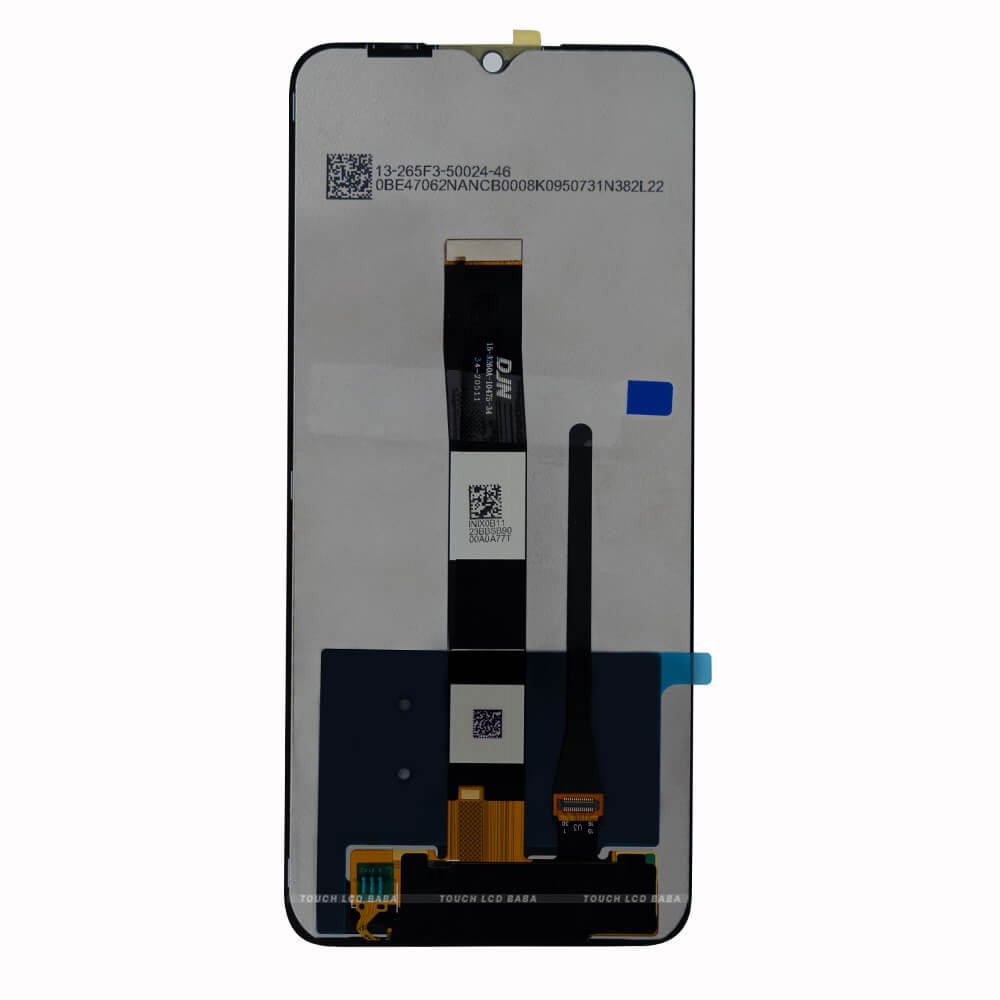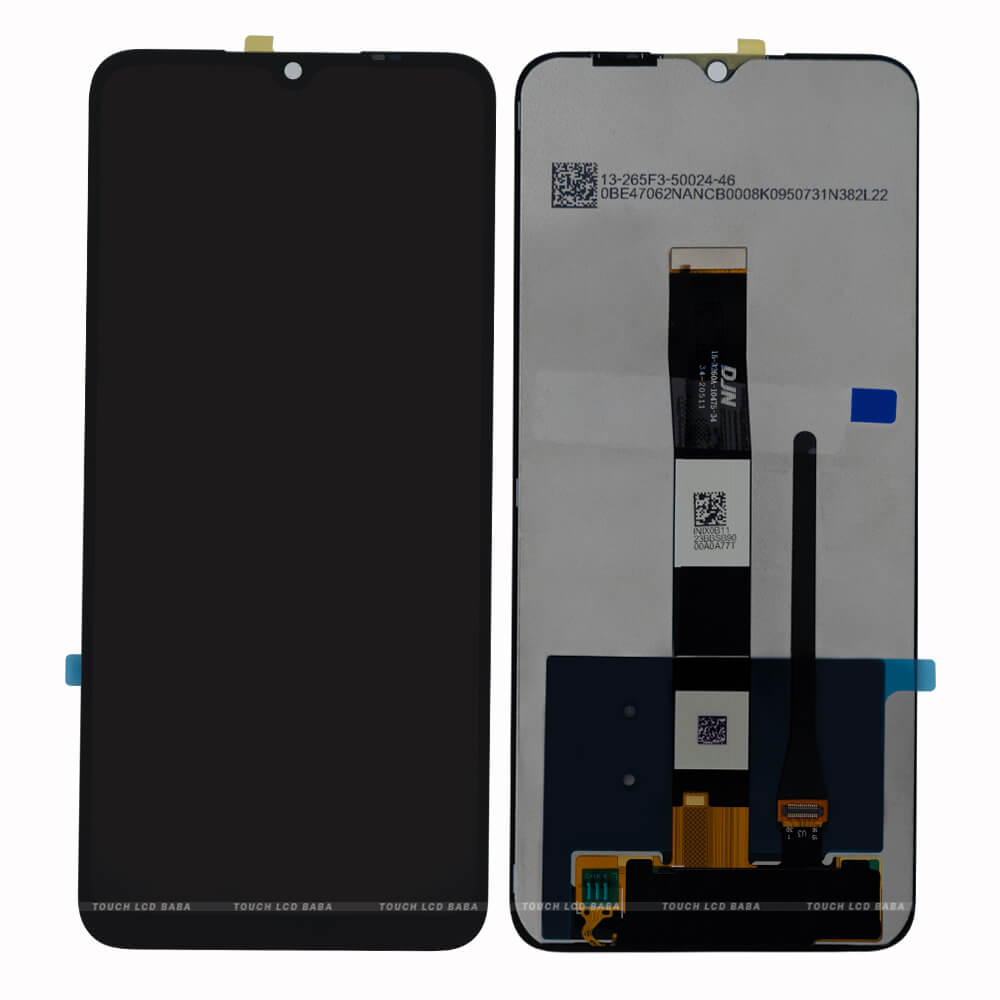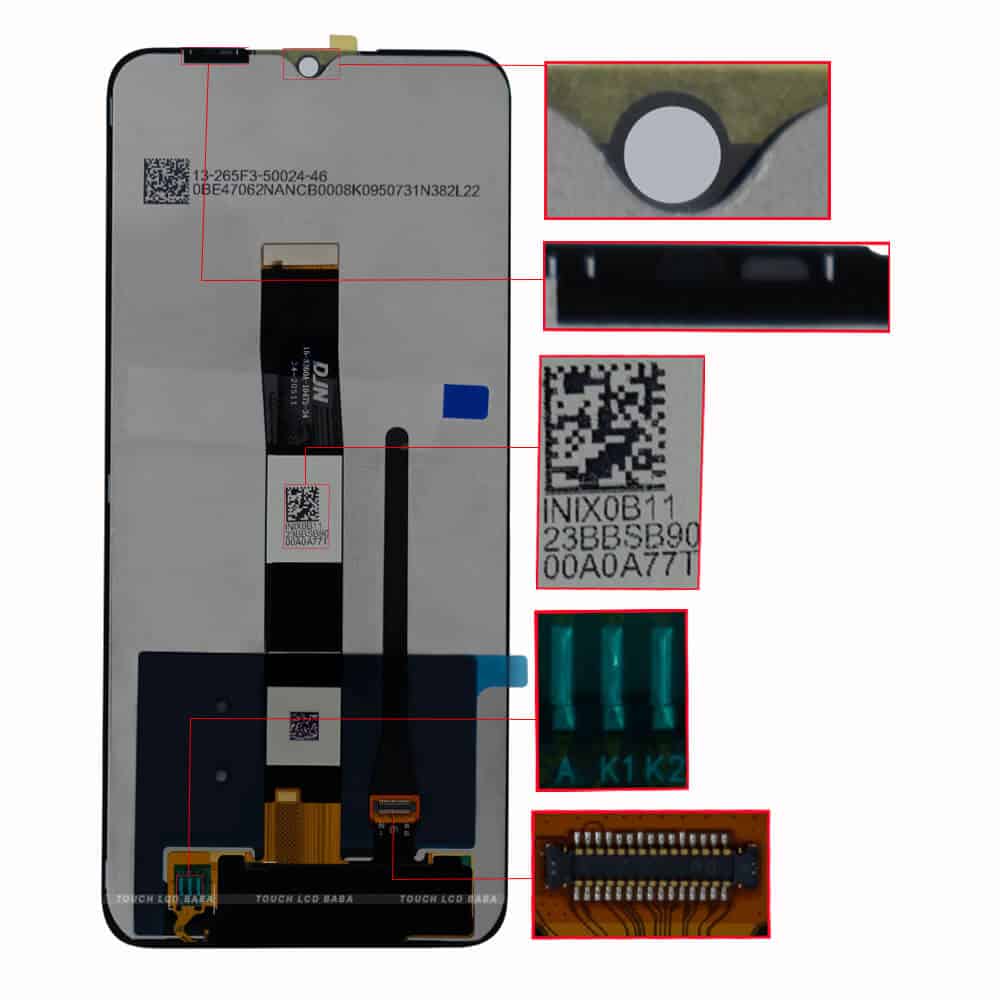 Shipping, Return and Refund Policy
All the products supplied by us come with 30 days return, refund, and replacement guarantee. To return a product, It should be in the same condition as we sent. You can't use or fix the Poco C3 display if you want to return it. For complete details about Shipping, Returns and Warranty, please click here.