Many customers with a broken OnePlus 9RT mobile phone need display replacements, which we offer on this page. If you're dealing with a broken OnePlus 9RT display or touchscreen glass, we offer a 100% original display combo that helps you overcome all the display and touchscreen issues. You can buy a 100% original display from us and easily replace it in your area with a local technician's help. It is easy to replace the display, and before ordering the product, you can discuss with a technician about the installation.
We understand the frustration of a broken display because using a phone with a broken display or touchscreen glass is impossible. You can use the phone for a few days when only the touchscreen glass has cracked. But if the display has started bleeding and you can see pink/violet colors all over the display, you don't have much time. The discoloration starts from a corner and quickly spreads all over the display. If that happens, the whole display will turn black, and you'll not be able to see anything on it.
What is the meaning of the OnePlus 9RT display combo?
The simple meaning of a display combo is a combination of AMOLED display and touchscreen glass. A combo consists of two parts: display and touchscreen glass. When you drop the phone and break the display or touchscreen glass, you need a new display unit to replace the broken one, called a combo. A new display combo is the standard way to replace a broken display, touchscreen glass, or both. After replacing the display unit, you can easily restore your phone's pristine condition without compromising quality.
What do you need to replace, the display or the touchscreen glass?
The damage to the phone can happen in various ways; sometimes, the display or touchscreen will individually break, and sometimes both parts will break. It would be best to replace the complete display combo in all damaged cases without considering what is broken and safe. For example, you might damage only the touchscreen glass, and the inner display will continue functioning. In such cases, you might consider replacing only the glass, but a display combo's structure disallows the replacement of individual parts.
In the local market, you'll find several options that promise to replace only the broken glass, but the outcome of such procedures is not worthwhile. In many cases, the display will also break during the glass replacement; in other cases, the display will lose its original quality during replacement. That's why glass replacement is always debatable, and customers keen on the original quality never like the outcome of glass replacement. Later, we'll let you know about all the drawbacks of glass replacement.
OnePlus 9RT Display Specifications
| | |
| --- | --- |
| | This display is 100% original, tested, and suitable for the OnePlus 9RT (Model No. MT2111). |
| | The OnePlus 9RT display is 6.62″ AMOLED with a 120Hz refresh rate and 1080 x 2400 pixels resolution. |
| | You get a 100% original display replacement with Corning® Gorilla® Glass 5 protection, HDR10+. |
| | You get a 100% genuine spare part, precisely the same as it comes with a new phone. |
| | We buy our stock from the OEM manufacturer to ensure 100% original quality. |
| | You can also use the in-display fingerprint scanner without any problems. |
| | Our testing team tests each display for 100% flawless working before shipping. |
| | You can also verify the new display's working condition before fixing it. |
| | After delivery, you've 30 days in your hand to verify the working condition of our product. |
| | The display is readily available in stock, and the shipping time is fast. |
| | You can order the display using Cash on Delivery or Online Payments (10% additional discount). |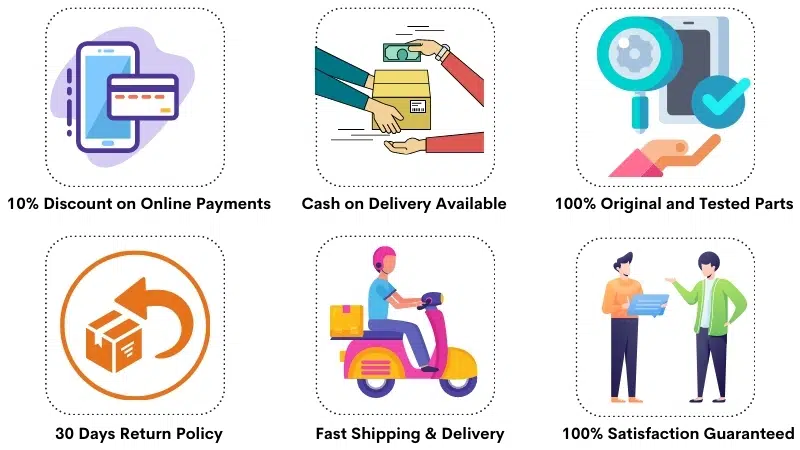 Frequently Asked Questions
Q: How much does a new original display of the OnePlus 9RT cost?
A 100% original OnePlus 9RT display replacement costs around Rs 8800-9000. This price gets you a genuine screen replacement, like your factory-fitted display, and you don't need to compromise quality. If you can't afford originals and need low-cost solutions, you can find IPS/TFT quality screens in the market, which cost Rs 1500-2000 but are terrible quality screens.
Please note that low-cost solutions offer deficient quality, and you must sacrifice several display features, including the fingerprint scanner and a large chunk of the display's quality. Many customers ask if the duplicate display also supports the fingerprint scanner and if that were the case, no one would ever buy the original screens. If you buy a low-cost display combo, you'll forever miss how fluidly your original display worked, and that's why all customers know that nothing compares with an original display.
---
Q: How do you source the original screens, as they are unavailable anywhere?
It is a prevalent misconception that original screens are unavailable anywhere except the service center. If you go to the service center and ask if you can get an original display outside the service center, they will emphasize that you can't get the original display anywhere, but that's nothing more than a marketing tactic and an effort to protect their business. Original screens come from certain factories that manufacture and supply original spare parts in the open market. These factories are called OEMs; all their screens are 100% original.
If you thought that mobile phone screens are manufactured in-house by the phone manufacturer, that's wrong. All original screens are outsourced from third-party vendors who make and supply original spare parts to the company, and later, these parts go into brand-new phones. So, original screens are available, and we buy them directly from the OEM manufacturers.
---
Q: What are the most common problems with duplicate screens?
Fake screens are readily available in the local market and sold under different names (like OG quality/diamond quality), but they are not good.  Please note that the original display is AMOLED, while all fake screens are TFT/IPS quality. Here are the main differences between original and duplicate products:
You can't use the in-display fingerprint scanner in a duplicate display.
A duplicate display's quality is only 30% of the original, and the brightness is too shallow.
The colors on a duplicate display are too dull, and you can't enjoy multimedia content on the phone.
You can't type fast with a duplicate display, as many mistakes will automatically happen.
A duplicate touchscreen glass is fragile and breaks very easily.
Your phone's resell value drops by a considerable margin with duplicate screens.
Duplicate screens overheat your phone, consume much more power, and reduce battery life.
A duplicate display has so many issues; still, many customers buy them because the original's price is not affordable. You're free to buy whatever display quality you want, but the original display speaks for itself, and all other qualities are a waste of time and money. Many customers waste money and then realize that the originals are incomparable.
---
Q: Can I compare this display with my phone's factory-fitted display?
Yes. You can.  We offer a 100% original display, and if you've already dismantled the phone, you can compare your phone's display with what we offer on this page. You can also contact our support team if you want to see the actual product photos and feel free to match them. We assure you about an authentic product, and you don't have to worry about any aspect.
---
Q: I need an original touchscreen glass without the display. Do you have it?
No. We don't offer only the touchscreen glass without the display. If you want to replace only the glass, you should seek a local technician's help because glass replacement is a popular display replacement method in the local market. You don't need to worry about arranging a glass yourself; they will do everything for you.
Furthermore, a touchscreen glass sold separately is always a duplicate one, and you can't get the original touchscreen glass anywhere. An original touchscreen glass comes only with the original display, and if you replace only the glass, you must settle for a duplicate glass as no options are available. A duplicate touchscreen glass costs Rs 50; the technician charges you nearly Rs 2000-2500 for glass replacement. We hope now you understand why technicians replace glass replacement over other methods.
---
Q: How can I test the new OnePlus 9RT display before installation?
If you also worry that the new display might not work on your phone, this answer is for you. Please note that all screens have a testing guarantee, and you can easily test the display before installation. You can easily return and refund the product if the display doesn't work during the test. To test a new display, you don't need to paste/assemble it on your phone. You can easily test the display in an open condition by following these steps :
First, using the appropriate technique, you must remove the phone's back panel.
Then, open the relevant screens from the bottom speaker section where the charging flex is assembled.
The display's flex connects with the charging flex, and first, you need to eject the old display's connection gently.
After that, carefully connect the new display's flex cable at the same location.
Make sure to disconnect and then reconnect the battery.
Turn on the phone, and you can test the new display like it's installed on your phone.
Please also know that you don't need to remove the old display from the frame to test the new display. You can easily test the working condition of a new display by connecting it to your phone's rear side in the appropriate place. Testing the display in the open condition is very easy, and you can use the display before installation. After verifying all the aspects, you can install the display on your phone.
---
Q: I'm getting the same display for Rs 3000. What now?
We don't have to say anything but want to wish you good. We know what will happen when customers attempt to get original screens for shallow prices. Always be practical, think for a moment if a deal feels realistic, and if something is too good to be true, it is not true. Always refrain from greed, as that's where most customers lose their money online.
---
Q: Does the new display support fingerprint unlocking?
Yes. The new display supports the under-display fingerprint scanning. You can use the existing fingerprints and register new fingerprints without any problems. If you see the display photos carefully, you'll see a square on the backside of the display, which facilitates fingerprint reading. This area has a protective film; before assembling the display, don't forget to remove that film.
We've seen some self-taught customers and technicians leaving that film intact, and later, the fingerprint scanner doesn't work. So always ensure you assemble the display carefully and avoid installation errors. It would always be helpful if you seek a professional technician's help to install the display and don't take risks.
---
OnePlus 9RT Display Photos
If you want to see the actual product photos, please refer to the below images. These images represent the actual product you'll get after your order. In case of any questions, please feel free to call us at 9587954273, and we'll be more than happy to assist you further.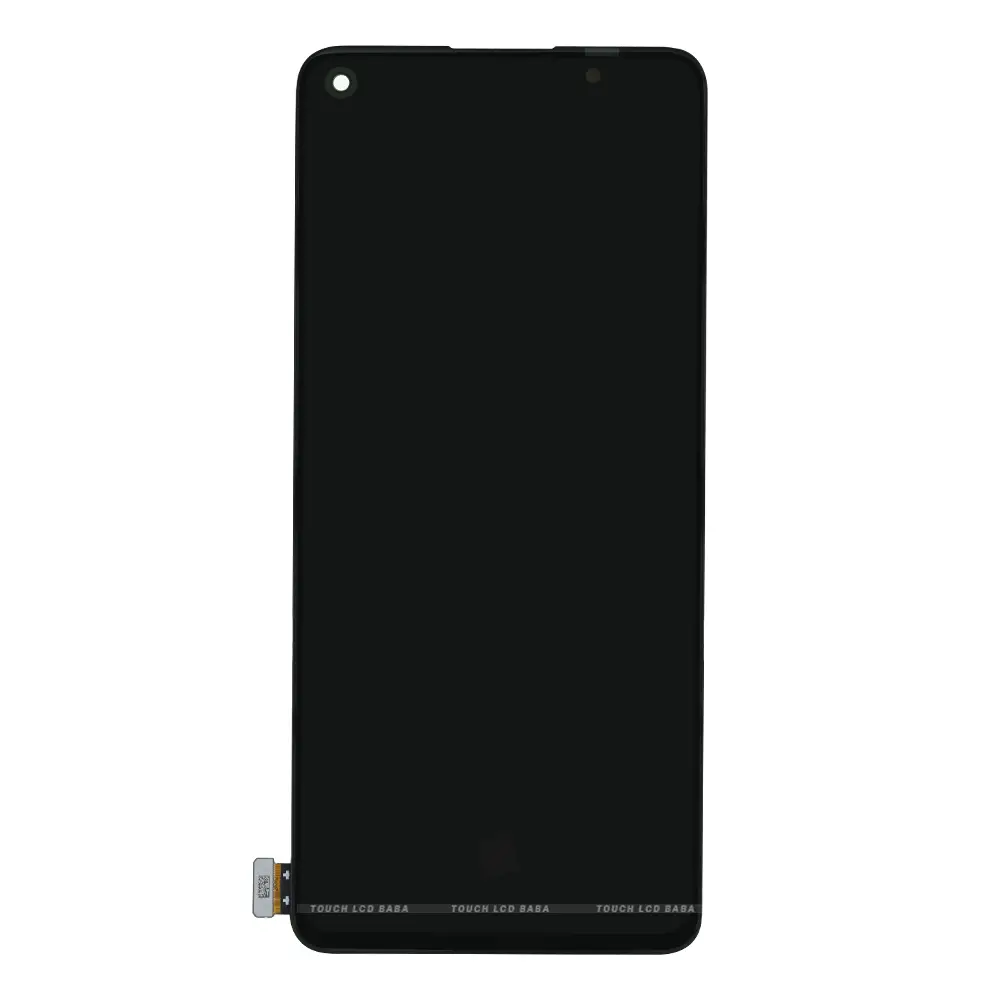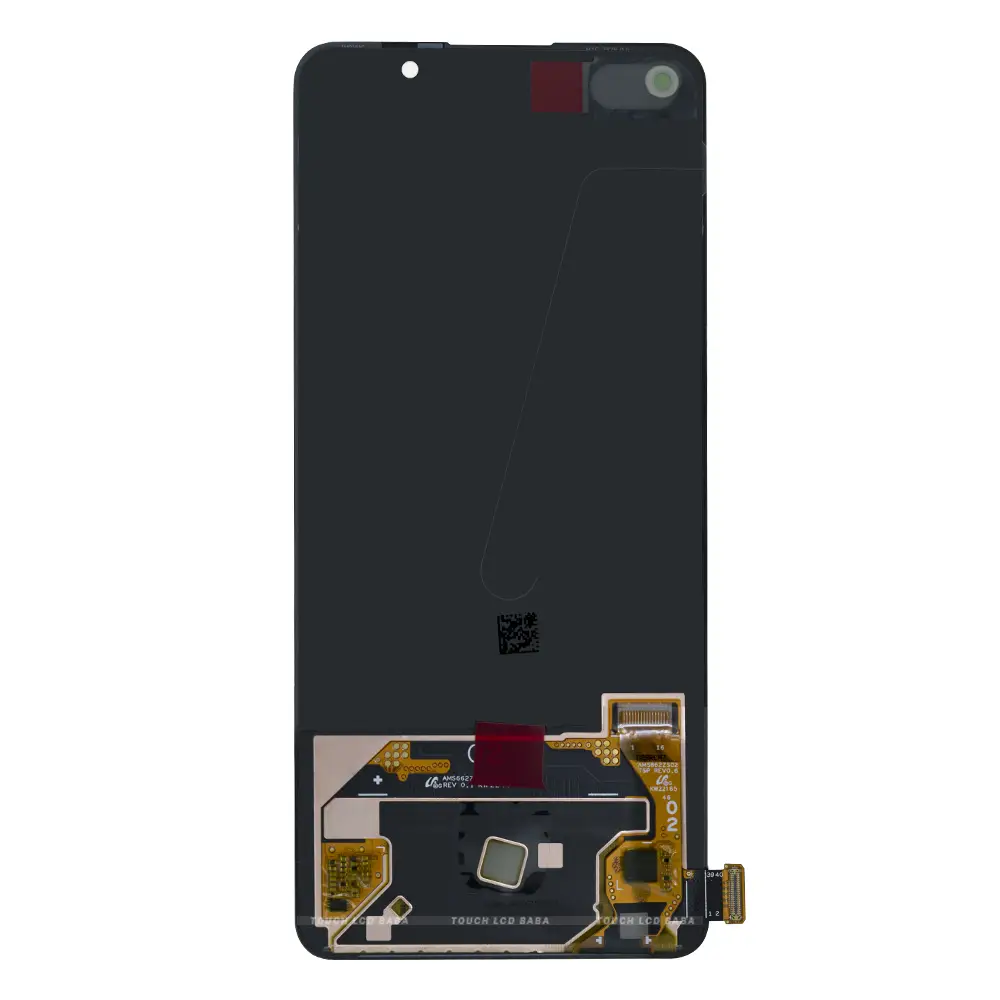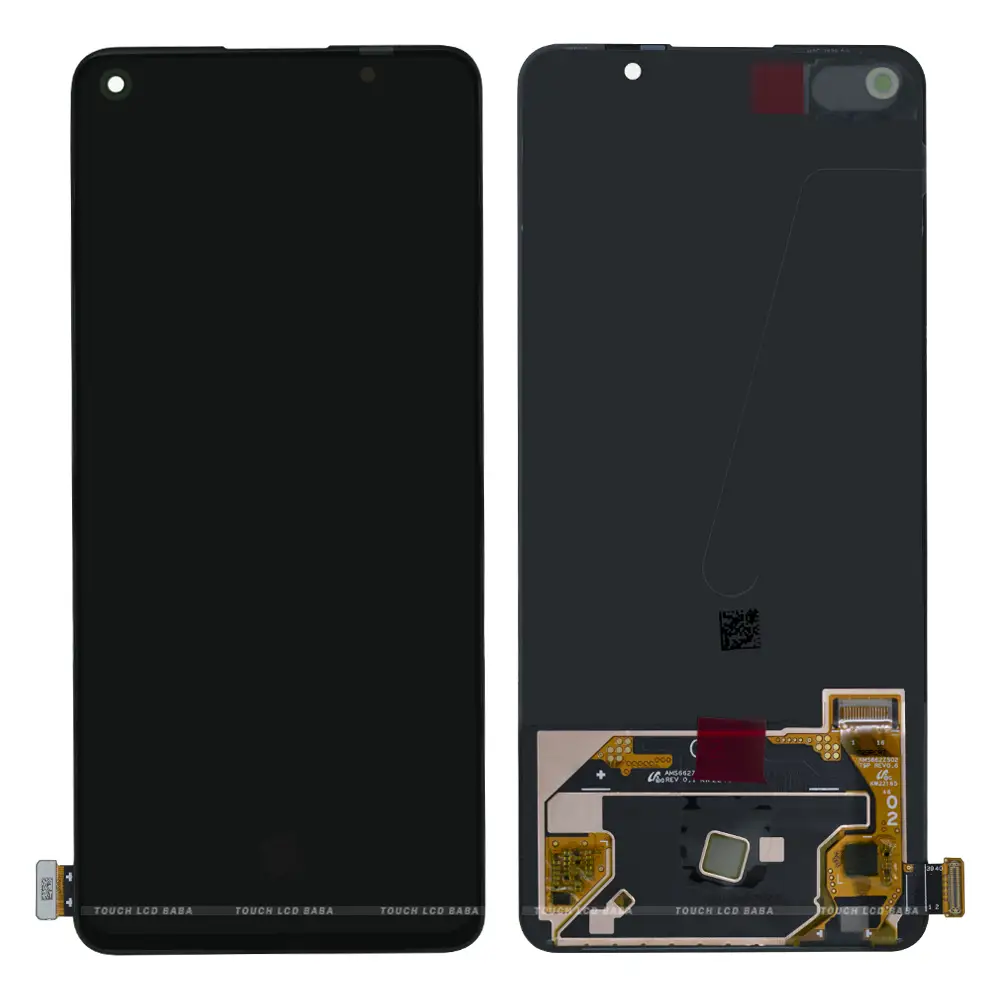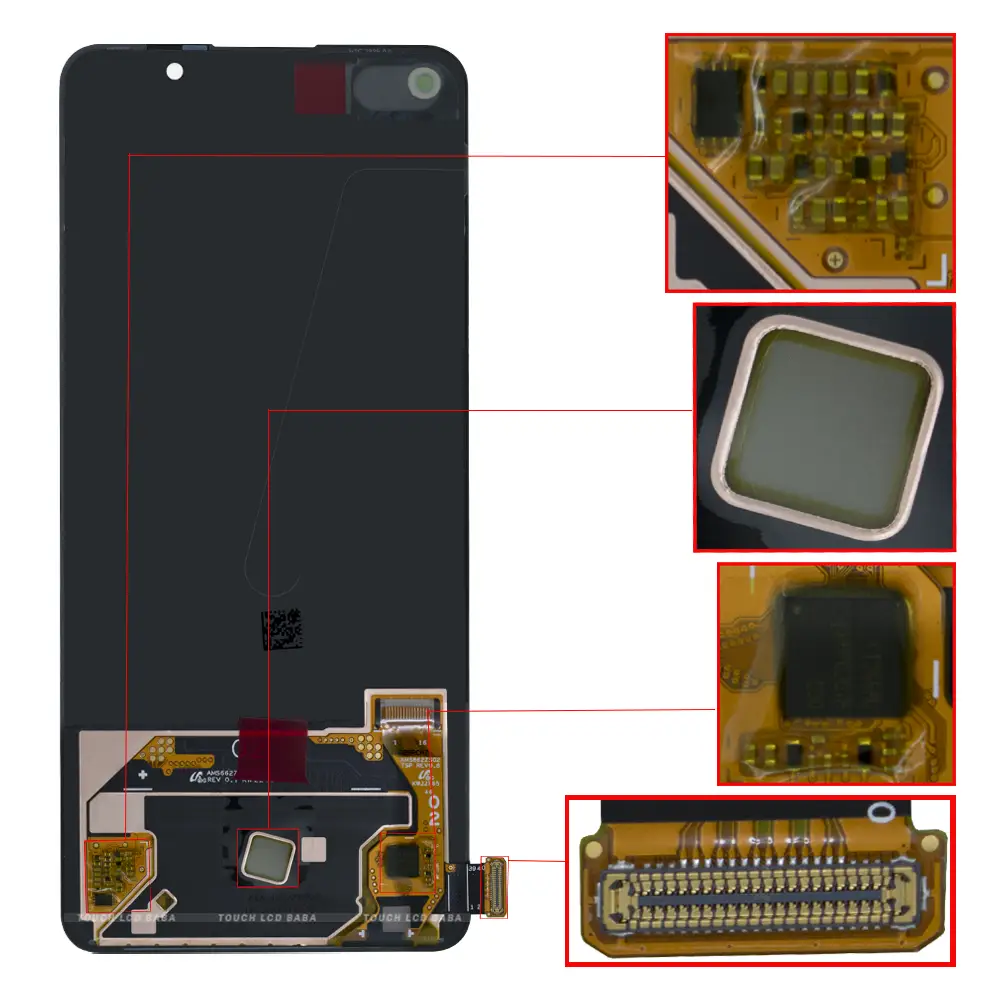 Shipping, Return, and Refund Policy
All our products come with a 30-day return, refund, and replacement guarantee. To return a product, It should be in the same condition we sent. You can't use or fix the new OnePlus 9RT display if you want to return it. For complete details about Shipping, Returns, and Warranty, please click here.