A broken Oppo F19 Pro Plus display or touch screen glass feels like a burden to its owner. That's because the phone looks terrible, and you can't even use the phone if the touch screen has already stopped working. The Oppo F19 Pro+ is a sturdy phone, and the touch screen won't stop working on moderate drops.
If you were lucky and can still use the phone after damage, you should entirely back up your device as soon as possible. Having a backup in hands is always great if something bad happens in the future. Here, you can purchase a brand new, 100% original display replacement for your phone and overcome all the display and touch screen glass-related issues.
How much does it cost to replace a broken Oppo F19 Pro Plus display in India?
The price of a 100% original Oppo F19 Pro Plus AMOLED display replacement is around Rs 6800-7000. A duplicate (first copy) display can save you money, but you can't enjoy the same original display quality again. A first-copy display costs around Rs 2500, including installation, but the quality is not worth discussing.
What is the best way to replace a broken Oppo F19 Pro Plus display?
The best method to replace a broken display is to use an identical original display combo. The combo consists of an inner display and a front touch screen glass layer. To replace the new display, you need to take off the broken part of your phone and fix a new one. That's all.
The display replacement is very easy provided you've got an authentic product and a good technician. If you try to find low-cost products and the so-called cheap deals, you'll make your life miserable. That's because low-cost products are not good and never work well. If you install such products on your phone, you'll sacrifice a large chunk of display quality.
What is a first copy or OG quality display?
A duplicate display is called a first copy or OG quality display. When you go to the local market to buy a budget-friendly display, you are introduced to low-cost duplicate screens. Technicians don't want to call these screens duplicates and use sugary names instead. If they inform you about the duplicate product, you won't buy it in the first place.
To mask the duplicate screens, technicians and shopkeepers use names like OG quality and first copy. In reality, nothing such exists, but mobile phone technicians intentionally use such ambiguous names to confuse an average customer. Therefore, you should know that the first copy, OG quality, or Diamond Quality, refers to a duplicate product.
Oppo F19 Pro Plus Display Specifications
This combo is 100% original, tested, brand new, and suitable for Oppo F19 Pro Plus, model number CPH2213

.

The Oppo F19 Pro+ display size is 6.43″, the display type is Full HD+ AMOLED and the resolution is 2400 x 1080 Pixels.
You get a 100% original display, exactly the same as comes assembled with a brand new phone.
The new display offers 100% same colors, brightness, contrast, and touch screen smoothness.
We test each display for 100%  flawless working before dispatching.
You can also use the in-display fingerprint scanner without any problems.
The front layer of touch screen glass comes with Corning Gorilla Glass 5 protection.
The new display fits perfectly without any issues and provides mesmerizing viewing experience.
You don't need to worry about the in-transit damage because our packing is 100% secure.
You can also test the new display easily by connecting it with your phone's motherboard.
We offer Cash on Delivery and Online Payments (10% additional discount).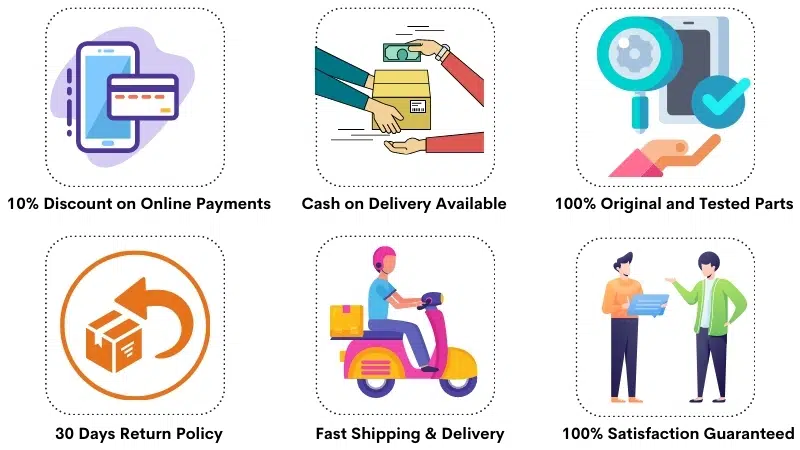 Frequently Asked Questions
Q: Can't I replace only the touchscreen glass?
If only the touchscreen glass has been damaged, you might want to replace it alone, but it is not as easy as it sounds. The touch screen glass is closely attached to the display, and if you try to separate only the glass, you run the risk of damaging the display. The technicians in the local market replace only the touch screen glass at the owner's risk.
If the touch screen glass also breaks during the separation process, they will return the completely broken phone to you. The touch screen glass is a gamble, and technicians use a duplicate touch screen glass worth Rs 50 to replace the broken glass and charge Rs 1500 from the customer. That's the sole reason behind the popularity of touch screen glass; technicians make money, and customers feel like they are getting their phones repaired for such a low price.
Q: Does the display quality stay identical to the original after glass replacement?
To separate the broken touchscreen glass from the display, technicians use a hot plate to soften the adhesive between the display and the glass. During this process, the display becomes yellowish, and the tint changes to a pinkish tone. These flaws are introduced in the display by the heating process, and you can't get rid of them.
The display's overall brightness, quality, and color reproduction become dull, and you can still use the display but not with the same joy. You get a refurbished type of display when you go for only the glass replacement. Such renovated display combos can never match the quality of an original brand new display.
Q: I found an Oppo F19 Pro Plus display for Rs 2500. What is that?
You can get a cheaper display for your phone, but that's would not an AMOLED display. If you want to purchase duplicate products, you can get a TFT quality display for around Rs 1500-1600 and an IPS/Incell quality display for Rs 2500. Then you can buy a China OLED display for Rs 3000, and all these are low-quality products.
We have just described the different qualities available in the market because 90% of customers never buy an original display again. Most of them settle for a seemingly low-priced product because the original display is out of their budget. Therefore, if you get a low-priced product, you get a lower-quality product, and the fingerprint scanner will not work. The display's brightness, colors, and other vital aspects drop to approximately 50% with copy screen replacements.
Q: Can I use the in-display fingerprint scanner with the copy display?
No. A lower-grade version of a copy display helps you use the phone, but it doesn't support the under-display fingerprint scanner. There is no provision to scan the fingerprint, and you've to settle down for pattern unlock. You can't type accurately with a duplicate display, and if you are used to typing fast with the original display, you can't do that with a copy display.
The response will be flawed even if you tap the right spot on the touchscreen glass. If you press the letter 'a', the nearby letter will often get pressed automatically, and you've to correct the message repeatedly to make things work. These kinds of issues are common with
Q: Where is the official Vivo service center in my city? 
Many customers call us and ask if we are speaking from the official Vivo service center, but we have no affiliation with the service center. We are an individual entity dealing in original mobile phone spare parts, and you can purchase your desired product from our store. If you want to visit the official Vivo service center, please visit the Vivo India website, and you can find more information there.
Q: How to test the new Oppo F19 Pro Plus display without installation? 
It is unnecessary to install the display on your phone to test it because open condition testing is the right way to go. Some customers assume that without installing/pasting the display on the phone, it is impossible to check it, but that is a misconception. To test the new display, please follow these steps :
First of all, open the open and understand the connections on the motherboard.
Gently eject the old display's connection and connect the new display's flex there.
Turn on the phone, and you can simulate the testing process.
Please ensure to test the display properly, don't overbend flex cables, and never put any pressure on the display. You can gently test the new display before installation, and when you are sure that everything works according to your desire, you can permanently install the display on your phone.
Q: Who makes the original and duplicate display replacements?
Be it an original display or a duplicate one; all screens are manufactured in a factory. If you want to take a deeper dive into this concept, you should certainly read the complete answer to know more about the display qualities we offer.
An original display comes from the OEM factory, and this factory is responsible for making and supplying original spare parts to the company. This factory makes the best quality screens using the highest quality raw material. All the manufactured screens go through several testing phases before hitting the market. Such factories supply screens directly to the company and get assembled into brand new phones.
A duplicate display comes from small third-party factories and these factories use the lowest quality raw material to craft a display. These factories focus on cutting costs as much as possible and don't care about the resultant product's quality. So these are replica products and such products are sold as first copy, OG quality, and diamond quality products. These screens cost 50% of the original and are very popular in the local market because of the budget-friendly price.
Oppo F19 Pro Plus Display Photos
Please refer to the below images if you want to see the Oppo F19 Pro Plus display and touch screen combo images. The display comes with a punch hole and supports the in-display fingerprint scanner feature without any problems.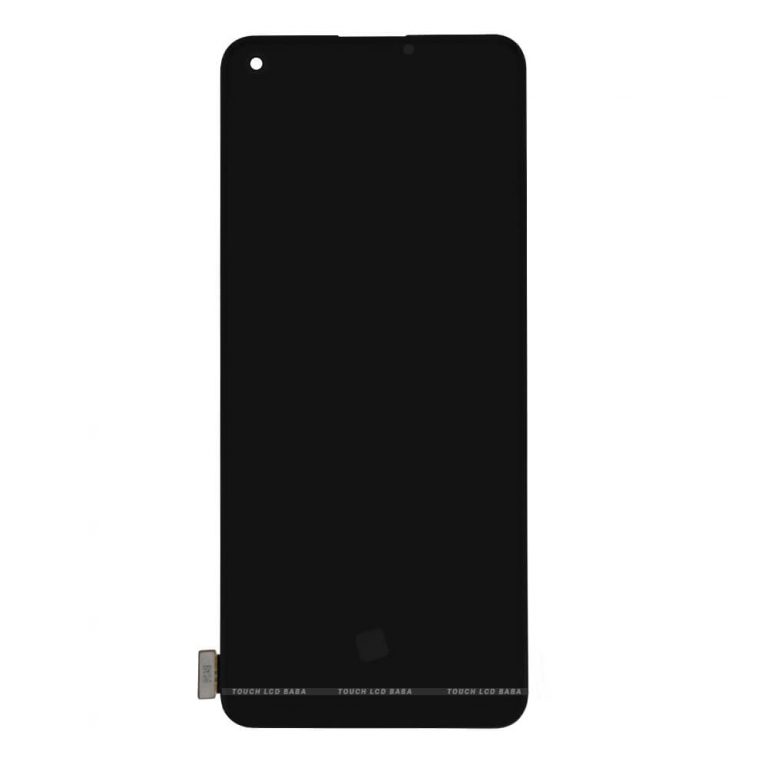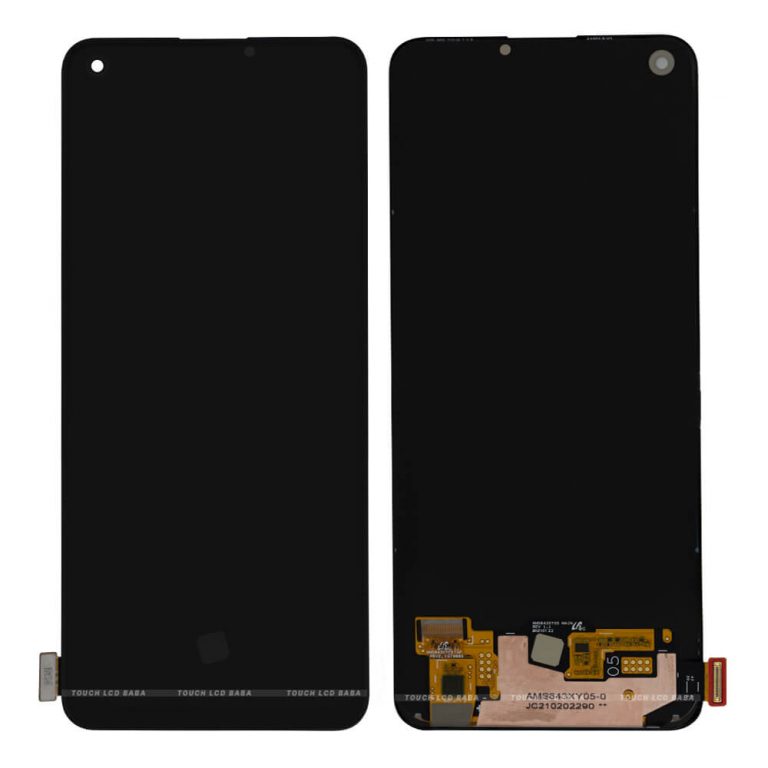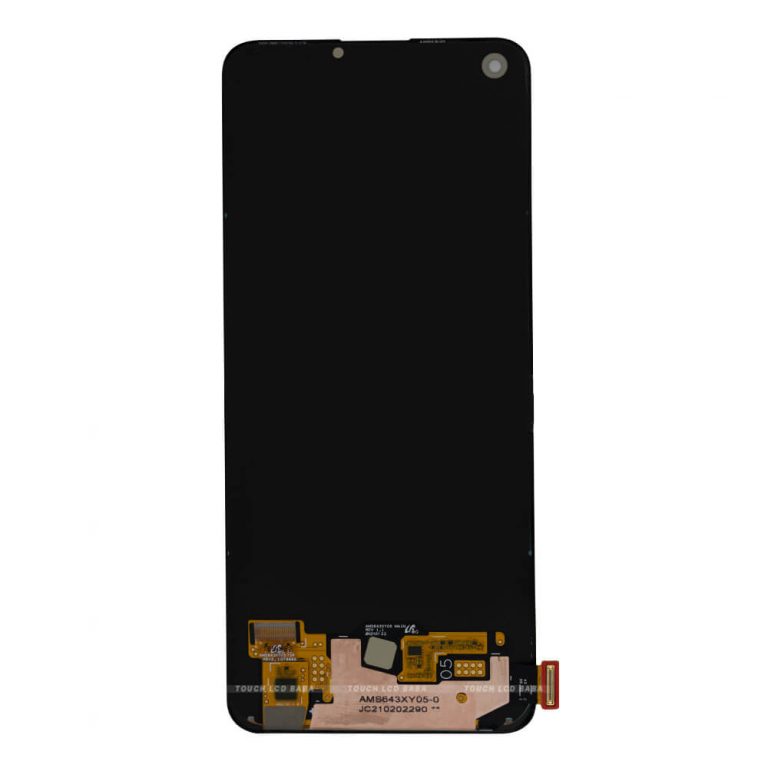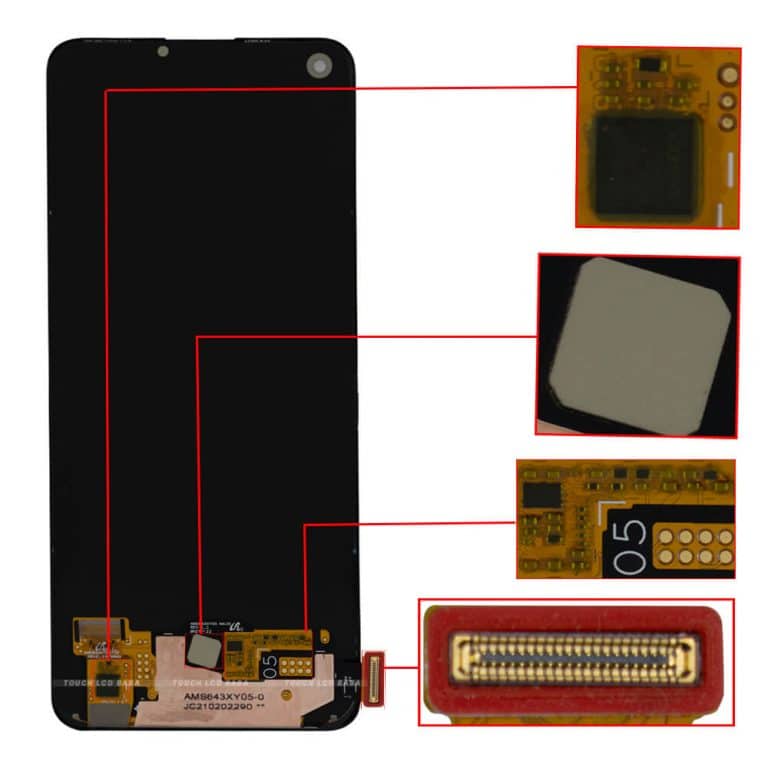 Shipping, Return and Refund Policy
All the products supplied by us come with 30 days return, refund, and replacement guarantee. To return a product, It should be in the same condition as we sent. You can't use or fix the new Oppo F19 Pro Plus display if you want to return it for any reason. For complete details about Shipping, Returns and Warranty, please click here.