If you want to know more about the Oppo F9 Pro display price, you are on the right page. Here, we offer an Oppo F9 Pro display and touch screen combo with the complete outer frame. This combo is a perfect solution for a broken display or touch screen glass. It also comes with a front side frame that holds the display. This part is 100% original, tested, and comes with a money-back guarantee for any defects. The model number of Oppo F9 Pro is CPH1823, so please match the model number before you order.
What is the outer frame and how does it help?
The Oppo F9 Pro combo with a frame comes with several advantages over a combo without a frame. First, you don't need to fit the combo in the frame because It is pre-fitted for you. Generally, when you buy a combo without the outer casing, you need to stick the combo in the frame using glue or doubles tapes. However f. In this situation, you don't need to paste the combo using glue or double tapes. This combo is factory installed and offers the same finishing as you get with a brand new phone. There are no gaps in the side or no problems with light coming out from the frame. It's simply an awesome product!
This Oppo F9 Pro combo is one and the only solution for customers dealing with a bent/broken/curved frame. In many cases, the phone's outer body may also get damaged, and the front frame can lose its shape. Now, if the front side frame is bent or curved, you can't fix a new display in it as It is not in good shape. In this condition, you will also need an outer frame to attach the screen correctly, and we also send this frame along with your order. The display, which we supply, comes with a display and touch screen pre-fitted in the frame and ready to attach to your phone.
It is quite easy to replace the Oppo F9 combo, and all you need to do is, dismantle the broken combo from the phone and fix a new one. That's all. All you need to do is move the motherboard, battery, and other parts from the broken combo and place them in the new one.
Low Price Vs. Display Quality
Although for some customers, the price of the combo can be high because many customers rarely think about the quality concept. Some customers are just behind cheap duplicate parts, and everything is very costly to them. They look for the most inexpensive parts around the web and always get the lowest quality parts because you will never get quality parts for low prices. If you are one of those customers who compare the prices on websites without having any knowledge of quality, beware as you can burn your money on low-quality parts. There are cheap copies of F9 Pro available for cheaper rates, but their quality is like 40% of the original, so you make your decision wisely!
The combo which we sell is a 100% pure OEM combo coming from the same manufacturer who makes for the company. We guarantee 100% original part with perfect color reproduction, brightness, and contrast. All the features which used to work in your factory fitted display will work in our display as well. We are 100% sure about what we sell because we invest a lot of time researching the parts and finding the right ones. The display's price depends on the quality you buy and low-quality parts are never perfect.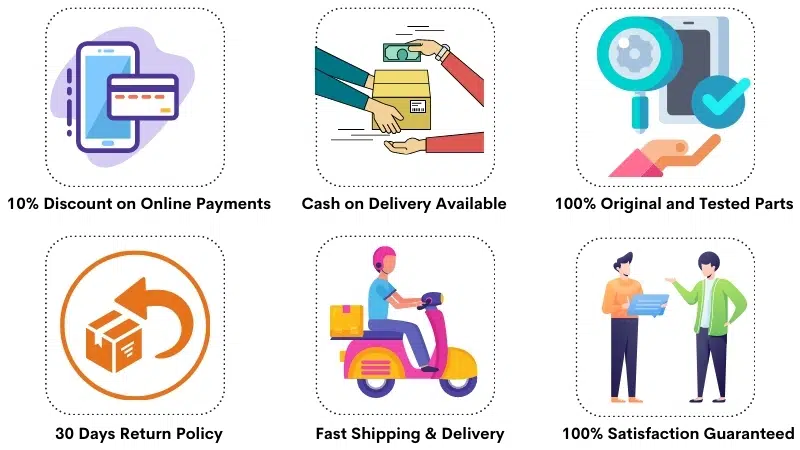 Oppo F9 Pro Display Specifications
| | |
| --- | --- |
| | This is a 100% original and brand new combo with the outer frame (Model CPH1823). |
| | 6.3-inch FHD+ display with a resolution of 2340 x 1080 pixels ~ 409 PPI pixel density. |
| | If you are dealing with a broken frame, this combo is 100% perfect for your needs. |
| | It is just like front half portion of your phone completely new. |
| | The main touch screen glass protection is Corning Gorilla Glass 6. |
| | This combo offers 100% accurate colors, brightness, and contrast. |
| | There will be no reduction in brightness as it usually happens with first copy products. |
| | We verify each combo for perfect working before dispatch. |
| | We offer 30 days Full Replacement Warranty For Manufacturing Defects. |
| | 100% Hassle Free Returns, Refunds, and Replacements. |
| | Cash On Delivery Option Available. |
Frequently Asked Questions
Q: How much does it cost to replace a broken Oppo F9 Pro display in India?
The price for a 100% Original Oppo F9 Pro display is about 3200-3500 rupees in India. If you want to purchase a compatible (first copy) version of the display, It costs approximately 1300-1600 rupees. On the top of display price, you need to pay money to a mechanic for installing the screen.
Please note that If you compare the original display and the first copy display, there is a huge difference in the quality. So don't think that you are paying peanuts and getting an original display. The original display is very durable, supports all gestures, and is well worth the money spent. The first copy version is prone to breakage and is just a workaround to the problem. So Oppo Pro F9 display price fully depends on what you buy.
Q: Is it mandatory to buy the display with the outer frame?
No. It is not mandatory to buy the display with the outer frame, but we highly recommend it. That is because the display comes already fixed in the frame, and there is no need for manual pasting. Most customers are dissatisfied with manual pasting because manual pasting can never be as perfect as done in the factory. Mechanics use glue and double tapes to paste the display while the factory uses strong pre-cut stickers to paste the display.
Q: Can I adjust the brightness with the new display?
Of course! You can. As we outlined before, It is truly the same part as it comes with a brand new phone. If you repair your phone with this combo, you won't even realize If you have changed the screen. That is because the part comes from the OEM manufacturer who makes it for the company. The brightness of our combo is 520 nits.
Q: Do I need glue or double tapes to stick the display in the frame? 
No. You don't need glue or double tapes to paste the display on your phone. The display comes already fitted/pasted in the frame, and there is no need for any manual pasting.  All you need to do is, dismantle the old combo and fit a new one in place of that. This combo is just like the front half portion of your phone completely new.
Q: The outer frame of my phone is not damaged. Do I still need it?
If the outer frame is perfect for your phone, It is still beneficial to buy a combo with the outer casing. If you purchase a combo without a frame, you will need to stick it manually in the frame using glue or double tapes. In any case, the fitting will not be as perfect as a factory-fitted combo. The combo that comes pre-fitted from the factory has no pasting signs, no gaps on sides, and no chance of display popping out from the frame in summer due to warm weather (Due to adhesive getting weak in summer due to heat).
We also have a combo available without the frame. If you still want to purchase the display without a frame, please visit this link. The price difference between frame and without frame combo is quite negligible, and we suggest you make a wise decision and purchase the display with frame.
Q: I want to negotiate the price. Is this possible?
We don't do any price negotiation as It is beyond our policy. We make sure that prices are reasonable while maintaining 100% original quality.  Many customers want a 100% original display but don't want to spend the money. It is not going to work as cheaper products always come with headaches, no matter how much research you do before buying them. They are cheap for a reason! If you compare the prices on different websites, you are comparing different quality products on the same scale.
Q: What is the quality of the first copy display available in local markets?
The first copy display available in local markets is cheap for a reason. Lots of people are looking for lower prices, and to target such customers, low-quality products are manufactured. Please note that local market products are not OEM and come from third-party manufacturers. OEM Products are costly and come from the same manufacturer who makes for the company. Third-party products are cheap because of the low-quality components used in the production. If you buy the first copy for 50% of the original's price, expect a 40% quality of the original.
Q: Do you accept returns if I don't like the product? What is your return policy?
Yes. We do offer 30 days return period provided you don't use the item and return it in the same condition as received. You are free to test the product by connecting it to the motherboard of your phone, but you can't fix the product permanently. Test the product in open condition, and any unused product in perfect condition is eligible for a return (Valid for 30 days).
Q: What is the best advice you can offer for replacing the display?
Our best advice will be to take a trial before you go for the final fitting. If you are attracted to low prices and prefer buying from local markets, go there and don't get the display fixed right away. Please ask them if you want to take a trial before fixing the display permanently. By doing this, you can see everything before the final fitting, and you get a chance to deny the replacement if you see that the quality is inferior. If someone is not allowing you to test the quality, you can understand what he/she is selling.
Shipping, Return and Refund Policy
All the products supplied by us come with 30 days return, refund, and replacement guarantee. To return a product, It should be in the same condition as we sent. You can't use or fix the items If you want to return them. For complete details about Shipping, Returns and Warranty, please click here.