If you dropped your Huawei GT 2 smartwatch and broke its inner display or touch screen digitizer glass, you can purchase a new display replacement and restore your watch in no time. Lately, Smartwatches have become overly popular among the masses because they do everything a traditional watch does, and many other convenient features are easily accessible. You can pair the smartwatch with your phone and keep an eye on everything without even checking your phone.
The smartwatches are also equipped with a display similar to mobile phones, and thus they are also prone to damage. Although the smartwatches are tied to hands, and the chances of accidental drops are very insignificant yet while in your daily activities, you might strike them at any object. For example, you are closing the door, and accidentally, the door handle strikes the smartwatch. There can be numerous scenarios that can damage the display of your watch.
What to do when the Huawei GT 2 display breaks?
It might feel very disappointing at first when you break the glass of your watch. The glass is actually the touch screen glass that helps you use your watch, and once it breaks, it is no longer usable. You get even tenser when you don't know how to overcome the damage. If you go to the local market to repair the watch, you won't find the parts because this market is not mature yet, and it's gonna take a long time. You can find a mobile phone display in the market, but smartwatch screens are a completely different story.
If you are overly worried about a broken Huawei GT 2 display, first relax because the problem is not that big. You can easily replace the broken display with an identical display and restore all the functionality as before. We understand that you are having a hard time finding the display, but we have it available.
What is the meaning of the Huawei Smartwatch GT 2 display combo?
A display combo is a complete unit of display and touch screen digitizer glass for your watch. You need to remove the broken part from your watch and fix a new one in place of that. The display replacement is straightforward with a new display combo, and this is how the official service center or the manufacturers restore the broken screens for the customers.
You can understand the display combo as a new part kept in bulk by the manufacturer for future use. The manufacturers are fully aware that new spare screens will be required in the future because the damage is inevitable. That's why so many authorized service centers are in existence, and customers always utilize their services to restore the broken screens.
Huawei Smartwatch GT2 Display Specifications
| | |
| --- | --- |
| | This display is 100% original, tested and suitable for Huawei Smartwatch GT 2, 46 MM. |
| | The display size is 1.39″, the display type is OLED and the resolution is 454 x 454 pixels. |
| | You can use this display to replace a broken screen on your watch. |
| | It is a complete set of inner display and top layer of touch screen digitizer glass. |
| | The main touch screen digitizer is made of 3D Curved Glass. |
| | You get the same colors, quality, brightness and smoothness as before. |
| | We always make sure to test each display for flawless working before dispatch. |
| | You can always test the new display before you assemble it on your watch. |
| | We back our products with a 30 days return, refund and replacement guarantee. |
| | The display is readily available in stock and turnaround time is very fast. |
| | You can order the product using Cash on Delivery or Online Payments (additional 10% discount). |
Frequently Asked Questions
Q: How much does it cost to replace a broken Huawei Watch GT 2 46MM display in India?
The price of a 100% original Huawei Watch GT2 46MM display replacement is around Rs 3500-3700. The installation charges are extra and should be paid to a technician of your choice.
Q: Can I use this display for the 42MM variant of GT2?
No, this display is suitable only for the 46MM variant and will not work with the 42MM variant due to the size difference. So you should purchase the right product; otherwise, you'll run into more trouble.
Q: Which are the supported model numbers for this display?
This display supports these models :
Huawei Watch GT2
Huawei Watch GT 2 Sport
Huawei Watch GT 2 Classic
Huawei Watch GT 2 Elite
Huawei Watch GT 2 Elegant
The supported model number is LTN-B19. The display available on this page supports all the above model numbers. Please make sure that you have got the 46MM variant of GT2, and you are good to go. If you've any questions or confusion, you can always share a photo of your watch with us on Whatsapp at 9587954273, and we'll be more than happy to assist you further.
Q: After buying the display, Where should I go for the installation?
Once you have got the new display in your hands, you can visit a nearby technician to install the display. Now the question, should you go to a Watch repairing shop or a mobile repairing shop. In many places, the people who used to repair watches have also started repairing mobile phones. So you should prefer the person who is capable of dealing with watches and mobile phones both. We don't think it's hard to find one; otherwise, you should go to a mobile repair shop to install the display.
If the technician doesn't understand how to replace the display, you can always see the repairing videos on YouTube, which will guide you throughout the process. First, watch a complete repairing video on YouTube, and then you can ask your technician to follow the same path.
Q: Can I replace the broken smartwatch display at home?
We don't think it is extremely tough to replace the display, but inexperienced customers shouldn't carry this job. The watch has very tiny components inside it, and if you make a mistake, you might render other parts useless. Therefore, we recommend you always seek the help of a professional technician to replace the display. Always watch the basic repairing video on YouTube and then stay beside the technician while replacing the display for you.
Q: Does replacing the display impact the data or settings?
The display itself doesn't have any storage embedded in it. So if you replace a broken display, all the data and settings stay intact. After restoring the display, you can use the watch in the same way as before. You don't need to go through the initial setup process you had done for the first time when you started using your new watch.
Huawei Watch GT2 Display Photos
This is how the Huawei Smartwatch GT2 display looks like. As you can see, the display combo has two connections, one is for the display, and another is for the touch screen glass. If you've any questions, please feel free to get in touch with us.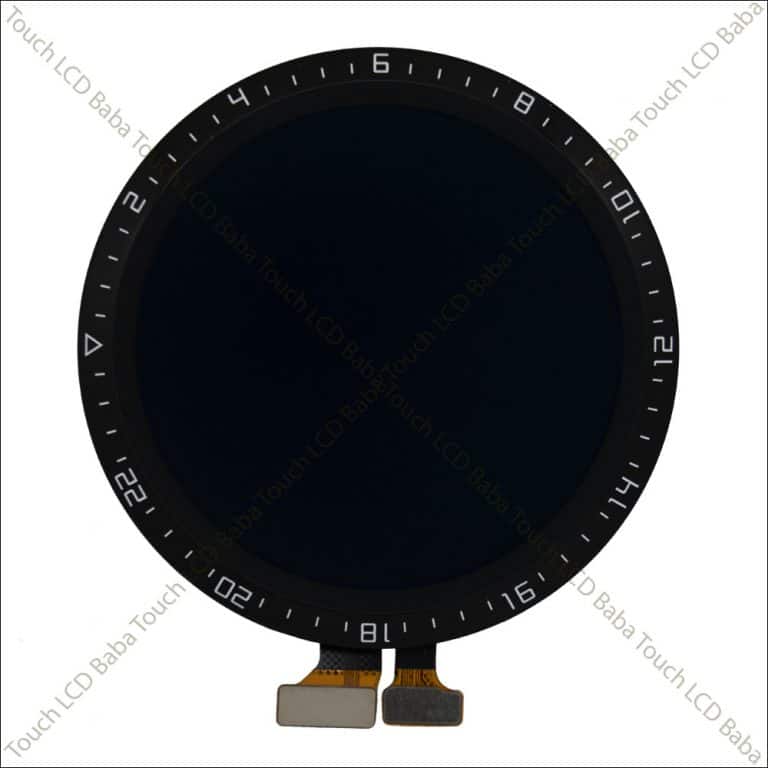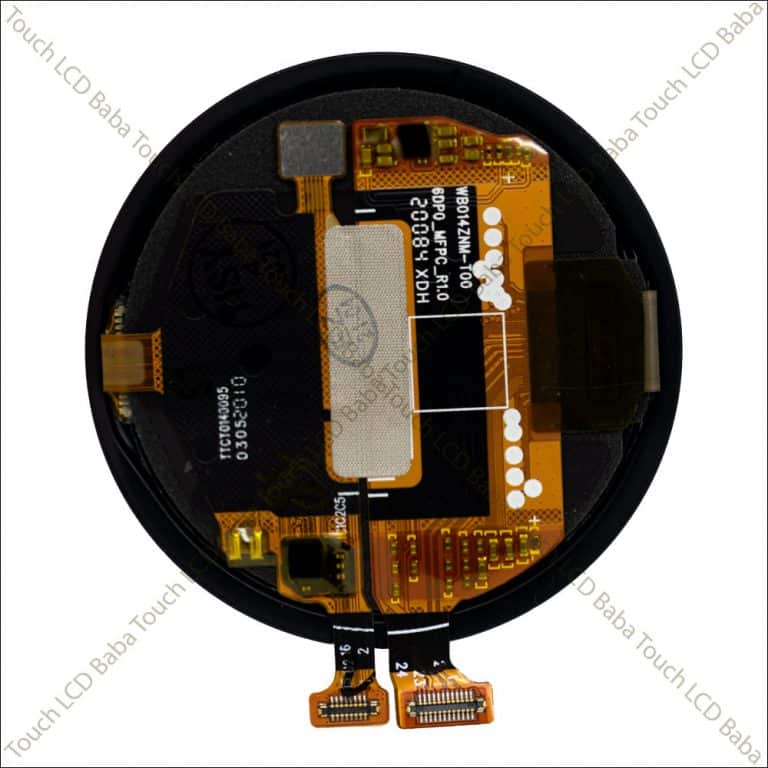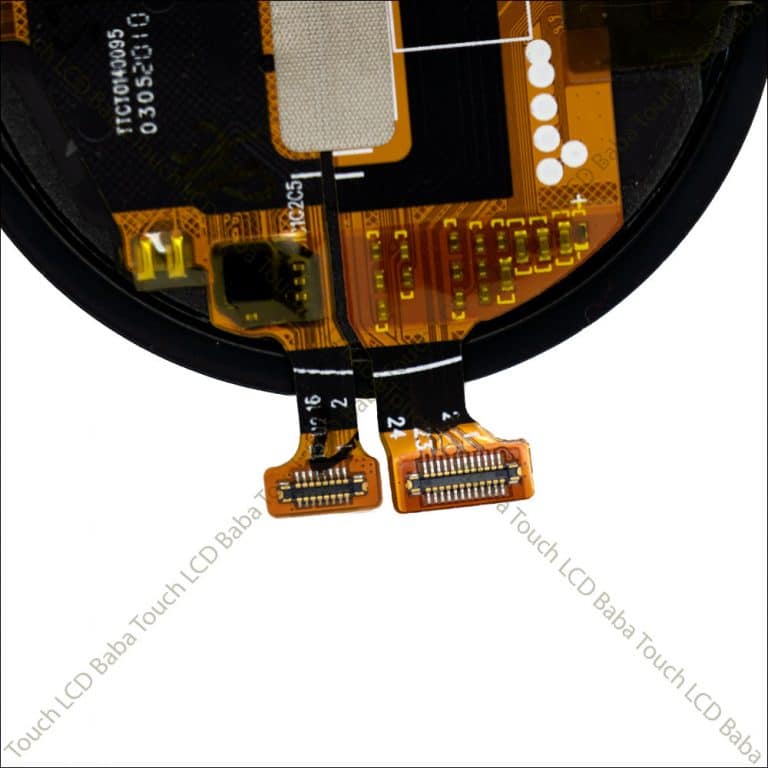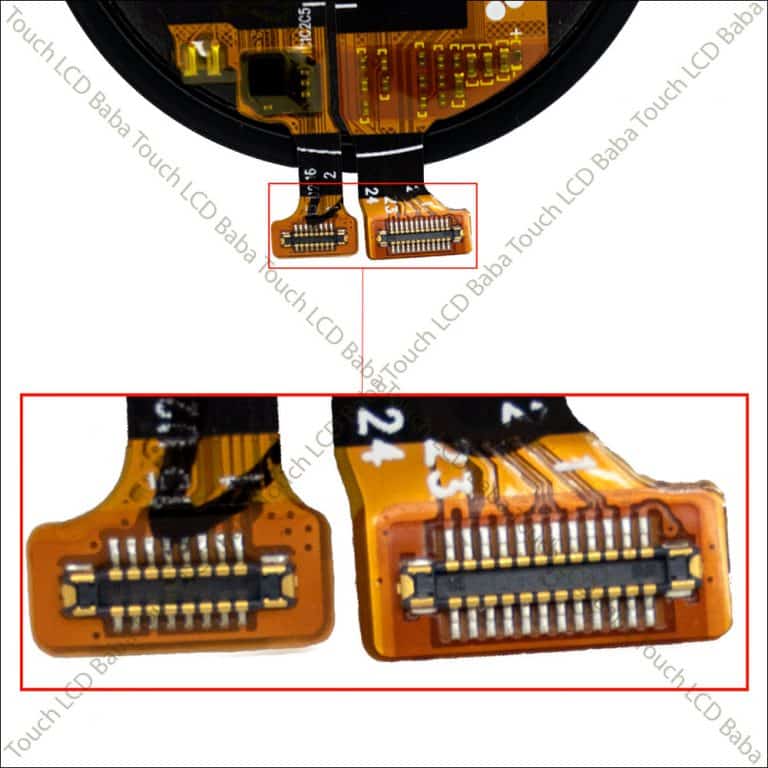 Shipping, Return and Refund Policy
All the products supplied by us come with 30 days return, refund, and replacement guarantee. To return a product, It should be in the same condition as we sent. You can't use or fix the new Huawei Smartwatch GT 2 if you want to return it. For complete details about Shipping, Returns and Warranty, please click here.