If you're googling for the Infinix Note 12i original AMOLED display, we can provide the right product for the best price. Infinix Note 12i is a favorite phone of many customers because it offers an AMOLED display on a budget. If you drop the phone and damage the display or touchscreen glass, you'll surely regret it because now you must spend money to reverse the damage. Finding an original AMOLED display in the local market is difficult because almost all shops rely on duplicate screen replacements.
If you are trying to find a display for the lowest price and don't care about the quality, we don't have a solution for your needs. We sell a 100% original AMOLED display which is not cheap by any means, and if you want to get the lowest price, you should see other websites selling fake screens for bargains because that is what you can get for the lowest price. Most customers don't understand that all cheap screens are TFT quality and don't even come closer to the AMOLED display's quality. If you want a 100% original display, please continue reading; we have all the answers.
What is the meaning of the Infinix Note 12i display combo?
The Infinix Note 12i display combo refers to a complete unit of AMOLED display and touchscreen glass. The mobile phone screen manufacturing factory combines the touchscreen glass and display in a single unit called combo/folder, and this spare part helps everyone overcome the damage to the mobile phone. If you damage your mobile phone's display or touchscreen glass, you need a display combo.
Please note that the display combo is a universal solution that helps in both damage situations. You can break the display, the touchscreen glass, or both, and the display combo resolves all these issues as a complete unit. Even if only the display breaks or only the glass breaks, you should always opt for a combo replacement without considering other alternatives. That's because only a display combo can completely solve the problem and save you from long-term consequences.
We offer an assured 100% original display for Infinix Note 12i.
If you've roamed all over the local market in your city and can't find the original AMOLED display, it's time to buy the original display online. Most customers first try to find the original display in their local city and want to get it installed without searching for it online. When a customer can't find the original AMOLED display locally, he typically searches online and quickly finds a solution in less than 5 minutes. We don't think that in this age, you need to rely on the supplies in the local market anymore.
We offer a 100% original AMOLED display of Infinix Note 12i, which is the same product you get assembled in a new phone. The AMOLED display assembled in your phone and what we offer come from the same OEM factory, and that's why we are so sure about the quality. You can order from our store with 100% confidence as we offer 30 days of easy returns on all products without any hassle. We are sure about the quality we offer, and If you buy from us once, you'll automatically become a regular customer because of the overwhelming quality, service, and authentic products.
Infinix Note 12i Display Specifications
| | |
| --- | --- |
| | This display combo is 100% original, tested, and suitable for Infinix Note 12i, model number X677. |
| | The Infinix Note 12i display size is 6.7″, the display type is AMOLED, and the resolution is 2400 x 1080 pixels. |
| | You'll get a display assembly consisting of an inner display and a front layer of touchscreen glass. |
| | We test and verify each display for 100% excellent working before shipping it to our customers. |
| | You'll get the same display as it comes assembled with a brand-new phone. |
| | The colors, brightness, and touchscreen smoothness will stay the same. |
| | We source our products from the OEM manufacturer to ensure original quality. |
| | You can also test and verify the working condition of the new display before installation. |
| | We offer 100% original screens, and our customers are 100% satisfied with our products. |
| | The Infinix Note 12i display is readily available in stock. |
| | We offer Cash on Delivery and Online Payments (10% additional discount) as payment methods. |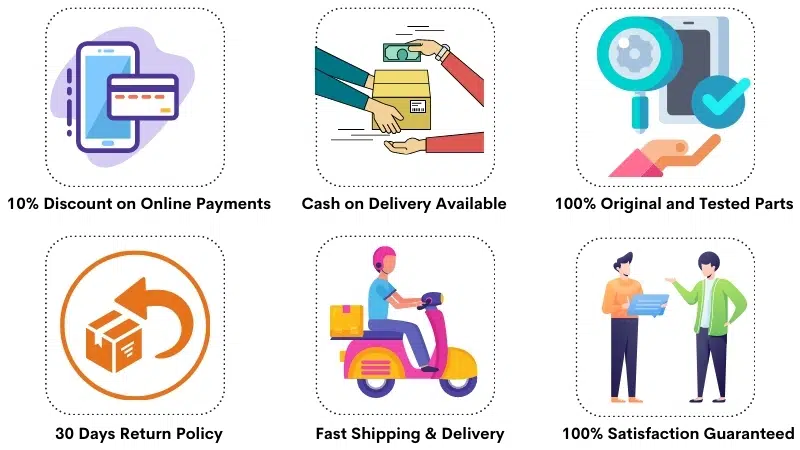 Frequently Asked Questions
Q: How much does replacing a broken Infinix Note 12i display in India cost?
The price of a 100% original Infinix Note 12i (model number X677) display replacement is around Rs 4600-5000. We've quoted the original AMOLED display's price, and it is possible to buy fake screens for around Rs 1200-1300. If you get a local display, you shouldn't compare it with an AMOLED display's quality because both products are different.
---
Q: I want to replace only the glass. Is glass replacement a good solution?
If your phone's inner display is functional and only the touchscreen glass has scratches, you'll surely consider replacing only the glass. Most customers first try to explore the glass replacement option and think that replacing the glass would be cheap and they can easily restore the phone to its 100% original condition. Please note that glass replacement is not what you think, but it is a cheap hack. Please also know that glass replacement is not an option if the inner display is cracked. In such a situation when the display and glass are both cracked, a display combo is the only solution.
Glass replacement is trendy primarily because it costs less, and customers try to save as much money as possible. If you replace only the glass, the resultant display's quality will be nowhere near the original. These are some facts about glass replacement a technician will typically try to hide or tell you ambiguously.
The new glass that replaces the broken glass is fake and easily breaks.
Fake glass doesn't have Gorilla Glass protection, so your phone's display is more prone to future damage.
A duplicate glass is rough and doesn't allow smooth operations like the original.
The original glass is thick and feels solid, while a duplicate glass is slim and doesn't have curvy edges.
After installing a duplicate glass on display, you'll always miss how good was your original glass.
Who replaces the glass doesn't matter; you'll never feel like the original display.
It is common to have dust spots, white spots, patches, and yellow tints in the display after glass replacement.
As glass replacement is manual, dust and other impurities often remain between the display and the touchscreen glass.
In 80% of cases, the glass replacement will fail, and you must bear the risk.
If you ask us to summarize the glass replacement, we would say that it is possible to replace only the glass, but it is not a standard solution. Glass replacement has become popular because all technicians ask customers to replace only the glass and save money. A customer thinks that a technician is his best friend but doesn't know that glass replacement costs Rs 100 to a technician, and they can easily charge up to Rs 1500 if the glass replacement is successful to some extent.
---
Q: Isn't buying fake IPS/TFT quality screens a good idea?
You can buy duplicate screens, but we don't sell or recommend such solutions. If you buy a duplicate display after investing 30% of the original display's price, you'll get the display quality in equal proportion. An original display offers 100% colors, brightness, a smooth touchscreen, and durability. All these properties are always missing from a fake screen replacement.
You can buy an IPS/TFT quality display to use your phone temporarily, but such products never work wonders. You can use the phone for a short time, and after that, the display will either stop working automatically or crack because of its fragile structure. It would be best to buy a permanent solution to the problem rather than replace the display repeatedly. Purchasing fake screen replacements is not a good idea because you must face many problems.
---
Q: I want to identify the original display myself. How can I do that?
In this particular case, we would ask you not to go into technical stuff. We can easily identify the original display by seeing the manufacturer log on the back side of the display, but you'll not recognize that. The best method for you to identify the original display would be to match the appearance of your original display with our product photos. If the appearance matches 90% with your original display, then the display is original. Please note 10% dissimilarities are possible because of a different factory stamp or batch number difference.
On the other hand, All TFT/IPS screens look entirely different from the original screens in all possible aspects. If you keep one original and a copy display side by side, nothing will match except the display's flex cable. You'll see the display's flex cable in the same location, and if you physically check the glass of both products, you can easily understand the difference.
---
Q: Is it possible to return the new display if it doesn't work?
Yes. All screens have a checking guarantee; you can easily test the display live before assembling it. It means that before you assemble the display on your phone, you can easily test it by connecting it to your phone's motherboard in open condition. All mobile phone technicians test the new display before assembling it on the customer's phone. Here is a basic outline of how it works :
First, the mobile phone should be in open condition, and you should be able to access the motherboard.
Locate the old display's connection on the motherboard and gently eject it.
After that, connect the new display's connection to the motherboard and turn on the phone.
The new display will start working as usual, and you can easily test it to your satisfaction.
Please note that testing the display in real-time means you can verify all the aspects, and guesswork is unnecessary. Therefore, after testing the display, you can proceed with the final installation because you've already verified the working condition of the new display.
---
Q: Do you also install the display on my phone or only deliver it?
We only deliver original screens to your doorstep and don't install them. You can easily install the display in the local market of your city, where mobile phone technicians are available in abundance. The normal installation charges are around Rs 200-300, and you can easily complete the installation. Finding the original display is tough, and installation is way easier.
---
Q: What is the source of the original Infinix Note 12i display?
The original Infinix Note 12i display takes shape in an OEM factory based in China. That particular supplies original screens to the parent company and sells in the open market. We buy original Infinix Note 12i screen replacements from OEM factories that make and supply original screens to the parent company. We don't manufacture them but buy them from the OEMs.
You might think that if buying original screens is that easy, why everyone doesn't offer them? The answer is the high prices; only 5% of suppliers buy original screens from the OEM. All remaining 95% of vendors buy duplicate screens from other third-party factories and sell them to retail customers. Finding original screens is difficult because not everyone deals with them, and customers prefer low prices.
---
Infinix Note 12i Display Photos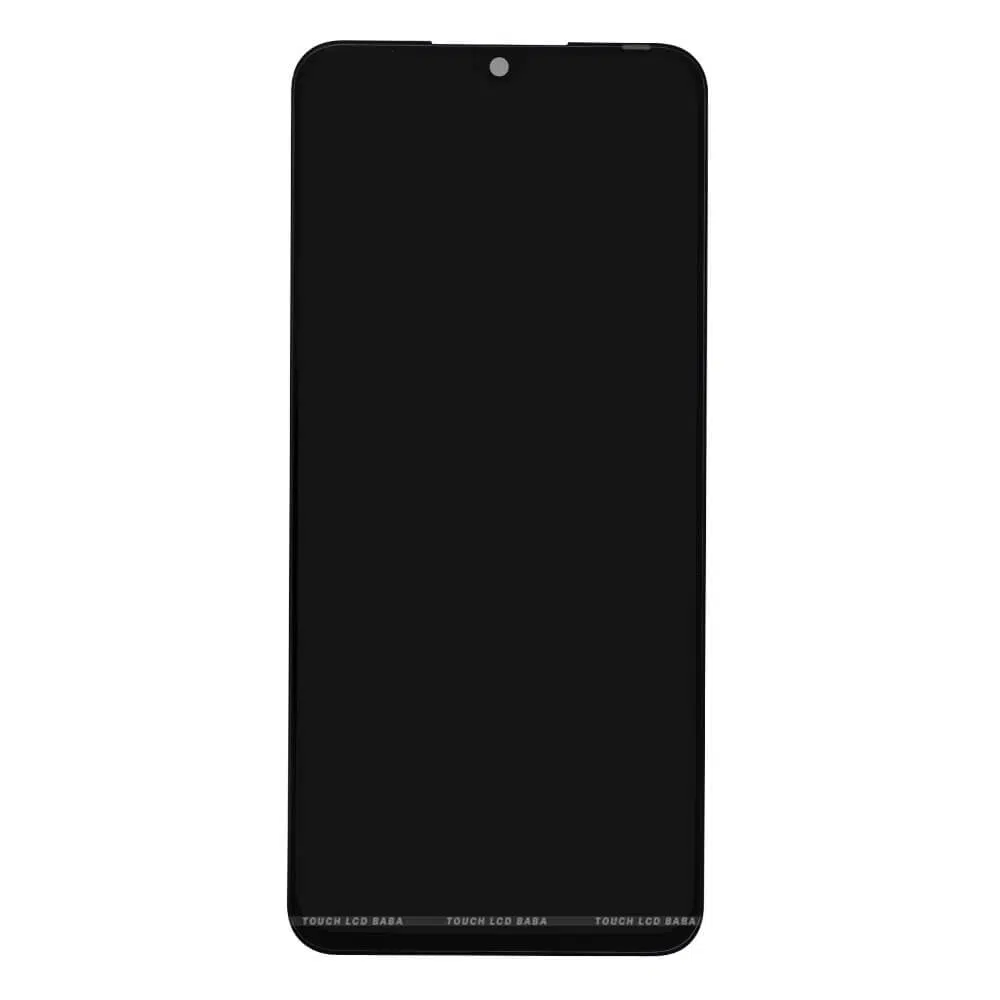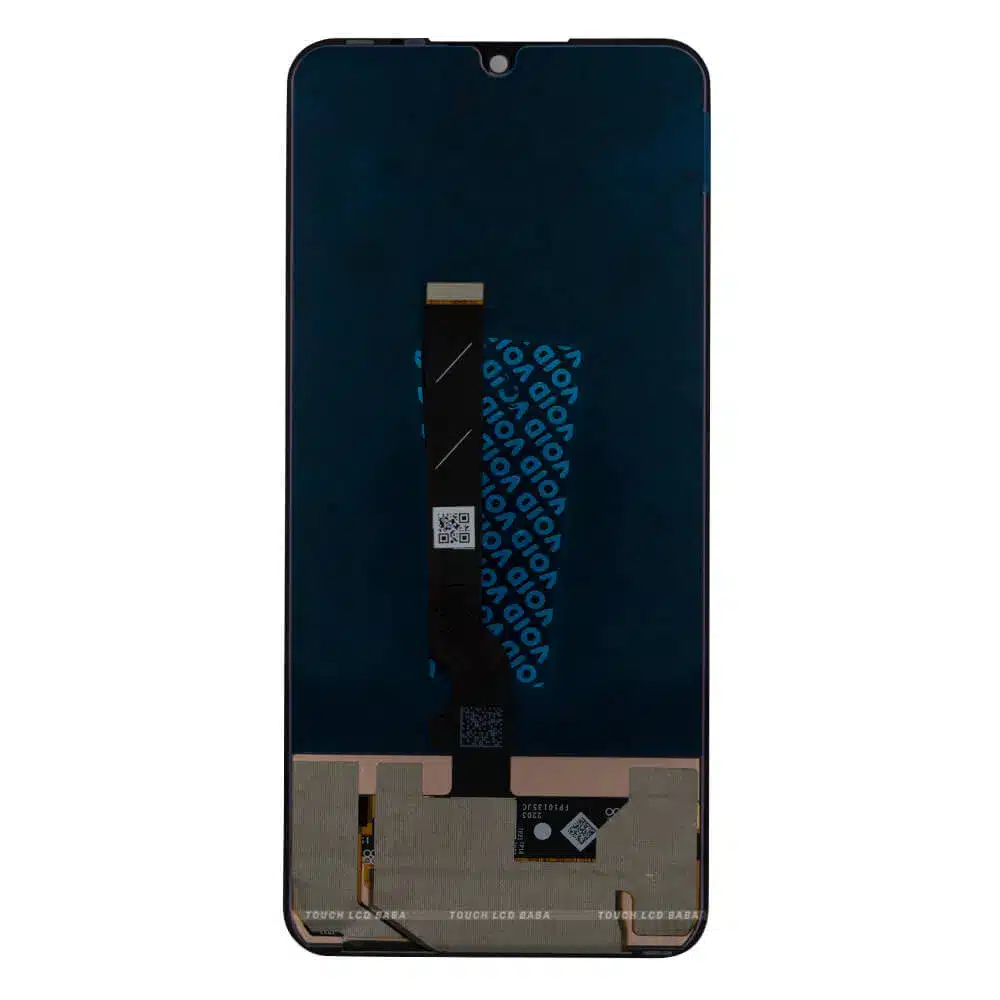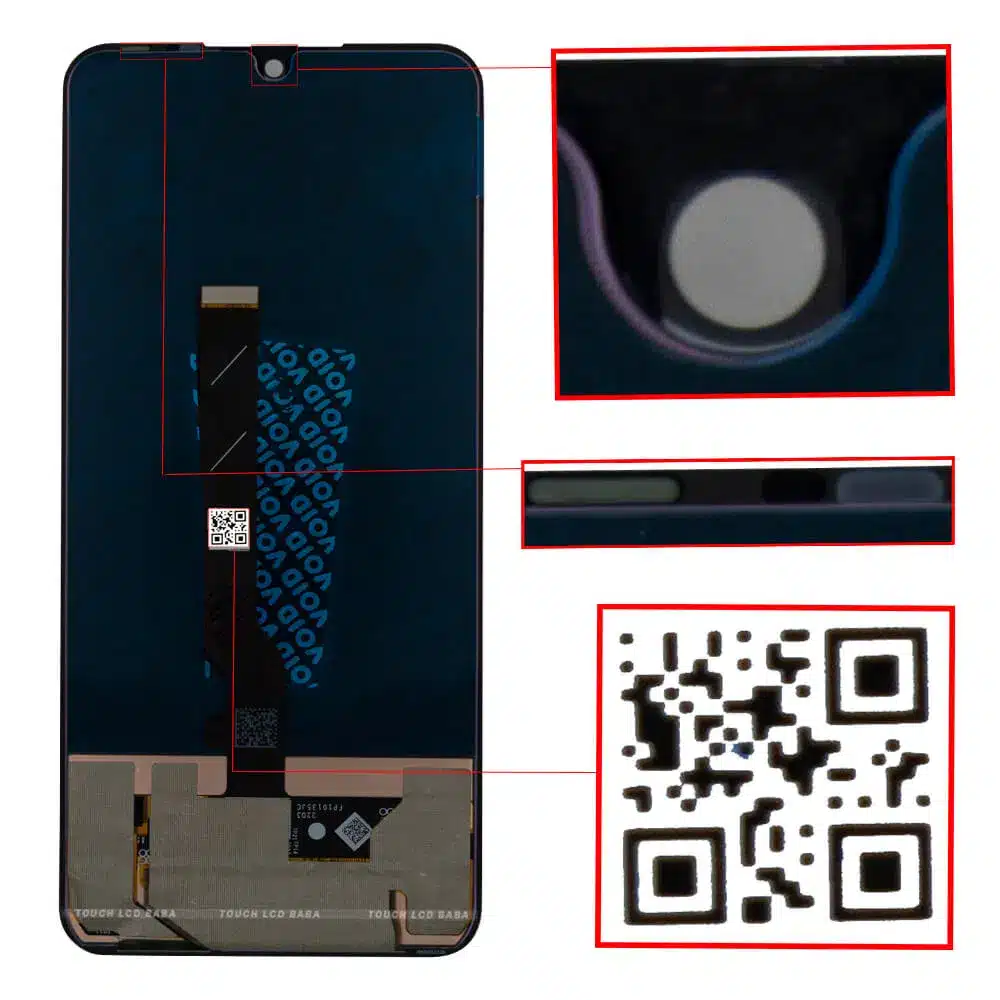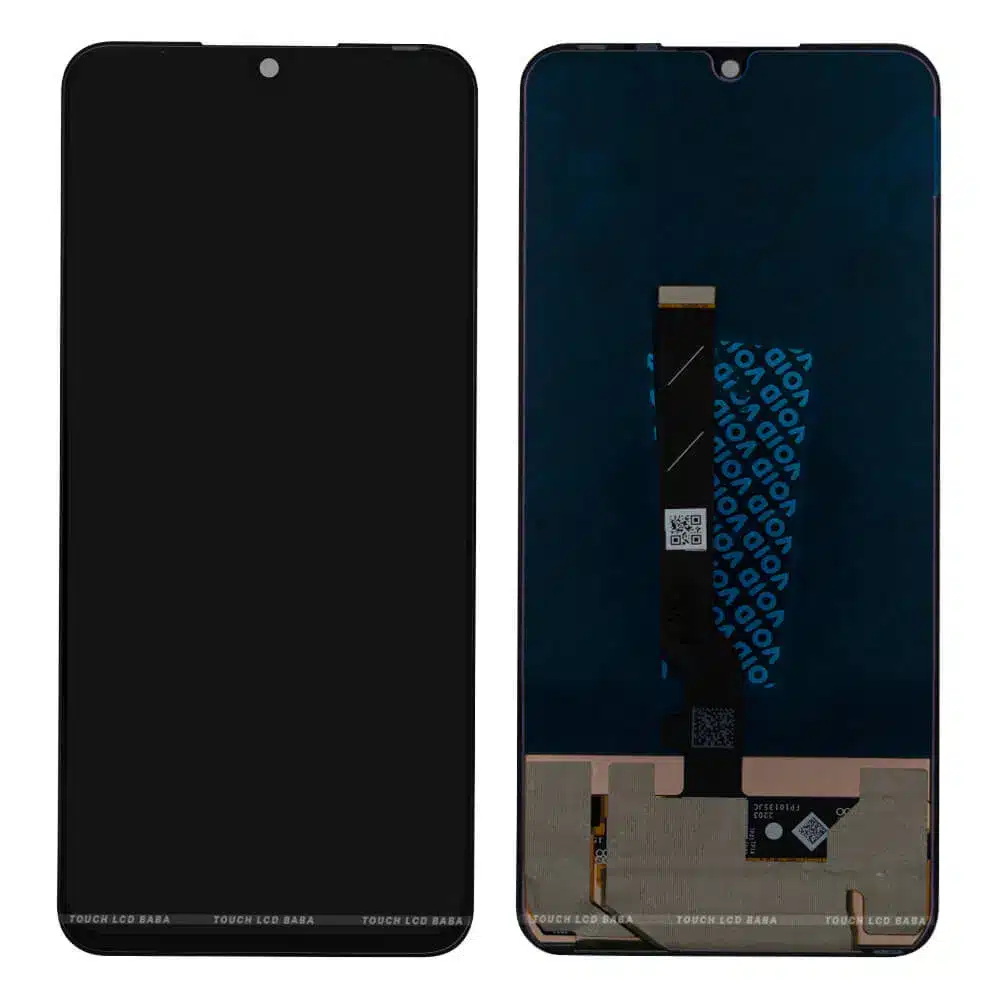 Shipping, Return, and Refund Policy
All our products come with 30 days return, refund, and replacement guarantee. To return a product, It should be in the same condition we sent. You can't use or fix the new Infinix Note 12i display if you want to return it. For complete details about Shipping, Returns, and Warranty, please click here.