If you need the Mi A1 display and touch screen replacement, we can help. On this page, we offer Mi A1 display and touch screen combo replacement, which you can use to replace a broken/damaged/faulty display or touch screen. The part you see here is a complete combo (also called Folder) of display and touch screen both.
What is the meaning of the Mi A1 Display Combo?
Please keep in mind that you always need to replace the complete Folder in Mi A1 as both parts work as a single unit. The meaning of the Mi A1 combo is a full unit of display and touch screen glass pasted together in the form of a complete assembly. This assembly is called Combo or Folder.
Many customers stress that they have broken only the touch screen glass, and they want to replace only that glass. However, that glass is joint with the display, and if you try to separate them, both parts will eventually break, and then the only option left will be combo replacement. For this reason and to avoid the additional hassle, It is always advisable to go for combo replacement only.
You just need to take the broken Mi A1 screen off your phone and replace it with a new one. That can be done quickly with the help of a mechanic as a replacement is quite easy and straightforward. After the replacement of the Mi A1 combo, the handset will start working again like new.
Did you buy the first copy from the local market and were disappointed?
You are not the first one buying a first copy display from the local market for a low price like Rs 1500-1800 and expecting that It will work flawlessly. Every day, we talk with so many customers who are very unhappy with the screen they bought locally for a low price. If you purchase duplicate parts to save money, It is bound to happen. So you need to get away from the mindset that original parts are available for throwaway prices.
Always keep in mind that quality is never cheap and you've to pay the full price if you want to enjoy the same quality. It is a much better idea to purchase an original screen once rather than buying the first copy three times. You might be a very educated person, but you know nothing about the screens.
A first copy display is a product manufactured by third-party manufacturers using a low-quality material. The only way to cut down manufacturing costs is to use the lowest quality material. If you buy such screens, apparently you will have issues. If you are entirely biased towards low prices and always have a mindset that you are a more knowledgeable person than anyone else, then It is bound to happen with you.
First Copy Vs. Original Display – What are the differences?
The mechanics call a low-quality duplicate display the first copy. The first copy is a fancy name that mechanics use to lure customers into buying the product. If they directly say that they have a pure junk display that isn't worth anything, you probably won't buy that in the first place.
So the fancy names like a first copy, OG, AAA Quality, and 99% quality indicate duplicate products.  These are just fancy words that appease your mind, and you feel like you are buying something worthy. Here are the main differences, First Copy Vs. Original :
You will feel a massive quality difference in the brightness and color reproduction of the display.
The feel and color tint of the first copy Mi A1 display are different/peculiar.
The touch screen glass is of pathetic quality and breaks again in no time.
You can't use the touch screen correctly and precisely as before.
The phone starts overheating with a duplicate display, which directly results in reduced battery life.
The colors in the first copy display are not accurate at all.
The camera quality will also take a hit.
If you are a customer searching for cheap deals for a broken Mi A1 display or touch screen glass, we don't have such deals available on the website. We are fully committed to providing 100% quality and satisfaction to our customers.
We have a loyal customer base who actually understands the value of buying quality spare parts. If you are disappointed after buying from the local market, give us a try and we'll change your mindset that original parts aren't available in the market.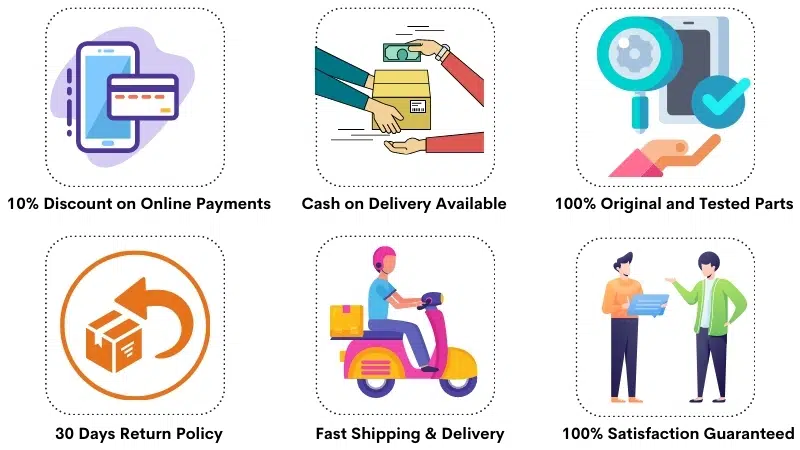 Mi A1 Display Specifications
| | |
| --- | --- |
| | This display 100% original, brand new and suitable for MI A1. |
| | The Mi A1 display size is 5.5″, display type is IPS LCD Display and resolution is Full HD 1080×1920 pixels @ 403PPI. |
| | This Mi A1 folder offers the same colors, quality and brightness as your authentic display. |
| | We source the part from the same manufacturer who makes for the company. |
| | The top layer of touch screen glass is 2.5D curved with Corning® Gorilla® Glass 3 protection. |
| | We send insured parcels to our customers so no need to worry about the damage in transit. |
| | The combo gets tested on an actual MI A1 motheboard before shipping to our customers. |
| | We offer 30 days return, refund and replacement guarantee. |
| | The combo is readily available in stock with fast shipping time. |
| | You can order using Cash on Delivery or Online Payments. |
| | We pack your products very carefully in rigid plastic boxes accompanied by additional protections. |
Frequently Asked Questions
Q: How much does it cost to replace a broken Mi A1 display in India?
The price of a 100% original Mi A1 display replacement is around Rs 2400-2600. If you buy a first copy screen replacement, then the combo costs about Rs 1000-1200 in India. You may have to pay additional repairing charges on top of the display's price to a mechanic.
Q: How can I replace only the touch screen glass without replacing the display?
We don't do or recommend replacing only the touch screen glass. Such solutions are embraced by the customers who are just looking for the lowest possible price to repair the phone.
For your kind information, the duplicate touch screen glass of Mi A1 costs only Rs 100. Now you can guess the excess amount you are wasting on buying such solutions. If you think that you are invested the money for a long-term solution, you are wrong. You have just wasted your money on a solution that is going to give you a lot of headaches in the long run.
Q: Why the touch screen glass replacement is not satisfactory? 
The touch screen glass, which mechanics use, is manufactured by a third-party manufacturer without any quality testing. The touch screen lags so much, and even you can't touch it precisely, but this is what you can buy for what you are willing to pay.
The ultimate blame of issues directly goes to the customer because he desired so much at such a low price. After replacing the touch screen glass, you will no longer have that joy of a super smooth touch screen.
You have to press the touch screen hard to get a response, and sometimes you will feel ghost touch issues, like the touch screen working automatically. The copy touch screen is not that transparent, so you will see a blurry display, not as good and bright as before. If such cheap solutions were good, then no one would purchase the expensive original parts.
Q: How can I recognize the original Mi A1 display myself? 
We are working in the business for more than ten years, and now we can differentiate between the original and copy parts. So you really can't understand the concept in 1 day and become a master. It is simply not possible, and If you thought It is possible to learn it in a day, you are wrong. It takes years of experience and practical knowledge of testing the screens daily.
In a nutshell, the original screen comes from the OEM manufacturer, who makes for the company. You can judge a screen by its looks, but sometimes several OEM companies make the original screens, and you might get confused.
Just speaking from our experience, when you turn on the phone, the original display speaks itself. You can see perfect brightness, colors, and smoothness. Learning the technical aspects is a different thing, and recognizing an original display by using your heart also works 🙂 Have some faith in the seller and don't rush for low prices.
Q: How can I test the display before fitting? 
It is effortless to test the display before fitting it by connecting it to your phone's motherboard. You don't need to fix or paste the display to test it because you can connect the display to your phone in an open condition.
You just need to remove the broken display's connection from the motherboard and connect the new display inside the jack. Now turn on the phone, and you can test the new display like you use your phone daily. When you are satisfied, you can paste the display finally.
Q: If the glass replacement is not successful, why do mechanics do it? 
The real solution to a broken Mi A1 display was the replacement of a complete combo. Now every second customer who calls us inevitably asks about one thing: Is it possible to replace only the glass?
Then manufacturers realized that a vast customer base is looking for low-quality solutions, and It was an undeveloped opportunity. It was the time when mechanics started replacing only the glasses as there was absolutely no risk. If they were successful, they could make excellent money without any warranties. If the display also goes bad during the replacement, they will simply hand over the broken phone back to the customer. The customer always bears all the risk of glass replacement.
The glass replacement is a temporary way for mechanics to repair a broken screen anyhow. It is not a permanent solution. The glass replacement business will continue to thrive because lots of buyers can't afford the original display replacement.
Q: What happens if the new display is not working on my phone? 
We have a separate testing unit where we test each display for 100% perfect working before dispatch. We use the same phone's motherboard to test the new display, and so far, there are no cases of a defective display. Still, we offer a 30 days replacement, return and refund policy in case you face any issues. Just make sure to keep the product in its original condition and don't paste it on your phone.
Shipping, Return and Refund Policy
All the products supplied by us come with 30 days return, refund, and replacement guarantee. To return a product, It should be in the same condition as we sent. You can't use or fix the items If you want to return them. For complete details about Shipping, Returns and Warranty, please click here.