The life of a Redmi Note 5 battery is around 2 years, and after that, you'll need to buy a new battery. You can easily find a battery for Redmi Note 5 in the local market, but most of them are duplicates and don't provide the optimum backup time.  These are all non-original batteries having a much lower capacity than the original, and that's why you need to replace such batteries every 2 months.
If you go to the local market, you'll see shopkeepers selling various kinds of batteries and even providing a warranty. Under warranty, you can get a new battery, but buying a counterfeit battery and replacing it with another piece of counterfeit battery doesn't help. Some customers have replaced the battery several times and still face the same problem because they bought a local one. If you don't purchase the battery having true capacity, you'll run into lots of issues.
What are the benefits of purchasing an original Redmi Note 5 Battery?
The battery you see on this page is a 100% original Redmi Note 5 battery and guaranteed to furnish the same backup and charging time. The price of this battery might be costly for some customers, but it is worth it. The original battery provides lots of benefits like :
The backup time is perfect, and you don't have to charge the phone repeatedly.
You'll not face overheating issues with the original battery unless you've some issues with the phone.
The original battery comes with overcharging protection, and thus the life is longer.
When you buy a quality-tested product, you can enjoy great peace of mind.
You don't have to replace the battery several times in a year, and thus you save money and stay away from hassles.
How to know that your phone needs a battery replacement?
Before the Redmi Note 5 battery stops working, you'll see several early signs of that, and then the problem will intensify. You certainly need a Redmi Note 5 battery replacement if :
The Redmi Note 5 battery drains very fast and shows a random battery percentage every-time.
The battery shows a certain percentage, like 44%, and then suddenly shows a different percentage.
Your handset turns off automatically even when the battery shows a 100% charge.
You charge the battery to 100%, and after a short while, the percentage is down to 40%.
Due to overnight charging or charging with duplicate chargers, the battery is completely puffed up.
The mechanic tried to remove the battery during repairs, but accidentally tweezers went inside, and the battery burned.
Since this is a pasted battery and if you remove the battery hurridly, it will get damaged, and then you need a new battery.
After using the battery for more than a year, its capacity down to a great extent.
If you touch the battery, the battery feels very soft/flexible because a perfect battery will always be hard, and you can't bend it.
Above are some cases when Redmi Note 5 battery replacement is a must for you. If you need to buy a new battery for any reason, always buy the original one. If the battery capacity is not actual, you will draw half power from the battery. That's why the original Redmi Note 5 battery is costly but worth the money.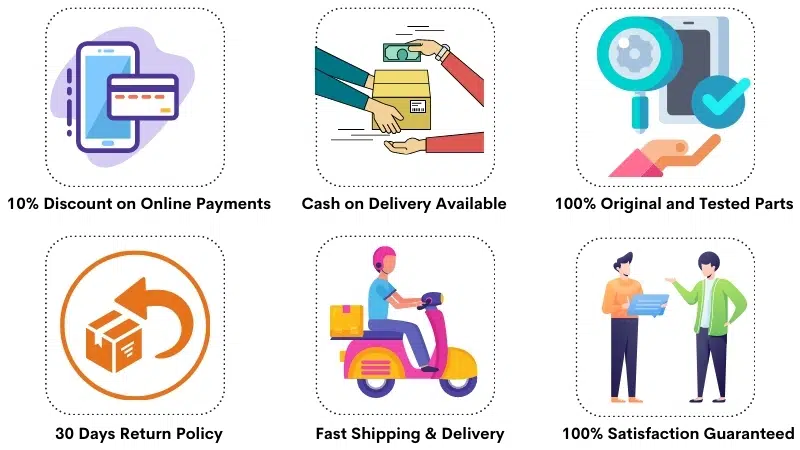 Redmi Note 5 Battery Specifications
| | |
| --- | --- |
| | This battery is 100% original, tested, and suitable for Redmi Note 5. |
| | The battery model number is BN44, and the battery capacity is 4000 mAh. |
| | You can use this battery to replace a old worn-out battery. |
| | Rated Capacity: 3900mAh |
| | Typical Capacity: 4000mAh |
| | Rated Voltage: 3.85V |
| | Limited Charge Voltage: 4.40V |
| | You can solve all the battery related issues by replacing the battery. |
| | We offer 7 days testing and replacement warranty on the battery so that you can ensure backup time. |
| | The battery is readily available in stock and shipping time is very fast. |
| | You can order the product by using Cash on Delivery or Online Payments. |
Common Customer Questions
Q: How much does it cost to replace a Redmi Note 5 battery?
The price of a 100% original Redmi Note 5 battery replacement is around Rs 1000-1200. If you buy a duplicate battery, you can get it for around Rs 350-450. Please note that duplicate batteries are very infamous, and you'll face lots of issues with them.
Q: What are the best usage practices to prolong the battery life?
The battery life depends on how sparingly you use the phone. If you are a gamer and use your phone all day long and charge the battery twice daily, the charging cycles will be over in nearly 1 year, and then the battery's backup time will start to fade. To prolong the battery life, please make sure the followings :
Always use the original charger and original charging cable.
Please don't leave your phone in overnight charging but charge it as required.
Don't use different chargers and cables to charge the phone.
If the original charger goes bad, buy a new original charger.
You shouldn't purchase local products even if they come with a warranty.
Please note that all phones have different charging requirements, and one universal charger sold in the market is not suitable for all phones. Usually, shopkeepers sell any brand's charger, but it is not how things work in real life. It would be best if you always used a proper charger to charge the phone because that is always the best practice.
Q: Is it possible to install the new battery at home?
The Redmi Note 5 battery comes glued inside the phone, and to replace the battery, first, you need to disassemble the old battery. Although it is not very technical yet, sometimes, you might pull up the battery in the wrong way, and the old battery might get curved. The display's flex cable is also underneath the battery, and you might harm the display's flex by incorrect removal of the battery.
Q: How can I verify the sound condition of the new battery?
To verify the new Redmi Note 5 battery's working condition, connect it to your phone in open condition (without assembling it completely). Then charge it and then use your phone for about an hour. After that, please go into Settings-->Battery section, and you can see how long the battery will last and correlate it with the original battery's standby time. We always test the battery and then send it to our customers.
Shipping, Return and Refund Policy
All the products supplied by us come with 30 days return, refund, and replacement guarantee. To return a product, It should be in the same condition as we sent. You can't use or fix the items If you want to return them. For complete details about Shipping, Returns and Warranty, please click here.