If you found Touch LCD Baba via google and need a display replacement for the Nokia 6.2 phone, you've arrived at the right page. We want to assist you with all the aspects of the Nokia 6.2 display replacement to help you make a wise decision. If you purchase the wrong products, you'll end up wasting money repeatedly and that's what nobody wants.
Usually, when you break the display for the very first time, you've no idea about the best option considering your needs and budget. On this page, we'll walk you through all the secrets of the Nokia 6.2 display replacement, and you can always call us if you have got a specific question in your mind.
We suggest you don't worry excessively about the damage and never get upset with it. It is common to have a damaged display, and every day, millions of customers try to find screen replacements in the market. A mobile phone is fragile by design because the display is made of glass material that will break no matter what.  We can protect the display with tempered glass, but that won't do the trick when the phone skids from a considerable height.
What does the Nokia 6.2 display combo imply?
The simplest meaning of a display combo is a unit of display and touch screen digitizer glass. A display alone can't function without the touch screen glass, and that's why the manufacturer combines both parts. As you know, a display and touch screen glass get manufactured separately but later combined into one using LOCA Glue. The glass protects the inner display, and usually, the top layer of the glass itself comes with Gorilla Glass protection which can easily take minor drops.
You'll face the problem when the drop is beyond normal and the phone's front side directly hits the hard surface. You'll see several scratches on the glass, and typically these scratches begin from the corners. Because when the phone drops on one of its corners, the metal frame creates pressure on the glass, and that's why the glass breaks easily.
Nokia 6.2 Display Specifications
| | |
| --- | --- |
| | This combo is 100% original, brand new and suitable for Nokia 6.2, model number TA-1021. |
| | The Nokia 6.2 display size is 6.3″, display type is IPS FHD+ Pure Display and the resolution is 1080 x 2340 Pixels. |
| | It is a complete combo of inner display and top layer of touch screen digitizer glass. |
| | We test each Nokia 6.2 display for 100% flawless working before dispatch. |
| | The display combo is available in stock and shipping time is very fast. |
| | We offer 30 days returns, refund and replacement guarantee on our products. |
| | We buy screens directly from the OEM factories to ensure 100% original display quality. |
| | We test and verify each display for 100% flawless working before dispatch. |
| | We offer hassle-free deliveries and door-step pickups from all over India. |
| | The combo is readily available in stock and shipping time is very fast. |
| | We offer Cash on Delivery and online payments, both options (additional 10% discount on online payments). |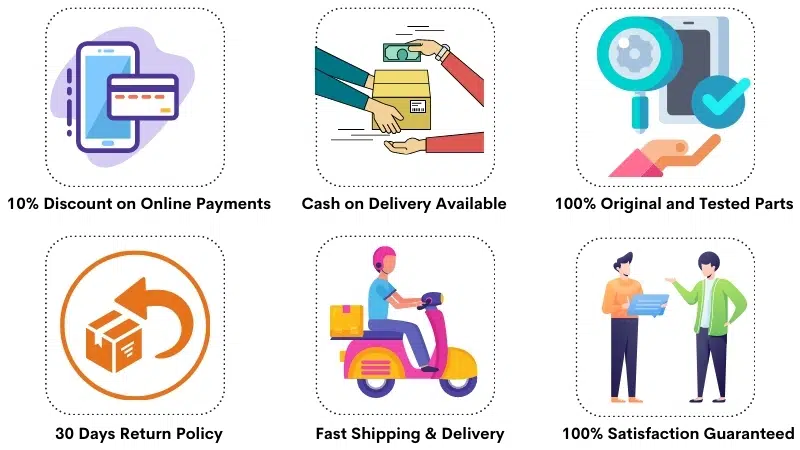 Frequently Asked Questions
These are the most common questions asked by our customers. If you have any additional questions, please call us at 9587954273.
Q: How much does it cost to replace a broken Nokia 6.2 display in India?
The price of a 100% original Nokia 6.2 display replacement is around Rs 4400-4600. If you buy a first copy screen replacement, the combo costs about Rs 1400-1600 in India. The quality difference is massive between a copy and an original display.
Q: What are the major differences between an original and a duplicate combo?
A duplicate (or first copy) display unit never works like the original, and that's a fact. If you purchase a display from any source for a low price, you can't expect the same quality as before. These are the major differences between the original and a first copy display combo :
A) Display Output Quality.
A duplicate display never offers more than 50% quality of what the original offers. It means that the brightness, color reproduction, touch screen smoothness, and all other vital attributes of the display degrade when you purchase a counterfeit product. You can use a duplicate display, but you'll feel a massive difference yourself.
B) Durability
The original display comes with solid glass that protects you from minor drops without any damage. The copy display comes with fragile glass and can't take any drop. If you purchase/install a duplicate display today, tomorrow you might damage it again because it is feeble and can't take even the subtle pressure. You can use the original display for more than two years, but a copy display's average life is three months, and after that, you've to replace it again.
C) Photo Quality and Camera Quality
Please note that photo and camera quality directly depends on the display's color reproduction. The colors of a duplicate display are totally inaccurate, and even the previously captured photos will look strange. If you capture new photos, the color production will be way off when equated with the original display's output.
All in all, if you purchase a copy display for 50% of the cost, you must expect many drawbacks, and that's true. A copy display never compares to the original one, and this fact isn't going to change. It is possible to sell a duplicate display with sugary names like first copy/ diamond quality / OG quality, etc., but that won't change the display's actual quality. As a long-term phone user, you can easily spot the quality difference when you turn on and test the display.
Q: Can I opt for glass replacement if the inner display is intact?
You can try your hands on glass replacement, and you'll find lots of technicians in the market who deal with that. The technician will use your old display when you try glass replacement and replace only the top layer of broken glass. Such operations often fail because the display totally breaks or new flaws like wrinkles, dead pixels, white spots appear inside the display.
The glass replacement saves you cash if successful, but it also uses a duplicate touch screen glass and that's why the resultant refurbished display will break again in the future. We have seen customers who opt for glass replacement break it again after a week because it is not durable. So, the glass replacement is a compromise, but you can try if you want to.
Q: Why should I purchase the original Nokia 6.2 display when a duplicate one is so cheap?
Please note that original products are different in every aspect when compared with duplicate products. Surely, you save money with duplicates but have you ever considered the repeated investment you make in duplicate screens? On average, a customer fond of duplicates replaces the display three times a year, costing more than the original.
Customers don't realize that they have bought a copy display several times while one original display could do the same job easily with less investment and headaches. When you repeatedly replace the display, the technician dismantles the phone again and again. Sometimes, unrelated vital parts of your get damaged, and technicians silently replace them with copy parts. That's why fake screens are a big no in our books.
Q: I'm willing to purchase, but I'm afraid of a fake screen. How can you help?
Many sellers deceive customers by promising them the original display and then selling a fake screen to them. We also know this because many customers have reported about this incident. Such shady websites often offer their products for peanuts, and hence you shouldn't expect that such crooks can get you the original product.
At Touch LCD Baba, we strictly supply originals and allow customers to try the product and verify the quality themselves. We also offer a 30 days return period if you don't like the quality because we are assured about what we sell. Here is how you can test the display easily without doing the installation :
First, dismantle the phone and eject the old display's connection from the motherboard.
Now connect the new display's flex on the motherboard and turn on the phone.
You can see graphics on the new display, and you can test it like it's installed on your phone.
The open condition testing allows you to test/use the display in real-time without any guesswork. You can see the quality of display, color reproduction quality, and even verify the brightness. We are sure that you'll certainly like the experience of original products supplied by Touch LCD Baba.
Q: What is the source of an original Nokia 6.2 display?
You should know that the original Nokia 6.2 display takes shape in a factory that specializes in manufacturing original products. Please note that mobile phone manufacturers don't make all the components in-house, but particular factories manufacture the screens to the highest standards. After that, those screens are assembled into brand new phones, and that's why the quality is so mesmerizing.
If we purchase the display from the same OEM factory, we get the same original quality output as a brand new phone. However, these factories don't offer such screens for cheap, and their prices are steep. However, nothing compares to such displays because the quality control is stringent; each display gets tested manually and even taking such a screen in hands feels like a privilege.
Q: Why does the original display break? If it breaks, it means it is not original?
Customers have knitted a theory in their minds that an original display shouldn't break at all. When they purchase an original display online, and it breaks after three months, they start blaming that it was not original because it broke. It sounds as nonsense as it is because original screens do break. Why did the display that came with the phone break if the original screens don't break?
Sometimes it is a matter of luck or the angle of dropping the phone. If the phone skids and hits the hard surface harshly, the display will certainly break. We want to emphasize that an original display can easily take minor drops, which a copy display can't take. To sum it up, original screens aren't invincible, and you should always keep that in mind.
Shipping, Return and Refund Policy
All the products supplied by us come with 30 days return, refund, and replacement guarantee. To return a product, It should be in the same condition as we sent. You can't use or fix the new Nokia 6.2 display if you want to return it. For complete details about Shipping, Returns and Warranty, please click here.