If you found Touch LCD Baba while searching for a OnePlus 10T display replacement, you've found the right page for your needs. You need a display replacement after accidentally damaging your phone's display or touchscreen glass, and using a broken phone feels miserable. In most cases, you should still be able to use the phone after damage because AMOLED screens are sturdy, and unless the drop is harsh, you should still be able to operate the phone with a broken touchscreen glass.
In other cases, the display will slowly stop working because of discoloration, also called display bleeding. When this happens, one portion of the display will show a small violet/blue spot, spreading all over the display in a few days. It is called display bleeding, and it is impossible to stop that from happening. If that happens, the display will slowly turn black, and you must buy a new display to overcome the damage. On this page, you can buy a new 100% original display replacement for the OnePlus 10T and easily overcome the damage.
What is a OnePlus 10T display combo and its use?
The simple meaning of a OnePlus 10T combo is a unit of display and touchscreen glass. A mobile phone display mainly consists of the display and touchscreen glass. When you drop the phone and break either the display or the glass, you must replace both parts because that's the structure of the display unit. If you visit the official service center or a reputed repair center, they always recommend replacing the display combo to restore your phone's working condition.
Replacing the display combo is the easiest way to replace the broken screen without hectic efforts. If you have a display combo in your hands, you can easily have a technician dismantle the phone, remove the broken display combo, and replace it with a new one. When you replace the original display combo with another fresh, original display, you don't face any quality issues or degradation. We offer 100% original screen replacements, which are 100% identical to what you get with a new phone.
Why does replacing the OnePlus 10T display cost so much money?
The OnePlus 10T phone costs around 50k, and naturally, its display replacement would also be expensive. Mobile phone manufacturers use the best quality screens in high-end mobile phones, so the repair costs are also high because the display is AMOLED. If a phone has an IPS display, the repairing costs would be relatively less, but AMOLED screens are always expensive. If you're seeking an original display replacement for a lower price, it is impossible, and you'll likely end up wasting your money.
Most customers buy local screens for their other phones that cost Rs 1000-1200 and think all screens are available in that price range, but that's not true. The screens you buy for low prices are worthless, don't last long, break easily, and have tons of other issues. If you have a phone with an AMOLED display, don't expect it to be cheap, and you must spend considerable money on display replacement. Only the original display supports the proximity sensor and in-display fingerprint scanner.
OnePlus 10T Display Specifications
| | |
| --- | --- |
| | This display is 100% original, tested, and suitable for the OnePlus 10T (Model No. CPH2413). |
| | The OnePlus 10T display is 6.7″ Fluid AMOLED with a 120Hz refresh rate and 2412 x 1080 pixels resolution. |
| | You get a 100% original display replacement with Corning® Gorilla® Glass 5 protection, 1B colors, HDR10+. |
| | We offer a 100% original display replacement, precisely the same as it comes with a new phone. |
| | We source new screens from the OEM manufacturer to ensure 100% original quality. |
| | The in-display fingerprint also works perfectly without any problems. |
| | We test and verify each display for 100% flawless working before shipping. |
| | You can also verify the new display's working condition before fixing it. |
| | After delivery, you've 30 days in your hand to verify the working condition of our product. |
| | The display is readily available in stock, and the shipping time is fast. |
| | You can order the display using Cash on Delivery or Online Payments (10% additional discount). |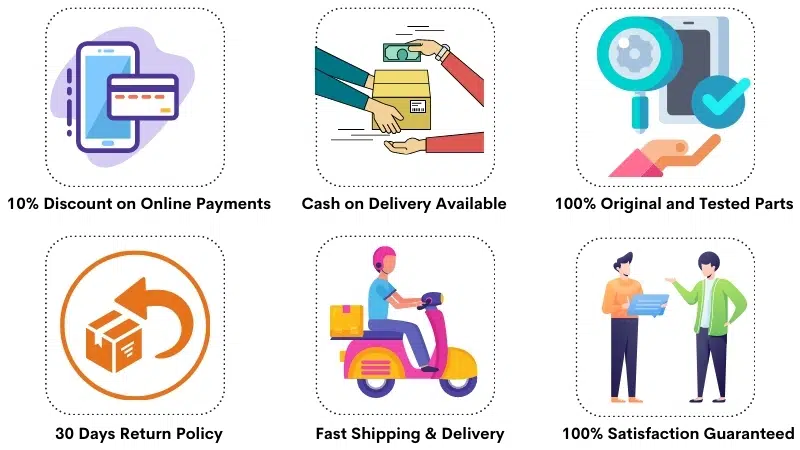 Frequently Asked Questions
Q: How much does a new original OnePlus 10T display cost?
A 100% original OnePlus 10T display replacement costs around Rs 6800-7000. We offer a 100% original and authentic display for this price, and you'll not face issues with any feature of the original display whatsoever. The original display and what we sell are 100% identical, as both products arrive from the same factory.
If you can't afford the original display's price, you can also find non-original screens in the local market, but these screens are a total compromise. Please note that non-original screens are IPS/TFT quality and don't offer the same colors, quality, and brightness. You can't use fingerprint unlocking and other core features of the original display. Fake screens break very easily, so these are not a good choice.
---
Q: Who makes the original display replacements?
The OEM makes original screens for the OnePlus 10T and supplies these spare parts to the parent company. In other words, a particular factory makes original screens and supplies them to everyone. Several reputed factories in China manufacture the highest quality spare parts for some of the biggest brands in the world. In most cases, the display manufacturing is outsourced to OEMs, and the brand doesn't make the screens in-house. All components come from various suppliers and are later assembled to shape a new phone.
We buy our stock from the OEM manufacturers, and these screens are identical to what a customer gets in a new phone. You might have heard that original screens are not available anywhere, but that's just a rumor, and it is not true. Original screens are available from various sources, but their price is high, and only 2-3% of vendors in India deal in original screens.
---
Q: What are the benefits of an original OnePlus 10T display?
The original screens offer a host of unmatched benefits, and that's why original screens are everyone's favorite. Even if a customer buys a non-original display worth Rs 2k, he will still confirm whether it is original, proving that original screens always hover in a customer's mind.  These are the primary benefits of buying an authentic display :
The in-display fingerprint works perfectly without any problems.
The colors, brightness, and contrast are all up to 100% levels.
You can easily play games and use the multi-touch features.
The original display comes with Corning® Gorilla® Glass 5 protection.
An original touchscreen responds appropriately without any typing mistakes.
The original display is reliable and can withstand minor drops easily.
Your phone's resell value is always good when you have an original display.
The original display offers many benefits, and we think it is not worth spending money on fake screens. Original screens initially feel expensive, and customers often divert their minds to get a non-original display to save costs. Still, most customers realize their mistake very soon, and if they need another display in the future, they will always try to buy the original.
---
Q: How would I know that this display is the original one?
Customers often have skeptical mindsets, and as their knowledge about original screens is shallow, they often doubt anyone. Some customers want certificates, authenticity letters, and other stuff for a display, which is impossible. The topic is straightforward, but customers are too confused because they imagine an original display without practical knowledge and still feel their theories are right.
The original display has unique identities like design, factory barcode, and version numbers, which are unknown to general customers. You can keep your broken and the new display side by side to compare it, but there can be subtle differences like batch number, version numbers, etc. The best approach for you would be to check the display's quality, as the original screens speak for themselves, and you don't need to be too technical. We've met hundreds of customers who identified the original display as soon as they used the new display for 2 minutes during the trial phase, so it is that easy.
---
Q: Do you offer only the top layer of glass without the display?
We are sorry, but we don't offer the touchscreen glass separately, as it is always combined with the display. If you want to replace only the glass, please have the technician arrange the glass, who will do the replacement for you. If someone asks you to buy the glass online, that can be risky, and you might not receive a proper glass for your purpose. Therefore, if you want to replace only the glass, you should leave everything up to the technician and have him arrange it for you.
---
Q: Can I verify the display's quality and working condition myself?
Yes. You can easily verify the new display's quality and working condition before installing/pasting it permanently. To do that, connect the new display's flex cable to your phone's motherboard in open condition and try the new display. When we say to try the new display, we want to emphasize that connecting the display's flex cable to your phone is enough, and you don't need to paste the display or remove the screen guard of warranty stickers. Please note that installing the display is not required to test it, and you can't return a display after installation. Please follow these steps:
Remove the back panel of your phone using a hot gun and a pry tool.
After removing the back panel, open the ringer section at the bottom.
There, you'll find the display's flex cable connected to the charging PCB of your phone.
Gently eject the old display's connection and connect the new display's flex in the right direction.
Turn on the phone to try the new display in real-time.
After testing the display, you can move to the final installation.
Please install the display carefully, as harsh behavior during installation can break the display.
Please note that you can test the display on the rear side of your device without removing the old display. So, opening the back panel and charging section is enough to test the new display. If you're unsure how that works, you can watch related videos on YouTube and understand the concept easily.
---
Q: Does the new display support fingerprint unlocking?
Yes. The new display supports fingerprint unlocking; you can register new fingerprints and use old fingerprints. Please note that properly assembling the display is crucial for the in-display fingerprint. If you see the display carefully, you'll see a square where you place the thumb to unlock the phone. The square and the optical fingerprint reader in the frame must be aligned properly; otherwise, the fingerprint will not work. The fingerprint functioning depends on the display, the optical fingerprint in the frame, and the charging flex cable. All these must be in good condition so that you don't face any issues.
---
Q: Is paying online safe?
Yes. Paying online is 100% safe, and many customers do that daily. You get the best prices on online payments, and to get the best offers, you can download our App (Touch LCD Baba) from the Google Play Store. Trusted partners process online payments; you don't need to worry about the money. After payment, we ship the product on the same day and share tracking details.
---
OnePlus 10T Display Photos
If you want to see the actual product photos, please refer to the below images. These images represent the actual product you'll get after your order. In case of any questions, please feel free to call us at 9587954273, and we'll be more than happy to assist you further.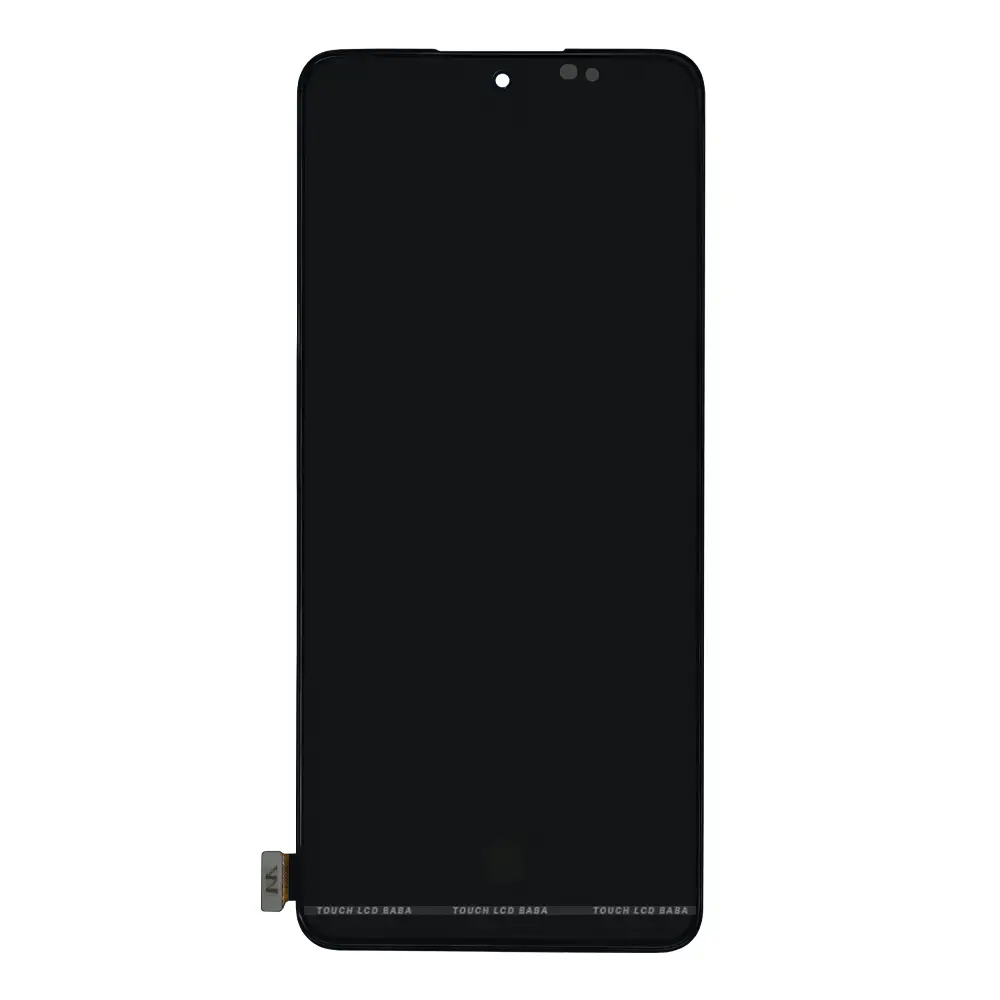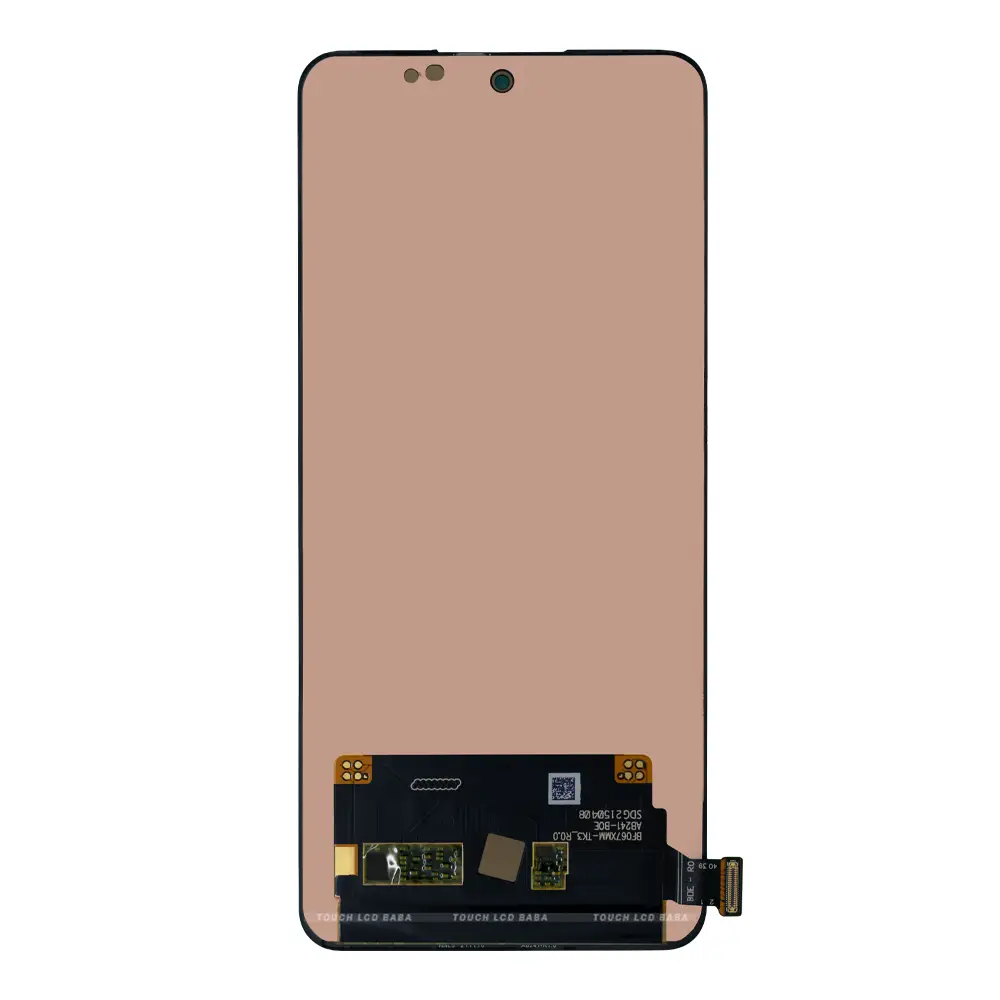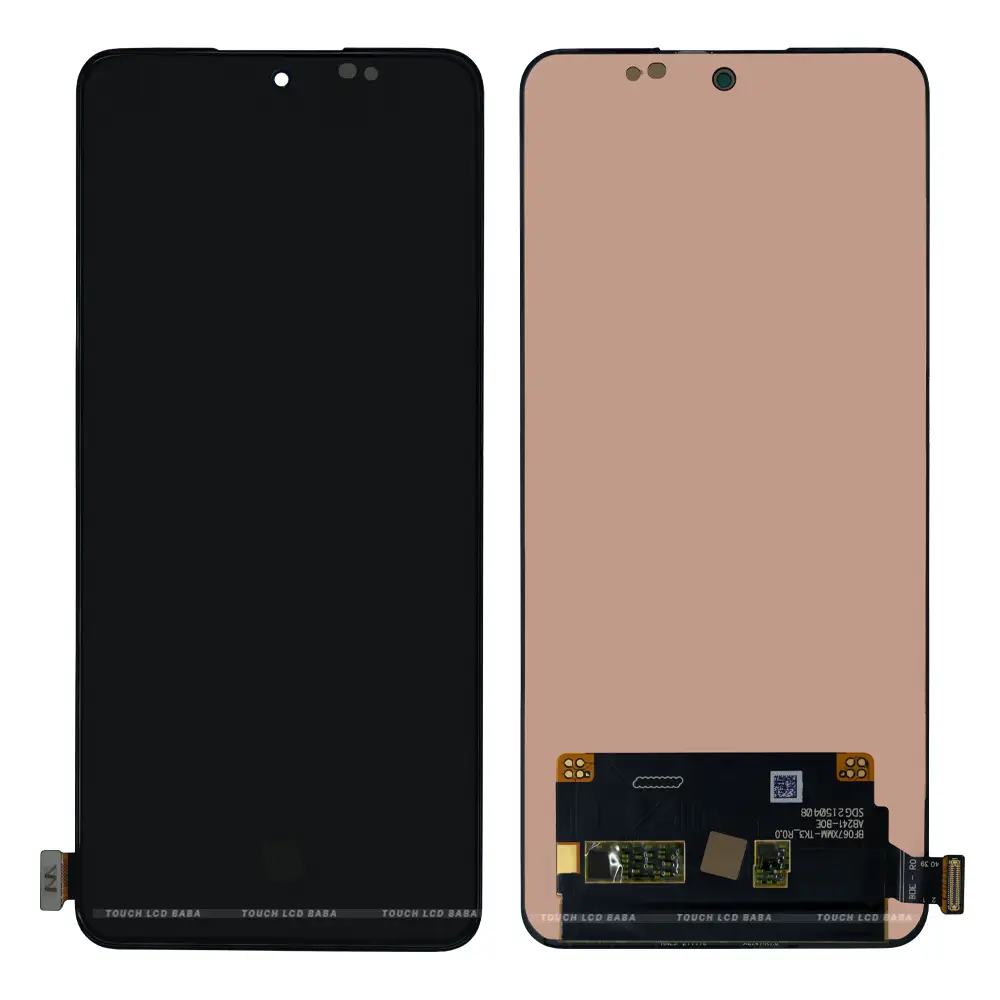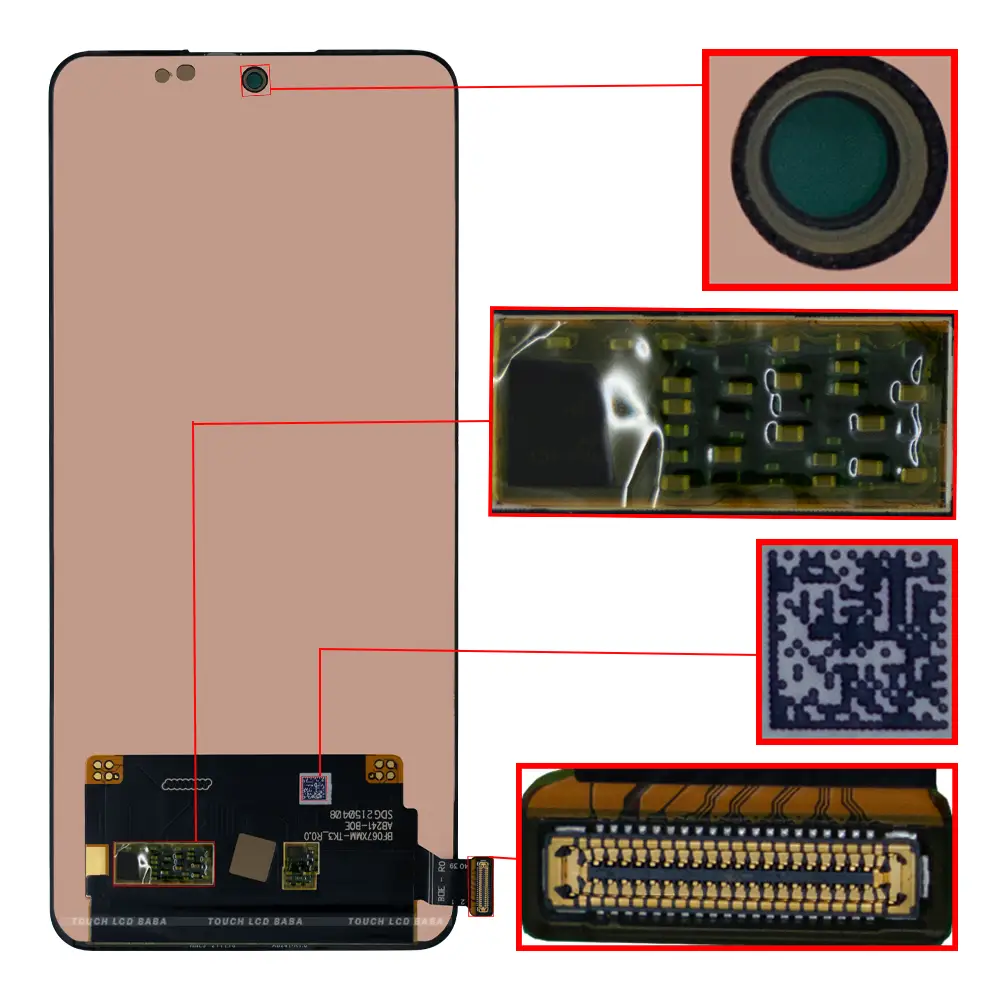 Shipping, Return, and Refund Policy
All our products come with a 30-day return, refund, and replacement guarantee. To return a product, It should be in the same condition we sent. You can't use or fix the new OnePlus 10T display if you want to return it. For complete details about Shipping, Returns, and Warranty, please click here.