If you need a OnePlus 7T battery replacement, you're not alone, as the device has now aged, and the battery's life should be over. Most mobile phone batteries don't last for more than three years, and you'll start facing issues with them. When you don't use the phone much, the battery can last longer because its life depends on its charging and discharging cycles. Once those cycles are over, its performance degrades, and you start seeing clear indications that suggest replacing the depleted battery.
Please note that the OnePlus 7T battery is assembled inside the phone, and to replace the battery, you must dismantle the device. Some customers think replacing a built-in battery is impossible, but that's not true. You can replace the built-in battery, but that's much more advanced than replacing the battery by simply opening the back panel with your hands (as you could do in old phones). On this page, you can buy a 100% genuine battery for the OnePlus 7T, and we'll answer all the related questions to make your life easy.
OnePlus 7T Battery Specifications
| | |
| --- | --- |
| | This battery is 100% original, tested for full capacity, and suitable for all variants of the OnePlus 7T. |
| | The OnePlus 7T battery model number is BLP743, and its capacity is 3800mAh. |
| | It is a 100% original battery, the same as you get assembled in a brand-new phone. |
| | You'll get the same backup, standby, and performance as your original battery. |
| | Rated Capacity: 3725mAh/14.41Wh. |
| | Typical Capacity: 3800mAh/14.70Wh. |
| | Rated Voltage: 3.87V / Limited Charge Voltage: 4.45V |
When should you replace the OnePlus 7T battery?
Once the battery's lifespan is over, you'll notice a gradual decline in the battery's performance. For example, if the battery lasted for 20 hours straight, now it will not last more than 10 hours. The decline in performance will not be instant, but the problem will slowly step up, and you'll get enough time to understand and correct the problem. Most customers don't replace the battery until it only lasts 3-4 hours, which you should avoid. When you know the battery has problems, you shouldn't use it further.
According to our interactions with hundreds of customers, we've compiled a list of real problems our customers have reported. So, if you're going through battery problems, you can relate to these issues and plan the replacement accordingly. These problems are :
The battery's backup time has reduced significantly, and it doesn't last more than 3-4 hours.
You can feel a bulge inside the phone as the battery has puffed up.
The battery percentage drops quickly, even in standby mode, when idle.
Your phone turns off or reboots automatically without any set pattern.
The battery doesn't take the charge and is stuck at a certain charging percentage.
Your phone automatically switched off even when a 15% (or so) battery remained.
The phone excessively overheats when you charge the battery.
Your phone's battery needs charging every few hours to keep up with your usage pattern.
The battery doesn't last as long as it used to on a single charge.
All the above problems clearly define a depleted battery, and there is no need to look elsewhere. Sometimes, customers assume their phone's battery must not be bad as they have always used the original charger to charge it. While it stands true that using the original charger is beneficial, that doesn't help with the natural decomposition of the battery.  Once the battery's lifespan is over, replacement is crucial.
Why should you always buy the original battery replacement?
When you search for the OnePlus 7T battery replacement, you'll come across several appealing options, which are non-original batteries. Nonoriginal batteries are available for low prices, and customers think that original and duplicate batteries work similarly, but that's not true. The original battery offers robust performance, while a fake battery doesn't provide the promised backup time. Here are the major differences you should know about and plan your purchase accordingly :
The original battery offers 100% performance, while a copy battery performs at 60% capacity.
Most non-original batteries don't support the fast charging feature.
A non-original battery's actual mAh is much less than advertised on the wrapper.
The longevity of the original battery is exceptional, while a copy battery dies rather quickly.
Original batteries are 100% safe for you; we can't say the same for local batteries.
An original battery can furnish 100% performance, while a copy battery can only save a few hundred.
You don't need to replace the original battery now and then.
Considering the above points, you should always buy the original battery and step aside from the fake products as they make your life miserable. Most customers get stuck in low prices and waste money on replica products when they could have efficiently resolved the problem by buying an original replacement.
Frequently Asked Questions
Q: How much does buying a OnePlus 7T battery replacement cost in India?
A 100% original OnePlus 7T battery replacement costs around Rs 1600-1800. An original battery offers 100% performance; alternatively, you can buy a compatible (non-original) battery for around Rs 600-700. Please note that non-original batteries don't work perfectly, and you'll not get the same backup time as the original one, and a duplicate product tends to wear out very soon.
---
Q: Do you offer a 100% original OnePlus 7T battery?
Yes. We offer a 100% original, tried and tested product. We source batteries from the OEM factories that make original spares for all the companies. If you see the battery carefully, you'll see a specific factory's name and several OEM factories in China supplying original batteries to mobile phone manufacturers. Rest assured about the originality, and you'll never face issues.
---
Q. Is it good to replace the battery at home?
We believe replacing the battery is not daunting, but you shouldn't undertake it as a beginner. A mobile phone's inner structure has several vital flex cables and other parts that shouldn't be touched while replacing the battery. You surely need some skills to replace the battery, as you must remove the back panel and the old battery. For this reason, always genuinely assess your expertise and then plant the replacement. Otherwise, pay Rs 150-200 to a technician for an easygoing replacement.
---
Q: Does the new battery support Warp Charge?
Yes. The new battery supports the Warp Charging feature. Warp charging works in an original battery, but the charging adapter and cable must also be 100% original. So, if you use an original battery and a duplicate charger (or cable), Warp Charging will not work. Furthermore, something carbon and dust on the charging connector can stop the warp charging. In such cases, you must clean the charging connector using dry paper; afterward, the warp charging should work perfectly.
---
Q: How can I improve my OnePlus 7T battery health?
Please note that mobile phone batteries are not designed for all-day Social Media and other heavy activities. If you want to enjoy good battery health and life, limit your social media and YouTube usage, as these Apps drain much battery power. When watching a movie, your phone draws much more battery power, so you need to charge the battery more often.
You should also check out the applications installed on your phone and remove all the unnecessary ones. Many apps run in the background and consume much memory and battery power. So uninstalling such stale applications will free up your mobile phone and help with the battery life. Please go into Settings-->Battery section for more details about the battery usage.
---
Q: How long should the OnePlus 7T battery last?
There is no set battery life, depending on how often you charge and discharge the battery. If you use the phone heavily and charge the battery several times a day, the battery's lifecycle will end in one year. If you moderately use the phone, the battery will last much longer. An original battery lasts up to 3 years in ordinary conditions, provided you always use all original accessories.
OnePlus 7T Battery Photos
If you want real OnePlus 7T battery images, please see them below. If you've any additional questions, please contact us at 9587954273.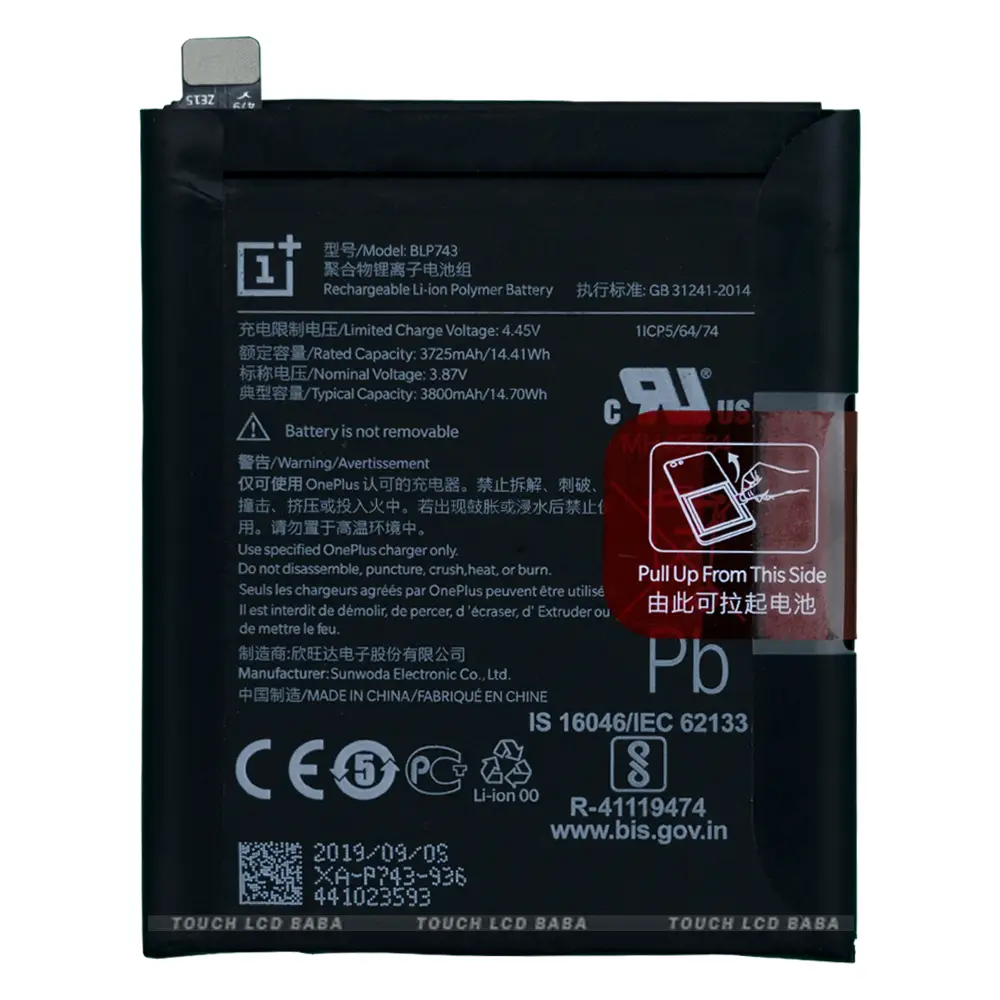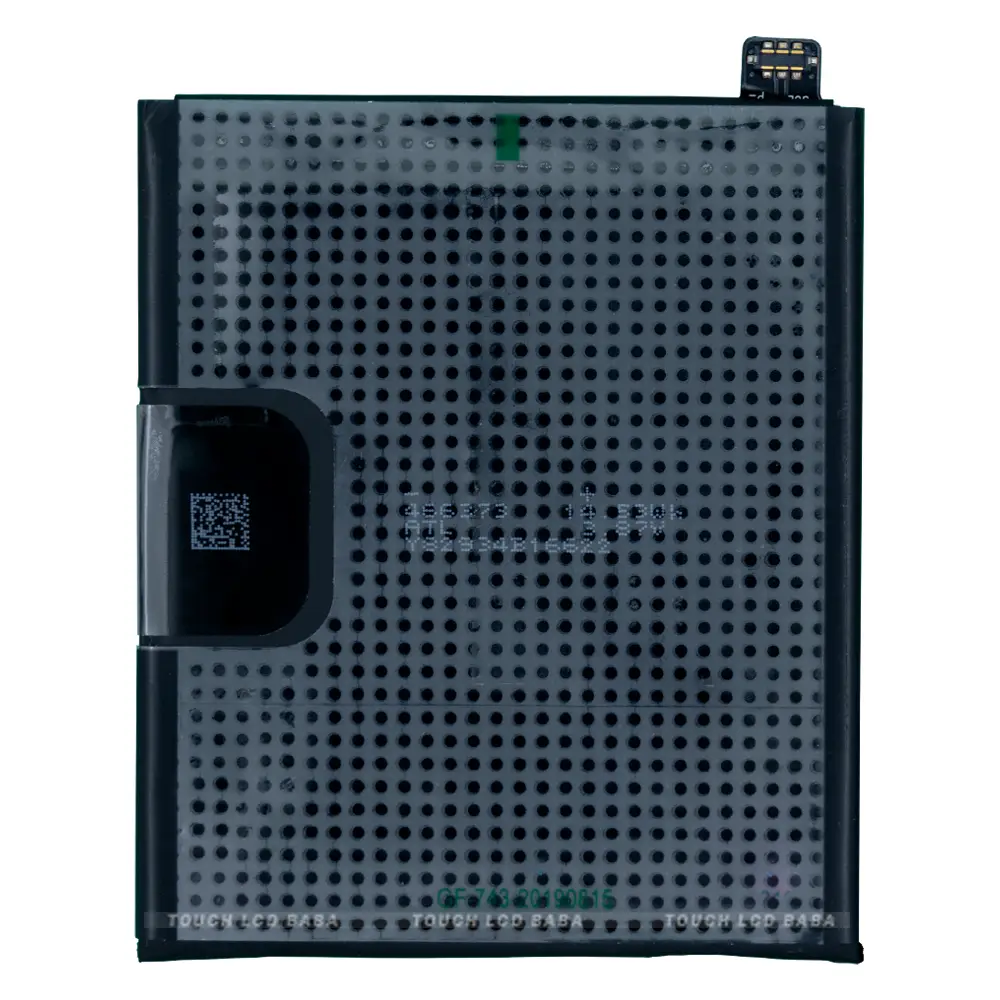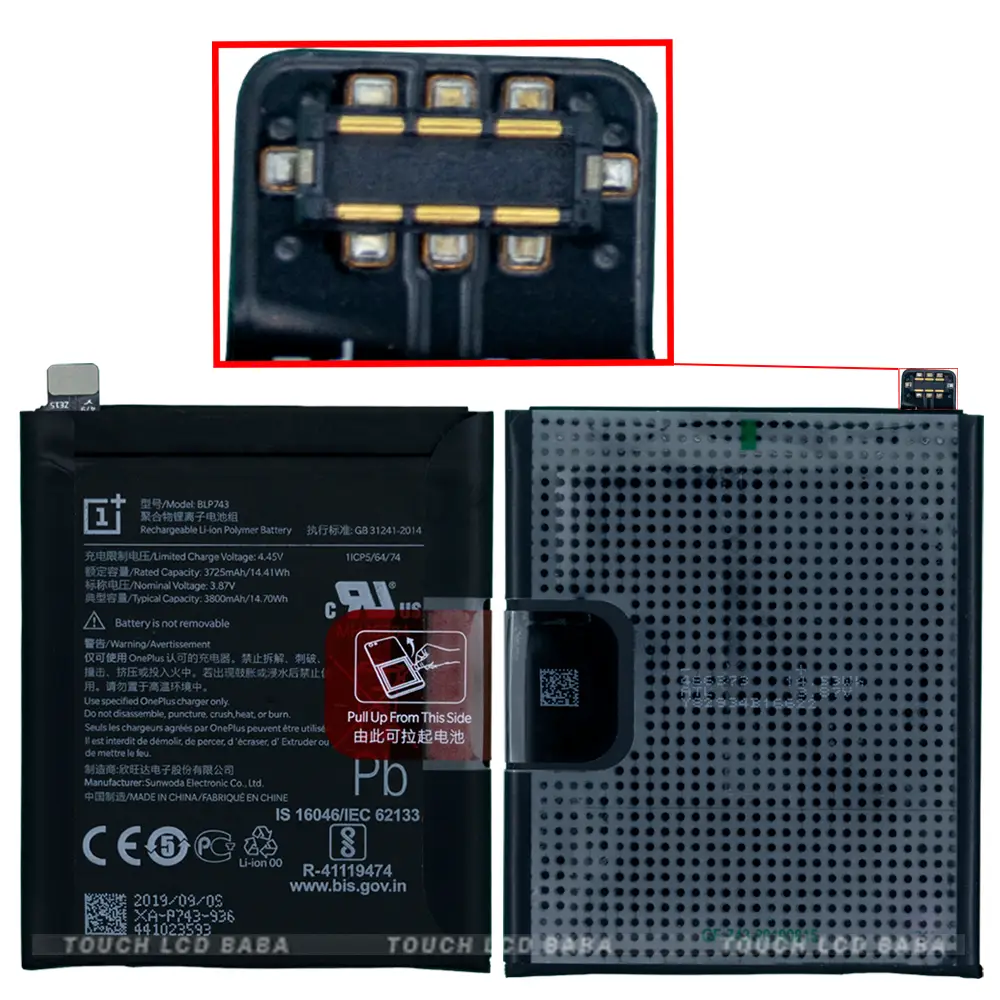 Shipping, Return and Refund Policy
All our products come with a 30-day return, refund, and replacement guarantee. To return a product, It should be in the same condition we sent. You can't use or fix the new OnePlus 7T battery if you want to return it. For complete details about Shipping, Returns, and Warranty, please click here.