If you want a display replacement for OnePlus Nord N10 5G, welcome to Touch LCD Baba. Here, you can order a 100% original display replacement for the OnePlus Nord N10 5G model and easily replace the broken display unit (IPS LCD, Touch Screen Glass, or Both). It would be best not to worry about a broken display because you can easily reverse the damage by installing a new display combo on your phone. On this page, we'll provide all the information regarding display replacement and also provide a product for your needs.
Many customers feel disappointed when the display or touch glass cracks because it is not easy to find a new display in the local market. If you live in a crowded city, it is a hassle to go to a mobile phone repair market and wander to find a display replacement. The OnePlus Nord N10 5G display is not readily available, making your job even more challenging. Most mobile phone technicians don't know about a proper display for this model and always adopt a hit-and-try mechanism. They will dismantle the phone, try various screens, and when nothing works, they will reassemble the phone as it was.
OnePlus didn't launch the Nord N10 5G phone in India.
We know that OnePlus Nord N10 5G phone was not released in India. Many customers who relocate to India from foreign countries bring this phone with them and later accidentally break the display in India. If that happens, you can't get support for this model in India and can't find screen replacements. If you are reading this page, you might have already tried to find the display but returned disappointed.
Please don't worry if you can't find this display anywhere because we have it. Many customers have asked for this model, and although the phone was not launched in India, its screen replacement is available with us. You can order the display from our website if you need it, and installing it at your place is easy. You can easily find a technician in the local market to install the display.
What are the supported numbers of the OnePlus Nord N10?
You might have bought this phone overseas from China, Dubai, or other similar countries, and model numbers vary depending on the original country. Please check the model numbers below; your device's model number should match one of these. The supported model numbers are :
BE2029
BE2025
BE2026
BE2028
Please check carefully; your device's model number should match one of the above. If you don't find your device's model number listed here and are sure about having a OnePlus Nord N10 phone, please get in touch with us at 9587954273, and we'll be more than happy to help you.
OnePlus Nord N10 Display Specifications
| | |
| --- | --- |
| | This display is 100% original, tested, and suitable for the OnePlus Nord N10 5G. |
| | The OnePlus Nord N10 5G display size is 6.49 inches, the display type is IPS LCD, and the resolution is 1080 x 2400 pixels. |
| | You get a 100% original display replacement with Corning® Gorilla® Glass 3 protection. |
| | It is a complete combo of the inner display and front layer of touchscreen digitizer glass. |
| | We buy our stock from OEM manufacturers to ensure 100% original display quality. |
| | The new display offers 100% accurate original colors, quality, and brightness. |
| | We test each display before shipment, and you don't need to worry that the display will not work on your phone. |
| | You can also test the new display in an open condition before pasting it on your phone. |
| | After delivery, you've 30 days to test and verify the product's working condition. |
| | The display is readily available in stock and the shipping time is very fast. |
| | You can order the display using Cash on Delivery or Online Payments (10% additional discount). |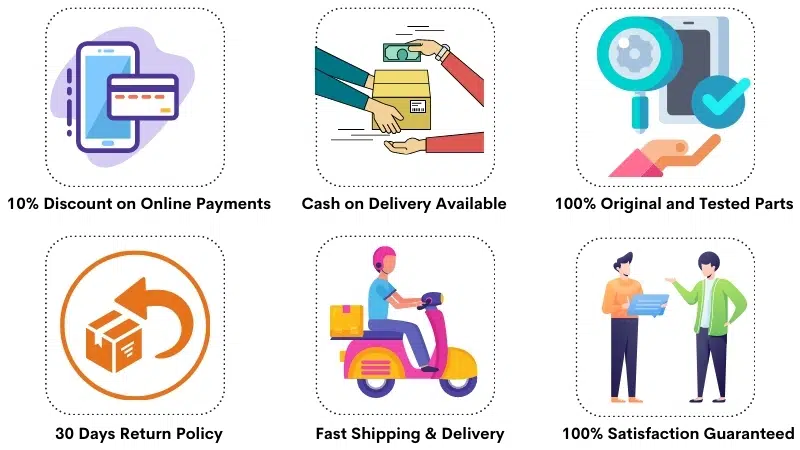 Frequently Asked Questions
Q: How much does replacing a broken OnePlus Nord N10 display in India cost?
The original OnePlus Nord N10 display replacement costs Rs 3300-3600. You'll be unable to find this model's display in the local market because it is a tough-to-find model. Even if you find a compatible display anywhere, the quality of such products is always terrible. A duplicate display doesn't equate to the original display's quality because it is a low-quality product.
Q: How is the display available with you when I couldn't find it anywhere?
Many customers try their best sources to find the OnePlus Nord N10 display but can't find it. After that, if someone claims to have the OnePlus Nord N10 display, the customer's mindset becomes skeptical. Please note that the display's availability doesn't depend on where you reside or your city's size. It is all about having a vendor who keeps a keen eye on uncommon models and puts in the effort to source them.
Once we receive enough demand for a particular model from our customers, we try to source that model even if the phone wasn't sold in India. A healthy customer demand means that the phone exists with so many people, and they will surely need the display replacement at some point. After that, we dig into the correct model number and source appropriate original screens from China. Therefore, don't worry; if we are listing a particular model's display, we are 100% sure about that.
Q: Does OnePlus Nord N10 have AMOLED display?
No. The OnePlus Nord N10 5G doesn't boast an AMOLED display but an IPS display. Most OnePlus models have AMOLED screens, so customers often get confused about the display quality. The OnePlus Nord N10 phone comprises an IPS LCD and touchscreen glass with Corning® Gorilla® Glass 3 protection.
Q: I have broken only the touchscreen glass, not the display. What should I do?
If you are looking to replace only the touch screen glass without replacing the display, we are sorry but only touch screen glass isn't available with us. We understand that you want to reuse the inner display and replace the touchscreen glass layer, but we don't offer low-quality/duplicate screen replacements to our customers. You can try to find these local products elsewhere.
Q: Is it a 100% original display replacement?
Yes. It is a 100% original display replacement identical to what comes assembled with a brand-new phone. You don't need to worry about the display quality because, after replacement, everything will remain the same as the original. Our goal is to offer 100% original spare parts for a reasonable price, and so far, our journey has been a success.
Q: Who will install the new display on my phone?
We can send you the right display; to install that, you need to seek a local technician's help. Please note that we don't offer display installation services at this time, and neither the courier person will install it for you. We'll deliver the shipment to your doorstep, and you must make arrangements to install the display yourself.
Q: Can I buy this display from OnePlus's Indian service center?
The OnePlus Nord N10 5G model doesn't belong to India, so you can't find its spare parts in the Indian service center. If you want, you can visit the OnePlus official service center to clarify your doubts, but you'll probably not get support for this model. It is a foreign model, and the phone was never launched in India.
Q: How much would a technician charge for the display's installation?
A technician generally charges Rs 200 to install a display on your phone. If technicians are not abundant in your area, they might act like opportunists and ask for more money, up to Rs 500. It would be best if you made the necessary installation arrangements to avoid any issues later. As soon as you get the parcel, you can go straight to the designated technician to complete the display's installation.
Q: What happens if the display doesn't support my phone as advertised? 
We've sold countless screens for this model and never had any issues. Before you fix the display on your phone, you'll get your chance to test the display in open condition. Open condition testing helps you to verify the display's compatibility with your phone without actually pasting the display.
The technician installing the display will connect the new display's flex cable to your phone's motherboard and turn on the device. In the open condition, you can test the new display like it's fixed on your phone. You can type messages, use the touch screen and even play games to test the display. After testing the display properly to your satisfaction, you can go for the final installation of the product.
OnePlus Nord N10 5G Display Photos
If you want to see the actual product photos, please refer to the below images. These images represent the actual product you'll get after your order. In case of any questions, please feel free to call us at 9587954273, and we'll be more than happy to assist you further.
Shipping, Return and Refund Policy
All our products come with 30 days return, refund, and replacement guarantee. To return a product, It should be in the same condition we sent. You can't use or fix the new OnePlus Nord N10 display if you want to return it. For complete details about Shipping, Returns and Warranty, please click here.