If you need a 100% original AMOLED display replacement for your OnePlus 6, you've just arrived on the right web page. The part available on this page is a 100% original Optic AMOLED display and touchscreen combo of One Plus Six, which you can replace a broken display or touch screen glass.
OnePlus 6 is a widely popular phone offering amazing quality because of its AMOLED display. Now if your OnePlus 6 display gets broken is broken accidentally, you will certainly want to replace the broken display with an identical one. We know that most customers don't want to destroy the quality of their phones. The display quality of the OnePlus 6 is largely due to its display being AMOLED, and replacing it with a cheap display will result in a 50% quality reduction. For this reason, when it comes to the OnePlus 6 screen replacement, always make sure that you buy a 100% Original Optic AMOLED display, as shown on this page.
The OnePlus 6 display is terrific without a doubt, and if the user breaks it, it will be a moment of sheer regret for him or her. No one intentionally breaks their display, but it happens to be in our nature as human beings because dropping and breaking things by accident is a part of our nature and our lives. Things often slip out of our hands, drop on the floor and break, and smartphones are no exception to this, rather it would be surprising to see that a user hasn't dropped his phone even once. Therefore, if you have also accidentally broken the display of your excellent OnePlus 6, it is evident that all you could think of now is how to get it fixed the best way possible.
OnePlus 6 Display Specifications
| | |
| --- | --- |
| | This combo is 100% original, tested and suitable for OnePlus 6, model number A6000 / A6003. |
| | The display size is 6.28″, display type is OPTIC AMOLED and resolution is 1080 x 2280 pixels @402 ppi density. |
| | It is a complete unit of display and touch screen glass fused into one. |
| | The main touch screen glass is protected by corning Corning Gorilla Glass 5. |
| | We source the display from OEM manufacturer so you can expect 100% original quality. |
| | The new display offers 100% same quality, clarity and brightness as before. |
| | We test the display on an actual motherboard of OnePlus 6 for 100% flawless working. |
| | You can also test the display easily just by connecting it with your phone to verify the quality. |
| | We offer 100% Hassle-Free Returns, Refunds, and Replacement. |
| | The stock is readily available and turnaround time is very fast. |
| | You can order the product using Cash on Delivery or online payments. |
Why does the Original OnePlus 6 display cost so much?
In a nutshell, the display is costly because it is an AMOLED display unit. At the same time, AMOLED screens are indeed costly, but on the other hand, the quality of an AMOLED display cannot be matched with any other display. The AMOLED display quality is the best among all, and all high-end mobile phones feature AMOLED display only.
The manufacturing costs of AMOLED screens are very high, and that's why you can't find such screens for throwaway prices. If you want to retain 100% original quality of your phone, you have to spend a fair amount of cash on restoring your phone to its earlier state.
There are many low-priced screens available in the market. What about that?
The local market is filled up with lower-quality products, and that is for a reason. All the buyers have a different mindset, and most of them are looking for cheaper alternatives without adhering to the quality standards. That's why cheap duplicate screens are available in the market, but for your kind information, those screens are TFT quality, not Super AMOLED. That's why these screens are low on prices because the display technology is not the same as it comes with a brand new phone. You will observe a huge reduction in overall display quality, and that's why these screens are low on prices.
Now, If you are wondering about what TFT quality is, then it is the worst display quality that was being used in old age phones. In our day-to-day dealings with customers who need screen replacement of the OnePlus 6, are always looking for cheaper alternatives, and even If someone quotes them Rs 2500 (which is very cheap), they will even start arguing that It is a very high price. Some customers show such surprising gestures like the display shouldn't cost more than Rs 1000.
Many customers start arguing about the prices without having any sort of knowledge. The reason is the only one, and that is, they don't want to spend money on a broken phone. Indeed, customers are always fully biased towards cheap pricing, but you can't get quality screen replacement for low prices.
Many customers believe that the screen comes for very cheap, and if we ask them why they paid Rs 35000 (or more) for the phone when the OnePlus 6 original display costs only Rs 2500? They have literally no answers. So just for the sake of making arguments, never believe that AMOLED display is cheap, or your best friend can get it for a low price for you. It is simply not possible. The OnePlus 6 AMOLED display is costly, and it is not going to change anytime soon. For your kind information, almost all the phones with a big price tag are equipped with AMOLED displays.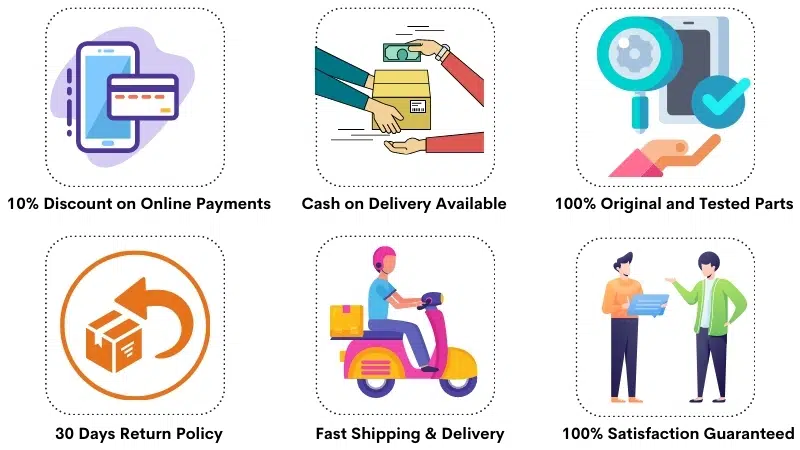 OnePlus Six Display Replacement Video
This video shows basic steps to replace a broken OnePlus 6 display. Please note that sometimes display displacement looks messy in the video, but once the glue is dried up, the extra glue is cleaned using a liquid solution and the phone gets completely brand new. So if you watched the video and guessed that the phone will be messy after replacement, it is not true. The phone gets into 100% perfect shape as before. If you have any further questions, please contact us at 9587954273.
Should you get a Complete Combo Replacement or an Only Glass Replacement? 
Any customer pays major attention to the price of the display replacement method. Everyone wants to save money, and in the process of saving money, they tend to ignore important details regarding the display replacement option. A complete combo replacement costs much more than the only glass replacement for various reasons. Firstly, a complete combo is more expensive because It is a complete unit of display and touch screen gorilla glass. The combo replacement is by far the best solution, and It is exactly how the official service centers repair the phones.
The only glass replacement is not often successful, and it is quite a risky procedure to go. It is risky because this process includes the separation of the two essential display parts, the Display, and the Touch Screen Glass, which are glued together, and for the same reason, they are mostly considered a single unit. Separating them is a complicated process and can fully damage the display and the touch screen glass of your phone. The only glass of the OnePlus 6 costs less than Rs 150, and that's why technicians always advocate glass replacements. They try to replace only the glass and can easily extort up to Rs 2500 from the customer.
You should not pick the only glass replacement if longevity is what you want. The glass replacement is a workaround, and It is never perceived as a solution. After glass replacement, you will see lots of issues inside the display, and your phone is 5 times more fragile. Even the slightest drops will break the touch screen glass again in no time. So always keep in mind that cheap options always come with huge compromises.
What is the difference between the original display and the copy display?
The price of a display product varies between the original and the duplicate. The duplicate display products are cheaper because the material used to make these products is of low quality, offers very low brightness, faint colors, and contrast. At the same time, the Original display products are costlier because the material used in making these products is very high quality. The duplicate screens are TFT quality, while the original screens are AMOLED quality. If you compare the quality of both versions, the difference is huge. Such duplicate screens target customers who want to replace the screen by spending the lowest possible amount.
The duplicate screens are TFT quality products marketed as a first copy so that the customers can be easily tricked into buying these rip-offs. These duplicate display products look like the original ones, but the quality has an immense difference. This way, the customers are fooled into buying these duplicate products without searching for other alternatives. You will constantly have issues with the display if you buy a duplicate display product. Common issues include issues with brightness, contrast, saturation, and color distribution. The touch screen smoothness also reduces to a great extent, and touch screen features will also stop working.
In conclusion, you should wisely pick the most suitable option for your OnePlus 6's broken display. We would always advise you to get an original display because it offers immense benefits. A duplicate display product will wear off sooner than you realize, making it a waste of your hard-earned money.
Why do local technicians offer no guarantee on only glass replacement?
The reason why official service centers or even the mechanics in the local markets never suggest the Only Glass Replacement at first is that they know the odds of this procedure being a success are quite slim. And, even if they agree to give you an Only Glass Replacement, none of these service places would give you any guarantee on your money or assurance on the success of this procedure.
The OnePlus 6 glass replacement is like a gamble. Even If it is successful, you will not get the same quality as before. The only glass used to replace a broken glass is very fragile, and it breaks again in no time. All the hassle you took to replace only the glass goes to waste in a moment. That's why we always suggest a complete combo replacement.
OnePlus 6 Display Photos
These photos show the actual product you'll get after you place the order. This is a 100% original AMOLED display for the OnePlus which offers the same quality, colors, contrast, brightness, and sharpness. If you have any questions, please contact us at 9587954273.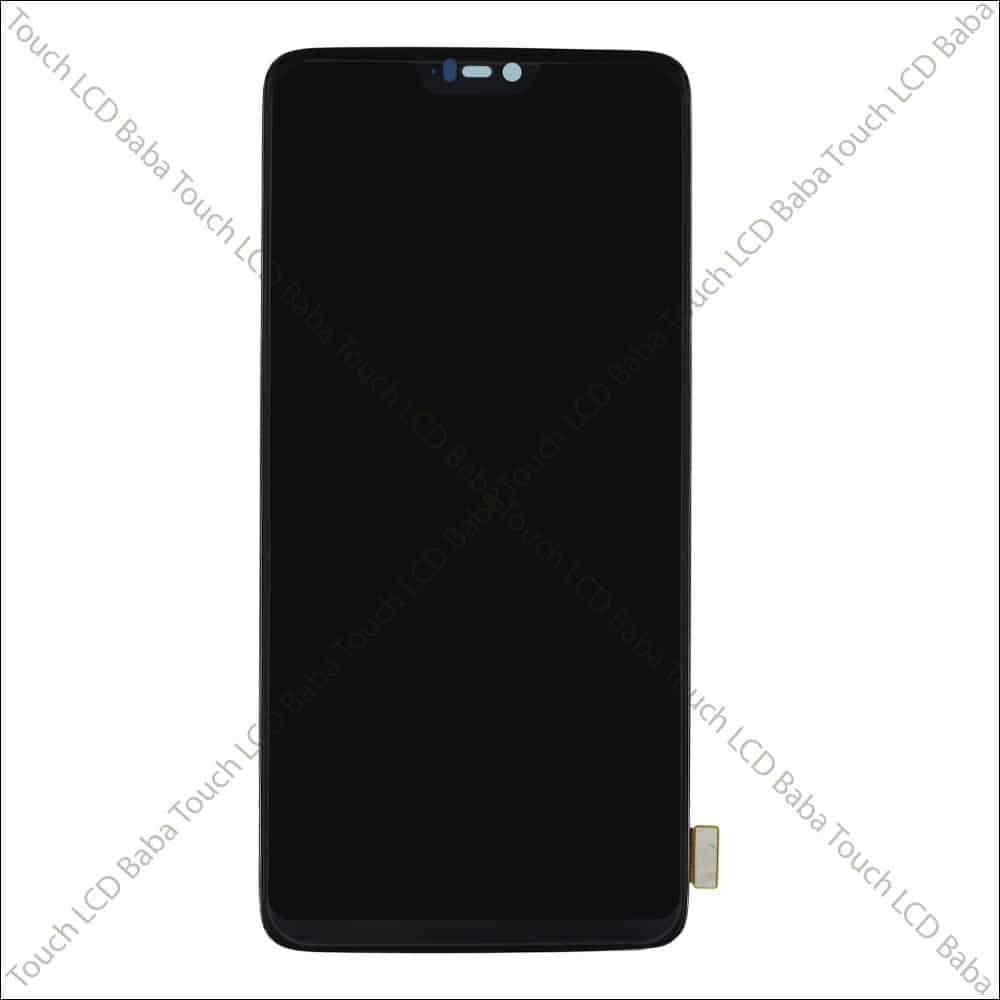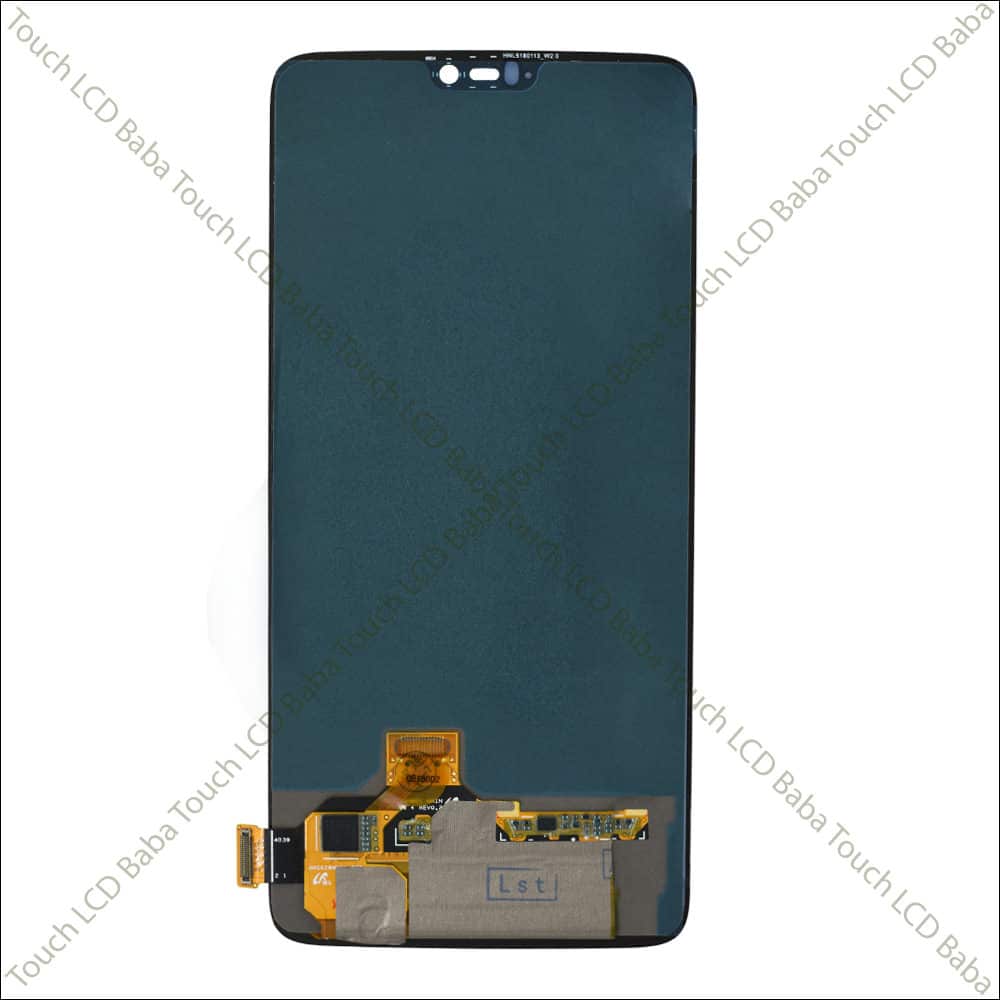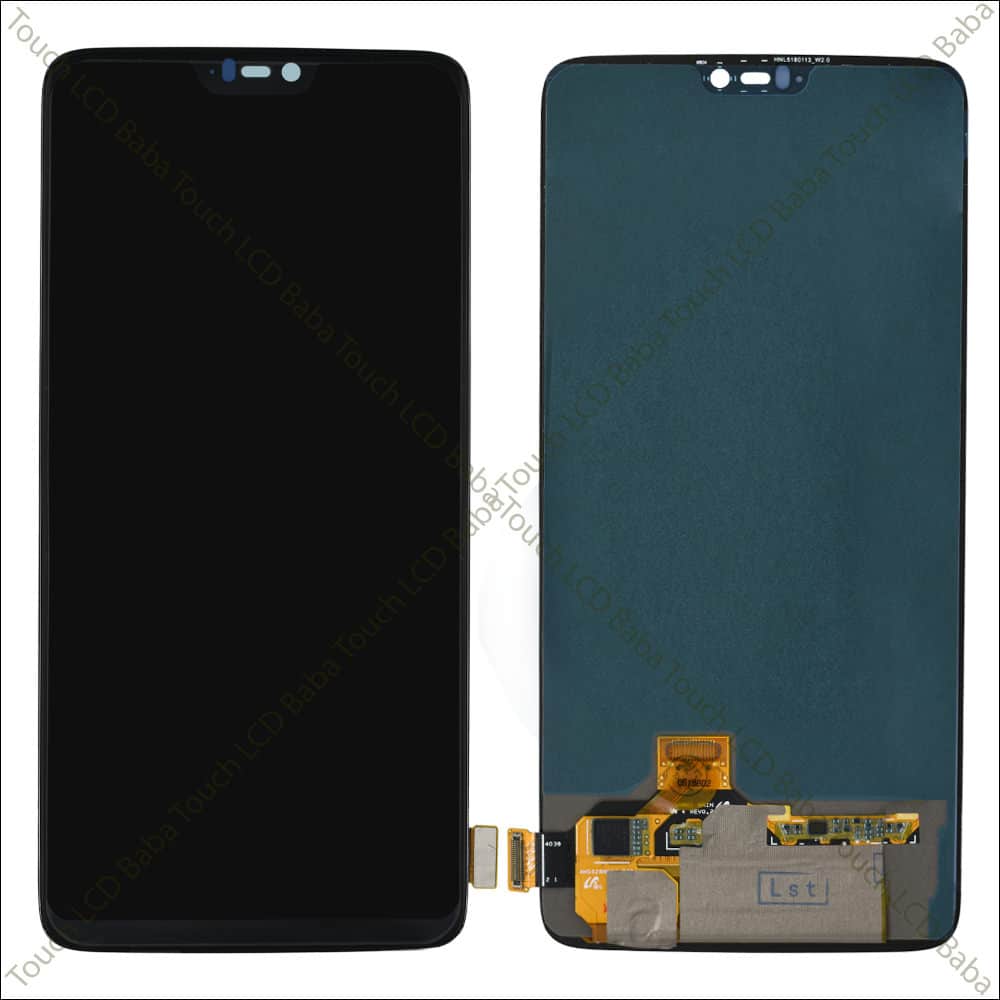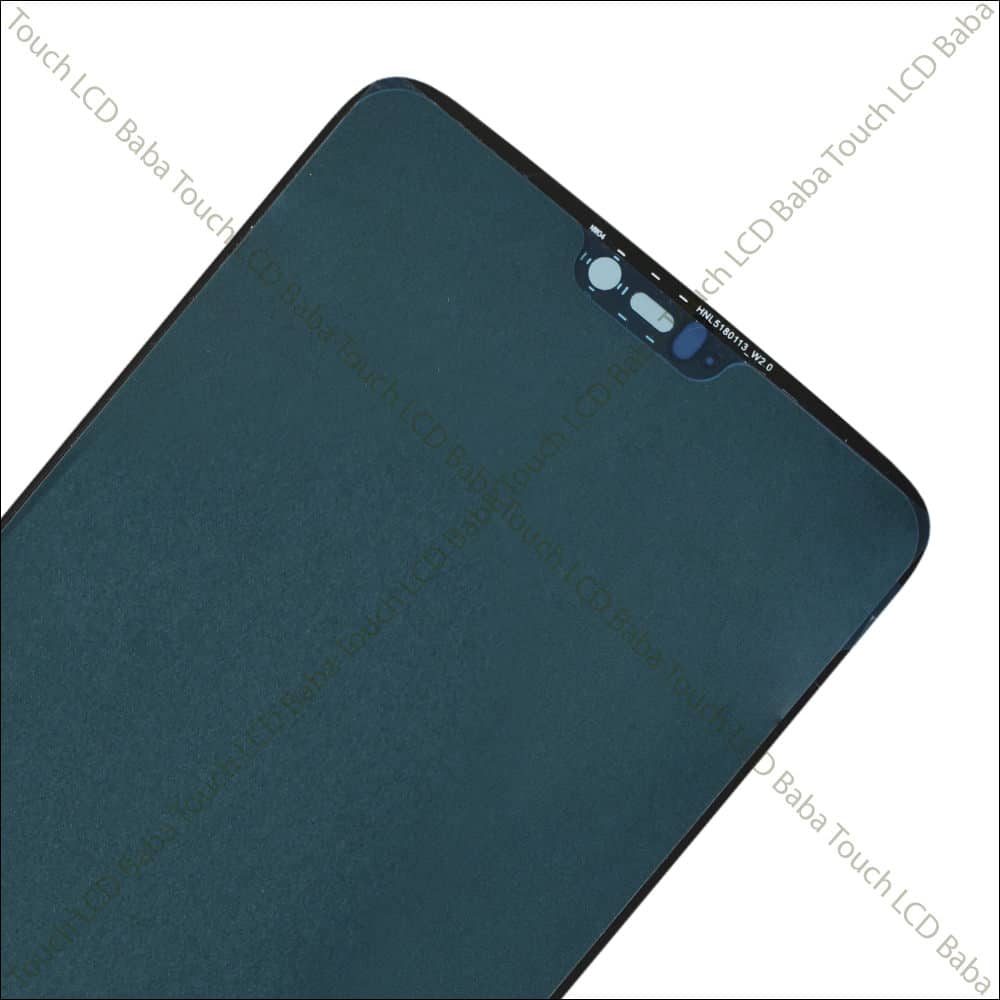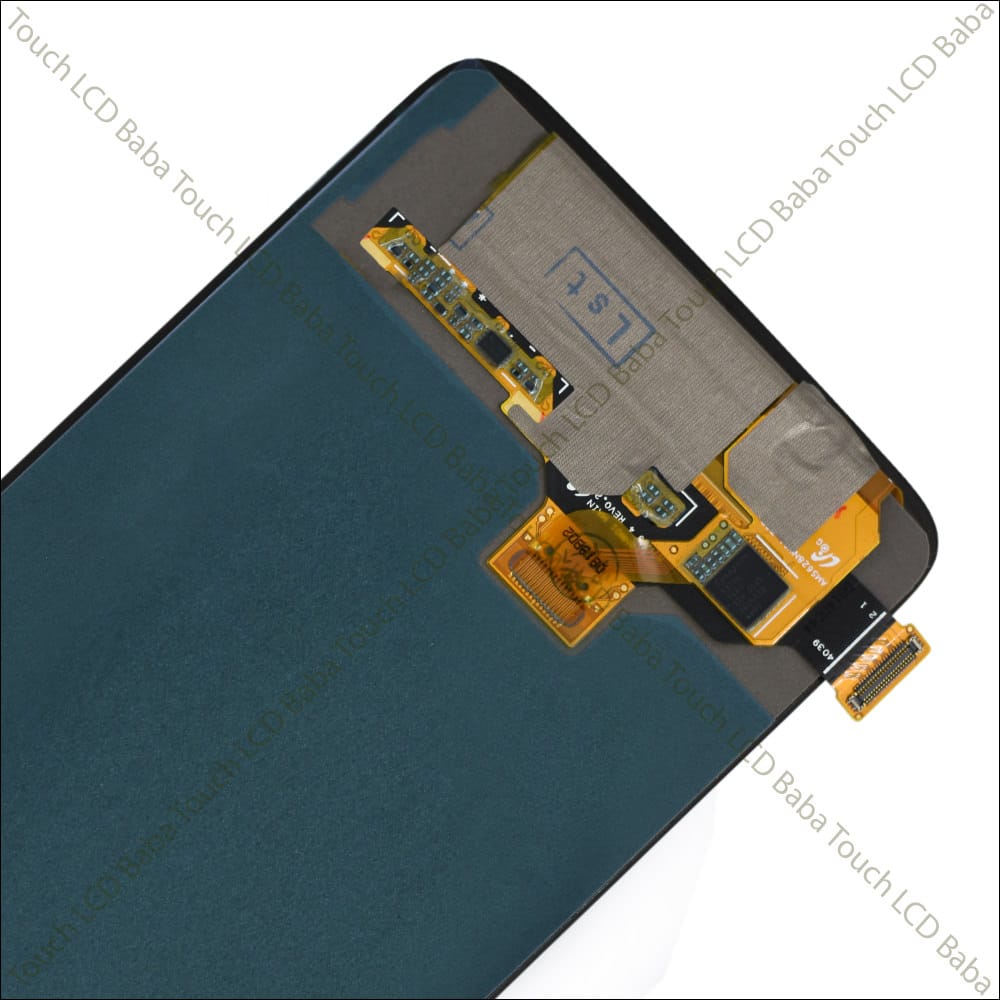 Frequently Asked Questions
Q: How much does it cost to replace a broken OnePlus 6 display in India?
The price of a 100% original OnePlus 6 display replacement is around Rs 6800-7000. If you buy a first copy screen replacement, the combo costs about Rs 2200-2500 in India. The original screen of the OnePlus 6 is Super AMOLED, while the copy screen exhibits TFT quality. The TFT quality is much worse in terms of brightness, contrast, and color reproduction.
Q: Do you test the new display for working before dispatch?
Yes. We test each display one by one to ascertain the working condition of the product. All our screens are tried and tested through a variety of techniques to provide our customers with a perfect product. However, we also suggest that you also take a trial before you fix the product.
We do our part by testing the display, but we also request customers to do the same before fixing the product. All you need to do is connect the display to your phone in an open condition without pasting or fixing it. You can use the display just like you use it on your phone and make sure that everything is working fine. When you are satisfied with the display during the testing phase, thereafter you can install it on your phone permanently.
If you face any problems during testing, you can contact our support team. We will either replace your product or return your money under our 30 Days policy. Do not remove the protective film before testing the display. Please do not use the product because we do not take any used display products back, unfortunately.
Q: Can I do the self-replacement of the OnePlus 6 display at home? 
You can do a self-placement of the display at home, but only if you are a professional technician. If you are not a qualified technician, you should not attempt self-replacement at home because you might end up damaging your smartphone completely. Touch Screen Glass is fragile and complicated machinery, and it must be installed very carefully because of one wrong step, and you might end up with a smartphone that does not even work.
All the money you spent on OnePlus 6 and the new display will all go to drains. We would rather suggest that you appoint a professional technician who can install the display for you. A technician would cost you around 250-300 rupees, depending on your locality.
Q: What is the main risk in replacing the OnePlus six display?
The OnePlus 6 has a glass back glass, and removing that is a little tricky. Some technicians who are not well versed with replacements may end up damaging the back glass or scratch it from the corners. That's why you should always get it replaced by a person who is well versed with screen replacements.
The display replacement is somewhat easy, but removing the back glass is a little tough and should not be removed hastily. Many customers have a broken OnePlus 6 display, but the back glass is intact, and no one would like to damage the back glass during repairs.
Q: What is the meaning of the OnePlus 6 folder?
The folder essentially means a complete unit of display and touch screen glass. So the combo and folder mean the same thing but just different words. Many people call this screen replacement as the OnePlus 6 folder but It essentially means the same thing that you need to replace the complete display unit.
Shipping, Return and Refund Policy
All the products supplied by us come with 30 days return, refund, and replacement guarantee. To return a product, It should be in the same condition as we sent. You can't use or fix the new display if you want to return them. For complete details about Shipping, Returns and Warranty, please click here.