You never know when your Oppo A53 phone skids from your hands, and you end up with a damaged display or touch screen digitizer glass. As mobile phones are an essential part of life, we are forced to carry them all around. Mobile phones take a large chunk of our time, and hence the risk of them dropping and breaking always exists. Any frontal dip on a hard surface will result in scratches on the display or touch screen glass.
It is also true that a tempered glass protector helps you with minor drops and absorbs the pressure, but bigger drops will also break the tampered glass and also the main touch screen digitizer glass. When that happens, it is a sad moment, but you can't do anything as it is bound to happen. The best you can do is replace the broken display with an identical original product so that you enjoy your phone the same as before.
What is the meaning of the Oppo A53 display combo?
If you take a broken Oppo A53 phone to a mechanic, he will suggest replacing its combo or folder. You might not understand this term for a moment, but it's a very simple term used everywhere. The meaning of a display combo is a set of the inner IPS display and the top layer of touch screen digitizer glass. These parts are unified and should be installed in place of the broken display. You take off the broken display unit and install an identical new display unit in place of it and that's how it works.
A display combo enables mobile phone service centers and technicians to replace broken screens with great ease. It is a kind of readymade part manufactured in different factories for future use. You should also know that all screens available in the market are not originals, and we'll also discuss that later on this page.
What should you know before purchasing a duplicate first copy display?
After a damaged Oppo A53 display, you are probably frustrated and probing for the cheapest possible solution to overcome the problem. A vast majority of customers who hunt for the cheapest options end up ruining the entire quality of their phone to save a trifling amount. We don't say that you should not save money, but what do you get by saving Rs 1000 and rendering your phone into a useless condition?
If you take your business to the local market and inquire about a new Oppo A53 display there, you'll find many low-quality options there. These options are glass replacement, first copy, and diamond quality screen replacements. All these solutions rely on fake spare parts, and that's why their price is low. For example, the only touch screen glass of Oppo A53 costs around only Rs 50, but you'll be charged nearly Rs 1000 to actually replace that broken glass. Also, a first copy display is a low-grade version and offers 50% quality output of the original.
We recommend that you stay away from these low-quality solutions because they are not designed for long-term durability. If you buy a duplicate display once, you'll get stuck in repeated replacements because such a low-quality display will break repeatedly, even on the slightest drops. Your final investment in low-quality parts will be much higher than the actual cost of an original part, and you should always understand that.
Oppo A53 Display Specifications
This combo is 100% original, tested, brand new and suitable for Oppo A53, model number

CPH2127 / CPH2139.

The Oppo A50 display size is 6.5″, the display type is HD+ IPS LCD display and resolution is 1600 x 720 Pixels.
The IPS Display and touch screen glass both come combined in this display unit.
We buy our stock from OEM manufactures to ensure 100% original quality as the initial display.
Our testing and QC team tests each display for flawless working before dispatch.
This display supports all variants of Oppo A53 regardless of storage or RAM.
The main touch screen glass comes with Corning Gorilla Glass 3 protection.
The new display furnishes the same colors, quality and brightness as you original stock display.
We pack your products in hard plastic boxes to protect them from damage during transit.
The original screens are extremely durable and can take minor drops easily.
You can order the product using Cash on Delivery or Online Payments (additional 10% discount).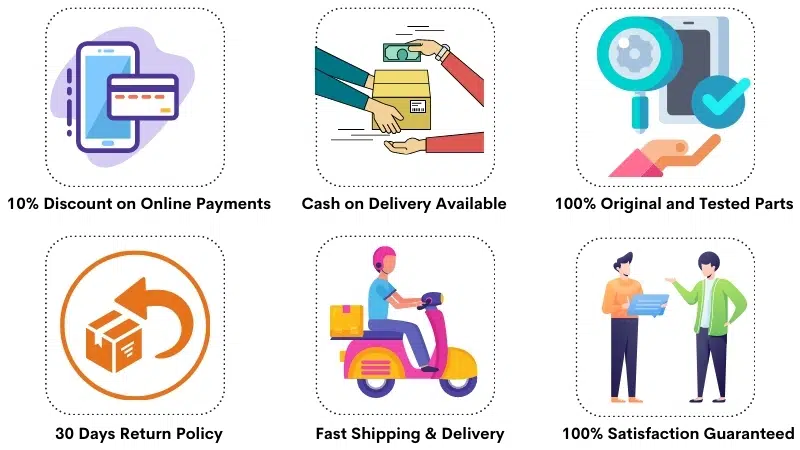 Frequently Asked Questions
Q: How much does it cost to replace a broken Oppo A53 display in India?
The price of a 100% original Oppo A53 display replacement is around Rs 3300-3500. If you purchase a duplicate display (or a first copy), the combo costs Rs 1800-2000 in India. Please note that the quality difference between the original and duplicate display is massive.
Q: Is a broken Oppo A53 display usable in any form?
Customers consider their original display like an extraordinary piece like such a display has never been manufactured. We are sorry to say, but there is no need for such possessiveness. Millions of such screens are manufactured and assembled every day, and you can't make any use of a broken Oppo A53 display. You better dispose of it rather than try to sell it to get some money.
Q: A local mechanic suggests glass replacement. Is that good?
Mechanics in the local market suggest glass replacement on top of any other solution because it is a money-making opportunity. You'll also understand why the glass replacement is prioritized over any other solutions if you do the math. Please note that we are not talking about the tampered glass here but the main touch screen glass underneath the tempered glass.
A local duplicate glass costs around Rs 50-60, and to install that glass, technicians can easily charge Rs 1000 and more.
Customers also prefer cheap solutions, and hence they can be easily trapped into glass replacement.
The glass replacement never lasts long because the glass quality is very poor.
After glass replacement, the display is no longer that vivid and colorful and dampens a lot.
You'll see dust, dead pixels, and creases inside the display, which are permanent.
You can opt for glass replacement if that is what you prefer but the outcome is rarely good. Most issues happen while separating the display from the glass and the quality of a refurbished product can never be equivalent to an original brand new product.
Q: I found the Oppo A53 display for a low price on another website. Should I be excited?
It is easy to find a first copy display and thousands of websites deal in such low-quality products. So you don't need to get overly excited because that's perfectly normal to get a duplicate product for a low price. Some customers expect to get original products for a dirt-cheap price. It feels very ludicrous because if one expects impossible things, that doesn't make any sense.
You are free to buy from another website for a low price but that's your decision and your money. But you shouldn't be happy that you got the same product for such a low price because the quality difference between both products is triggering the price difference and that's perfectly normal.
Q: How a local display can cost Rs 1600 and an original can cost Rs 3200. Why so much difference?
The selling price of a product is decided upon its manufacturing costs, quality, durability, and user experience. A duplicate display constructs of the lowest quality glass and backlights. The manufacturer produces the screens in bulk and no testing is done before supplying the products to the market. That's why even the defective screens having major issues are distributed in the market which eventually goes inside customers' phones and creates issues. That is the reason you get these products for peanuts because these are neither tested and nor investment-worthy.
On the flip side, original screens are manufactured in a factory that focuses only on quality products. The quality control is very strict, each display is manually tested, verified, and then supplied in the market. The most high-quality material is used in crafting original products and that's why a brand new mobile phone offers an amazing experience. We hope now you understand why there is such a massive difference in prices.
Q: How can I verify that I have received a fully functional display?
You can and should verify the product's working condition after delivery. You might be wondering how to test the new Oppo A53 display without assembling it on your phone. Please follow these steps :
First of all, uncouple the back panel of your phone.
Unscrew the plastic panel that covers the motherboard.
Once you are able to access the motherboard, identify and eject the old display's flex cable.
Then connect the new display's flex in the right direction and turn on the phone.
The new display will start working normally and you can actually test it in real-time.
As you can use the display, you can also isolate any issues or problems.
When you are satisfied that everything works as per your desire, you can go forward with the final installation.
If you face any problem while testing the display, you can easily return the product, get a refund or a replacement as per your desire.
Q: Do you offer only the touch screen glass without the display?
We are sorry but we don't have only the top layer of glass without the display. If you need only the glass, you can easily purchase it from the market or online stores. Just so you know, please note that only glass is always a duplicate product and if you thought you would replace the broken glass with an original one, that's not possible.
Oppo A53 Display Photos
These are the actual photos of the Oppo A53 display and touch screen glass combo. If you've any questions about this product, please contact us at 9587954273 and we'll be delighted to assist you further.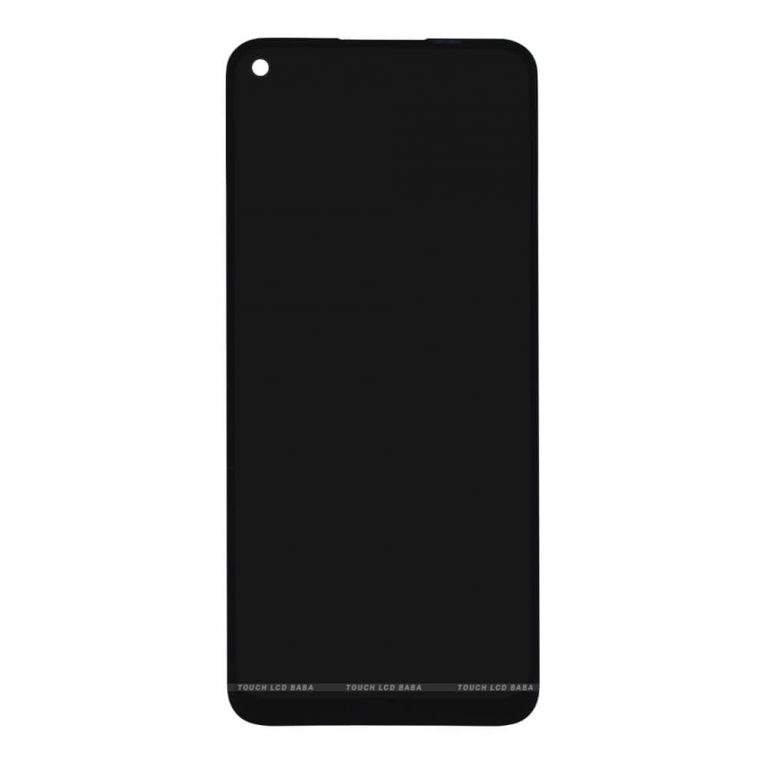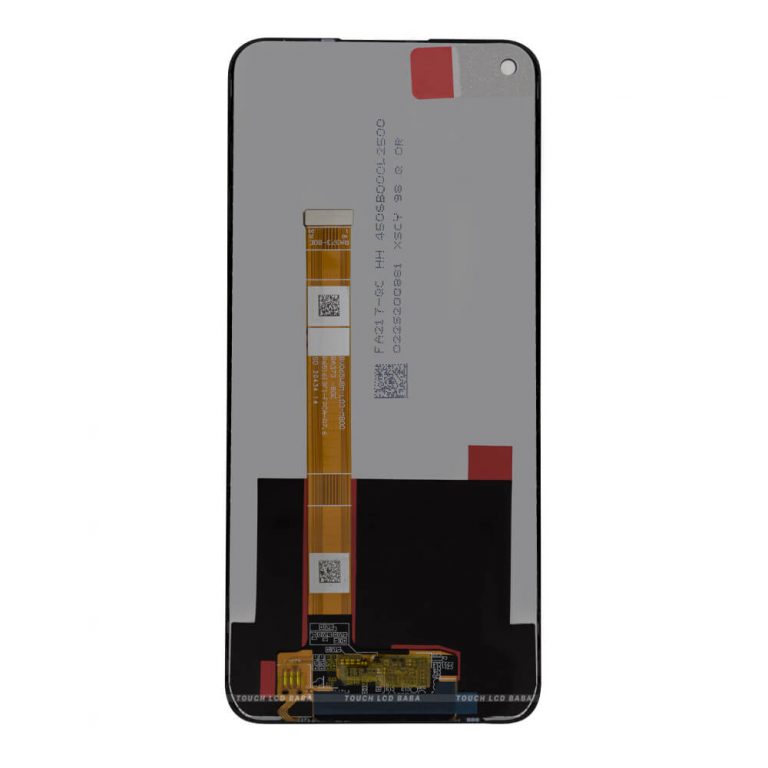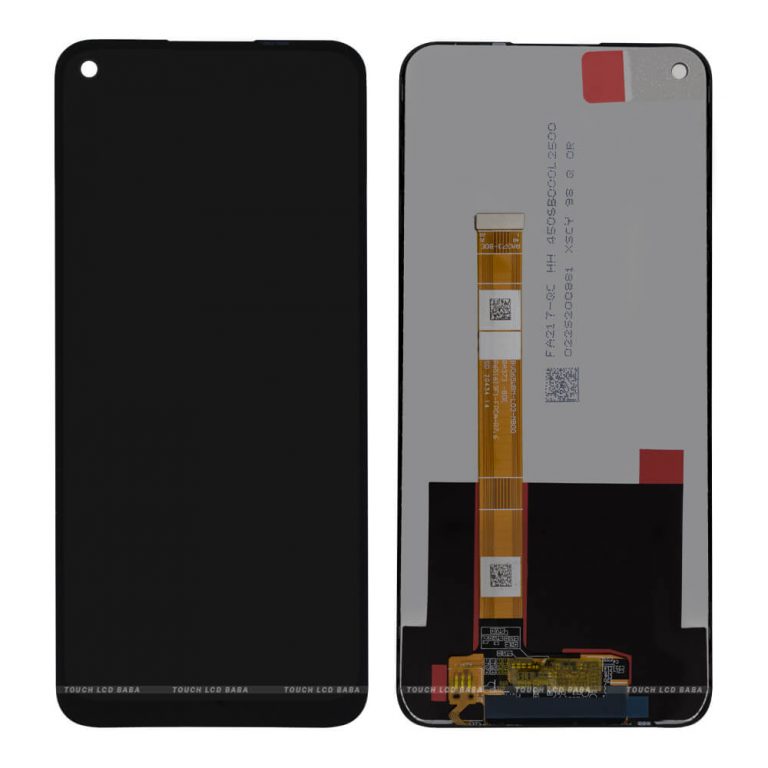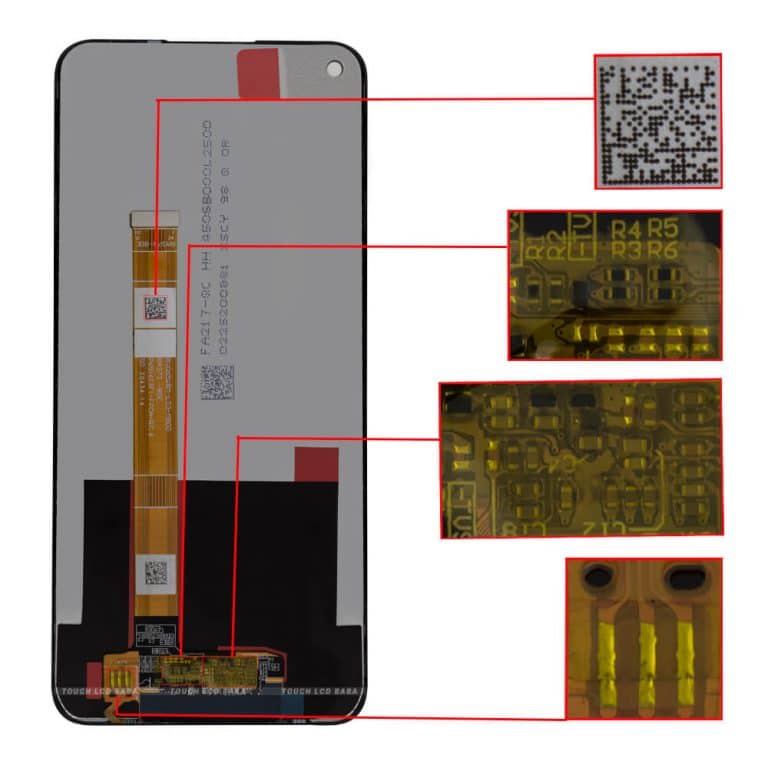 Shipping, Return and Refund Policy
All the products supplied by us come with 30 days return, refund, and replacement guarantee. To return a product, It should be in the same condition as we sent. You can't use or fix the new Oppo A53 display if you want to return it for any reason. For complete details about Shipping, Returns and Warranty, please click here.