It is surely heartbreaking when your Oppo Reno 2 display or touchscreen glass cracks. On one side, you can't use your phone; on the other, you must invest significant money to restore your phone's working condition. Oppo Reno 2 display is AMOLED, so it is an expensive screen. One of the biggest challenges a customer faces is where to find authentic spare parts, as local markets are full of duplicate spares, and if you buy such parts, you'll lose the display's quality permanently.
Most customers are in a dilemma because they can't decide whether to buy an original or a duplicate. The answer to this question depends on how much you value your phone and if you want to use this phone in the long term. You can find this model's lowest quality IPS/TFT screens and repair the phone temporarily. Still, you'll not appreciate such spare parts as their quality is around 20% of the original, and you give up on the most prominent features like the in-display fingerprint scanner.
Oppo Reno 2 Display Specifications
This combo is 100% original, brand new, and suitable for Oppo Reno 2, model number CPH1907

.

The Oppo Reno 2 display is a 6.5″ AMOLED display, and the resolution is 2400 x 1080 Pixels.
The front layer of touchscreen glass comes with Corning Gorilla Glass 6 protection.
We offer 100% OEM display like the one assembled with a new phone.
Before shipping the display to you, we verify its functional condition.
The new display supports an in-display fingerprint unlocking feature.
You can match your factory-fitted display and our display for a 100% match.
After replacing the original display with ours, you'll not feel any difference in any aspect.
You don't need to worry about transportation damage because our packing is 100% safe and secure.
The original AMOLED display offers vivid colors and offers a mesmerizing viewing experience.
You can order the product using Cash on Delivery or Online Payments (an additional 10% discount).
What is the meaning of the Oppo Reno 2 display combo?
A display combo is a combination of two individual spare parts, display and touchscreen glass. When you drop the phone on the floor, the touchscreen glass is the foremost part that takes the impact and tries to absorb the shock. If the drop is too intense, the touchscreen glass cracks, and sometimes, the display also cracks. In such cases, you need to replace the complete display combo consisting of AMOLED display and touchscreen glass, and that's why you need a display combo.
Does the display combo help you in all the damage cases?
Yes. If you've damaged the display, touchscreen glass, or both, the display combo resolves all the problems easily. You can replace a broken part only with a new spare part, and that's why you need a combo. The display combo has varied qualities, so you shouldn't assume all are equal in price and quality.  Many customers get attracted to a Rs 2000 display and feel they are buying the original spare part. These are the two types of screens typically available in the online/offline market :
A) TFT / IPS / Incell Quality Display
These are the lowest quality screens that offer 25% of the original display's quality, and you can't use the fingerprint on such screens. The display's quality is abysmal on one hand, and the proximity sensor also doesn't work on such screens. If you use your phone for multimedia content, these are useless screens. You can buy these screens to exchange your phone or only want to back up the data. If you want to use the phone long-term, you must buy such screens almost every month and keep spending more money.
Please note that all screens in the local market that don't support the fingerprint are this quality only. All the screens you get online sold for under Rs 2000 are fake; even customers know about that. Likely, they couldn't find a duplicate display in their locality, so they bought it online. However, such screens are useless, and you shouldn't buy them.
B) Original AMOLED Display
We sell 100% original AMOLED display identical to what you get assembled in a brand new phone. Please note that these are expensive screens and target a small segment of customers who don't want to buy anything less than the original. These are expensive screens, but your phone's display quality stays at 100% original levels without compromising quality. You can also use the in-display fingerprint scanner without issues and enjoy original brightness, vivid colors, and a smooth touchscreen experience.
We want to reiterate that all original screens are expensive, and you should never fall for low-price scams. You'll surely get the product, but in this world, no one will make a loss to sell a product to you. Some customers believe that the online market is a magical place to get originals at a cheap price, but this statement is wrong. There can be slight price variations, but you'll not get 10k's worth of display for 2k.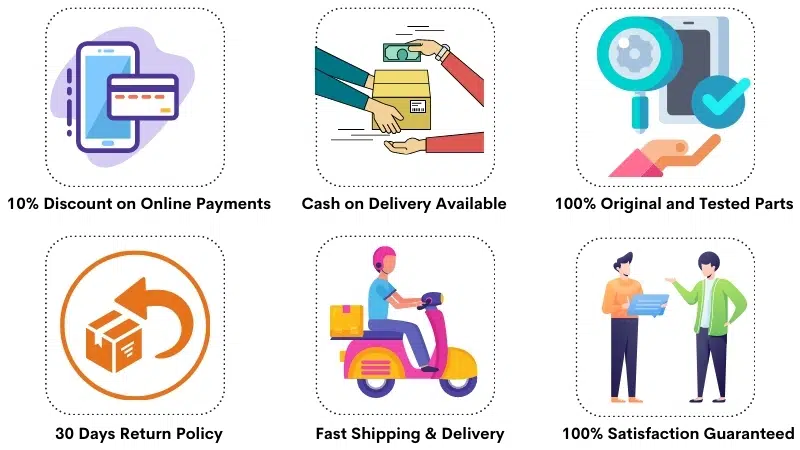 Frequently Asked Questions
Q: What is the price of a 100% original Oppo Reno 2 display in India?
A 100% original Oppo Reno 2 display replacement costs around Rs 8800-9000. This price is valid for a 100% OEM display identical to what you get assembled in a new phone. Please compare your mobile phone's broken display with the product photos on our website for a 100% match. The OEM display means we supply the exact display as the mobile phone manufacturer assembles into a new phone.
---
Q: Your price is 9k, and I found a display for 2k. What's the difference?
It is normal to see different prices when searching for a product online. You see different prices because the product qualities differ, and customers often forget to see anything beyond a lower price. The display you get for 2k is a TFT quality display, which is assembled in budget phones. The Oppo Reno 2 phone has an AMOLED display, and when you buy a duplicate display, you lose all the quality and features.
So, please don't compare a 9k display with a 2k display because both products are different. Duplicate screens are a downgraded version of the original display to get more customers. Most customers don't want to pay a premium price for the original display but buy a copy display instead. So even though a product is counterfeit, many customers are there to buy it because of the low price. Therefore, please don't compare a TFT-quality display with an AMOLED display, as their prices will differ.
---
Q: How can I identify the original and duplicate display myself?
An original display will always support the in-display fingerprint, and its appearance will be very close to your factory-fitted display. These two facts are enough to identify the original Oppo Reno 2 display. Please note that duplicate screens completely look different from the original. When you install a duplicate display on your phone, you don't need to be technically qualified to identify this fact. A duplicate display's quality is 25% of the original, and anyone who has used his phone before can easily spot this difference on the first use of the phone.
---
Q: How do you source the original Oppo Reno 2 display?
The original Oppo Reno 2 display comes from OEM factories that make and supply original screens to mobile phone manufacturers. The original screens are available with OEMs, but you can't find them in your locality (or local markets) because they are expensive. The business model in the local market is based on low-cost products, as most customers don't want to pay for the original screens. The original screens are expensive, and if a shopkeeper stocks them, their prices can quickly drop in the future, or a willing buyer might never come to their shop.
That's why you can't find original screens in the market but only low-quality counterfeit products. We buy our stock from the OEMs, and the screens are identical to the new phone's screens, but their prices are quite high. OEM manufacturers sell their products in the aftermarket but don't lower the price for sales. That's because they have limited stock, and when OEMs stop manufacturing a particular model, the market faces a shortage of original screens. In such cases, you can find the original display only with vendors with old stock, and there is no other option.
---
Q: Is it easy to install this display at home?
We strongly discourage testing and installing this display at home because it is an expensive spare part. In several cases, when customers try self-installation without having the necessary skills, things can go awry, and the new display can stop working completely. If that happens, most customers would blame the spare part and say that it was low-quality and they never made any mistake. We suggest that you assess your expertise before you take any further steps so that you don't waste your money.
We suggest installing the display with a local technician's help who is an expert in such things.  That way, your money is safe because the person doing the installation has done this several times before. Many customers ask how they would install the display if they purchase it online, and the answer is a local technician. An expert technician would charge around Rs 500 to install the Oppo Reno 2 display after testing it properly and steer you away from any unforeseen issues.
---
Q: Does the new display have Corning Gorilla Glass 6 protection?
Yes. The new display comes with Corning Gorilla Glass 6 protection. We want to clarify that Gorilla Glass is not invincible, and you should always install tempered glass on the display to protect it. When you drop the phone, the probability of damage depends on many factors, and you'll not always be lucky. Therefore, don't rely solely on Gorilla Glass protection; always protect the display with additional tempered glass. In the future, If the phone accidentally drops, the tempered glass will reduce the intensity and protect the main display from damage in most cases.
---
Q: Can't I get the original display for a lower price?
You can avail 10 to 15% additional discount on the listed price, and the offer is always applicable on online payments. We try to offer the best price on online payments as customers who pay online have a sure mindset and always take the product. We are sorry, but we can't offer deeper discounts as that's not possible with original display replacements.
Oppo Reno 2 Display Photos
If you want to see the Oppo Reno 2 display combo images, please refer to the photos below. These photos refer to the actual product, and if you've any questions, please feel free to contact us at 9587954273, and we'll gladly assist you. The photos below refer to the original AMOLED display with in-display fingerprint support.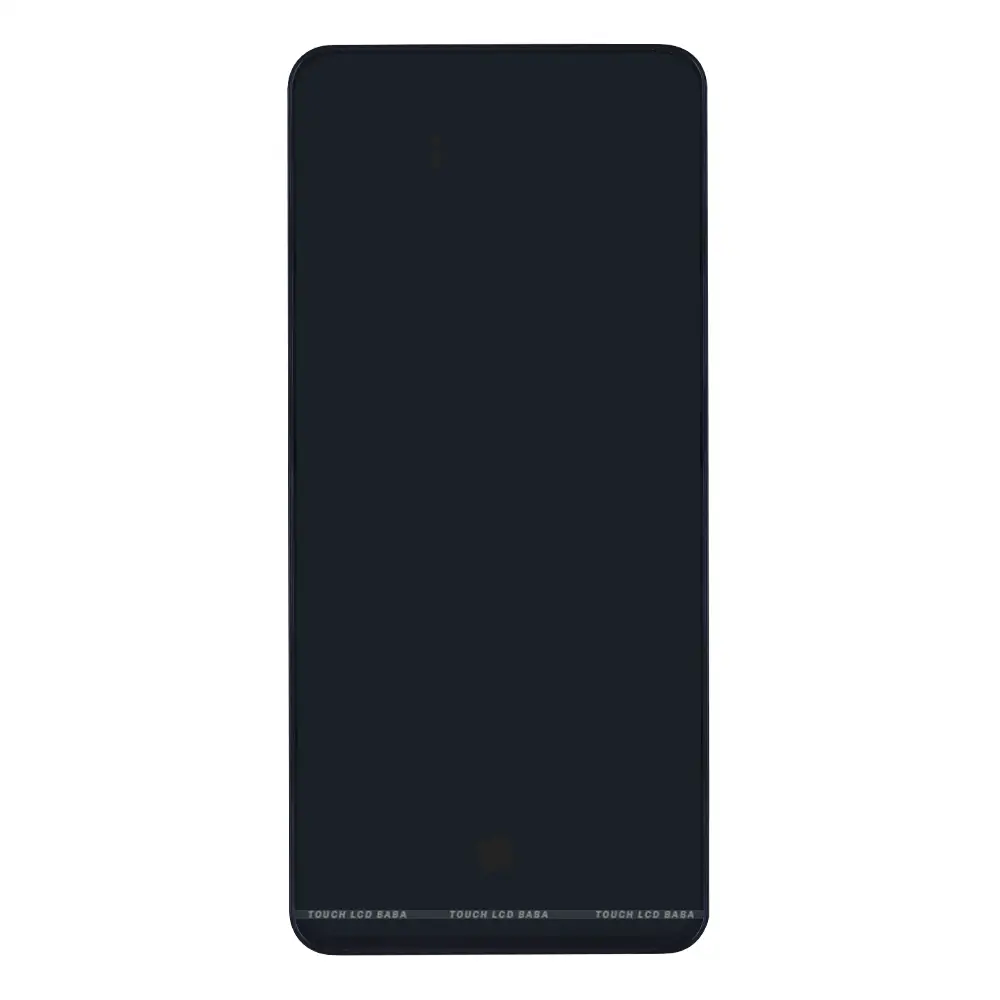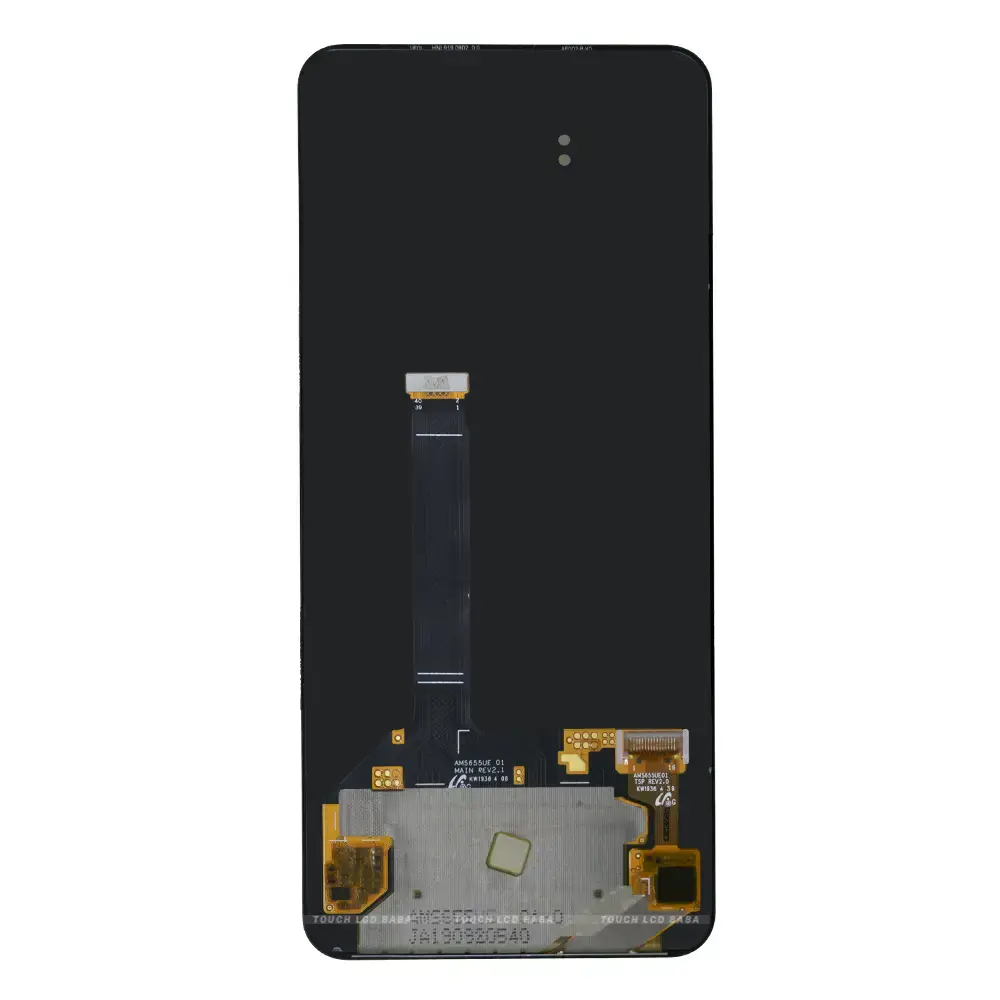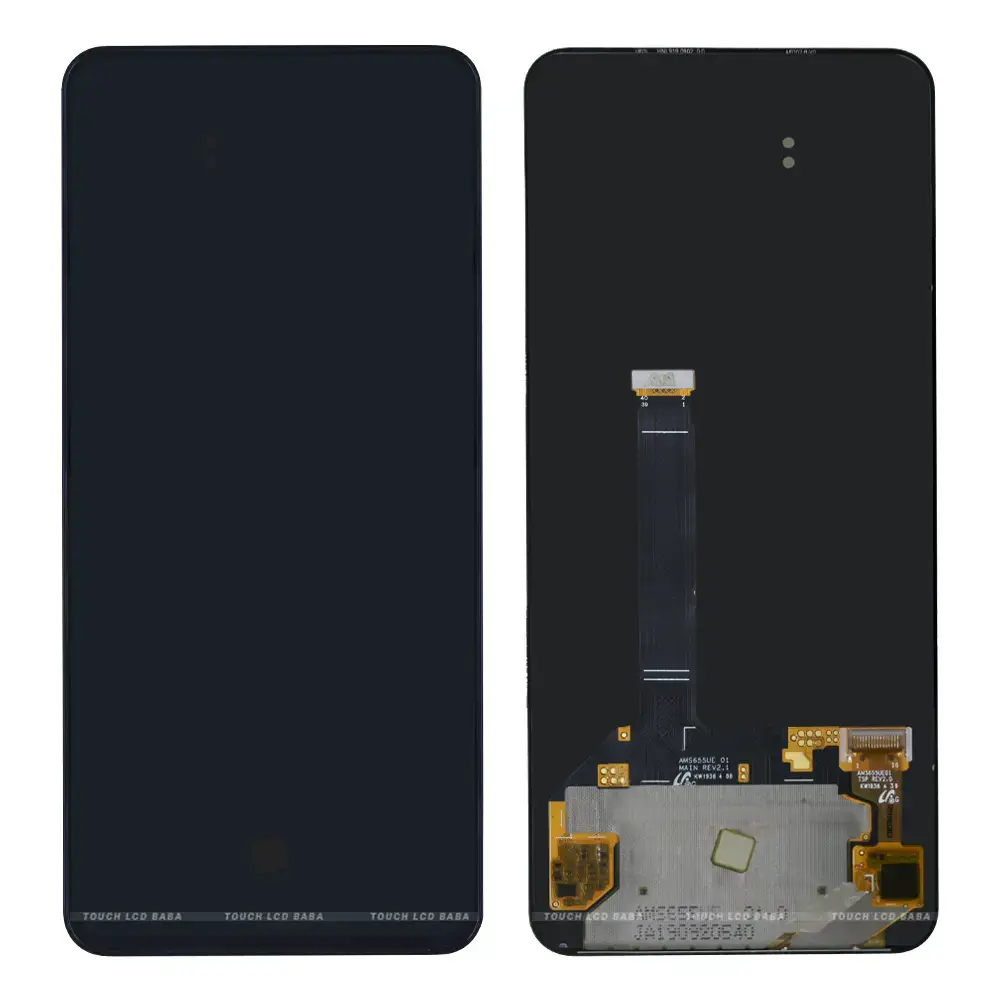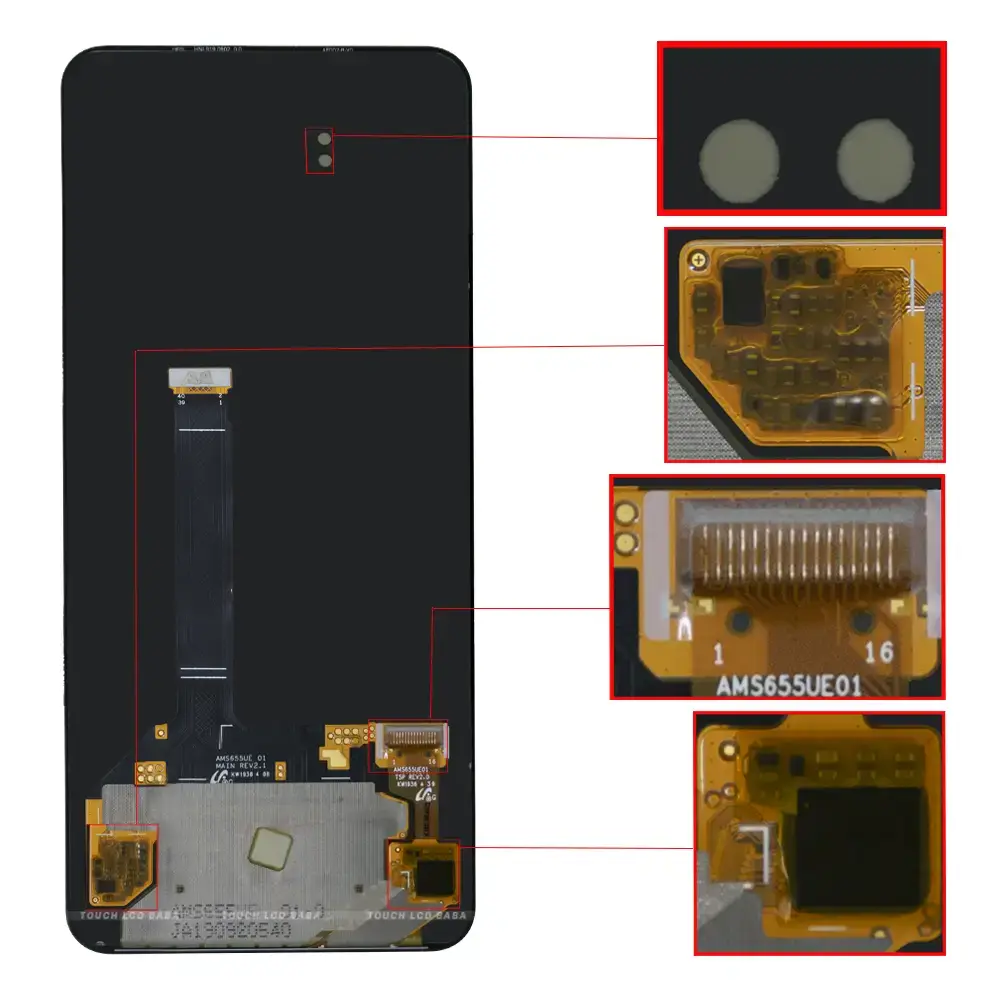 Shipping, Return, and Refund Policy
All our products come with 30-day return, refund, and replacement guarantee. To return a product, It should be in the same condition we sent. You can't use or fix the new Oppo Reno 2 display if you want to return it for any reason. For complete details about Shipping, Returns, and Warranty, please click here.