Are you looking for the Realme 3 Pro display price? If yes, then you are on the right web page. On this page, we offer the Realme 3 Pro combo, which you can use to replace a broken display or touch screen glass.
In Realme 3 Pro combo, display, and touch screen, two parts get combined into a single unit called Combo. Now, if you damage the display or touch screen glass accidentally, you will need to replace the complete folder consisting of the display as well as touch screen glass. It is because both parts are combined, and you can't replace them separately.
What is the meaning of a Realme 3 Pro Display Combo?
The simple meaning of combo is a complete unit of display and touch screen. Initially, the display and touch are separate parts, and later they are made into a single unit by sticking them together, which is called a combo. Once the combo is created, it is challenging to separate the display and the touch screen glass. If you still try to separate them, then both parts will break.
Even If you separate them successfully by any means, you are creating a problem for yourself. Such low-quality workarounds will never survive for much time, and this is why combo replacement is the most approving solution to the problem.
How can I replace only the touch screen glass?
Many customers call our helpline and ask for only touch screen glass. These days, several mechanics have bought a display separator machine (which is worth Rs 2000) to change the top glass layer of the display. Many customers think that they are getting the best deal without understanding the whole concept. The concept is, when the company makes the Realme 3 Pro display unit, they combine both parts, and you can't replace them individually. Even if you contact the official service center to replace Realme 3 pro display, they will clearly say that they don't replace the only glass. Even if only touch screen glass breaks, you will need to replace the complete combo of Realme 3 Pro.
You might be wondering why mechanics replace only touch screen glass. The answer is, to make money and only glass replacement is the worst thing you can ever buy for your phone. The glass used to replace a broken glass is worth Rs 60 and mechanics charge like Rs 1000-1500 for that. Yes, you are reading it right. We are not talking about the tempered glass, but we are talking about the main touch screen glass.
The glass used by mechanics is pure crap, and its strength is so weak that It will break off again very quickly, even inside your pocket. The mechanics will never bear the risk if something bad happens during the replacement process. In many cases, there will be big spots, dust particles, white spots between the display and the glass. You will pay the money to the mechanic and still you have to compromise on the quality. You need to understand that anything cheap comes with quality compromise!
Always buy a tested product and save yourself from any kind of hassle that comes from defective products.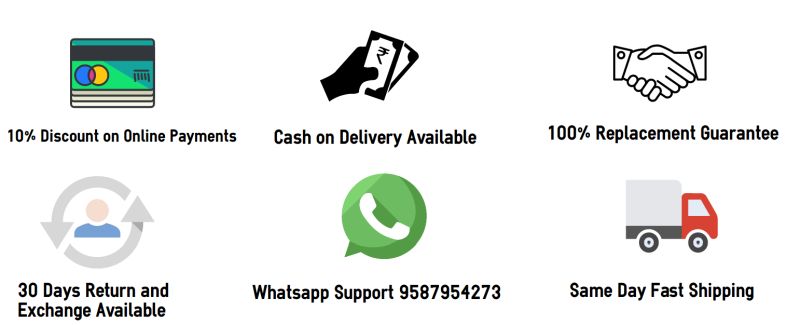 Product Description
| | |
| --- | --- |
| | This combo is 100% original, brand new and suitable for Realme 3 Pro, model number RMX1851. |
| | Realme 3 Pro display size is 6.3 inch, display type is Full HD+ IPS LCD display with a resolution of 2340 x 1080 pixels. |
| | The top layer of touch screen glass is protected by Corning® Gorilla® Glass 5. |
| | It is a complete display unit consisting of display and touch screen both. |
| | We test Realme 3 Pro combo for 100% perfect working before dispatch. |
| | It offers 100% original brightness, colors and sharpness as before. |
| | We use same phone's motherboard to verify the working condition of display. |
| | We back our products with 30 days refund and replacement guarantee. |
| | Our packing process is very safe and secure. All parcels are insured during transit. |
| | The display is pre-verified for working and there is no chance of any defects. |
| | You can also avail Cash on Delivery facility from our store. |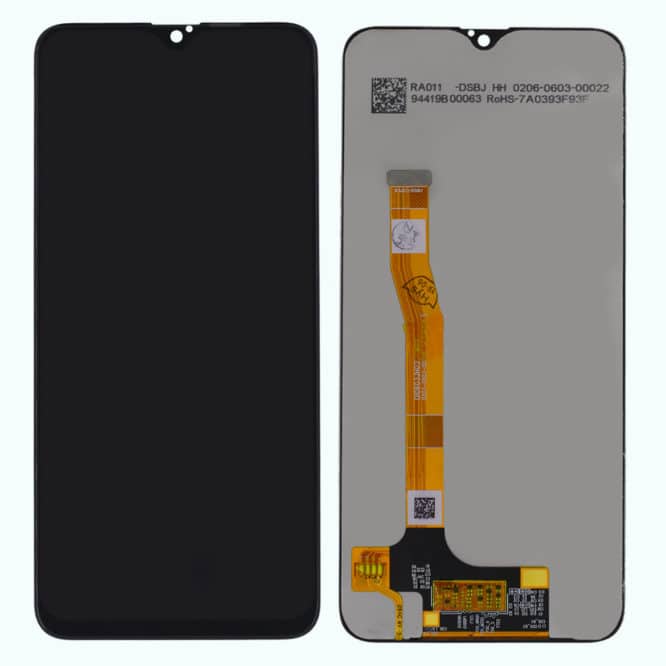 Frequently Asked Questions
Q: How much does it cost to replace a broken Realme 3 Pro display in India?
The price of a 100% original Realme 3 Pro display replacement is around Rs 2800-3000. If you buy a first copy screen replacement, then the combo costs about Rs 1300-1500 in India. The quality of the first copy display is usually 60% of the original one.
Q: Is it possible to replace the display myself at home?
We don't think it is easy for a first-timer to replace the display at home. Although the screen replacement is easy yet you can't replace the display successfully without having a decent idea of what steps you've to take. You can surely watch a YouTube video on the subject, but still, going to a mechanic for display replacement is the best choice. He will charge a small fee like Rs 150-250 towards installation, but it would be hassle-free for you.
Q: Can I use the Realme 3 display in Realme 3 Pro phone? 
Customers compare prices online, and when they realize that Realme 3 display's price is lesser than Realme 3 Pro, they try to find the answer to this question. The answer is, Realme 3 display will not work in Realme 3 Pro because both are completely different in terms of size and screen resolution.
Q: What is the meaning of a first copy display?
The first copy display is a third party manufactured compatible display made using subpar quality material. Customers look for low priced screens, and to gain such customers, lots of third party manufacturers in China produce first copy screens that exhibit nearly 50% quality of the original display. Such screens are usually called as OG in local markets.
A display is crafted using glass, flex cable, display light reflectors, and other related components. Now, if a manufacturer uses low-quality glass and reflectors to produce a new display, the manufacturing cost will automatically come down. At the same time, the display quality will also come down, and such screens are very short-lived.
Q: What is the difference between a first copy and an original display?
The OEM vendor (A company that makes Original screens) produces original combos using the best quality material, and such screens come pre-fitted in brand new phones. That's why when you buy a brand new phone, you get a display with brilliant quality. Now if the display damages and again you use the screen manufactured by the OEM manufacturer, you get the same original quality. We hope now you understand the difference between the first copy and the original display.
The price of the first copy display is 50% of the original, and the quality is also 50%. The copy display will be very dull in brightness, the touch screen will not work smoothly, the mobile phone will hang randomly, typing a message will not work properly as before and other similar issues. The good experience of using your phone will completely end with a duplicate display.
Q: Do you offer Cash on Delivery service?
Yes, we offer Cash on Delivery services all over India. It doesn't matter if you live in a metro city or a small town. You can use our COD facility and pay the amount at the time of delivery. All our products come with 30 days return and replacement policy.
Q: How can I protect my phone from future damages?
Always make sure to protect the screen with a full coverage tempered glass. By using tempered glass, you can protect the screen from minor drops. If the tempered glass is scratched after a drop, replace the glass immediately. Try to use back covers that are not slippery and provide a firm grip. Don't place your phone with keys, coins, and other similar material, which can cause internal or external damage to the screen.
Final Verdict
Surely the combo costs you more money, but you are buying a brand new display. When you go for Realme 3 Pro only glass replacement, you are just doing a workaround to repair the broken display, but when you buy Realme 3 Pro combo, you are buying a completely new set of display and touch screen glass. If you love the quality, stop looking for cheap alternatives and replace the complete display unit for 100% satisfaction. It is a long term solution to the problem, and only glass replacement is an everyday hassle.
Shipping, Return and Refund Policy
All the products supplied by us come with 30 days return, refund, and replacement guarantee. To return a product, It should be in the same condition as we sent. You can't use or fix the items If you want to return. For complete details about Shipping and Returns, please click here.