On this page, you can find a 100% original display replacement for Realme C11. Breaking the display of your Realme C11 accidentally would be quite a horrifying moment. In that case, you certainly need a display replacement to restore the pristine condition of your phone. Every customer wants an original display replacement but without spending too much of their money if possible. Well, your problem has been heard. Touch LCD Baba provides the finest display replacement products and options at the lowest costs possible.
Dropping things and breaking them is not something unusual for us anymore. We have accepted it as a part of our nature as human beings. With such a rushed life we live in, things often tend to slip out of our hands and break accidentally. Smartphones are no exception to this phenomenon.
We all have at least once dropped our smartphones by accident. Smartphones are such a compact gadget that they are extra vulnerable to slipping and falling out of our hands. It is understandable yet disappointing when you break the display of your Realme C11. Do not worry; what's done is done, and now you should look forward to getting a 100% original display like the one we sell here.
What is the meaning of the Realme C11 display combo?
The Realme C11 display combo is the ultimate solution for replacing a broken display or touch screen glass. The display combo consists of two individual parts, the display, and the touch screen digitizer glass, merged into a single unit. You can use this combo to overcome all the display and touch screen glass-related issues. A combo means a complete unit of display and touch screen glass combined into a single unit.
If you visit the official service center or a local shop to replace the broken Realme C11 display, they also use a combo to repair the broken display. Please note that all combos are not equal, and in the local market, only duplicate screens are available because they cost less. The local technicians market duplicate screens as a first copy, but their quality is inferior. On this page, we'll discuss all the aspects of Realme C11 screen replacement.
Realme C11 Display Specifications
| | |
| --- | --- |
| | This combo is 100% original, brand new, and suitable for Realme C11, Model Number RMX2185. |
| | The Realme C11 display size is 6.5″, the display type is IPS LCD and the resolution is 720 x 1600 pixels.. |
| | It is a complete combo of display and touch screen glass merged into a single unit. |
| | You get exactly the same display as it comes assembled in a brand new phone. |
| | We test each display one-by-one to ensure a perfectly working product. |
| | Our suppliers are the OEM factories who make original screens for the company. |
| | We always test and verify the working condition of our parts before shipping. |
| | We back our products with a 30 days return, refund and replacement guarantee. |
| | The new display supports all the gestures as well as multitouch features. |
| | The screen is readily available in stock and turnaround time is very fast. |
| | You can order the product using Cash on Delivery or Online Payments (additional 10% discount). |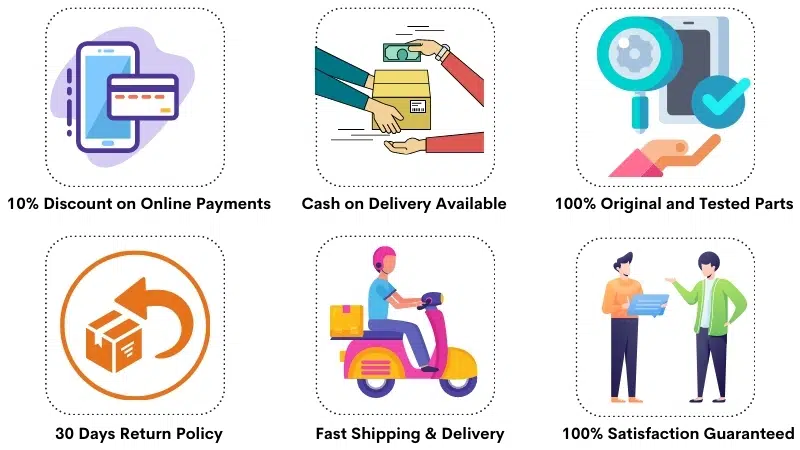 Why are we the best, you ask?
We all know that display replacement is readily available in the market. You have tons of choices to pick from, and many options are even cheaper than ours, but you should also know that most of these cheaper options you get in the market are just first-hand copies of the original, and that's why they are so cheap.
You might be immediately attracted to these first copy display products, but these cheap rip-offs will be so much more problematic for you and your smartphone display. At the same time, we provide strictly original products, and that's why the prices are on the higher side.
We sell only originals and thoroughly verified display products, making it a one-time investment rather than regular expenditure like those duplicates. So if you too want your Realme C11 display to return to its excellent condition like it was earlier, you should always purchase original screen replacements.
Why do mechanics in the local markets insist on only glass replacement?
It is because the only glass replacement will be much more beneficial for a mechanic than for you. You might be surprised to know that the only glass replacement is a multimillion industry. It runs solely on customers like you who are not well informed by their mechanics about this procedure completely. The glass's cost is less than Rs 100, and technicians can easily charge around Rs 1000 from the customers for replacing that glass.
It is quick and easy money for a local mechanic. A mechanic, well aware of how risky this procedure is, still has no risk because he offers no assurance for this procedure's success. The only glass replacement is very cheap, and therefore many customers choose this method over complete combo replacement. They are not aware that they are risking their phone's display quality and even their phone functionality.
Only Glass Replacements are barely ever successful. It is the process of separating the display and the touch screen glass and replacing just the touch screen glass with a duplicate glass. You are lucky if the only glass replacement is done successfully because people often lose their money when choosing this method. In any case, the mechanic does not care if the procedure succeeds or not, he has offered no guarantee, and therefore he has the right to earn his part of the money. They can even deliberately perform the procedure carelessly because they know that there is no risk on their side.
Why should you get a combo replacement?
A Complete Combo Replacement is a procedure that replaces all the parts of your display, damaged and undamaged, so that no stone is left unturned. However, it is costlier than the only glass replacement, so people are often confused about the two.
Touch Screen Glass is a complicated part of the machinery and is therefore required to work smoothly so that the smartphone can work efficiently. The touch screen glass and the display are stuck together through LOCA glue, making it very difficult to separate them. This method is cheaper but not often successful, and if by fluke you do somehow successfully part them, your phone display quality would have dropped down after the replacement is done.
You should always get a complete combo replacement because, in this procedure, you are not replacing just one part through separation; instead, you are taking the entire display out and replacing all the elements with new ones. No risk is involved, and you get a brand new display, touch screen glass without any flaws or imperfections.
Frequently Asked Questions
Q: How much does it cost to replace a broken Realme C11 display in India?
The price of a 100% original Realme C11 display replacement is around Rs 2800-3000. If you buy a duplicate screen replacement, then the combo costs about Rs 1100-1300 in India. We don't offer duplicate screen replacements, but such cheap screens are easily available in the local markets.
Q: Should I buy original or duplicate display products?
If the cost is your only priority, then you might choose a duplicate product. However, you should know that the duplicate display products cost low because they are made of an extremely cheap quality material that will turn out awful for your phone's quality.
Simultaneously, the Original display products are comparatively expensive because their material quality is much higher. Duplicate products might look the same as the original, but they do not resemble 40% of the original when quality is concerned. Duplicate display products have these fake OG and Quality check stamps to lure the customers into buying them. These stamps are used as a trick to fool the customers into buying these duplicate products.
We would always recommend you buy the original display for your Realme C11, even if the cost is your only priority. You will notice that these duplicate displays wear off very soon, and that will lead to you getting another display replacement and end up spending more than the original product.
Q: What can I do if the new display doesn't work as promised?
You should not worry about the display not functioning if you have bought it from us, Touch LCD Baba. We ensure that our team of experts pays the highest amount of attention to every display and makes sure that it is working before it is shipped out for delivery to the customer. It is quite improbable that the display product bought from LCD Baba does not work.
Still, we offer a 30 days return, refund, and replacement period in case of any issues. Please report your issue to our support staff, and we will take immediate action towards that. You should, however, make sure that the display product is not used in any way, and please do not remove the protective film before testing the product. You can connect the display's flex to your phone's motherboard to test it but keep it in its original condition without tampering.
Q: Do you test the display before shipment?
That remains our number one priority always. We have hired some of the best professionals who ensure that every display that is bought is tested thoroughly before going out for delivery. All the minute details are checked, and nothing is left unchecked.
We use an actual Realme C11 motherboard to test the new display. Using this technique, we come to know what our product lacks and what kind of experience our customers will have while using it, and therefore we deal with it all beforehand. Every technique that our team uses is acknowledged and recommended by leading smartphone brands and companies worldwide. It shows that every method has its advantages, and they are all very effective and accurate.
Q: Can I do the self-replacement of the Realme C11 display at home?
A self-replacement is not recommended to people until and unless they have the skill and experience required for the job. We would strictly advise that you do not proceed with the self-replacement at home if you are not a technician who is experienced or skilled enough to do so. The display combo is a delicate yet complex mechanism, and it needs to be installed cautiously.
Even a small mistake can lead to a damaged display and maybe even a damaged smartphone. You should instead appoint a technician who can install the display. A technician should not cost you more than 150-250 rupees.
Shipping, Return and Refund Policy
All the products supplied by us come with 30 days return, refund, and replacement guarantee. To return a product, It should be in the same condition as we sent. You can't use or fix the items if you want to return them. For complete details about Shipping, Returns and Warranty, please click here.