If you damaged your Realme 6 display and looking for a reliable replacement, we are here to help. On this page, we offer a 100% original display and touch screen unit of Realme 6, which is very useful for replacing a broken display or touch screen glass. So if that has happened to you, It is very easy to replace the screen with a new one. On this page, we will shed some light on all the aspects of Realme 6 display replacement.
Realme 6 Display Specifications
| | |
| --- | --- |
| | This combo is 100% Original, brand new, and suitable for Realme 6, Model Number RMX2001. |
| | The Realme 6 display size is 6.5 inches, and the display type is IPS LCD, and resolution is 1080 x 2400 pixels. |
| | The main touch screen glass is protected by Corning Gorilla Glass 3. |
| | We source 100% original screens from the OEM manufacturer who makes for the company. |
| | The display we provide supports 480 nits brightness and 90Hz refresh rate. |
| | We test each combo on an actual motherboard of Realme 6 before dispatch. |
| | This display replacement is 100% pure original, precisely the same as comes with a brand new phone. |
| | The combo is readily available in stock, and shipping time is very fast. |
| | We back our products with a solid 30 days money-back guarantee. |
| | All the parcels come insured during transit, so you don't need to worry about the damage. |
| | We pack your products very carefully in rigid plastic boxes for maximum safety. |
What happens when the Realme 6 display breaks?
It is very easy to drop the phone, and It can happen anytime without having any intuition. If you inadvertently dropped your phone from more than 3 feet of height and the touch screen glass directly comes in contact with a hard surface, some sort of damage is unavoidable.  You'll either have a hairline scratch on the touch screen glass or the display will also get damaged in one go. Here are the two most common occurrences when you drop the phone :
A) Only the touch screen glass will break
In this case, you'll see scratches on the touch screen glass, and everything else will continue to function normally. You can still use your phone, dial numbers, and do everything else, but broken glass will feel harsh to your fingers. If the damage is intensive and you continue to use the phone, it can even hurt your fingers. If the touch screen glass slightly disrupts, you can continue to use the phone for some time. There is no need to rush for immediate display replacement.
A broken touch screen glass indeed puts a wrong impression on your personality, but sometimes due to budget constraints, you might not be able to replace the screen immediately. In those cases, you can continue to use your phone, but be sure to back up the critical data while the phone is still working. You never know when the touch screen stops responding altogether because you can't bank on the longevity of a damaged part.
B) The display and touch screen glass both parts are scratched
It is the second most common scenario when the display and touch screen glass both part damage in one go. In this case, the touch screen glass will break, and the half/full portion of the display will also blackout. The display will start stirring, and you might see some random colorful lines on the screen. The wallpaper on the screen will start shaking continuously, and you can't see anything on display.
In such cases, you need immediate display replacement for your Realme 6 phone. Because the display is no longer in usable condition, and you can't use it, even for another day. You'll need to replace the complete combo of the display as well as the touch screen glass.
Why do I need to replace the complete combo always?
Please note that the Realme 6 display is a combined unit of IPS LCD and touch screen glass. It means that both parts are closely attached, and you shouldn't try to replace them individually. As the display comes in conjunction with the touch screen glass, the display unit is a single part but made of two individual parts.
Now when only the touch screen glass breaks, you might be tempted to fix it alone. However, It is not the recommended approach due to quality issues. We are not saying that it is impossible to replace only the glass, but It is impossible to achieve the same display quality after glass replacement. For your kind information, no service center in the world replaces only the glass. You could understand that replacement of the combo is a quality protocol, and you should not override it if you want to retain the display quality. If you are happy with any duplicate parts, it is your choice.
Realme 6 Only Glass Replacement – The Drawbacks.
In case, the Realme 6 display and touch screen glass both parts break, you've to replace the combo mandatorily. In some cases, when only the touch screen glass damages, you've got two options to choose from. One is only glass replacement, and another is complete combo replacement.
The only glass replacement is not a solution to the problem, but It works as a workaround for the customers who want to use their phone and ready to sacrifice the display quality. So you can also understand these facts about the glass replacement and decide what you've to do :
If you replace only the glass of the Realme 6 display, don't expect the same display quality again.
Due to heating the display, you will often see dust spots, yellow spots, and other scratches on the display.
After pasting a duplicate glass on display, the brightness tint and color tones will change abruptly.
The glass used by mechanics costs Rs 60, but you'll pay more than Rs 1000 for the replacement.
You can't use your phone for a more extended time with such low-quality solutions.
The replacement of only glass is like repairing your broken display anyhow; you are not buying anything new.
You'll see some dead pixels or distracting black spots inside the display.
Often the glass replacement is not successful and results in full damage to the display.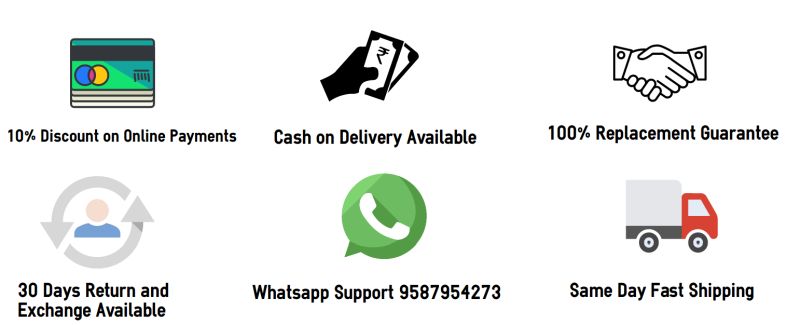 Realme 6 Display Combo Replacement – The Advantages
When you go for complete combo replacement, you are buying the entire display unit, the same as comes with a brand new phone. Please note that we are referring to 100% original display replacement here, which we sell. Here we are not referring to the first copy duplicate combos that are available for low prices. So if you replace the broken screen with an identical 100% original combo, you'll get these benefits :
The broken display and the new display both come from the same manufacturer, so the quality is 100% identical.
You will get the same colors, quality, and brightness as before. The display will be crispy and clear as it comes with a brand new phone.
The original combo of Realme 6 is entirely a fresh part having the protection of Corning Gorilla Glass 3.
You can use the touch screen as swiftly as before and even play all games which require multitouch features to work properly.
Your phone will never overheat and stays in 100% perfect shape.
The original display replacement is very durable, and you can use your phone for another two years and more without problems.
You can get a better price if you sell your phone to someone as a secondhand device.
Finally, the official service center always replaces the complete combo, and they don't even discuss the glass replacement. So If you are willing to invest in original products, feel free to buy the original screen replacement.

Frequently Asked Questions
Q: How much does it cost to replace a broken Realme 6 display screen in India?
The price of a 100% original Realme 6 display replacement is around Rs 3200-3500. If you buy a first copy screen replacement, then the combo costs about Rs 1400-1600 in India. You may have to pay additional installation charges on top of the display's price to a mechanic.
Q: Do you have a testimony that you supply original products?
Please note that the authenticity of a display can be verified by the OEM vendor stamp on the backside of the display, the design of flex cables, and other subtle things. We are in business in more than ten years, and we can quickly identify original parts without a second thought.
However, if you thought that the original Realme 6 display comes with some certificate, that is not true. The screens are mass-manufactured, and for the companies who make these products, the theory of authenticity certificate is not worthwhile. The original display speaks for itself, and you can easily match it with the broken screen you take out from your phone.
Q: Can I replace the Realme 6 display myself at home?
We don't think you will have all the necessary tools at your home that are required to dismantle a phone. You'll need screwdrivers, hot air gun, glue, and other similar stuff to decouple the display and then fix the new display.
If you try to replace the display yourself and make a mistake, you've to pay a high price to correct that mistake. So we don't recommend that you take risks and run into unforeseen issues. Visit a technician and pay him the installation charge to affix the display on your phone.
Q: How can I test the display and verify the quality before fixing it permanently? 
To test the new Realme 6 screen, connect it to your phone's motherboard and turn on the device. Connecting the display temporarily and simulating the testing process is the easiest way of verifying the working condition of the display.
Please note that there is no need to paste the display at this point, but test the screen when the phone is in an open condition. Please stick the display only when you are satisfied with the working condition of the product because you can't return a screen after fixing it in your phone.
Q: What If the new display malfunctions? 
When we send out a shipment from here, we test each Realme 6 combo for 100% flawless working before dispatch. So far, we have never seen any cases of faulty products when we supply them after proper testing.
Still, if you face any problems, we have a 30 days return and replacement window to protect you. After receiving the parcel, you can test the display on your phone, and if you find any issues, you are entitled to a return or replacement. Here we want to reassure you that such things never happen because we supply 100% original and tested products to our clients.
Q: How can I claim a broken display under the official service center warranty? 
Many customers explain that they bought the phone just three months ago and they still have the bill and warranty card. Their claim is, they should get a free display replacement as 1 Year warranty is not over yet.
For your kind information, any physical damage is always out of warranty regardless of If it was intentional or accidental. If you break the Realme 6 display or touch screen glass and want to repair the phone from the service center, you'll need to pay the full price, and no warranty will apply to that.
Q: What if the new display arrives in damaged condition? 
We pack your product with extreme care and use all sorts of protections for maximum safety during transit. So far, so good, we have never had a case of in-transit damage, but we still buy insurance for all the parcels in transit.
We want to reassure you that physical damage will not be a case, but still, if you overly worry about that, you can always record an unboxing video when you open the parcel. If you find any broken display issues, forward the video to us, and we'll provide a free replacement to you. Please note that we extraordinarily mark our products, so don't try any forgeries, or you'll get caught. If you've got a genuine case, you don't need to worry about anything.
Q: Can I use this display in all the variants of Realme 6? 
Yes, the same display works in all the variants, and you can use this screen in 4GB/64GB  and  6GB/128GB and 8GB/128GB variants. So there is no need to worry about the variant you are using because the display is always common.
How To Test The Display Without Fitting?
Many customers are extremely confused about how they can know the working condition of the product without actually fitting and using it on the phone. This section is to help such customers who are not aware of the testing process. A Realme 6 screen can be easily tested before fitting, and for that, you need to follow these very simple instructions :
1.  First of all, you need to dismantle the back panel of Realme 6 to open the phone. At this point, you don't even need to pull out your broken display. All you need to do is take off the back panel and disconnect the old display's connection from the motherboard. The phone will look like this :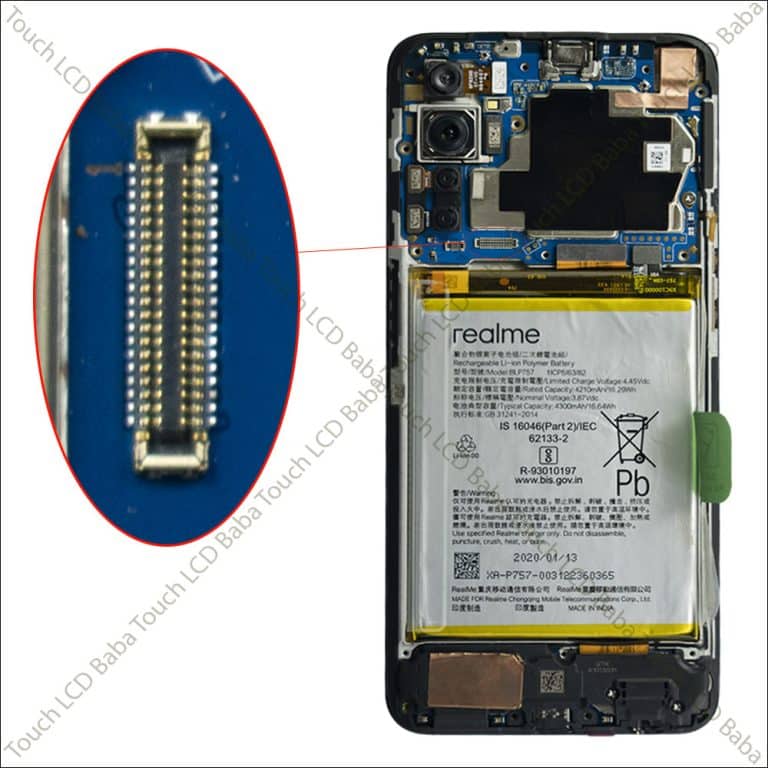 2. After that, you need to plugin the flex cable of the new display into the motherboard of your phone. Before you turn on the phone, you MUST place a bubble wrap between the display and the phone. If you don't do that, the touch screen will not work properly.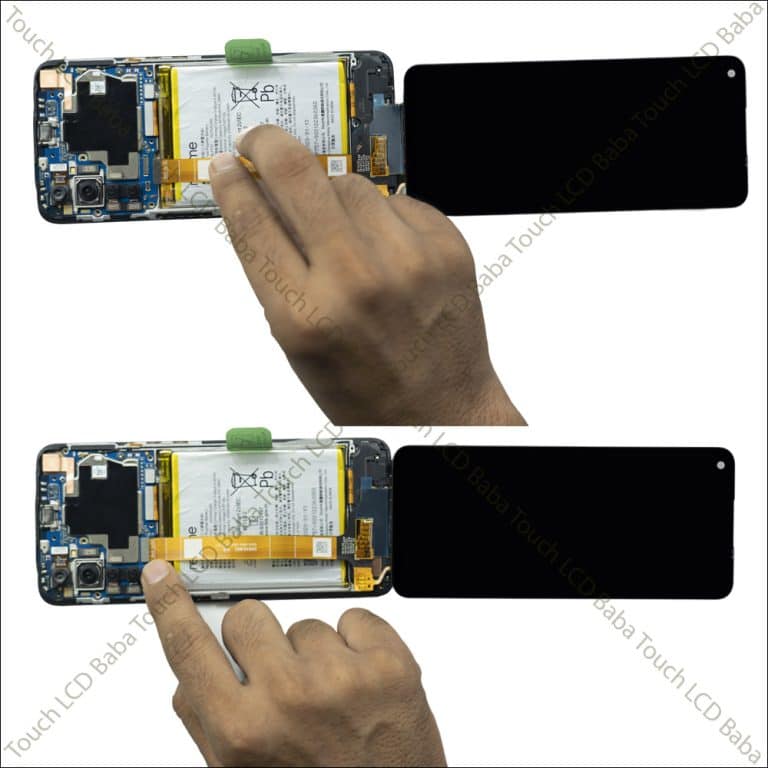 3. You mustn't hold the display in your hands when you test. You should place the display on bubble wrap, and after that, turn on the phone. The phone will turn on as usual, and you can use the new display just like you use the phone.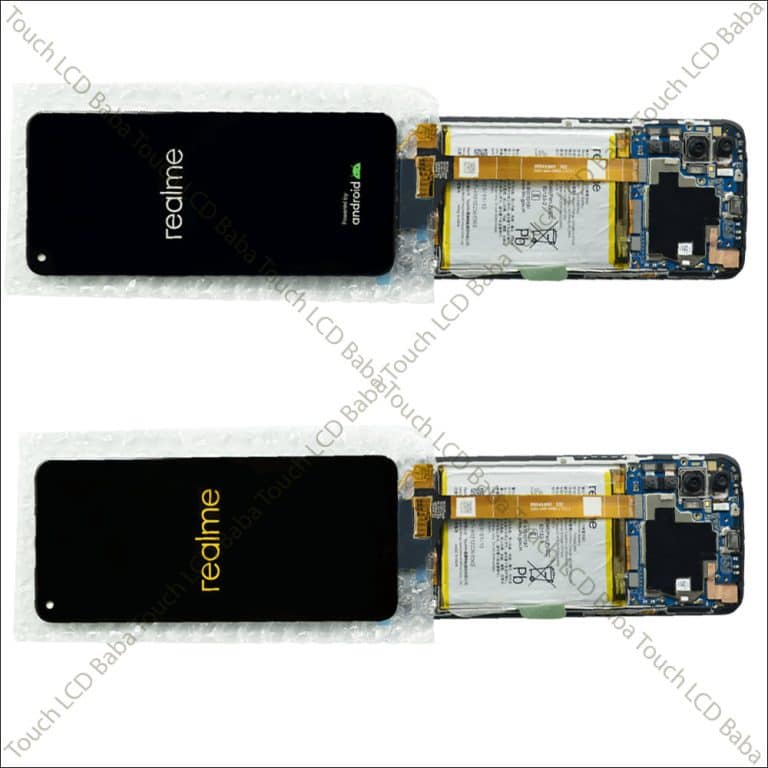 4. You should always test the display before fitting so that you can ascertain the working condition of the product. Testing the display also gives you a chance to verify that all touch screen features and gestures are working.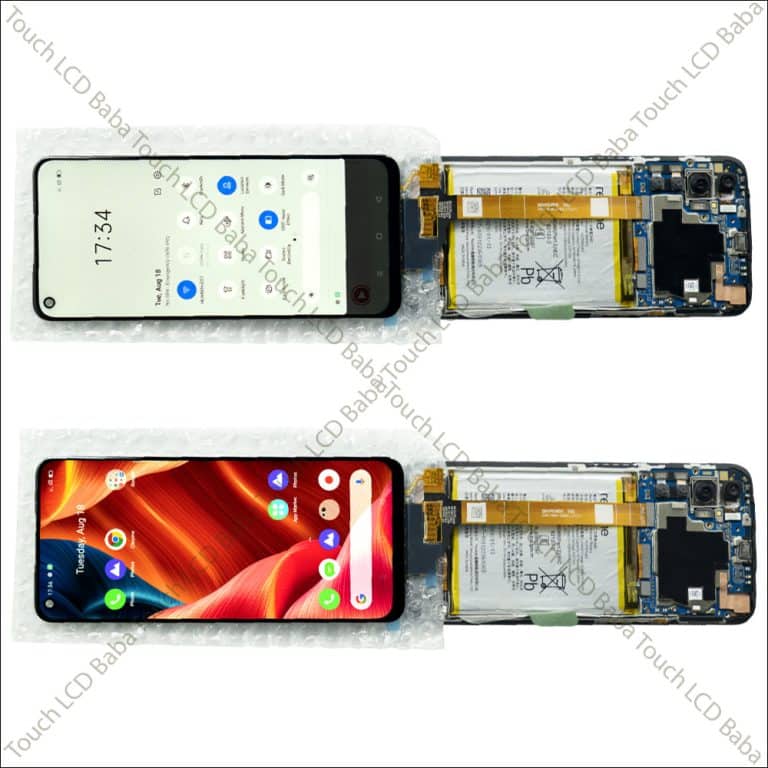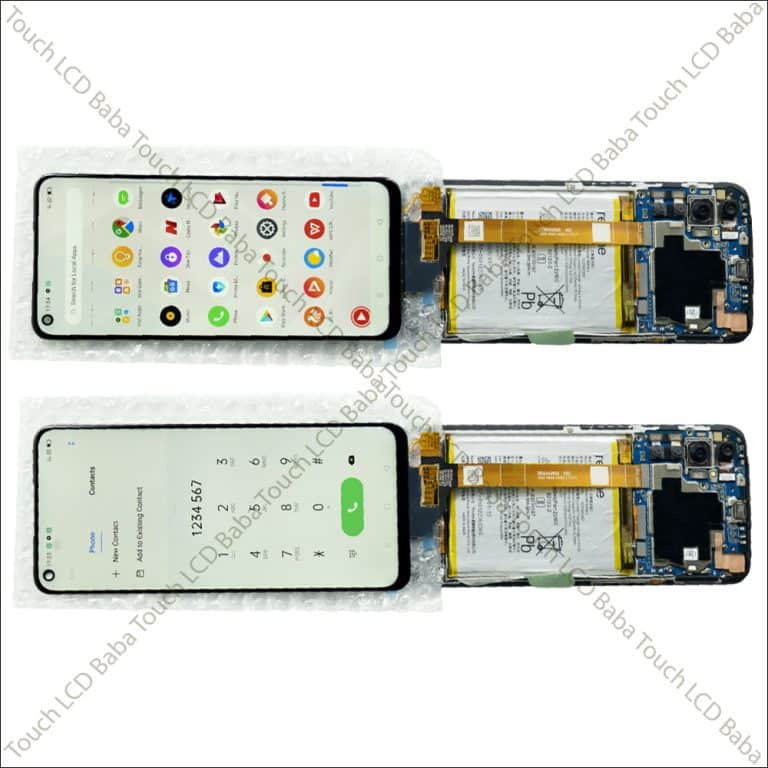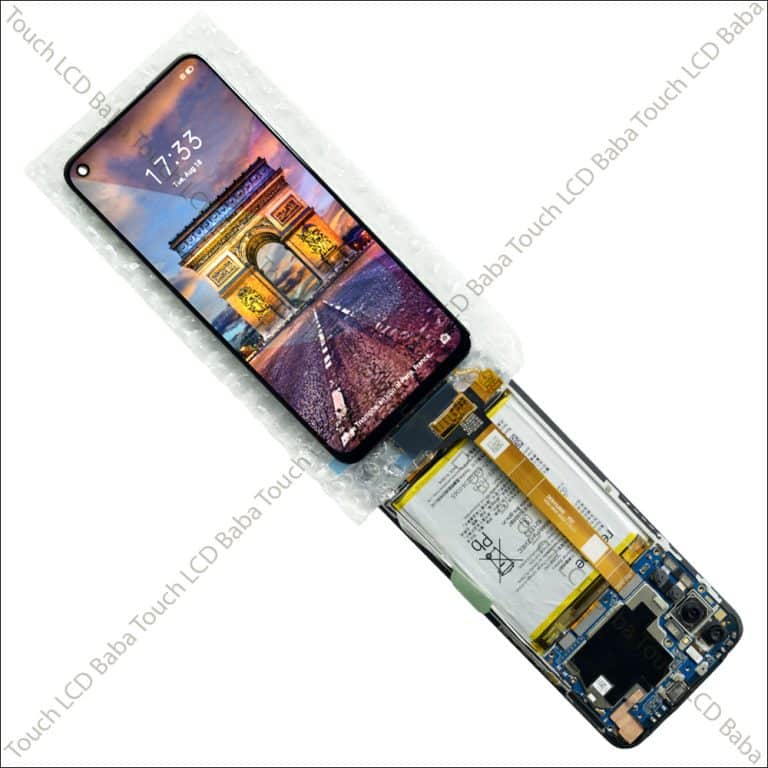 You can easily test a display without fixing it on your phone, and it is the easiest way to test a Realme 6 display. When you are satisfied that everything is working as desired, you can go for the final installation of the product. If you have any further questions, please feel free to contact us.
Shipping, Return and Refund Policy
All the products supplied by us come with 30 days return, refund, and replacement guarantee. To return a product, It should be in the same condition as we sent. You can't use or fix the items If you want to return. For complete details about Shipping and Returns, please click here.