If you need a 100% original display replacement for Sony XA1 Ultra, you are on the right web page. We offer the Sony XA1 Ultra display and touch screen combo on this page, which you can use to replace a broken display or touch screen glass. Accidentally damaging the phone is nothing new, and If you have a damaged Sony XA1 Ultra phone, you can replace the display and restore it to its working condition.
If you are feeling extremely frustrated after a broken screen, don't fret out. Unfortunately, it is widespread to have a broken screen, but luckily, you can easily replace the screen without burning a hole in your pocket. In addition, screen replacements are often quite affordable, and you can carry out the replacement almost anywhere.
Sony XA1 Ultra Display Specifications
| | |
| --- | --- |
| | The combo you see on this page is 100% original, brand new and suitable for Sony XA1 Ultra. |
| | The Sony XA1 Ultra display size is 6.0″, the display type is IPS LCD and resolution is 1080 x 1920 pixels. |
| | It is a complete unit of inner display and a top layer of touch screen glass digitizer. |
| | It is very easy to replace a broken screen with a Sony XA1 Ultra combo. |
| | The main touch screen glass is protected by damage and scratch-resistant Corning Gorilla Glass 4. |
| | Our product is 100% original and offers the same brightness, colors, and quality as before. |
| | We use an actual motherboard of Sony XA1 Ultra to test each display for flawless working before dispatch. |
| | For your peace of mind, we offer 30 days return, refund, and replacement guarantee. |
| | We can deliver and pick up the parcel from almost all locations in India. |
| | The stock is readily available with us, and shipping time is very fast. |
| | You can order the products using Cash on Delivery or Online Payments. |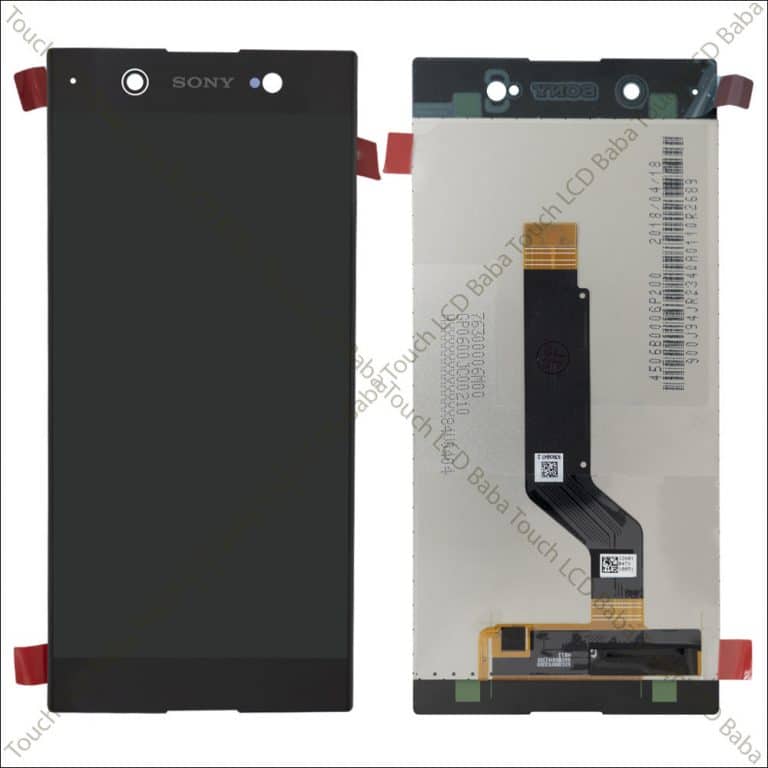 What is the Sony XA1 Ultra Display Combo?
In Sony XA1 Ultra, the display and touch screen, both parts come together and form a single unit called a combo. Therefore, you will need to replace both parts in case of any accidental damage to the touch screen glass or the display.
The main glass gets pasted on the top layer of the display, so If you try to remove only the glass, the display will also come out with it. If you try to separate the glass and the display via any means, you will damage both parts or render them to a condition when you can't use them anymore. We hope this explains the reason as to why you need to replace a complete set of the display as well as touch screen glass.
The Sony XA1 Ultra Combo supports these models.
All the companies make phones for a large audience and sell them in various countries under different models. You likely bought the phone while living overseas, and now you've immigrated to India. You would undoubtedly have the mobile phone you bought there, and in case you damage it, you might start worrying if you'll be able to find its screen in India.
You don't need to worry if you are using a global brand like Sony in such cases. You can quickly get a Sony XA1 Ultra display in India, and this display supports these model numbers :
You can check your device's model number in the Settings-->About section and order a suitable screen for your phone. Please note that several models are in existence with somewhat similar names, so please ascertain the model number and model name before you place an order. In case of any confusion, we can assist you on WhatsApp at 9587954273. Send over your concern to us, and we'll be more than happy to help you.
What about the only glass replacement and reusing the same display?
Despite warnings, many people will still try to separate display and touch screen glass. The outcome of this process will be a fully broken display and touch screen glass both. During the separation process, display, and touch screen glass, both parts will break eventually, and after running through all the hassles, you have to replace the combo of Sony XA1 Ultra.
So the wise decision would be to replace the combo before going through the additional hassle. Some customers try to save money and buy any cheap glass or anything they find online. Later they will realize that they have wasted their money on useless stuff. So If you are looking for a Sony XA1 Ultra display replacement, buy the combo and get the mobile repaired in the easiest possible way. If you have any further questions and looking for answers, please feel free to call our helpline at 9587954273.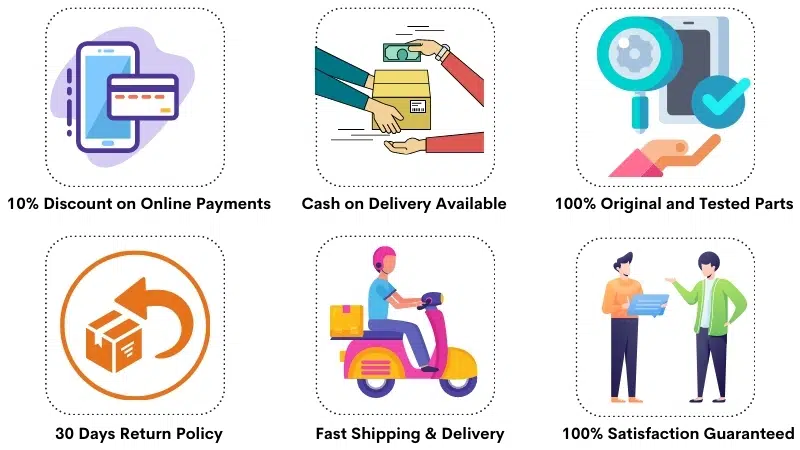 Frequently Asked Questions
Q: How much does it cost to replace a broken Sony XA1 Ultra display in India?
The price of a 100% original Sony XA1 Ultra display replacement is around Rs 3000-3200. If you buy a first copy screen replacement, then the combo costs about Rs 1300-1500 in India. You may have to pay additional repairing charges on top of the display's price to a mechanic.
Q: Can you also provide the installation service along with the display? 
We are not doing the actual installation because our job is limited to delivering the spare part. Therefore, we are not providing any installation services, and after receiving the combo, you'll need to visit a nearby technician to install the new screen.
Q: What is your take on replacing the display myself at home? 
We don't suggest replacing the Sony XA1 ultra display at home because Sony devices are overly complicated. We are not saying that it is the toughest job, but Sony phones are a little more complicated than other mobile phones.
For the above reason, we don't suggest you take charge and replace the display at home. Instead, visit a technician who does such stuff every day and have him replace the screen for you. He will charge you for like RS 150-200, but you won't run into any issues.
Q: Why can't I find the Sony XA1 Ultra screen in the local market? 
The shopkeepers in the local market don't like to stock models that are not fast selling. For example, if they stock Sony XA1 ultra screens, a customer will rarely visit and ask for a screen replacement. So If they stock unpopular models, they might sell at some time or might not sell at all.
The local market mechanics never bear any risk because they are fully aware of the dead stock. They are always afraid that a screen might live in dust later when no one asks for it. We hope it explains why you might not be able to find obscure models in the local market.
Q: Do you have all the color variants available in stock? 
We might not have all the color variants in stock all the time. Mostly, you'll always find black color in stock, and other colors may be or may not be available. The models that turn older day by day, finding and stocking all colors, can be a real dilemma.
We try to provide as much variety as possible to our clients, but sometimes we might not have the desired color. Many have asked if they buy the black-colored display, will it fit in other variants? The answer to this question is Yes. If you don't have a problem with changing colors, you can always buy the screen and fix it on your phone. It is the same thing as you want, but just a color difference. It won't have any impact on the working of the screen.
Q: Can you outline the basics of screen replacement? 
The Sony XA1 screen replacement is decoupling the broken screen from your phone and affixing a new display in place of it. You don't need to repair any parts, but you need to replace the broken unit with a new one.
First of all, you need to open the phone and unplug the broken display's connection. You might also need to unscrew some other components which are interfering with the display replacement process. When you are done, you can put those components back into their respective places.
After opening the phone, you need to blow hot air on the front side to soften the adhesive to dismantle the screen. After decoupling the broken screen, you need to connect the new display temporarily to your phone and simulate the testing process. Once you've ascertained that the new screen is working perfectly, you can paste the display using glue or double tapes.  We suggest you also search for a related video on Youtube to get a more practical idea of the whole process. It is effortless to replace the screen, and there is nothing you should worry about.
Q: Where can I find only the glass because I don't need the display? 
Many customers are fully biased towards glass replacement because they believe that glass replacement is the best option. The main reason for this theory is a strong desire to save money.
Customers generally have no idea how the display replacement works, but they often buy items according to their obscure theories and later find themselves in the mud.  If you want to purchase items that don't make any sense in this regard, there are tons of other websites doing the business of fooling customers. However, you can very well buy your desired items from there and later remember our advice.
Q: Do you supply tested screens? 
Yes, before we send a display to our customers, we actually verify its working condition by testing it on the same model's motherboard. After testing the product, we are sure that the screen is defect-free. Our customers really appreciate tested screens because they don't have to go through any hassle.
Q: What is the difference between the first copy display and OEM display? 
There is a huge quality difference between the first copy and the OEM display. The first copy display is a lower quality version, especially targeting customers who don't want to spend money on original products. So the customers buying cheap solutions often buy the duplicate first copy display for a lower price.
On the other hand, the original Sony XA1 ultra display comes directly from the OEM vendor who manufactures screens for the company. These screens are costly but 100% pure original as they come directly from the same factory that makes screens for the company. So don't confuse yourself because it is elementary to understand the original and duplicate display concept.
Shipping, Return and Refund Policy
All the products supplied by us come with 30 days return, refund, and replacement guarantee. To return a product, It should be in the same condition as we sent. You can't use or fix the new display if you want to return it. For complete details about Shipping, Returns and Warranty, please click here.