If you need a brand new and 100% original display for Vivo V15, you've arrived at the right page. Here, you can find all the Vivo V15 screen replacement information and how to find the best replacement option. It is easy to put down your phone and damage the display in a jiffy. It doesn't matter how careful you are towards safety; the screen damage happens in a minute before you even understand what's going on. You might feel terrible when the screen scratches; however, you can easily replace a broken Vivo V15 display without sacrificing the quality.
The key thing after a broken display is replacing it with an identical combo. If you look for cheap alternatives, don't expect the same quality as before. There are tons of customers just behind purchasing the cheap screens without understanding that those screens don't from the OEM manufacturers.
Those screens are first copy versions by other manufacturers who offer 50% quality of the original one, and tons of additional issues will appear on the phone. These issues are incorrect typing, very poor brightness, phone heating way too much, reduced battery life, and the list goes on. It happens because the first copy version of the Vivo V15 screen is never quality and is just a temporary solution to the problem.
Vivo V15 Display Specifications
| | |
| --- | --- |
| | This display is 100% original, tested and suitable for Vivo V15, model number Vivo 1819. |
| | The Vivo V15 display size is 6.53″, display type is IPS LCD and resolution is 1080 x 2340 pixels. |
| | The top layer of touch screen glass comes with a protection of Corning Gorilla Glass 5. |
| | We source the display from OEM manufacturers to assure 100% original quality. |
| | It offers 100% the same colors, quality and brightness as your original display. |
| | You won't see any degradation in display colors, smoothness or brightness after replacing the screen. |
| | Before shipment, we test each display for 100% perfect working before dispatch. |
| | The new screen replacement comes with a 30 days return, refund and replacement guarantee. |
| | Any unused part is eligible for a return within 30 days after receiving the product. |
| | The stock is readily available with us, and turnaround time is quick. |
| | We offer Cash on Delivery and Online Payments both. Additional 10% discount on Online Payments. |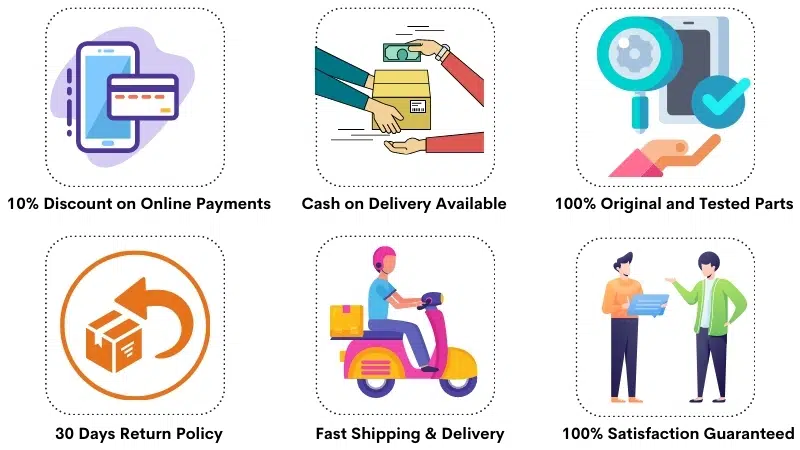 What is the meaning of the OEM Vivo V15 display?
If you often heard that OEM screens are the way to go, here is why. To understand that, first, you need to understand the meaning of OEM manufacturer. The OEM manufacturer is the supplier that makes screens for the actual company. Companies assemble those screens in brand new phones, and if one can source the screen directly from the OEM manufacturer, such screens are pure originals.
The screens which you often get for low prices in the local market are third-party manufactured screens. Such screens are intentionally manufactured to reduce the costs so that buyers who need cheap deals can buy such screen replacements. The local market technicians often call such screens the first copy, while these are the worst quality products you can ever get.
Why are OEM screens not easily available to everyone?
Most people in India are looking for cheap deals and are not willing to spend a top dollar for quality.  If you keep running behind low-quality screen replacements and consider them as the originals, we can only wish you the best of luck. We find many people in the same boat trying to get the cheapest screens and expect a moon.
The OEM screens are tough to find because only a handful of dealers source them. If you think a small shopkeeper has OEM screens, you are mistaken because such screens are twice as costly as you purchase locally. So the OEM screens are not cheap by any means, and that's why you won't get them locally. If you purchase the first copy for Rs 1500, the OEM display will cost you Rs 3500-4000, and that's why most shopkeepers don't even try to source OEM screens.
The part we offer comes from the OEM manufacturer, and you can trust us for 100% quality, and all gestures and other features of the touch screen will continue to work. The display quality is the same as the new display unit comes from the same manufacturer. The Vivo V15 screen, fitted on your phone and the screen supplied by us, comes from the same manufacturer so that the quality will be 100% identical.
How does the Vivo V15 display replacement work?
The display replacement means replacing a broken display unit with a new one. That's all. Because customers ask for cheaper screen replacements, the markets are now swamped with so many screen replacement options that customers often get confused about what to do. All the cheap screen replacement options are duplicates and not worth considering. Be it a complete display assembly or only the glass, if you are buying it for Rs 1500, surely you are getting a crap product. Some mechanics charge insanely for duplicate products by advertising them as original, so you should be very careful about that.
You can get the 100% original quality only if you buy an OEM display from trusted vendors like us. Now the question is, how to identify the first copy or duplicate display? Customers who have burned holes in their pockets because of counterfeit screens often ask us this question. To answer this question, the average customer can't understand the original product's terminology and characteristics.
The simplest method of scrutiny would be testing the display and verifying the screen's colors and brightness. If you've used the phone for 2-3 months, you can easily spot a duplicate display because the brightness will be super dull, and colors will be fully off from what you had before. It is super easy to spot a duplicate display when you turn it on, and even if you are a newbie, drag the brightness slider to maximum, and the truth will come out in a moment. You can easily recognize a duplicate display without diving into the technical details. Your eyes provide the best detection of duplicate screens in the world.
Questions and Answers
Q: What is the price of a Vivo V15 display replacement?

 
The price of a 100% original Vivo V15 display replacement is around Rs 3800-4000. If you buy a first copy screen replacement, then the combo costs about Rs 1500-1600 in India. The first copy screen is a temporary solution and can never match the quality of the original display.
Q: Can I use the same display in Vivo V15 and Vivo V15 Pro?
Many customers are curious to know if they can use this screen in Vivo V15 Pro because the screen of Vivo V15 Pro is very costly. To all such customers, it isn't possible to use the V15 display in V15 pro. The V15 display is an IPS display, while V15 Pro is a Super AMOLED display. Please don't purchase the wrong screens based on your assumption because that will not work, anyway. Both screens have a unique structure, supply and nothing is common between them. Always double-check the model number of your phone before you order a new display.
Q: Is it possible to replace a broken display under the service center warranty?
The official warranty doesn't apply to broken screens. Although all customers know that they can't replace the broken display in warranty, they still intentionally inquire to see if they can benefit from it. A broken display is utterly the customer's responsibility, and the company or anyone else is not responsible for that.
Q: I want to replace only the touch screen glass. Can you help with that?
Our business motto is selling 100% original products, and we don't facilitate the trade of duplicate products. Many customers are looking for only the top layer of glass to replace only the broken glass and salvage their old display. In theory, it is possible, and many technicians in the local market are doing this poor quality job, but it is the worst solution with the following drawbacks :
After glass replacement, the main touch screen glass is no longer protected by Corning Gorilla Glass 5.
If you think you'll buy an original glass separately, that is not possible. The only glass is always a duplicate product.
It is the worst quality solution, so official service centers never even discuss such solutions.
The only glass is worth Rs 100-120, and the technician can easily squeeze around Rs 1500 from you.
It is not a value-for-money deal because you are just throwing away the money.
The glass replacement is short-lived and breaks again in a concise duration.
If you replace only the glass repeatedly, it will cost you even more than the original display.
The glass replacement often fails miserably, and then you've no choice other than to replace the combo.
It is totally your choice to get what you want. We want to clarify that please don't think you are getting gold for the price of silver. You'll always get what you pay for. Technicians suggest the glass replacement because it makes them massive money doing nothing and with no future obligations.
Q: Where can I purchase only the touch screen glass?
You can easily purchase a duplicate glass online, as lots of sites deal in counterfeit parts. If your sole intention is buying duplicate products, better go to the local market, and you'll find tons of guys doing the same thing as you want. There is no point in ordering online when the same stuff is available at your nearby shop, and even for lower prices.
Q: Can you also install the display on my phone? 
We are not doing the installation because we operate as a mobile phone spare parts dealer. To install the display, you must take the help of a technician. It would be better to converse with a technician first about the installation and then place the order. This practice is beneficial to avoid any future hassle regarding installation.
Q: These are fragile parts. How do you pack your parcels? 
We make sure to pack the screens carefully in hard plastic containers accompanied by additional layers of protection. Even after that, we take insurance for each parcel during transit, and you don't need to worry about any in-transit damage. If you are extremely concerned about receiving damaged content, you can always record a small video when you open the parcel. This video will serve as proof in case of any anomaly. So far, we have never had a case of our clients receiving damaged content, and we are 100% sure that you'll get the product in intact condition.
Vivo V15 Display Photos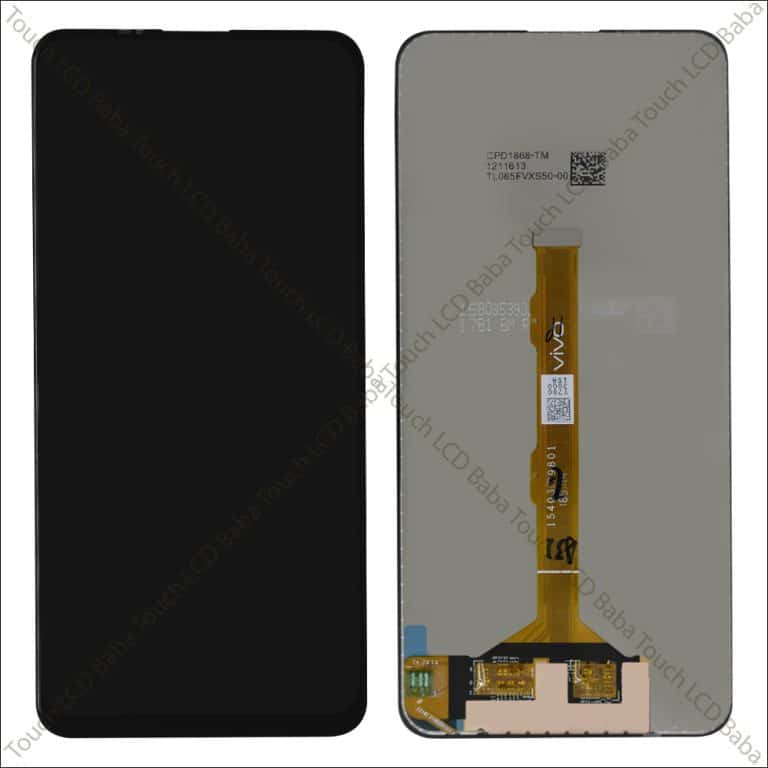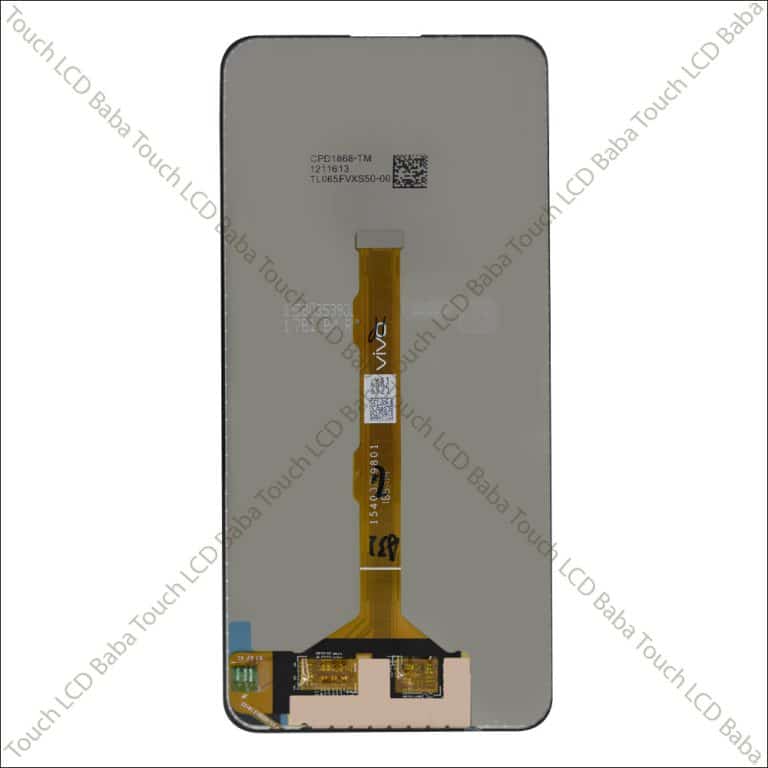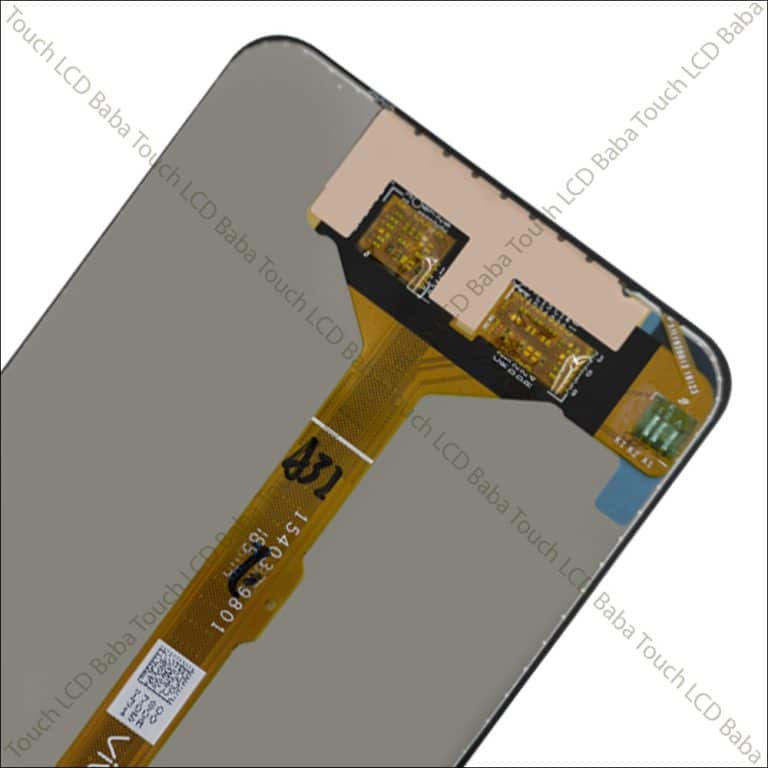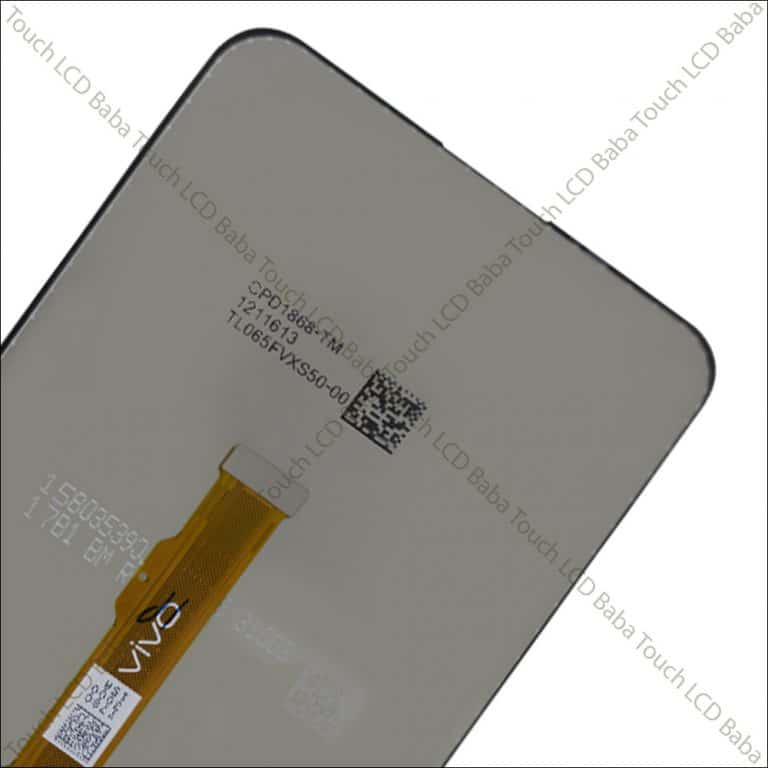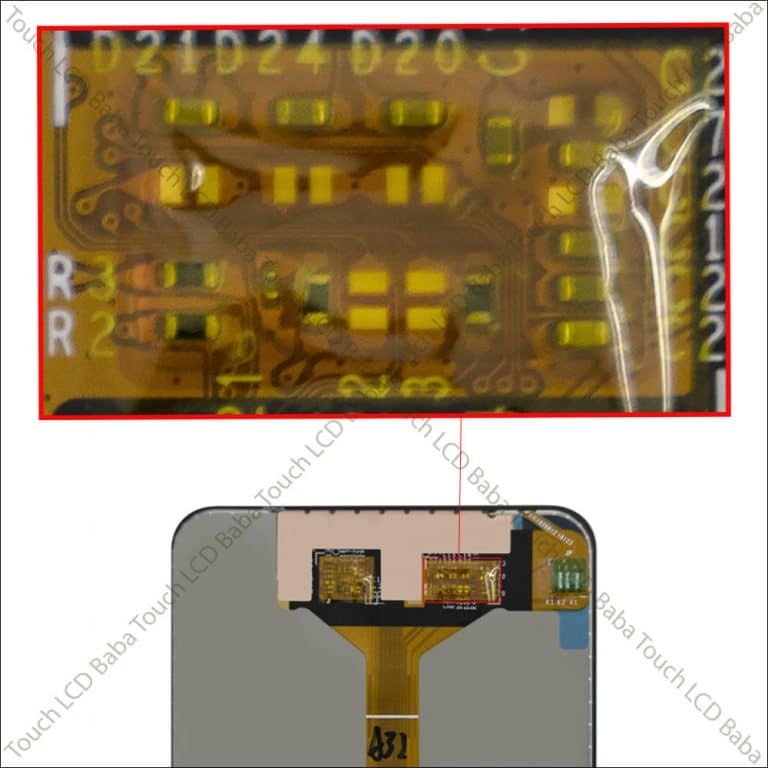 Shipping, Return and Refund Policy
All the products supplied by us come with 30 days return, refund, and replacement guarantee. To return a product, It should be in the same condition as we sent. You can't use or fix the new Vivo V15 display if you want to return them. For complete details about Shipping, Returns and Warranty, please click here.