If you want to buy a 100% original display replacement for Vivo Y56, we have the desired product ready for dispatch. Please note that we don't offer first copies or other rubbish products on Touch LCD Baba, so you should not compare the prices of the original display replacement with the local duplicate products. Many customers inquire in the local market, and when they see our price, they feel like we are selling it for a higher price, but that is not true. A duplicate display is almost half (or less) of the original display's price, and that's normal.
In any real-life industry, you'll find different quality products for different prices. The same concept applies to mobile phone spare parts, and you must differentiate between the aftermarket and the original spare parts. As a layman, you might not know how to identify the original Vivo Y56 display replacement, which is typically an advantage for local vendors. Likely, you've always relied on local spare parts for your needs, but you'll never know the advantage if you don't try.
What is the meaning of the Vivo Y56 display combo?
The Vivo Y56 display combo is a brand-new display unit that helps you replace a broken display, touchscreen glass, or both. A display combo helps you overcome all the display and touchscreen issues easily without any hassle. You take out the broken display unit and replace it with an identical display unit. The quality and feel of your phone stay the same as before if you install an original display on your phone. Please don't get confused by the words like display combo, display unit, display assembly, and folder because all these words refer to the same thing.
After accidental damage, you should always replace the complete display unit and try not to salvage parts from the old display unit. For example, if only the touchscreen glass cracks, you should try to replace the glass alone but always replace the complete display unit. When you replace the original parts with duplicate parts, the quality of your display declines, and you'll not get the original feel and performance.
Here is how customers lose their original display's quality
You get a flawless display unit installed when buying a new mobile phone. Later, when you accidentally break the original display folder and rush for duplicate screens, you trash your phone's display quality. When you install a duplicate display unit in your phone, the usability experience declines considerably because a duplicate display doesn't work like the original. Most customers go to the local market and buy any display replacement without even testing it once. Later, when you use the phone, you'll feel it is not working as desired.
Most customers go to the local market, try the prices with several vendors and buy from the one that offers the lowest price. Around 95% of customers follow the same tactics, and that's how they lose their phone's original display quality. If you replace a broken display unit with a non-original display combo, you'll lose all the display quality and touchscreen smoothness. A duplicate display allows you to use your phone, but you'll face many issues like low brightness, touchscreen malfunctioning, overheating the phone, and other similar problems.
Vivo Y56 5G Display Specifications
| | |
| --- | --- |
| | This display is 100% original, tested, and suitable for Vivo Y56, model number Vivo V2225. |
| | The Vivo Y56 display size is 6.58″, the display type is IPS LCD, and the resolution is 2408 x 1080 Pixels. |
| | You get a complete display and touchscreen combo that is 100% authentic and the same as a factory-fitted display. |
| | We supply 100% OEM screen replacements; you don't have to worry about the quality. |
| | After replacing the display, the display and touchscreen quality will stay at their 100% original levels. |
| | You'll not face any issues with colors, brightness, or any other aspect of the display combo. |
| | You can also test and verify the new display on your phone before pasting it. |
| | You will not face touchscreen lags or low brightness issues with the original display. |
| | We securely pack the new screens in hard plastic boxes with additional protection. |
| | You can order the product from anywhere in India, and we'll deliver it to your doorstep. |
| | You can order the product using Cash on Delivery or Online Payments (10% discount). |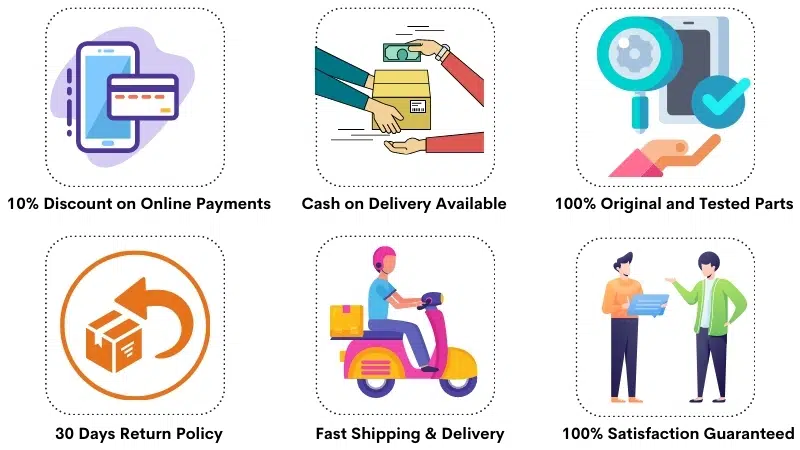 Frequently Asked Questions
Q: How much does replacing a broken Vivo Y56 display in India cost?
The price of a 100% original Vivo Y56 display replacement is around Rs 2800-3000. If you buy a low-cost display, you can get one for Rs 1200-1400, including installation, and settle for 50% quality of the original display. Please note that cheaper products don't offer the original quality, and you must compromise on many fronts and face additional hassle.
Q: How would I confirm the new folder's working condition?
It is a good question, and we'll happily explain it. Please note that verifying the working condition of a new display is a mandatory procedure everyone follows. Before assembling the display, you can easily test the new Vivo Y56 display's working condition by connecting it to your phone's motherboard in an open condition, and it is a foolproof method.
You should connect the new display's flex cable to your phone's motherboard in open condition, and you can use the new display without any guesswork. You can see the brightness levels, check the vividness of colors, and use all the touchscreen functions. When you are satisfied that everything works as desired, you can proceed with the final installation.
Q: I'm afraid about receiving a damaged display in the parcel. How can you assure me?
You'll never receive a broken display inside the parcel because we pack your order safely in rigid plastic boxes. Still, any damage during transit is the seller's responsibility, and you'll never bear any loss. To avoid damaged product issues, you should always record an unboxing video.
If you receive anything damaged inside the parcel, please share the unboxing video with us, and we'll send a new product to you for no charge. Please always record the unboxing video when you unbox the parcel for the first time so that everything looks crystal clear, and that would help us with a quick resolution.
Q: Isn't it possible to replace only the touchscreen glass?
If the original display combo is partially broken and the inner display is safe, you might consider replacing only the broken glass. It is possible to replace the broken glass, but it is not a standard solution. It is a temporary solution to resolve the problem, similar to duplicate screens. A glass-replaced display is a refurbished product; you'll not get the desired display quality.
Please also note that glass replacement is manual, and mobile phone technicians are not responsible for the outcome. They can try to replace only the glass; if that succeeds, they will charge money; otherwise, they will damage your display and return it to you. Most cases of glass replacement fail miserably, and replacing the complete folder becomes mandatory. Therefore, glass replacement is possible but not as good as replacing the complete display unit.
Q: What are the significant differences between an original and a duplicate display?
You might not know that original display is what all customers seek but can't buy it because of its high price. For this reason, third-party manufacturers have created duplicate products to cater to the need of all customers. Here are the most significant differences between the original and a copy product :
A duplicate display's brightness is around 50% less than the original.
The original touchscreen glass is solid and can take minor drops, but a copy glass breaks easily.
You must replace the duplicate display 2-3 times yearly and still sacrifice the quality.
Buying a duplicate display significantly reduces the resell value of your phone.
You get half the quality if you pay half the original display's cost.
Your phone becomes unreliable because a duplicate display can go bad anytime.
Please note that duplicate display is not something customers buy happily. They buy it because there is no other option and they must use the phone. If a customer would not have budget issues, he will always buy the original display replacement. Customers who buy duplicate screens ask the seller if the low-cost product is original, so you can understand what they expect. If you can afford the investment in the original display, you shouldn't look sideways but instantly buy an authentic product without any second thought.
Q: I bought a duplicate display, but it broke easily. Why?
You can't prevent your phone from accidental skids, and if you're using a non-original display, even a slight blow is enough to damage the display. Please note that low-cost screens are not durable; manufacturers use the lowest quality raw material to create such products. If you drop the phone having non-original glass, the display will shatter in a few seconds, and then you must replace it again.
Many customers who have bought duplicate screens complain that durability and quality are so bad, and they feel like they made a wrong decision. If you buy a counterfeit display, its durability is nowhere near the original, so it is sold cheaply. Such products are not designed to last long, and you've to invest in such products repeatedly and waste a lot of money. Considering two similar situations when your mobile phone drops, the original display will not break, but the duplicate one will break easily.
Q: What is the source of the original Vivo Y56 screen replacements?
The original display replacement comes from OEM factories that make/supply original screens to the parent company. These factories also supply screens in the open market, but almost no one buys them because of their high price tag, and that's why such screens are not easily available in the open market. As customers want economic solutions, most of them will not buy OEM screen replacements.
We at Touch LCD Baba deal with millions of customers, many of whom need original screens without compromising quality. We source our stock directly from OEM manufacturers and provide mesmerizing quality products to our customers. Please don't assume the original screens are unavailable anywhere except the service center. Original screens are readily available if you have the buying capacity, and you can buy them right from the comfort of your home.
Q: Can I return a display if it doesn't work? Do you test it before shipping?
Yes. You can easily return a display if you face any issues during the testing phase. After delivery, you'll surely test the display, and if you face any issues, like the display doesn't light up or the touchscreen doesn't work, you can easily return to us. Please note that it is impossible to return used/installed screens, so you should always maintain the brand-new condition of the product.
We always test a new display before shipping it to our clients. Occasionally, unforeseen compatibility or hardware issues can occur, so you should test the display. In 99.9% of cases, you'll not face an issue. If you've some issue with your phone or battery, it is elementary to return a product in the same condition as it arrived.
Vivo Y56 5G Display Photos
The display combo on this page suits Vivo Y56, model number Vivo V2225. This display folder can replace a broken display or touchscreen glass. For any questions about the product, please call us at 9587954273; we'll gladly assist you.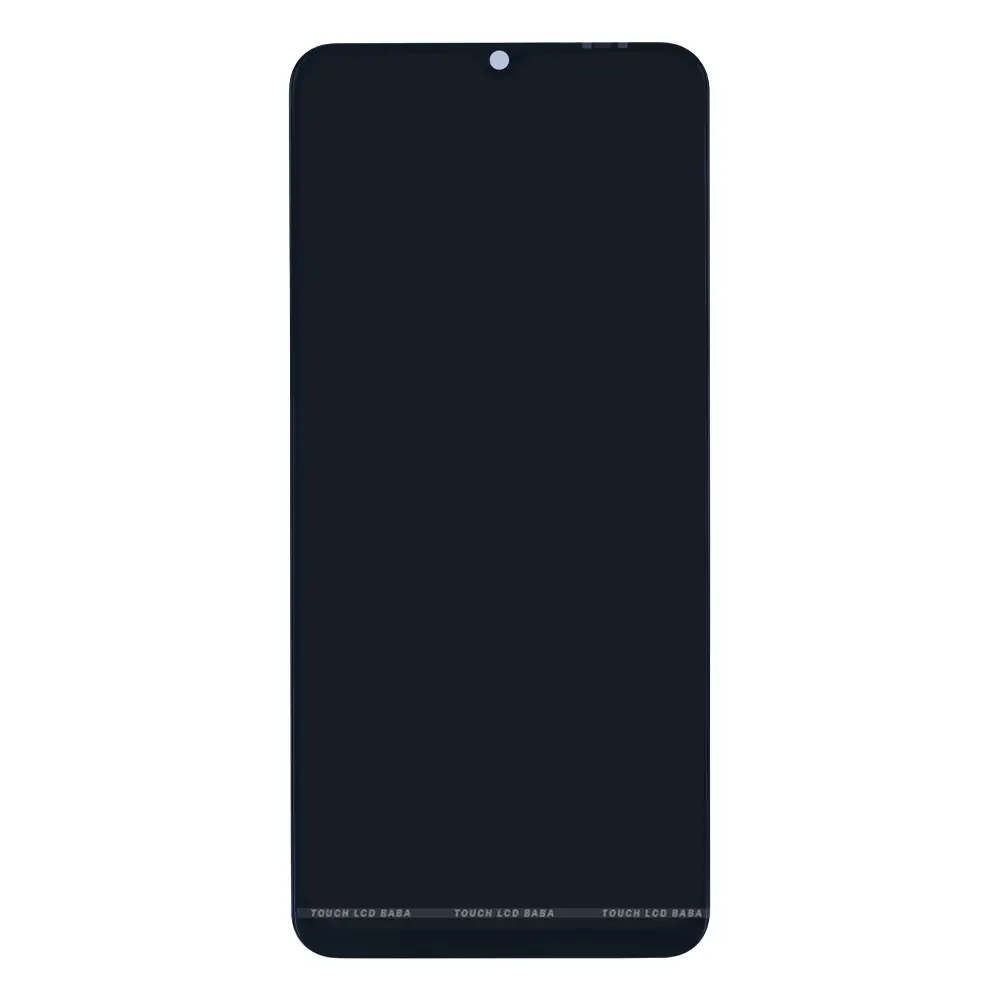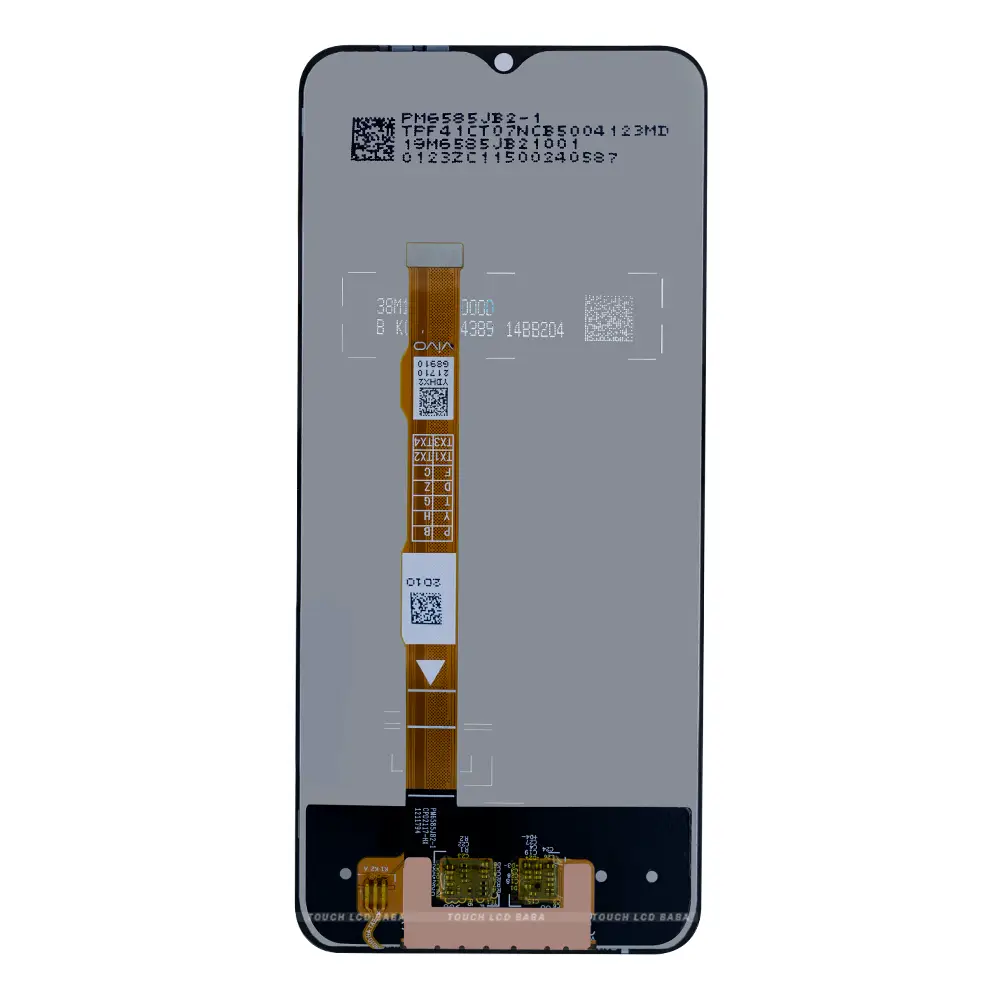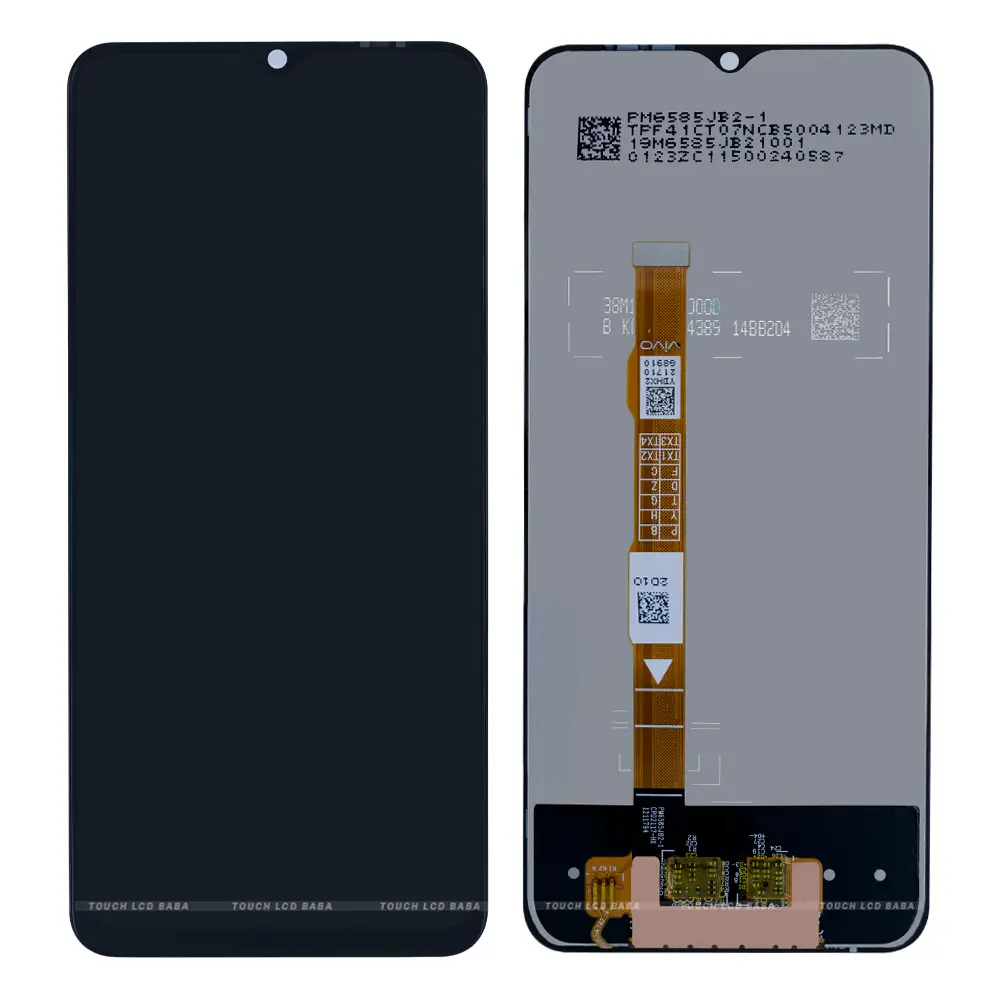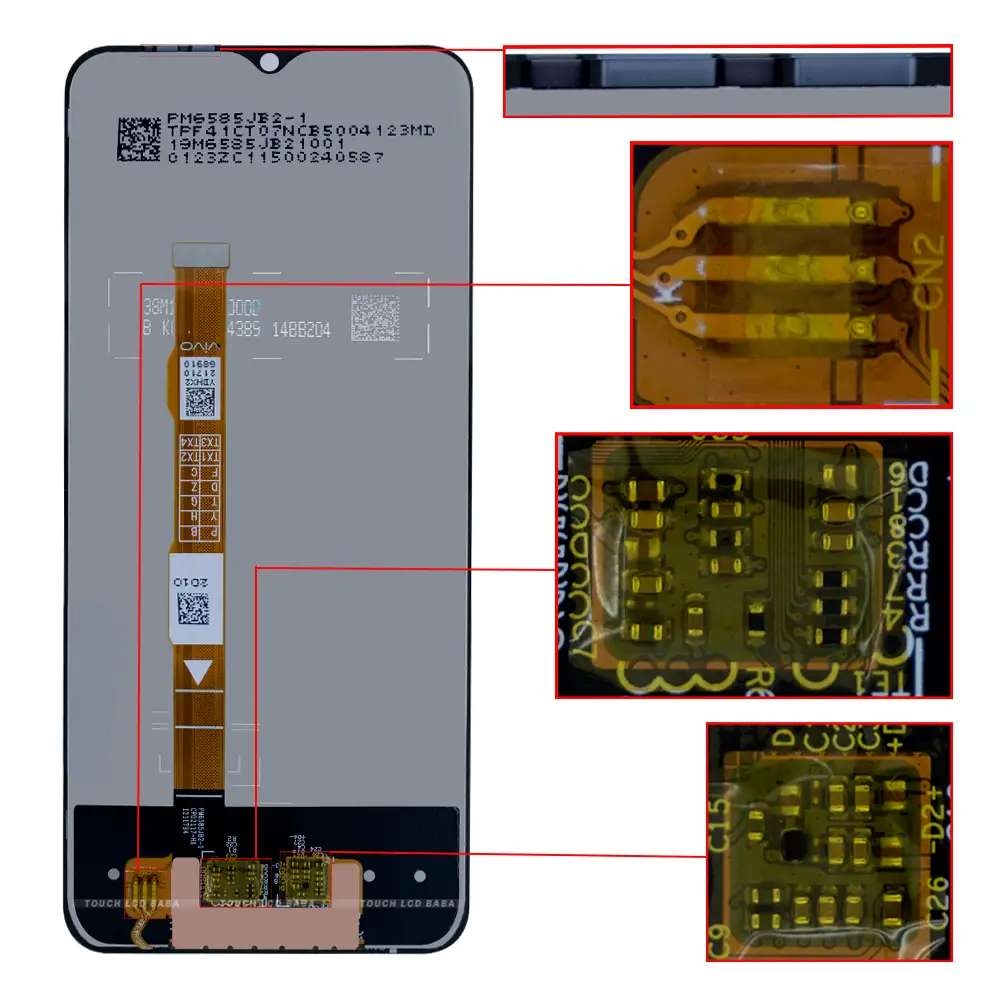 Shipping, Return and Refund Policy
All our products come with 30 days return, refund, and replacement guarantee. To return a product, It should be in the same condition we sent. You can't use or fix the new Vivo Y56 display if you want to return it. For complete details about Shipping, Returns, and Warranty, please click here.