If you are in pressing need of the Asus Zenfone Max Pro M1 combo, we can help. On this page, we offer a 100% original display combo of Zenfone Max Pro M1, which is the need of the hour. This display replacement can help you overcome the problems and return your phone to its normal working condition. The Asus Zenfone Max Pro M1 model number is ASUS_X00TD OR ZB601KL, so you need to make sure you are ordering the display for the right model number.
What is the meaning of the Asus Zenfone Max Pro M1 Display Combo?
The spare part available on this page is a complete combo set of display and touch screen digitizer glass. In easier words, the display and touch screen both parts are joint into a single unit, and this unit is called a combo or folder. This combo works perfectly in all variants like 3GB, 4GB, and 6GB because the display is always universal.
The new combo is the identical replacement of what you broke. So you need to take off the broken screen from your phone and fix a new one in place of it. The replacement of the combo is fast, easy and you can easily mend the broken screen in no time. If you've ever wondered how service centers replace a broken display, they also replace the combo as we are suggesting.
How Do We Test Each Zenfone Max Pro M1 combo?
Do you want to see how we test each display unit of Zenfone Max Pro M1? If you are doubtful about receiving a defective or non-working product, we want to emphasize that it's never going to happen. It is because we test each combo manually before shipping it to the customer. It is a regular testing procedure for us, which we follow very strictly.
Is it good to replace only the touch screen glass without replacing the display?
In most cases of physical damage, you will end up damaging only the touchscreen glass, and the display will stay intact. However, as that touch screen glass attaches to the display, you need to replace the complete display unit altogether. If you replace the complete display unit, you get the original display quality with no compromise.
Many customers are looking for hacks to repair the phone for the least money, and such customers try to assess the possibility of glass replacement. The glass replacement is undoubtedly possible, but It is for customers who don't care about the display quality.
The glass replacement is also a thriving business in the local market because technicians can easily sell a glass worth Rs 40 in Rs 800 to the customer. The cost to a mechanic is Rs 40, and the remaining amount they charge accounts for labor charges and is a pure profit for them. That is why glass replacement is the most popular and always advocated by mechanics. Customers also feel gratified because they pay less money to repair the broken Asus Zenfone Max Pro M1 display.
How can the glass replacement be a self-reproaching decision later?
The glass replacement is not suitable for customers who can't digest the quality compromise. If you replace only the glass in the market, you can expect a 40% degradation in display quality, colors, and brightness. Once you get the repaired phone in your hands, It will look messy and strange. You won't feel like you've bought something new, and this screen replacement will not be commendable.
These are some widely noticeable flaws after Asus Zenfone Max Pro M1 glass replacement :
Due to overheating, specific segments of the display may turn yellowish.
The brightness will take a hit accompanied by a different color tint in the display.
The overall picture quality and sharpness of the display will be nowhere the same as before.
Often, dust particles, strange glue spots will remain as a permanent part of the display.
The replacement glass used by mechanics is not the toughened glass, and you can expect it to break again very soon.
The touch screen will not work as smoothly as before, and gestures may stop working altogether.
It is not possible to describe all the flaws because there are so many of them. So if you want to save a few hundred and don't care about the outcome, you can try your hands on glass replacement. If you want to retain the same quality as before, buying the original Asus Zenfone Max Pro M1 display is the only choice.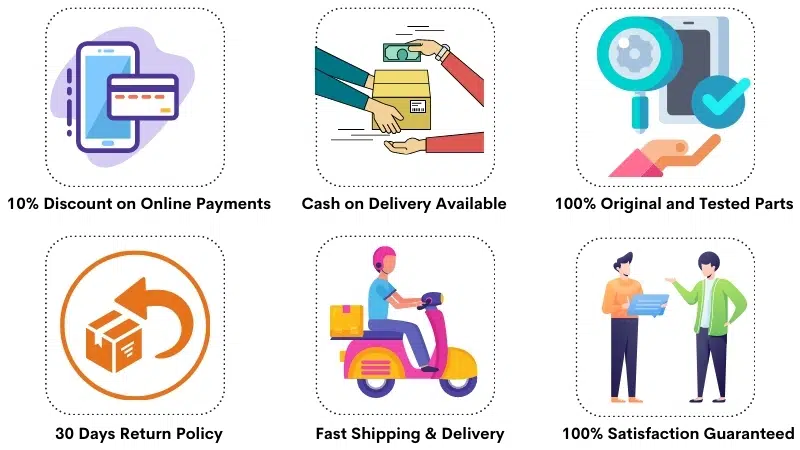 Zenfone Max Pro M1 Combo Specifications
| | |
| --- | --- |
| | This display is 100% original, tested and suitable for Zenfone Max Pro M1 having the model number ASUS_X00TD. |
| | The Zenfone Max Pro M1 display size is 5.99″, display type is IPS LCD and resolution is 1080 x 2160 pixels. |
| | It is a complete unit of display and touch screen glass combined together in a single unit. |
| | The combo offers 100% original colors, brightness and sharpness as before. |
| | The main touch screen glass is protected by hardened 2.5D Curved Glass. |
| | We make sure to test each combo for 100% perfect working before dispatch. |
| | This combo is suitable for all Variants of Zenfone Max Pro M1. |
| | We back our products with a solid 30 days return, refund and replacement guarantee. |
| | You can easily connect the display to your phone and verify the working condition before fixing it. |
| | The stock is readily available and shipping within 24 hours after confirmed order. |
| | You can order the combo using Cash on Delivery or Online Payments. |
Frequently Asked Questions
Q: What is the price of the Asus Zenfone Max Pro M1 display combo in India?
The price of a 100% original Zenfone Max Pro M1 display replacement is around Rs 3300-3500. If you buy a first copy screen replacement, then the combo costs about Rs 1100-1300 in India. You may have to pay additional repairing charges on top of the display's price to a mechanic.

Q: Can you help me buy only the glass without the display?
We are neither selling nor doing the glass replacement on our premises. So we don't have only glass available because, in our view, It is not the recommended approach. If you want to buy only the glass, you will find tons of other websites offering cheap quality solutions, but we are not.

Q: My phone is still in warranty. Does it help?
Having a broken phone in the warranty is useless and will not help you in any way. The warranty protects you from malfunctions appearing automatically, and the claim any warranty, the device should be in a fully sealed condition.
So If you think that you can claim a broken Zenfone Max Pro M1 display in warranty, It is a castle in the air. You can ask the service center to replace the scratched display, but you've to pay the hefty price as per their price list.
Q: How much time do you take to process the order? 
Mostly, we send off the parcels on the same day If the order comes before 7.00 PM. After shipping the parcel from here, It takes another 3-4 days for the parcel to reach the destination, and then It is delivered to the customer. So the normal delivery time is 3-4 days. We can deliver within 48 hours to some metro locations, but the average delivery time is 3-4 days.
Q: What If the new Zenfone Max Pro M1 combo doesn't work on my phone? 
Please note that mobile phone screens are mutual and work equally on all phones having the same model number. So If you buy a display for Asus Zenfone Max Pro M1, we test the screen on the same phone's motherboard in our testing unit. If the display works perfectly on our device, it will also work perfectly on your device. That is because we test the screen on the same phone as you use.
Still, we support the customers with a 30 days return, refund, and replacement guarantee. We accord you to test the Zenfone Max Pro M1 display on your phone in an open condition. When you are satisfied with the performance and working condition of the spare part, you can affix it to your phone. You can see the testing video higher up on this page to learn how to test the display without fixing permanently.
Q: Do you accept returns if the display is not working? 
Yes. We offer a 30 days return and replacement policy on all our products. Please note that you can't return a product in used condition, but that indicates you tried to fix the product on your phone, and something went awry during the fitting process.
You are allowed to test a product in an open condition and make sure everything is working alright. Only after verifying the working condition yourself, proceed to the next step. If you face any problems during testing, you are entitled to a return, refund, or replacement.
Q:

From where you buy the new stock of screens?
We source our screens from OEM (Original Equipment Manufacturers), who build these screens for the actual company. So these screens are not third-part manufactured but guaranteed original. These screens are costly in terms of price, but the quality and durability are simply perfect. This screen is guaranteed to provide 100% satisfaction for the money you spend on the screen replacement.
Q:

How can I replace the Zenfone Max Pro M1 display at home?
Many customers are willing to replace the screen at their home, but we don't commend such an approach. The display replacement of Zenfone Max Pro M1 is not backbreaking by any means, but still, it requires some inherent knowledge of mobile repairing. If you are a first-timer, you shouldn't try this at home because watching a repairing video and repeating it in the same way yourself is not easy. You can proceed with a self replacement only if you are 100% sure about your natural endowment.
Shipping, Return and Refund Policy
All the products supplied by us come with 30 days return, refund, and replacement guarantee. To return a product, It should be in the same condition as we sent. You can't use or fix the display if you want to return it. For complete details about Shipping, Returns and Warranty, please click here.