A broken Gionee X1 display can be easily replaced with a new combo. The meaning of combo is a complete set of display and touch screen glass. When both these parts are combined together, the finished product is called a combo or folder. You can use this combo to replace a broken LCD or touch screen glass. The part we offer is 100% original, tested, and comes with a money-back guarantee. In local markets, first copies available for a low price, but the quality is horrible in terms of color reproduction, brightness, and durability.
What is included in the Gionee X1 Display With Middle Frame?
The combo you see on this page consists of the display, touch screen glass, and the middle frame. You can interpret this product as the front half part of your phone in brand new condition. If your mobile phone's screen is smashed and the outer casing of the display is also cracked, then you should buy the Gionee X1 combo along with the middle frame.
If you are confused about what is the middle frame, we will try to illustrate this for you. The outer frame is also called an outer ring or front side frame of the display. This frame is responsible for holding the display securely in place. It is like a base for pasting the display, and when the accidental damage is beyond normal, the frame will also break apart. In such a situation, you can't affix a new display in a broken frame because the middle frame is not in the right shape, and the display will not stick properly.
In the above condition, you must buy the display along with the outer casing so that you can correctly repair the phone. You can see the actual product photos to understand how the part looks like. This part comes with an LCD display, touch screen, and the middle frame.
Do I always need the screen with the middle frame?
In the mobile phone parts industry, the parts that come along with the middle frame are considered the best. If you visit an official service center, they will always replace the display along with the frame. It doesn't matter if the frame is broken or not, replacing the display with frame is a standard quality protocol which is never followed by the technicians in local markets.
It is also true that the frame is not an essential requirement in all cases, but there is nothing better than a display with the outer frame. If you want to purchase the display without the frame, you can visit this page. Some customers are ready for any level of compromise, and they buy the first copy from local markets, which comes as low as Rs 800-1000. However, if you are concerned about the quality and durability of the screen, then the Gionee X1 display replacement on this page is the best option for you.

Can I install the display myself at home?
Yes, you can install the Gionee X1 screen at home, provided you have got the basic skills of mobile repairing. You don't need to be a techie to install the display as this phone is very easy to repair. Likely, you don't have an idea of how this works, so before you start, always visit YouTube and watch a relevant video to get the basic outline of the display replacement.
Then you can replace the broken Gionee X1 display at home using the basic tools like a screwdriver, and that's all you need. Start opening the mobile slowly and don't rush for anything. Take your time to understand how to open the phone, and you are all set.
Where should I purchase the display, online or offline?
Gionee X1 is a very common model, and its screens are readily available almost everywhere. But all those are first copy duplicate screens which everyone is buying. Such screens are very common as they are cheap but very fragile and offer very low quality if you compare them with the original one.
Lots of sellers are selling the same first copies online and marketing them as originals. If you are easily attracted to a low price and buy those screens, you will be deceived as the quality is very poor. So, you need to pay attention to the quality regardless of if you are buying online or online.
On Touch LCD Baba, we offer 100% original parts and indeed our prices are high but we offer top-notch quality. Our customer satisfaction rate is nearly 100% and we don't want to obliterate our reputation by selling cheap duplicate parts. If you are fed up of low-quality spare parts, give us a try and you'll love the experience.
Product Description
| | |
| --- | --- |
| | This is Gionee X1 display and touch screen combo with the outer frame. |
| | Gionee X1 display size is 5″, display type is IPS display with HD resolution of 1280 x 720 Pixels @294 PPI density. |
| | We test each screen manually on Gionee X1 motherboard for 100% perfect working before shipment. |
| | The combo is already fitted in the middle frame and manual pasting is not required. |
| | This is exactly the same folder as it comes with a brand new phone. |
| | We back our products with 30 days replacement, refund and return guarantee. |
| | We ship your parcel via premium courier services like Bluedart, Delhivery and Ecom Express. |
| | You can return or get a refund if you face any issues with the product. |
| | All the parcels are insured during transit so you don't need to worry about in-transit damage. |
| | The stock of Gionee X1 display is readily available and turnaround time is very fast. |
| | We offer Cash on Delivery services all over India. Additional 10% discount on online payments. |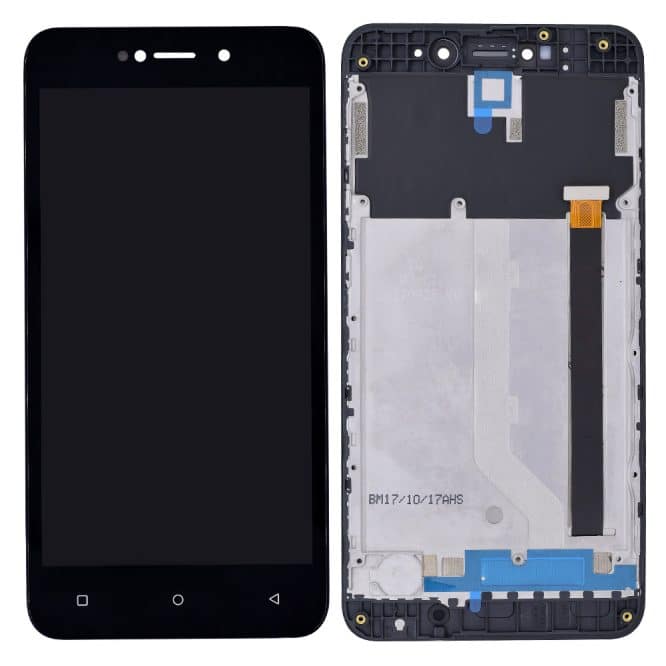 Frequently Asked Questions
Q: How much does it cost to replace a broken Gionee X1 display screen in India?
The 100% original display of Gionee X1 costs approximately Rs 2000-2200. If you want a temporary display replacement, you can purchase a first copy screen for Rs 800-1000 from local markets. The price of Gionee X1 screen replacement always depends on the quality you buy.
Q: Is there any warranty on the broken screen of Gionee X1? 
If you drop the phone and that results in damage, you can't take the phone to the official service center and replace the display for free. That is because the warranty is applicable only for manufacturing defects and other problems which can not be influenced by the customer in any way. If you drop the phone and damage the screen, it's your fault, and you've to pay the price for display replacement.
Q: How can I replace only the touch screen glass without replacing the combo? 
We don't sell or recommend only glass replacement due to quality issues. If you are not aware of this fact, try your hands on only glass replacement, and you'll see the quality issues. Those issues are spots inside the display, dead pixels, reduced brightness, and other similar things, which will result in poor user experience.
It is possible to replace only the glass, and In fact, lots of mechanics are replacing only glass in local markets. This is because they want to make quick money by selling duplicate parts to customers. As such jobs are easy to carry, and customers also love low prices, its a very thriving business as of now. However, we strictly follow quality standards and don't deal with subpar stuff.
Q: Where is the official service center of Gionee? 
Many customers ask us about the location of the official service center in their city so that they can contact the service center for repairs. We want to make this clear that we are not connected to the Gionee Service center in any way, and we don't have any of their address. If you want to visit the official service center, try searching for relevant information online. We are not the right person to contact for any service center related inquiries.
Q: Do you have any cheaper options available as I don't want to spend so much money?
All customers don't have equal budgets, and if you want to repair your phone at the lowest possible price, you might want to visit local market / local technicians for that. There are china copy screens available for Rs 800-1000, but you can't expect quality. If you want a 100% original screen, you can buy it from us.
Q: What are the common drawbacks of a first copy display? 
The only good thing in a first copy display is its low price. The first copy display comes with very poor brightness, incorrect color reproduction, stiff working touch screen, ghost touching issues, and other unforeseen problems. We don't advocate for purchasing first copy screens due to considerable quality problems.
Q: How can I return the product if it is defective? 
We always test the screens before we send them off to our customers. The testing is carried out on the same phone as you are using, i.e., Gionee X1. So the chances of receiving a defective product are ruled out even before the shipment. Still, customers always worry, and we offer a 30 days replacement and return period in case you face any issues on your end.
Q: In case of any return, will you pick up the product, or I have to ship it? 
You don't have to ship it to us as we will arrange a pickup from your address. In rare cases, when there is an unforeseen issue with our courier partners, you might need to ship it to us, but we'll pay the courier charges to you.
Q: Can you take my broken screen and give a new one to me for free? 
We face many customers looking for a free display. A broken screen is usually useless and this is why you are replacing it. We don't take your broken screen as It is fully useless. To buy a new Gionee X1 display, you have to pay the full amount.
Shipping, Return and Refund Policy
All the products supplied by us come with 30 days return, refund, and replacement guarantee. To return a product, It should be in the same condition as we sent. You can't use or fix the items If you want to return. For complete details about Shipping and Returns, please click here.