If you want to buy a 100% original display replacement for the Huawei Nova 7i phone, you've reached the right page. We assume that you are dealing with a broken display or touch screen digitizer glass and can't use your phone properly. If so, then you can easily resolve these problems by replacing the Huawei Nova 7i display combo.
The Huawei Nova 7i display combo consists of an IPS LCD and the touch screen digitizer glass. You don't need to think about replacing the parts individually as you get a complete set of display and touch screen glass. In many cases, only the display or the glass breaks, and customers try to replace individual parts, a waste of time and money. In case of any damage to the glass or the display, you should always replace the complete display unit.
What are the model numbers of the Huawei Nova 7i?
The model number of the Huawei Nova 7i phone depends on where you bought it. Huawei didn't launch this model officially in India, and you must have bought it overseas. To verify the model number of your device, you should navigate to the Settings-->About section of your phone. The supported model numbers are :
JNY-L22B
JNY-L21A
JNY-L01A
JNY-L21B
JNY-L22A
JNY-L02A
JNY-LX2
Please check verify the model number of your device before placing the order to avoid any issues later. Customers often order the wrong display for their phone, resulting in additional hassle for the buyer and the seller. If you've any doubts, please contact us at 9587954273.
I bought the phone overseas. Can I use this display?
Almost all people who own this phone in India have bought it overseas. Huawei didn't launch this phone officially in India, and we are aware of this fact. If you have a double that the display on this phone might not work in your phone because you bought the phone overseas, please don't worry. We have already sold this display to countless customers having the Huawei Nova 7i phone, and none of them had any issues. Therefore, you shouldn't worry about incompatibility issues.
Huawei Nova 5i Display Details
| | |
| --- | --- |
| | This is 100% original and brand new combo of Huawei Nova 7i. |
| | You can use this display with all Huawei Nova 7i phones regardless of the origin country. |
| | Huawei Nova 7i display size is 6.4″, display type is IPS LCD and resolution is 1080 x 2310 pixels @398 PPI density. |
| | Our testing engineers test each display for 100% flawless working before dispatch. |
| | The new Huawei Noa 7i display offers 100% original colors, brightness and sharpness. |
| | You can easily test and verify the working condition of new display before installation. |
| | Our products come with 30 days returns, refund and replacement guarantee. |
| | We take insurance for all the shipments during transit for our customer's safety. |
| | The combo is readily available in stock and shipping time is very fast. |
| | We offer Cash on Delivery and online payments (10% extra discount). |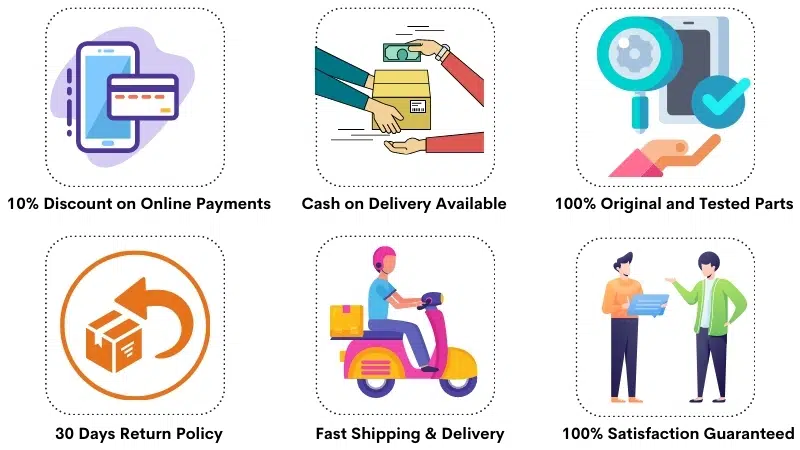 Frequently Asked Questions
Q. How much does it cost to replace a broken Huawei Nova 7i display in India?
The price of a 100% original Huawei Nova 7i display replacement is around Rs 3800-4000. If you buy a duplicate Huawei Nova 7i screen replacement, the combo costs Rs 1800-2000 in India. Please note that original and duplicate products have a difference of around 50% in quality.
Q. Can I purchase this display from the Huawei service center in India?
To the best of our knowledge, Huawei didn't launch this phone officially in India, and you won't find its spare parts in the service center. Some customers reported this fact to us when they went to the official service center and couldn't find the desired display there. You can visit the authorized Huawei service center in India and inquire about this yourself.
Q. Who will install the Huawei Nova 7i display if I purchase it online?
It is easy to install the new display, and you can find competent technicians almost everywhere. Please note that the mobile phone market has grown exponentially, and many customers need to replace their screens every day. Because of this demand, you can find mobile phone repairing shops almost anywhere. Before ordering the display online, you should talk with a technician regarding installation. After making the necessary installation arrangement in advance, you can order the display and easily install it after delivery.
Q. How can I test and ensure the working condition of the new display?
After receiving the product, you can easily test it with your phone to ensure its working condition. To do that, you don't even need to install the display on your phone because it is possible to try the display without assembling it permanently. Follow these steps :
Open the phone and access the motherboard.
Gently eject the old display's connection and connect the new display in the right direction.
Turn on the phone, and you can use the display like it's assembled on your phone.
Please note that you don't need to remove the old broken display to test the new display. You can connect the display to the motherboard on the rear side itself, and that's how the open condition testing works. If you've any questions, please contact us at 9587954273.
Q. What if the new display doesn't work upon testing?
Before we ship the Huawei Nova 7i display to you, we test it for 100% flawless working and then dispatch it. If you face any problems while testing the display, you can always report those issues to us, and we'll be more than happy to assist you further. Our 30 days replacement guarantee protects you from all such cases. To be eligible for this policy, you can test the display on your phone, but you can't install it. You can no longer return/replace the product after installing the display or removing its screen guard; you can no longer return/replace the product.
Q. Do you have only the touch screen glass without the display?
We are sorry but only touch screen glass isn't available with us. Some customers need only the glass because they want to replace only the broken glass and reuse the existing display, which is safe yet. The touch screen glass replacement is possible, but it is a low-quality solution. You can find resources for glass replacement in the local market because that's the most prominent place for duplicate spares.
The only touch screen glass of the Huawei Nova 7i phone costs only Rs 100, but technicians usually charge Rs 1000-1500 for such operations. The sole reason behind glass replacement's popularity is the potential of making money, and that's why technicians are so vocal about this solution. A glass replacement gets you a refurbished display, not the original brand new product.
Q. What if the new Huawei Nova 7i display arrives in broken condition?
We take full responsibility for any damage during transit, and you don't have to worry about anything. Some customers have asked if they can open the parcel, take out the content and then pay, but we don't allow open delivery. You can take the package only after paying and record a complete unboxing video. This unboxing video will serve as proof in case of any anomalies.
We want to ensure that our packing is very safe and that you won't have such issues. Still, we take responsibility for that, but a proper unboxing video is a must to claim a broken display. Without an unboxing video, we can't do much in this regard.
Q. How much should I pay a technician for installation?
The average installation charges are Rs 200-300, a justified amount. Anything more than that is excessive, and in some places where technicians are not available, some opportunist technicians tend to charge nearly Rs 500 for installing the display on your phone. Therefore, you should always make the necessary arrangements to install the display in advance and then order the product.
Shipping, Return and Refund Policy
All the products supplied by us come with 30 days return, refund, and replacement guarantee. To return a product, It should be in the same condition as we sent. You can't use or fix the new Huawei Nova 7i display if you want to return it. For complete details about Shipping, Returns and Warranty, please click here.