Many customers need an outer frame/bezel for the Huawei Nova 7i phone, but it is a hard-to-find product in the local market. You might want to change a frame for several reasons; the most prominent is extensive damage to your device. If your phone cracks badly and the front side chassis also bends, you can't install a new display inside it, and that's a very common problem. Anytime the damage is beyond normal and impacts the front side body of your phone, you need a display combo with the outer frame.
Please note that the outer frame is a vital part of your phone; if it breaks, it is impossible to install a new display. A display doesn't have a base but uses a frame and sticks inside it. If the base is not in the right shape or curved from the middle, the base becomes uneven. As a mobile phone display is always even, you can't assemble/paste it in a damaged frame, and that's why you compulsory need a new frame to fit the display. On this page, you can buy the Huawei Nova 7i display replacement along with the outer frame and get answers to all the questions.
How does the Huawei Nova 7i display combo with the middle frame help?
The middle frame is the display's backbone and is required when the damage is beyond normal. If you smash your phone on a wall, its display will break, and the middle frame will also deform to some extent, which happens in many cases. You can't buy a display combo and assemble it inside the broken frame in such cases. That's because you can't paste the display if the surface of the frame is uneven. In such scenarios, the outer frame is a life savior and helps you overcome the problem.
When you buy the new display unit accompanied by the outer frame, you get the front portion of your phone in new condition. You get the display and touchscreen glass pre-assembled in the frame, and you can easily eliminate all the damaged old material. You must shift the motherboard, battery, and other hardware parts inside the new frame. You can easily restore 100% life of your phone without making any quality compromise.
Is buying a Huawei Nova 7i display with a middle frame a must?
You don't need the outer frame if you drop your phone and break the display or touchscreen glass. You must buy a display with the frame only when the damage is extensive, and the old frame is unusable. In all other cases, when the old frame is immaculate, Buying the display with the outer frame is not essential. You can use the old frame and properly stick the display inside it.
Moreover, the official service center always replaces the display combo with the outer frame; hence, it is considered a standard protocol. Even if the old frame is good, they will not reuse it. For this reason, many customers buy the display with the frame regardless of their old frame's condition, and this decision depends on how much you're willing to invest. The benefits always surpass a without-frame display combo if you buy a with-frame display.
Huawei Nova 7i Display With Frame Specifications
| | |
| --- | --- |
| | This display is 100% original, brand-new, tested, and suitable for Huawei Nova 7i. |
| | This display works in all variants of Huawei Nova 7i regardless of the origin country. |
| | Huawei Nova 7i display size is 6.4″, the display type is IPS LCD, and the resolution is 1080 x 2310 pixels @398 PPI density. |
| | You get a display and touchscreen glass combo along with the middle frame. |
| | We offer a 100% original display with 100% original colors, brightness, and sharpness. |
| | It is very easy to test and verify the working condition of the new display before installation. |
| | Our products come with 30 days returns, refund, and replacement guarantee. |
| | You don't need to worry about transportation damage as all parcels are insured in transit. |
| | The combo is readily available in stock, and we can ship the orders quickly. |
| | We offer Cash on Delivery and online payments (10% extra discount). |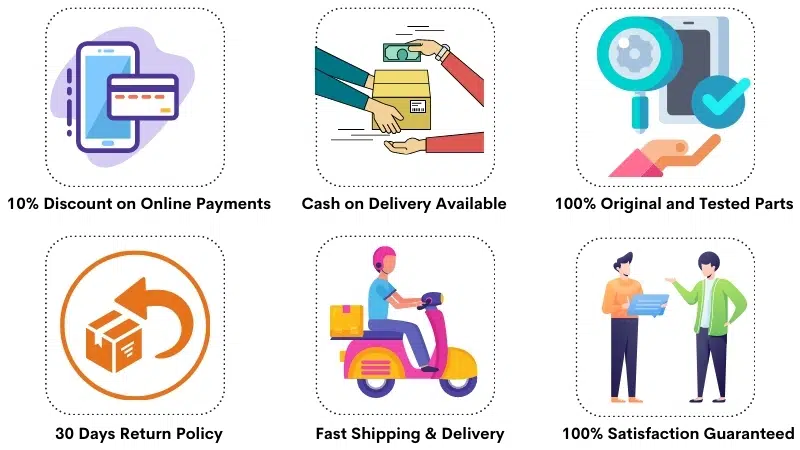 Frequently Asked Questions
Q. How much does replacing a broken Huawei Nova 7i display in India cost?
A 100% original Huawei Nova 7i display replacement with middle frame costs around Rs 5300-5500. If you buy a duplicate Huawei Nova 7i screen replacement, the combo costs Rs 1800-2000 in India, but you'll not get a frame along with it. Please note that original and duplicate products have a difference of around 50% in quality.
Q. What are the supported model numbers of Huawei Nova 7i?
We know that Huawei didn't launch the Nova 7i phone in India, and you must have bought it from any other country. Most customers bought this phone overseas but need the display replacement in India. If that is the case, you might think that a display sold in India might not work on your phone, but that's not true. This display is 100% suitable for Huawei Nova 7i, and  the supported model numbers are :
JNY-L22B
JNY-L21A
JNY-L01A
JNY-L21B
JNY-L22A
JNY-L02A
JNY-LX2
You can check your phone's model number by clicking Settings-->About section. The model number should match one of the model numbers we've listed above. You can always contact us if you find any discrepancies, and we'll guide you in the right direction.
Q. I want to buy only the frame without the display combo. Do you have any?
We are sorry, but we don't have only the frame without the display combo. If you intend to buy the frame separately because you've already bought the display from somewhere else, we are sorry, but the frame is unavailable separately. We sell Huawei Nova 7i display combo as it arrives from the manufacturer, and we're unable to change its original form. You can try to find a frame separately in the local market or on other websites.
Q. Is installing a with-frame display combo easy?
Installing the Huawei Nova 7i display combo with the frame is easy, but you shouldn't attempt this at home. Replacing the display might sometimes sound very easy, but it is not easy. You might run into unforeseen issues and even damage the parts because you're not experienced. Therefore, always seek a technician's help installing the display. It hardly takes 20 minutes to assemble the display, and you'll need to pay a technician Rs 200-300 rupees. In most places, the display's installation should be a breeze.
Q. How would I know that this display is 100% original?
Before you assess a product's quality, you should have pertinent knowledge; otherwise, it is all guesswork. Most customers try to assess a display without knowledge; their skepticism is the biggest problem. You shouldn't conclude a product's quality unless you've tested or verified it using appropriate tools. We can't manufacture frames and the display but source it from the OEMs.
All the information about the manufacturing factory is on the display's flex cable, but you'll not understand it. The best way forward would be to trust our expertise and ensure you'll never go wrong with us. You need to trust Touch LCD Baba once, and you've got nothing to lose as 30 days return policy protects all buyers.
Q. Does the new frame come with earpiece mesh/dust filter?
Yes. The new frame comes with a brand-new earpiece mesh/grill. The grill prevents dust and other particles from entering your phone; it is always essential to have it. Some customers lose their earpiece grill when they replace the display, and then the earpiece section fully clogs with dust in a few days. When that happens, you can't hear the other person's voice on a phone call. When you buy a new display combo, you get a pre-installed earpiece dust filter, and your phone becomes 100% brand new again.
Q. Where do you source the original screens when they are unavailable elsewhere?
We buy original Huawei Nova 7i display replacements from the company's OEM manufacturer, which makes original screens. Most businesses focus on more business and don't buy from OEMs because their prices are very high. The marketplace in India is entirely geared toward low prices, and most vendors don't have original screens because of their high prices, and they know that customers will not buy them.
Most shopkeepers in India try to sell low-quality products for the best prices because that's why customers demand. Typically, if a shopkeeper presents two different products, original and copy, around 95% of buyers will buy a duplicate display, and that's why original screens are not everyone's cup of tea. If the original display doesn't sell quickly, there is no point in maintaining its stock. As we serve our customers online, we can easily find countless customers who need original products, and we only serve such customers with their needs.
Q. How to verify that the new Huawei Nova 7i display works as desired?
You can easily verify the working condition of a new display before you assemble it by connecting it to your phone's motherboard. Please follow these steps :
First, please dismantle the phone and find the display's flex cable on the motherboard.
Gently eject the old display's flex cable and the battery's connection from the motherboard.
Then, connect the new display's flex to the motherboard and reconnect the battery with the motherboard.
Turn on the phone to test the new display on all prospects and verify everything you want to.
After testing, you can assemble the display without any hesitation.
Please note that open condition testing is accurate, and you can easily verify the working condition of a product before installation. Therefore, always test a new display before you install it because that's your chance to identify any defects or problems. After installing the display, you can't return or replace it; always keep that in mind.
Huawei Nova 7i Display With Frame Photos
These product photos refer to the original Huawei Nova 7i display with the outer frame. You can see the actual product photos, and feel free to ask any questions to us.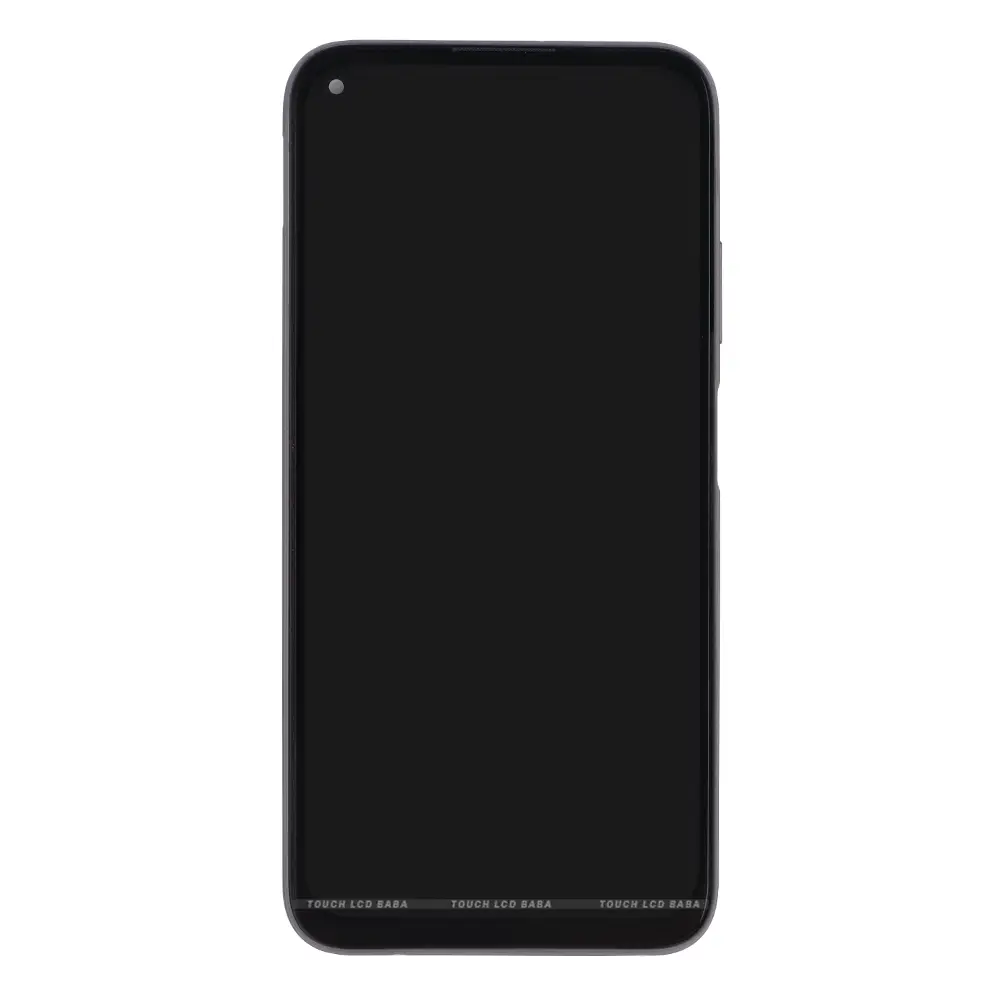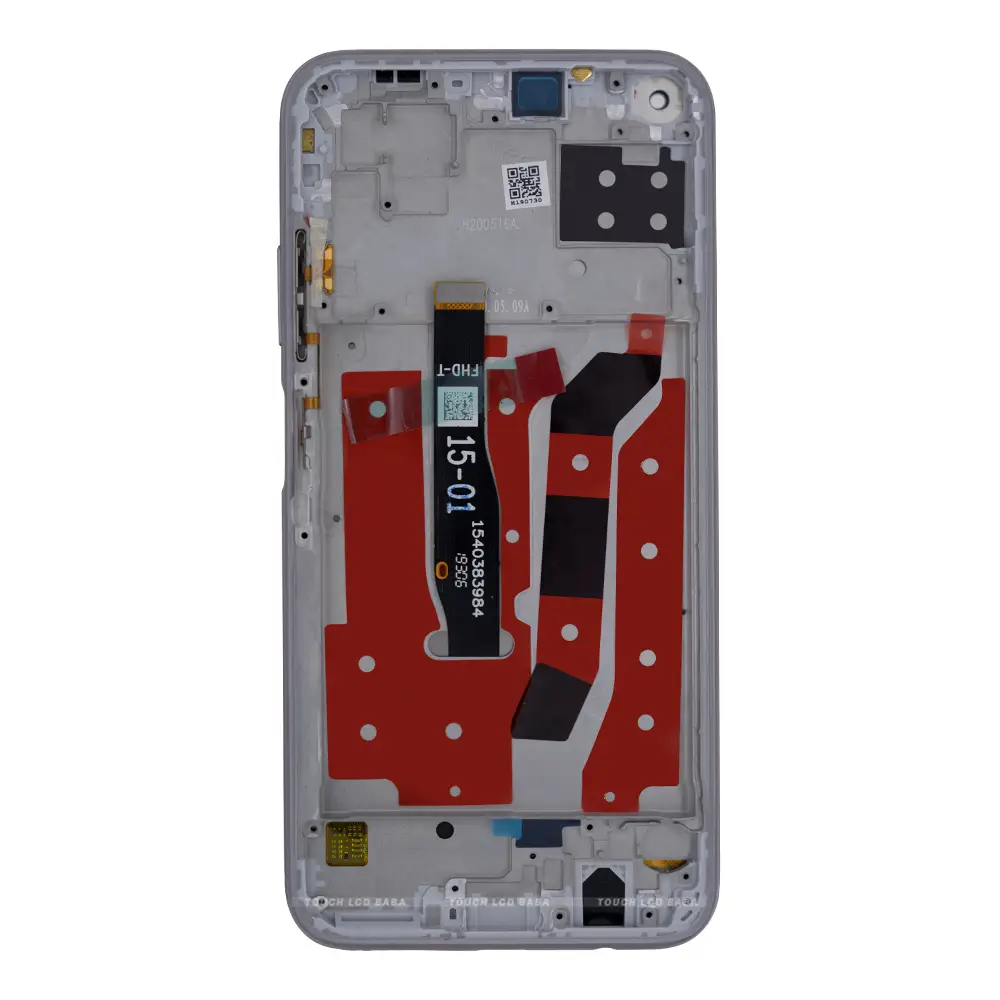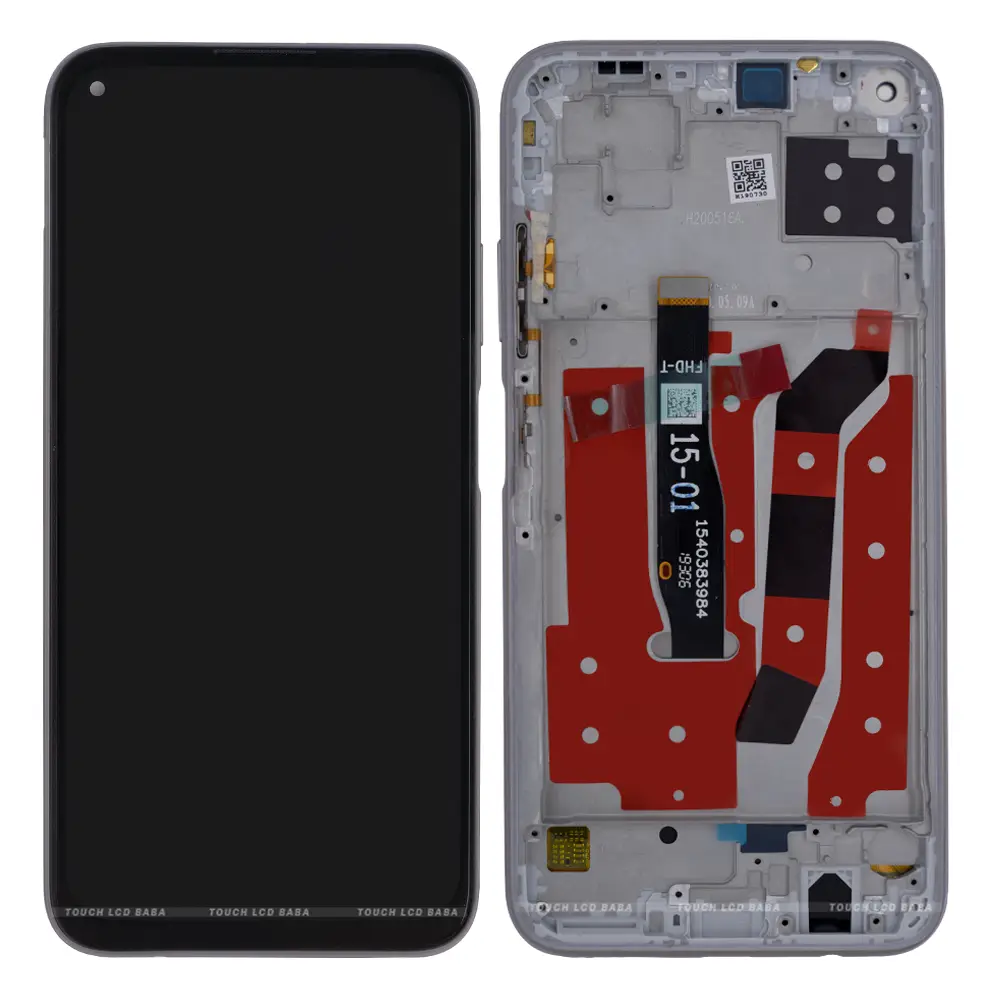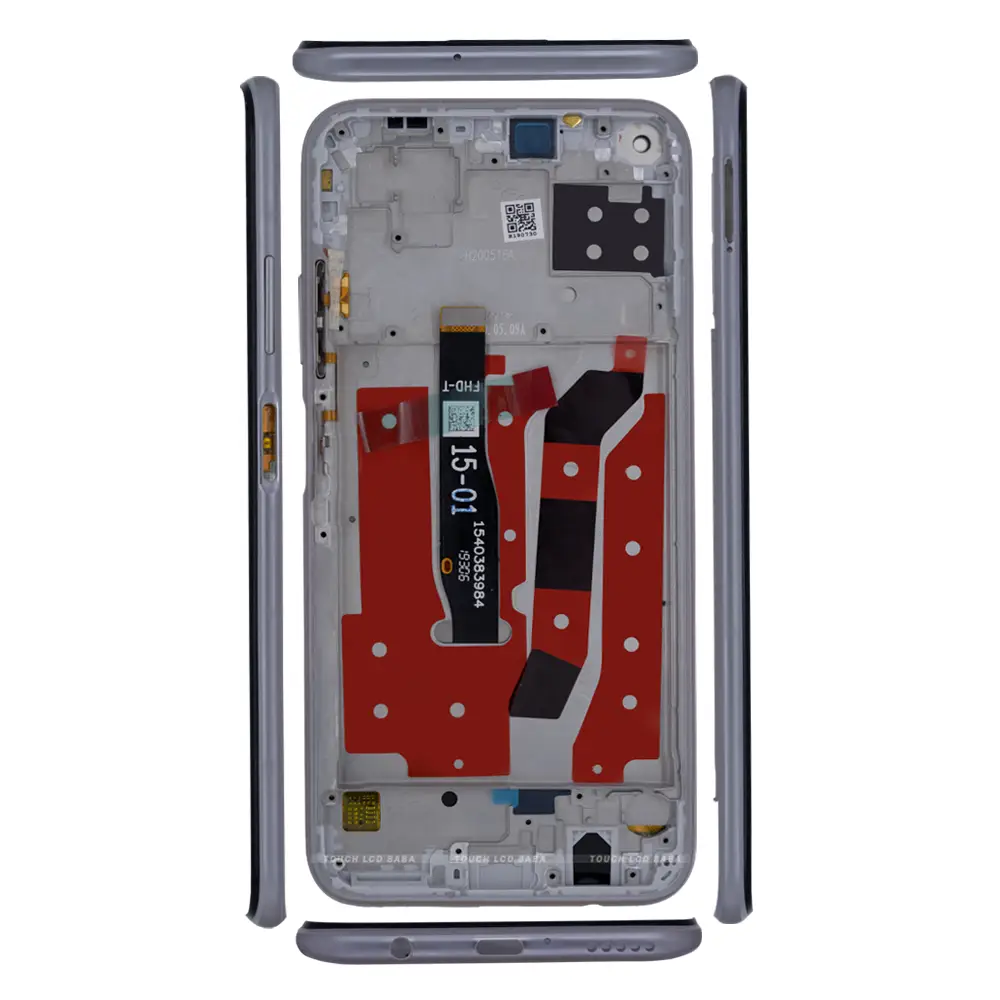 Shipping, Return and Refund Policy
All our products come with 30 days return, refund, and replacement guarantee. To return a product, It should be in the same condition we sent. You can't use or fix the new Huawei Nova 7i display with a frame if you want to return it. For complete details about Shipping, Returns, and Warranty, please click here.