Nowadays, owning a mobile phone is the new normal, but the risk of a damaged, broken, or cracked display comes with it. These are common since all phones use glass displays. If you are also having a broken display or touch screen glass issue, you can purchase the display replacement for Infinix Hot 8 and replace the broken part easily.
We understand how your world comes to an unexpected halt when the screen breaks. You could have scheduled a meeting, and all of a sudden, your Infinix Hot 8 display refuses to respond to the important presentation. How do you feel about the situation? Worst of all, how do your professional colleagues view you at this point? A broken glass could lead to a very embarrassing situation, but you can resolve such issues by replacing the combo.
What is the meaning of Infinix Hot 8 Display Combo?



Infinix Hot 8 display combo is a versatile twin-layered glass that functions as a complete unit. The combo's meaning is a complete unit of the display and touch screen combined in a single unit in simpler words. So when you hear the word combo, It means that It is all about the display assembly.
How to repair a broken display or touch screen glass?
In some cases, your beloved Infinix Hot 8 display or touch screen may crack easily if you drop your phone. Then, you need to get an immediate replacement. Unfortunately, once the display screen is faulty, you can't repair the defective set again, and buying a new display unit is the only choice.
But how do you do this? The first and immediate way is to consider undertaking the replacement by yourself. But to do this, you must have the technical know-how and need the tools required for repairing. It takes keen hands and some techniques to replace the combo. Further, once you remove the faulty panel, you have to carefully set and place the new display in the right position. The above process could be daunting and tedious to unskilled people. Hence, the next option to repair your Infinix Hot 8 display folder is to go to an authorized service center, but the chargers are usually very hefty there.
You can also take it to a local repair shop for fitting, but they use fake or counterfeit replacement display parts, and the overall quality will be very poor. If you repair the phone and realize that the quality is very bad, you will not be happy, and your money is also gone. The best option is to buy an original display online and then take it to the local repair shop for installation. We send original and tested spare parts, and hence our screens always work perfectly well. Our customers are very happy because they are paying a reasonable price and still get the 100% original display which is very durable and works for a long time.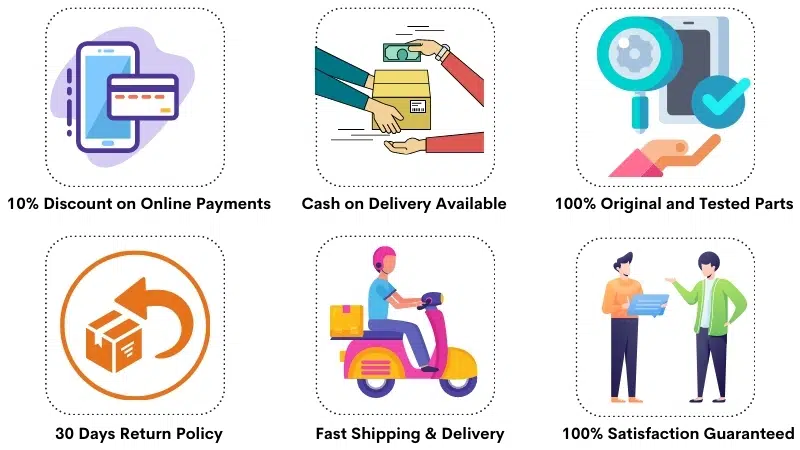 Infinix Hot 8 Display Specifications
| | |
| --- | --- |
| | The model number of Infinix Hot 8 is X650C and display size is 6.52 inches. |
| | Infinix Hot 8 display type is IPS HD+ display with a resolution of 720 x 1600 pixels. |
| | This screen replacement offers 100% quality and satisfaction. |
| | The display unit consists of the display and touch screen glass both parts. |
| | Each piece gets manually verified for 100% flawless working before dispatch. |
| | The display offers 100% perfect brightness, colors and sharpness. |
| | Our QC team tests each display, applies a TESTED OK sign and then the part goes out to end user. |
| | We offer 30 days replacement and returns in case of any defects or issues. |
| | 100% Hassle Free Returns, Refund, and Replacement. |
| | We have its ready stock available and fast shipping time. |
| | Cash On Delivery Option Available. |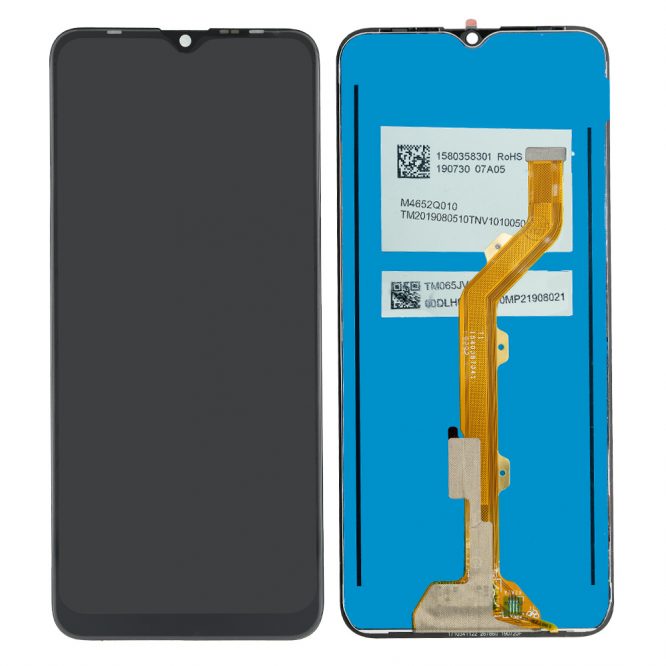 Frequently Asked Questions
Customers love asking questions and we have compiled a comprehensive list of frequently asked questions. Still, if you have any answered questions, please feel free to call our helpline at 9587954273.
Q: How much does it cost to replace the Infinix Hot 8 Display screen in India?
The price of a 100% original Infinix Hot 8 display replacement is around Rs 2500-2700. If you buy a first copy screen replacement, then the combo costs about Rs 1300-1500 in India. Please note that display quality will come out according to the money you spend on the screen replacement.
Q: I want to order an original Infinix Hot 8 display for a meager price. Is it possible? 
Many customers buy low-priced goods, considering them as original, and later realize that quality is inferior. Never forget that you can't get gold for the price of silver. Before you purchase the display online, please inquire with the seller to know what they are selling and ask a few questions. However, you will never get an original display for super low prices because that is simply impossible. The manufacturing cost of the original parts is way higher than the first copy parts' selling price.
Q: Why do the display costs vary a lot in online marketplaces? 
The price of the display always varies because the quality is not equal. The local shops are selling first copy screens which are available for low prices, almost anywhere. They create an illusion in customers' minds that the Infinix Hot 8 screen replacement they sell is the original one, but they are selling it for low prices. You can never sell a quality product for cheap because the manufacturing costs are really high.
At the same time, some online sellers also stick to their low prices while they are selling 100% pure first copies. Anyone selling for throwaway prices is selling you a duplicate display, and you can be sure of this in 100% of the cases. To get an original display, you need to spend an extra amount. We are not selling first copies, so our price is way higher than our competitors because we sell 100% original parts.
Q. Is there any difference between an original and a first copy combo?
There is a huge difference between the original display and the first copy. If the price difference is nearly 50%, it is for a reason, which is the display quality. If you use the first copy, you can't enjoy the phone as everything is so dull and clumsy that you won't like the experience. Your phone will start overheating, and other problems will also appear, like the battery draining very fast,
On the other side, the price of the original combo is high. This expensive cost arises from the quality of raw materials to make this original part. Further, the intricate quality process each part undergoes during the manufacture also builts up its production cost. Again, many of these original products require a lot of technical research, which is expensive. This is why the original parts are always pricey but preferred by everyone. You also know the value of original parts, and that's why you are doing your research before buying.
Q. How can I change only the glass and use the same display?
It is possible to replace only the broken glass and replace it with new glass. You can use the same display, but only glass replacement is not a solution to the problem. The glass used by the technicians comes from cheap sources, and its strength is fragile. The customers who have opted for only glass replacement before always replace the glass multiple times and lose all their phone's quality.
The price of only glass is like Rs 60 in wholesale markets. We certainly don't recommend this solution, and you are paying Rs 1000 for a measly Rs 60 product, and that too with compromise. Ask yourself If it really makes sense to throw away the money on a low-quality display, resulting in more headaches.
Q. I want to purchase the original display, and the price is no problem, but I'm still skeptical. What can I do?
We have seen lots of customers in the same boat. They want to purchase a product, but they are worried about what if they don't get the right thing. In such cases, please note that you have to keep some faith in the seller and his words because all sellers are not equal. Many random sellers are selling fake things online, but everyone has a different business policy.
We offer a full 30 days refund policy in case the product doesn't meet your expectations. We source these products from OEM (Original Equipment Manufacturer) vendors, and these are all tested one by one before dispatch. To return the product, please don't use or paste it into your phone. You can verify the quality by connecting the display to your phone in an open condition.
Shipping, Return and Refund Policy
All the products supplied by us come with 30 days return, refund, and replacement guarantee. To return a product, It should be in the same condition as we sent. You can't use or fix the new Hot 8 display if you want to return it. For complete details about Shipping, Returns and Warranty, please click here.