If you want to buy a 100% original Moto G5s Plus display replacement, you are on the right web page. Here, we offer a 100% original, brand new display and touch screen glass combo for Moto G5s Plus, which you can use to repair a broken/faulty/damaged display or touch screen glass. This part is also called a folder or a display assembly. Please note that the model number of the Moto G5s Plus Indian Variant is XT1804, so please be sure to double-check the model number before you place an order.
What is the meaning of the Moto G5s Plus display combo?
Please note that the display and touchscreen glass are closely combined and can't be separated. It means that even if there is only a slight scratch on the glass, you still need to replace the complete display unit as display and touch screen glass; both parts are combined. A display replacement means replacing the IPS LCD and front layer of touchscreen glass.
If you visit the service center or anyone who does quality display replacements, they always suggest buying the original combo.  You can easily buy low-quality or cheaper screen replacements from the market. Still, their quality is not up to the mark, and you'll face many issues with such products as low brightness, touchscreen not working properly, and several other issues.
Moto G5s Plus Display Replacement Specifications
| | |
| --- | --- |
| | This combo is 100% original, tested, and suitable for Moto G5s Plus (Model No. XT1804). |
| | The Moto G5s Plus display is a 5.5″ IPS LCD, and the resolution is 1920 x 1080 pixels. |
| | The main touchscreen glass is protected by damage and scratch-resistant Corning Gorilla Glass 3. |
| | It is a display and touchscreen combined into a single unit. |
| | This display combo is 100% original, precisely the same as it comes with a brand-new phone. |
| | This combo is 100% pure original, precisely the same as you get with a brand-new phone. |
| | We test each display for 100% flawless working before dispatch. |
| | The Moto G5s Plus combo has a 30-day return, refund, and replacement guarantee. |
| | The combo is available in two colors, Black and Golden. |
| | We always have the stock readily available, and shipping time is speedy. |
| | You can pay for the product using Cash on Delivery or Online Payments. |
How can I replace only the touchscreen glass?
Many customers stress that they want to replace only touch screen glass, but we don't recommend doing that. There are alternative ways to replace only the touch screen glass and use duplicate touch screens for the rescue, but as we entrust only original products, we never speak in favor of subpar solutions.
This is because such solutions are usually very short-lived, come with many added issues, and you can never use your phone satisfactorily again. People expect too much from duplicate touchscreen glass replacements, while cheap solutions always attract additional pain. Customers always want original goods at the lowest possible prices and waste their money.
What kind of Moto G5s Plus display replacements are available in the local market?
If you head to the local market, you can easily find the lowest quality screen replacements for the lowest prices. Many shops in the local market offer screens for Rs 1000 but their quality is terrible. Many customers check the display's price online and then visit the local market to compare the prices, but this technique is entirely wrong. We offer original display replacements, and you compare prices with the duplicate screens available. You'll surely make flawed decisions if you compare different quality products on a price scale.
If you're a customer looking for an original screen replacement, you'll not find them in the local market. Local markets are the best place to get quick service for the lowest price, but you can buy from us if you want the original screen replacements. Please note that the original screens are expensive, but their quality is precisely what you get with a brand-new phone. If you've been missing your original display after buying a fake one and want to get the same quality again, buying from us is a no-brainer.
How do we test each Moto G5s Plus display?
Most People fear what will happen If they receive a non-working or defective display. For this reason, we want to give you a significant reason to buy From Touch LCD Baba. This video shows how we test each display before dispatch. It applies to all parts we sell on the website.
You can see in the video that we buy a new handset just for quality testing. In this video, you can see that we will open a brand new handset, remove its display, and then you can also see the testing procedure. This testing procedure applies to each display we ship to our customers. So if a display works on our Moto G5s Plus motherboard, It will also work on yours. Watch the video!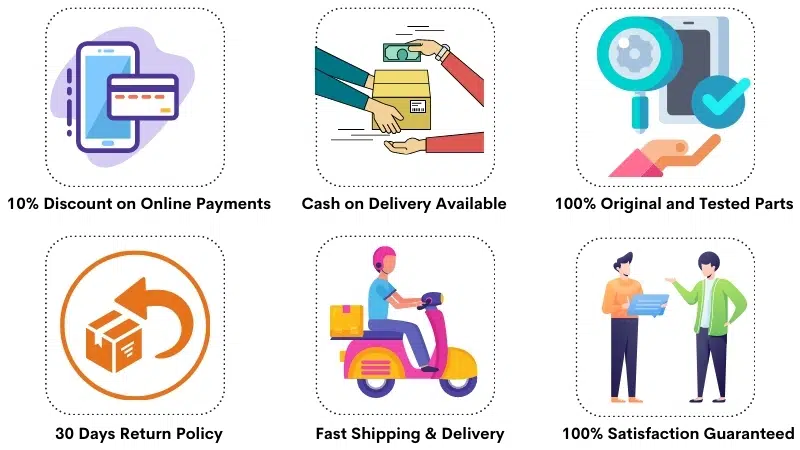 Frequently Asked Questions
Q: How much does replacing a broken Moto G5s Plus display in India cost?
A 100% original Moto G5s Plus display replacement costs around Rs 2600-2800. If you buy a first copy screen replacement, the combo costs about Rs 1000-1200 in India. You may have to pay additional repair charges to a mechanic on top of the display's price.
---
Q: What is the actual concept behind only glass replacement?
The glass replacement is probably the best way to throw away the money. Please be informed that glass replacement was never a solution, but customers always wanted to embrace the cheapest solutions. Such low-quality touchscreen glasses are mass-manufactured in China and available for throwaway prices.
The only touchscreen glass of the Moto G5s Plus costs Rs 100, and it aims to replace only the broken touchscreen glass without replacing the entire display unit. The technician will remove the broken original touchscreen glass from the display and install a duplicate touchscreen.  Glass replacement greatly reduces the touchscreen sensitivity, smoothness, and accuracy.
---
Q: What are the most common complaints after a glass replacement?
The only glass replacement is entirely a manual process. If the replacement is successful, you'll have a de-graded quality display. If the glass replacement fails, you must replace the complete combo. There are the most common issues with glass replacement :
1. You will get a display with much lower brightness and dull colors.
2. Often, you will find dust particles between the display and the touchscreen glass.
3. The display will be spotty, like having small yellow and white dots at random places.
4. The duplicate touchscreen glass is a fiber product, and you'll not get the original-like smoothness with it.
5. All the multi-touch features of the touch screen will stop working.
6. You no longer have the gorilla glass protection on the main touchscreen glass.
7. The phone itself feels so cheap to use that you might lose interest.
8. After a few days, you'll face ghost-touching issues when the touch screen works automatically.
---
Q: How can I claim a broken display under a one-year official service center warranty?
Customers always try to get away from the broken display issue by saying it was not intentional, and as their phone is under warranty, they should get a display replacement for free. Please note that you can never claim a broken display under warranty because It is always your fault. You can replace a broken Moto G5s Plus display in the service center, but you must pay a hefty price according to service center norms.
---
Q: How do you test and verify the screens before shipping?
We have a dedicated team for testing our incoming shipments, and we test all the screens simultaneously using the motherboard. Whenever we receive a new batch of our supplies, we connect those screens to the Moto G5s Plus motherboard, one by one, and after passing the test, we mark them as Tested OK.
We keep verified screens isolated and ship one from the tested screens whenever we receive an order.  You can see the testing video higher up on this page. Due to our business's nature, we don't send any screens to our customers without testing them first and you'll always receive perfectly working screen replacements.
---
Q: What if my phone's new Motorola G5s Plus display doesn't work?
We have sold thousands of screens and never faced any customer complaints. Buying a tested screen of Moto G5s Plus is just like buying a brand new phone that is never defective. Still, we offer a 30-day return, refund, and replacement guarantee if you face any issues with our product. If you face any problems, you can always contact us at 9587954273.
---
Q: Can I affix a display on my phone and then return the display in used condition?
You can never return a used product in any condition; no excuses are accepted to justify it. A handful of customers try self-screen replacements hurriedly and damage the parts during pasting. After that, they want to return the screen to the seller by accusing him of false claims. You can test the screen by temporarily connecting it to your phone, but you can't paste the display. If you find any issues while testing, you can ask us for a solution, replacement, or refund. That's perfectly fine for us.
If you paste the display, It simply means that you've simulated the testing process, and you are fully satisfied with the working condition of the display, and that's why you are fixing it permanently. The standard 30-day period is not applicable after pasting the screen on your phone.
---
Q: Is a Moto G5s Plus display replacement at home a good idea?
It is effortless to replace the Moto G5s Plus combo at home without help from anyone. The screen comes out from the front side, and even a person with a basic command on mobile repairing can easily paste the screen just by having some common sense.  If you are unsure about self-replacement, visit a nearby technician and pay him to install the display. It hardly takes 15 minutes to affix a new Moto G5s Plus display.
---
Q: How can you sell the original display for a lesser price than the service center? 
Many customers believe that the price of an original display must be equivalent to the service center's price; otherwise, the screen is not original. That has been a misconception in the customers' minds for years because they are unaware of the facts.
We buy screens directly from the OEM manufacturers who make them for the company. The costs to us are much lower because there is no mediator, and we don't have the expense of service engineers and branded showrooms. That's why we can offer the same spare part for a lower price. The screen replacement price is not as high as in the service center, but many expenses and profits add up to the final price.
---
Shipping, Return, and Refund Policy
All our products come with a 30-day return, refund, and replacement guarantee. To return a product, It should be in the same condition we sent. You can't use or fix the items If you want to return them. For complete details about Shipping, Returns, and Warranty, please click here.