If your original Moto G60 battery has deteriorated, you only need to replace the tired battery with a new one. To replace the original battery, you need a brand-new one, which we offer here. The product on this page is intended to resolve all the battery issues with your phone without compromising the quality. Please note that it is essential to buy an original battery to enjoy the long-term benefits of the original battery replacement and reap benefits for your investment.
Many customers buy unbranded batteries or leave the battery buying decision up to the technician, and that's the worst mistake. If you're paying for a particular product, you must decide your desired quality. If you depend on a technician for this decision, he'll always install a low-quality battery to maximize his profit. Most customers who buy local batteries are unsatisfied, mainly because much of their investment was the technician's profit.  We always suggest that you purchase a 100% original battery so it performs the same as the original.
Why you must avoid unbranded batteries? What are their drawbacks?
Most customers don't know where to buy original Moto G60 batteries, which forces them to buy duplicate stuff. A customer will generally buy a battery a shopkeeper promotes for profit. Most customers are in a hurry and don't even consider the original products because it is their first time confronting this problem. After installing a duplicate battery, you'll feel that something is wrong with the phone, and although you can use the phone, the battery doesn't work as you expected. Here are the main drawbacks of a duplicate battery :
A duplicate battery generally offers 30% less capacity than the original battery, which is the most significant setback.
A duplicate battery needs charging multiple times because it will drain quickly with your typical usage pattern.
A duplicate battery often overheats itself and other vital components of your phone.
Most fake batteries don't support fast charging, which is another massive issue because charging the phone will take a long time.
Within six months, you must replace the battery again because it will stop working altogether.
You should know that duplicate batteries need more investment in the long run, and that's why they are initially cheaper.
Do you know why all fake batteries come with a 6-month guarantee?
You also want to get a battery with six months or possibly 1-year warranty. Isn't that so? As a customer, you want to buy a battery that you can replace later without any problems and get a new one. Right? All local batteries are sold with a warranty to appease your mind, which significantly helps promote the sales of mediocre products. You buy a battery with a six-month warranty, but that warranty can't compensate for the poor backup time. You should understand that when a duplicate battery's capacity is not actual, how would you get the same back time and standby time out of it?
Please also understand that the warranty is a catch, and later if you complain about inadequate backup time, you'll get another battery of the same make, which also doesn't offer the original backup time. We hope you understand that a warranty is beneficial only for the vendor for more sales, and then you can replace the battery to get another new one with the same problem.  You've to spend a lot of time revisiting the vendor who sold the battery, and they will open the phone repeatedly, and you should always avoid all these things. The more you dismantle the phone, the more you risk damaging other parts of your phone. That's why buying the original product is always a win-win situation, as saving Rs 500 initially will cost you a lot more in the future.
Motorola Moto G60 Battery Specifications
| | |
| --- | --- |
| | This battery is 100% original, fresh, tested for full capacity, and suitable for Moto G60 (Battery Model MC50). |
| | The Motorola Moto G60 battery's model number is MC50, and the capacity is 6000mAh. |
| | Max Voltage 4.45V. |
| | Nominal Voltage 3.87V. |
| | Rated Capacity 5640mAh |
| | Typical Capacity 6000mAh |
| | The original battery can easily resolve all the battery issues. |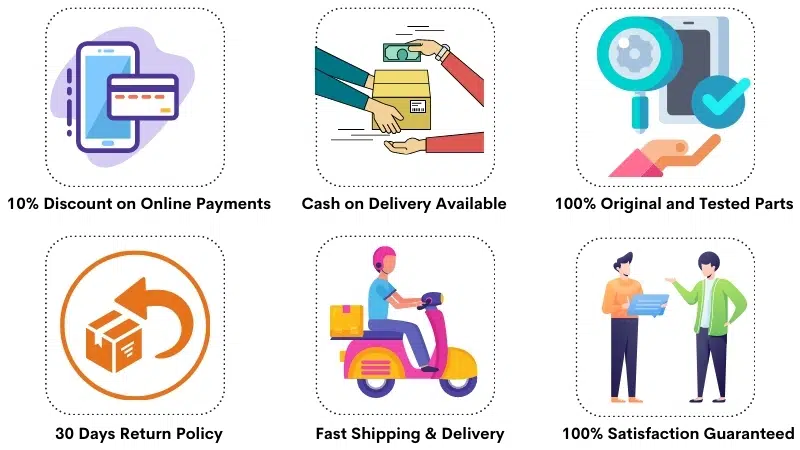 Frequently Asked Questions
Q: How much does buying a new Motorola Moto G60 battery cost in India?
A 100% original Motorola Moto G60 battery replacement costs around Rs 1600-1700. You should always invest in original batteries for long-term benefits and a flawless phone experience. A battery is like the heart of your phone and powers all the operations; this is the spare part you should never compromise with, and all customers who buy original spares never face unforeseen issues.
---
Q: What an original battery provides that a duplicate doesn't? 
The original battery provides 100% peace of mind in every aspect while a duplicate battery will make you visit the seller multiple times and ask him to resolve the standby/backup time issues. You can understand local batteries as duplicate products targeting customers who want to buy a product for a low price. A local battery's quality is purposefully reduced to make it available for a lower price, and that's the actual trap.
If you ask what the original battery provides, please know that it is manufactured by the world's most renowned manufacturers who supply their products to almost all mobile phone companies. Contrary, a duplicate battery doesn't arrive from these manufacturers but from small third-party manufacturers who don't have excellent facilities and even don't test their products. That's because the purpose of small factories is mass production for low prices, and quality is not a concern.
---
Q: What are this battery's backup, standby, and video times?
Many customers want to know the precise backup time of a battery, but that's impossible to calculate. The battery's performance depends on an individual's usage pattern, and if you want to know the precise time, search Google for how the original battery performs. As we offer a 100% original product, you don't need to know about all the aspects individually as they are the same as a brand new phone's battery.
---
Q: Can I self-replace the Moto G60 battery at home?
Although battery replacement is not a huge task, you shouldn't undertake this yourself. As a customer, you will not have the necessary tools and skills to replace the battery, so always seek a professional technician's help. The normal installation charges are around Rs 150-200; you don't have to lift a finger. Find a sound technician, and battery replacement hardly takes 15 minutes.
---
Q: What are the best battery usage practices?
You can always enhance battery life by following some best usage practices, and these are :
Always use the original charger and cable to charge your phone.
Don't use different cables and adapters because they harm the charging connector.
Please don't use local power banks to charge your phone.
You should always charge the phone to 100% levels once and charge it again when the battery is 20% or so.
Don't always keep the charger plugged into your phone and charge the battery as needed.
The best usage practices can lengthen the battery life and avoid any problems. If you overuse the battery for gaming and require you to charge your phone three times a day, the battery life will significantly reduce, and you'll need to replace the battery too soon compared to other customers.
---
Q: What is the typical price difference between an original Moto G60 Battery and a copy battery?
The price difference between an original and copy battery is usually around 500-600 rupees. Please note that when you pay Rs 700-800 for a duplicate battery, a large portion (say 50%) goes into the technician's pocket, and you don't get true value for your money. If you add up a little more, you can easily buy an original battery and enjoy long-term benefits.
---
Q: Why does my phone's battery swell every two months?
If you had multiple issues with a swelled battery, most likely, you are using duplicate accessories like a duplicate charging adapter or a cable. A mobile phone's battery undergoes chemical reactions to generate electrical energy. The gas can accumulate in the outer wrapper of the battery, and this problem is prevalent in copy batteries. So please ensure you've all original accessories and are not using duplicate battery replacements to avoid this swelling problem.
---
Q: How can I quickly see the battery usage and its draining? 
We suggest that all customers look at the battery graph at least once a month, as that graph provides vital information regarding battery consumption. You can see how long it takes for your battery to drain and if there are any sudden ups and down in the remaining battery percentage. You can also see which applications consume the most battery power, and minimizing/uninstalling those applications will surely help you with the battery life. Your phone's Settings-->Battery section contains the battery graph and consumption details.
Motorola Moto G60 Battery Photos
If you want to visualize the Motorola Moto G60 battery, please refer to the images below and let us know if you've any questions.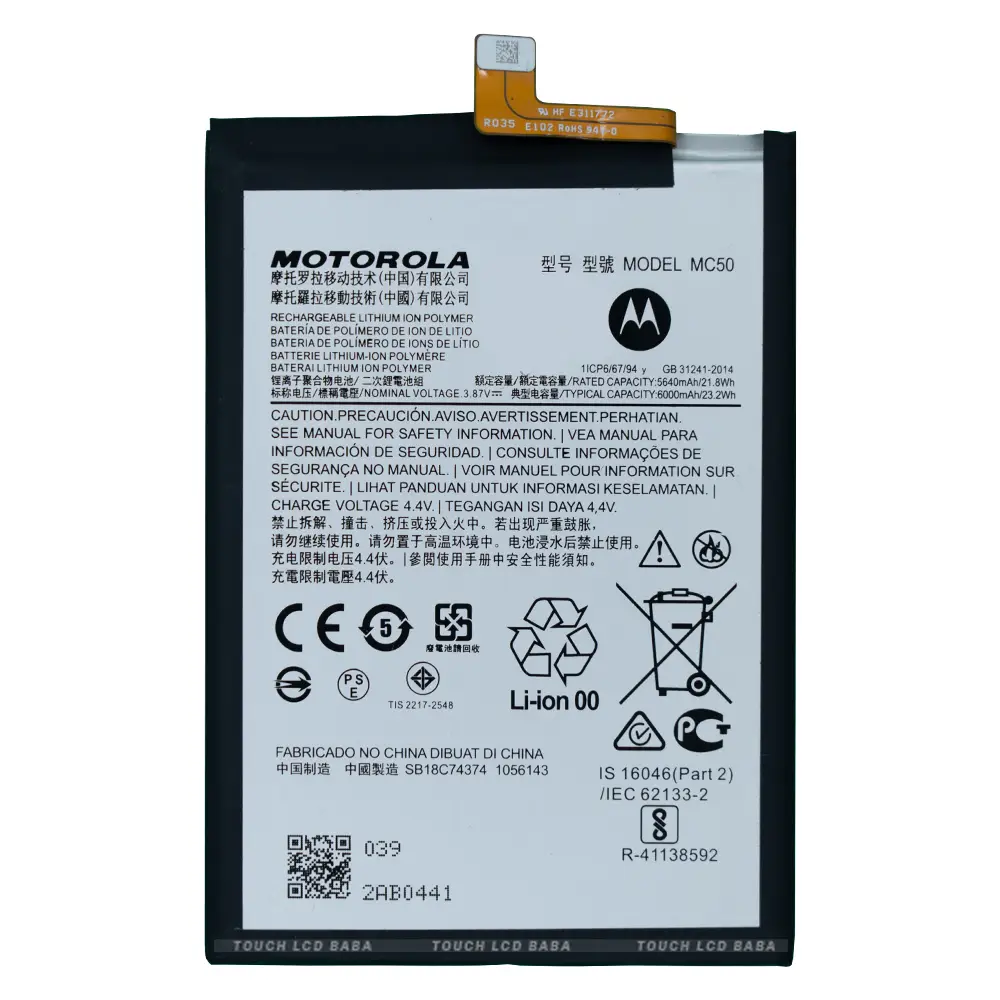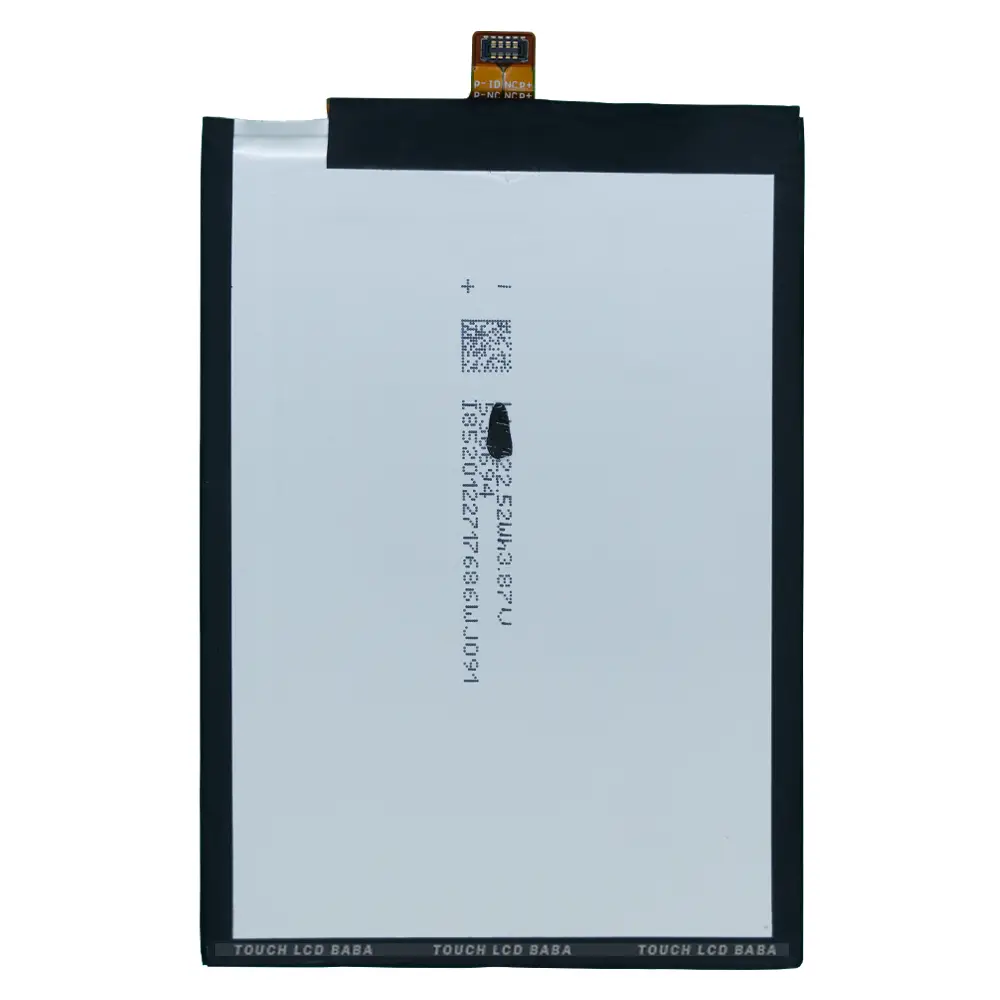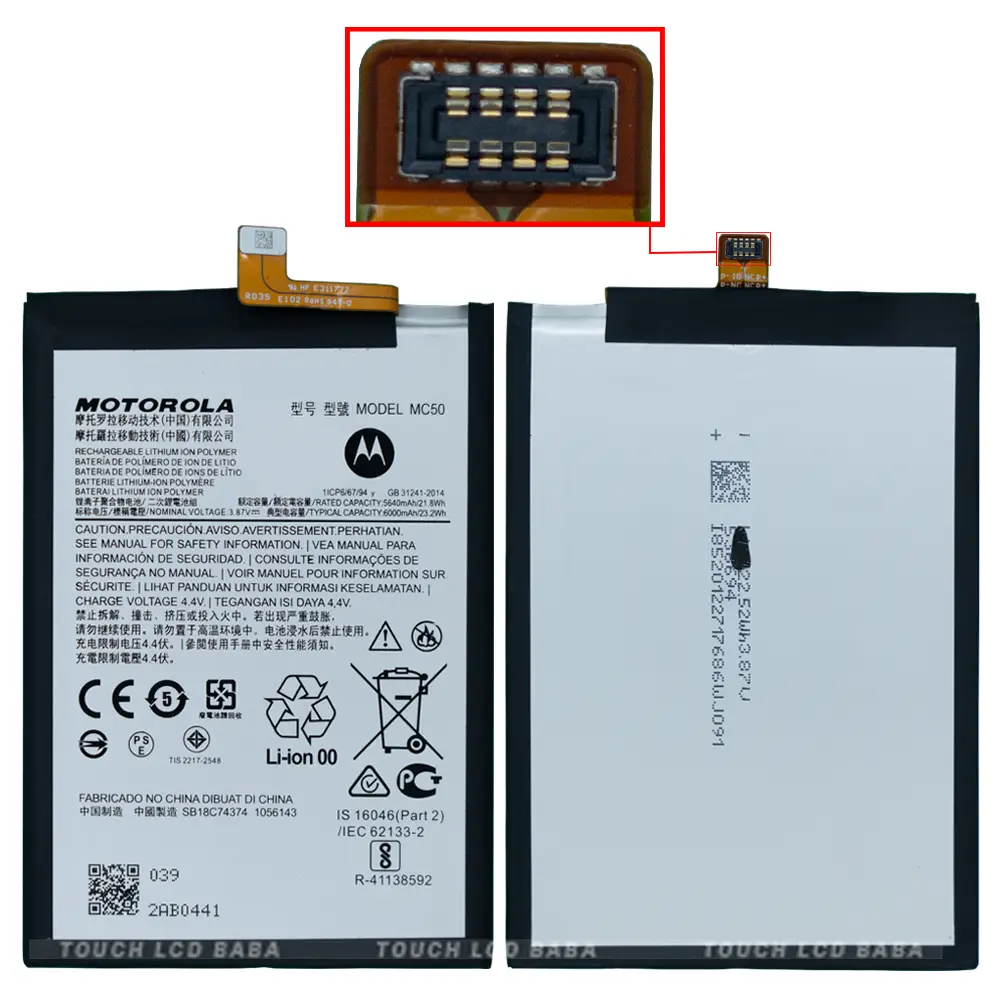 Shipping, Return and Refund Policy
All our products come with 30 days return, refund, and replacement guarantee. To return a product, It should be in the same condition we sent. You can't use or paste the new Motorola Moto G60 battery if you want to return it. For complete details about Shipping, Returns, and warranty, please click here.