You can easily replace a broken Moto G60 display with a brand new display combo and typically don't need the outer frame. However, in some cases, when the damage to the phone is beyond normal, buying a without-frame display combo is not enough. If you have broken only the display and touch screen and want to purchase a without-frame display replacement, please visit this page.
On the other hand, if your phone is bent or curved, you must purchase a display replacement with the outer frame. It is elementary to replace the display combo using a brand new part, and on this page, we'll discuss all the aspects of Moto G60 display replacement. We hope this will help you make an informed decision and invest your money wisely.
What is the function/importance of the outer frame?
The outer frame is essential to the phone because it holds the display firmly. The outer frame is the front side plastic base in which the company pastes a display combo. If the outer frame is damaged, installing the display combo in such a frame is impossible. That's because fitting a display needs a flat surface and make-do solutions are not feasible.
If you forcefully try to assemble the new display in a broken frame, the new display will also break because of pressure. To properly assemble the display, you need a display with an outer frame, and that's what we offer here. The Moto G60 display combo available on this page is 100% original and comes with an outer frame. Please look at the product photos to conclude and if you've any questions, call us at 9587954273.
Moto G60 Fusion Display With Frame Specifications
| | |
| --- | --- |
| | This display is 100% original, tested, and suitable for Motorola Moto G60, model number XT2135-2. |
| | The Motorola Moto G60 display size is 6.8″, the display type is IPS LCD, and the screen resolution is 2460 x 1080 Pixels. |
| | The display and touch screen digitizer glass are pre-installed in the frame. |
| | We test and verify each display for 100% flawless working before dispatch. |
| | We security pack the new display in plastic boxes to avoid any in-transit damage. |
| | This part resembles the front side portion of your mobile phone in new condition. |
| | You get the same product as it comes assembled with a brand new phone. |
| | It is very easy to resolve all the display and touch screen glass related issues by replacing the combo. |
| | All products arrive with a 30 days return, refund, and replacement guarantee. |
| | The Moto G60 screen replacement is available in stock, and the turnaround time is very fast. |
| | You can order the product using Cash on Delivery or Online Payments (10% additional discounts). |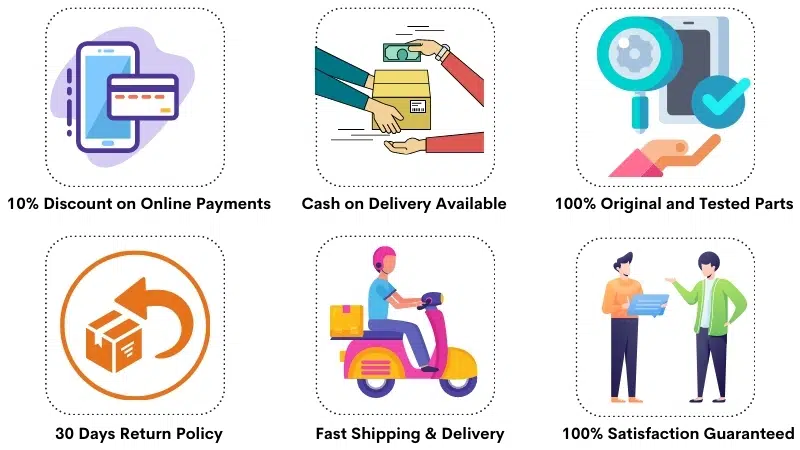 Frequently Asked Questions
Q: How much does a Moto G60 display with frame cost in India?
The price of a 100% original Motorola Moto G60 (model number: XT2135-2) display replacement with frame is around Rs 5000-5500. If you purchase a duplicate display and copy frame, you can save a bit of cash you won't get worthy display output with such investments. Duplicate products are makeshift solutions that never last long.
Q: What is a first copy display, and why is it made?
A first-copy display is a low-grade version of the original display and doesn't offer the same display quality. Not everyone wants an original display, and spare parts manufacturers are fully aware of that. A first copy display targets cash-strapped and deal-finding customers. Many customers want to repair the phone for the lowest price and don't consider any other aspect. Independent factories rampantly manufacture duplicate screens in the local market to target such customers.
You might have heard about the first copy, diamond quality, and OG quality display; all these names refer to duplicate products. A technician or a shopkeeper will never directly say that he has a duplicate product, but he'll use an ambiguous name to keep you in the loop. If you are a gullible person, you will easily get trapped and lose money on a low-quality product.
Q: Why is everyone so excited about an original Moto G60 display? 
The original Moto G60 display offers terrific quality, which is the main aspect of purchasing a quality phone. Customers know that the original display replacement is unbeatable, but still, budget constraints are real. Everyone loves the original display because of its quality features and amenities. An original display offers these benefits, which are always missing in a duplicate product :
The brightness of an original display is always remarkable.
You get accurate colors and punchy photos out of the camera.
The touch screen works fluidly without any lags.
You can play games with great precision and also use multi-touch features.
The touchscreen glass is rigid and can easily take minor drops.
A first-copy display always lacks these features, which customers know by experience. Many customers buy low-quality products but keep their expectations high, but cheap products never furnish the original display quality. The original Moto G60 display requires significant investment, and you can't get it for a low price.
Q: How does a with-frame display win over a without-frame display? 
Please note that a without-frame display is original but doesn't come with the outer frame. If you purchase a frame display, you must paste it manually inside the existing frame using glue or double tape. Contrary, the frame display comes pre-assembled, and you don't need to paste the display manually.
Customers prefer a with-frame display because it is easy to fit, and no visible repair signs appear on display. You'll feel like you've just bought a new phone which is a very positive vibe for the customer. We strongly recommend buying a frame display if you don't mind spending extra money.
Q: Can't I use the old frame to assemble the display?
You can certainly use the old frame if it is not damaged yet. There is nothing wrong with using the old frame and a without frame display. This part is specifically for customers who have damaged the old frame or purposefully want to purchase a with-frame display for ease of fitting and peace of mind.
Q: Where is the official Motorola service center in my city?
We are not sure about the exact location of the service centers in a particular city because that's something out of our service's scope. If you want to find the nearest service center, you should visit the official Motorola India website and use their location finder tool to find the service center location.
Q: Only the display's flex is damaged. Can't I buy it separately?
Some customers unintentionally damage the display's flex cable and want to purchase that flex alone. Please note that it is impossible, and if you have torn the flex cable, you'll need to buy a new display combo. Flex cable replacement is possible, but only the manufacturer can carry out such operations because they've all the tools, machinery, and skills.
Q: What is the price of a Moto G60 display replacement in the service center?
Customers often call and ask about the price of this display in the official service center. We are sorry, but we don't keep track of service center pricing and their other offerings. Therefore, we are not the right point of contact in this regard. Some customers even ask why the service center charges are high, and we offer a lower price.
There are no fixed answers to such questions because it depends on many factors, and service centers charge a premium price. You should understand that brands spend so much money on advertisements and setting up service centers in prime locations where rent and other expenses are very high, and they have to cover all these expenses from customers.
Q: I want to purchase the display for a low price. Do you have any alternative?
We sell 100% original display replacements and don't have cheap alternatives. However, if you want to purchase a low-cost product, you should consider purchasing a duplicate/first-copy display. Such products are readily available in the market, and you can purchase them for a low price, including installation services. However, the quality of such products is bad, and you won't feel the same as you did with the original display.
Q: The display has turned black, but the touch screen still works. What is that? 
As we clarified before, a display unit consists of an inner LCD and a front layer of touchscreen digitizer glass. You likely broke the display, but the touchscreen glass still works intact. That's very common, but it doesn't mean everything is fine. It signifies that the inner display got damaged, and you still need to replace the complete display unit.
Q: I bought a display locally but couldn't find the frame. Is the frame available separately? 
The original outer frame comes bundled with the original display and is not available separately. If you want to purchase the frame separately, purchasing a duplicate frame from the market is the only choice. Such frames are not molded properly, but still, you can use them and resolve the problem. Such copy frames cost around Rs 150-200 in the market.
Motorola Moto G60 Display With Frame Photos
If you want to see the product images of the new Moto G60 display, here is how the new display looks. As you can see, the display comes pre-installed in the frame, and manually pasting the folder is not required.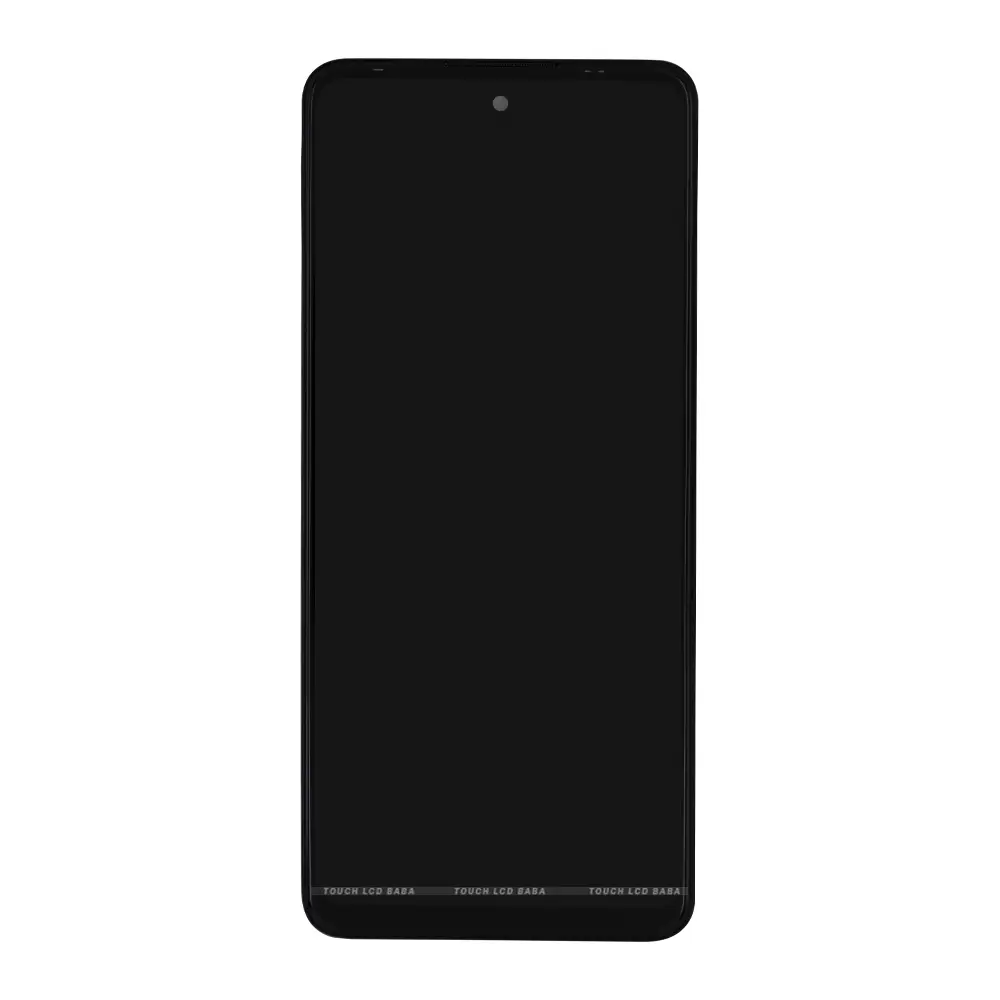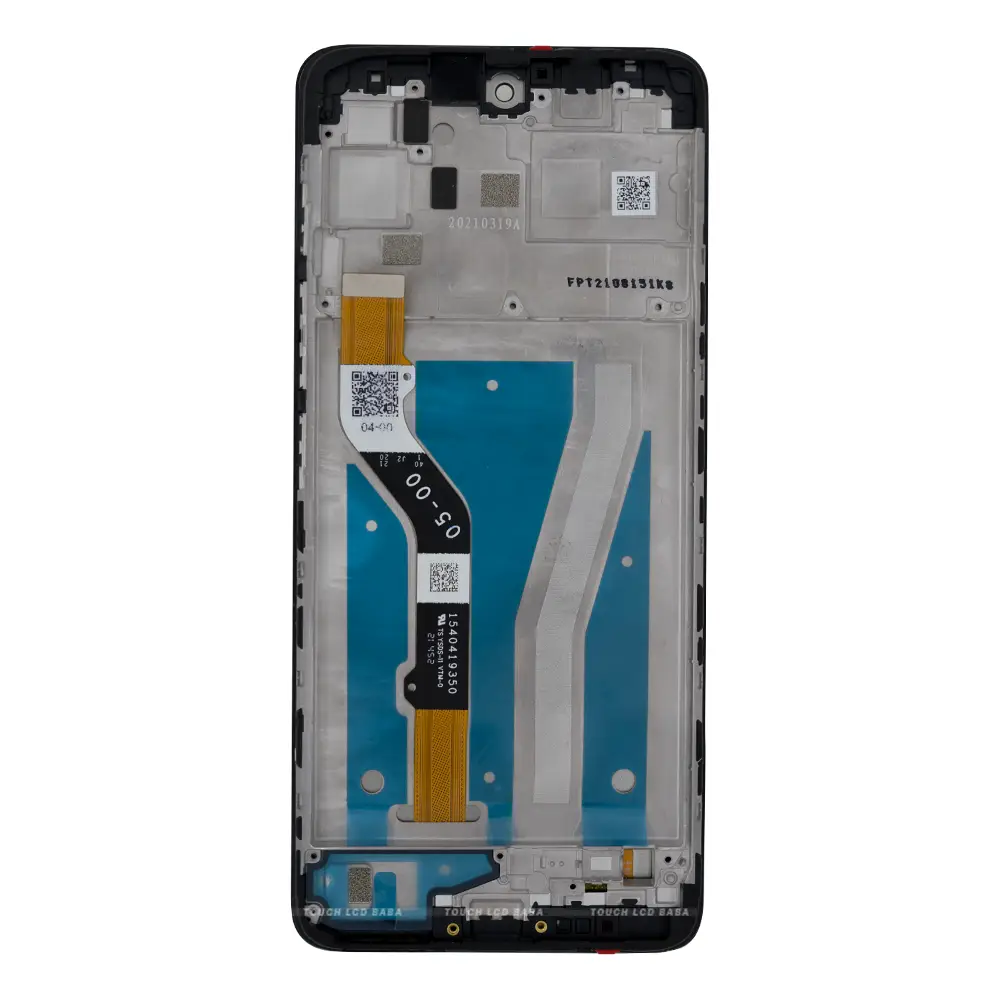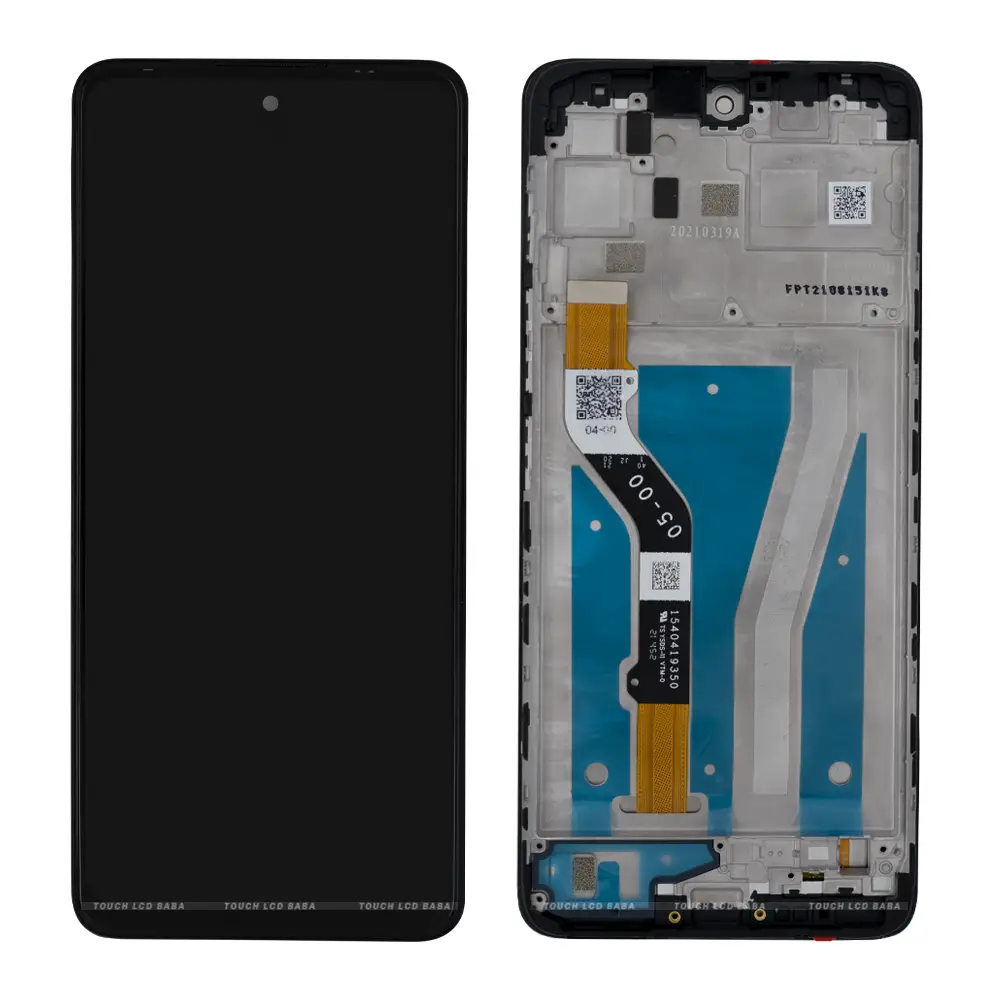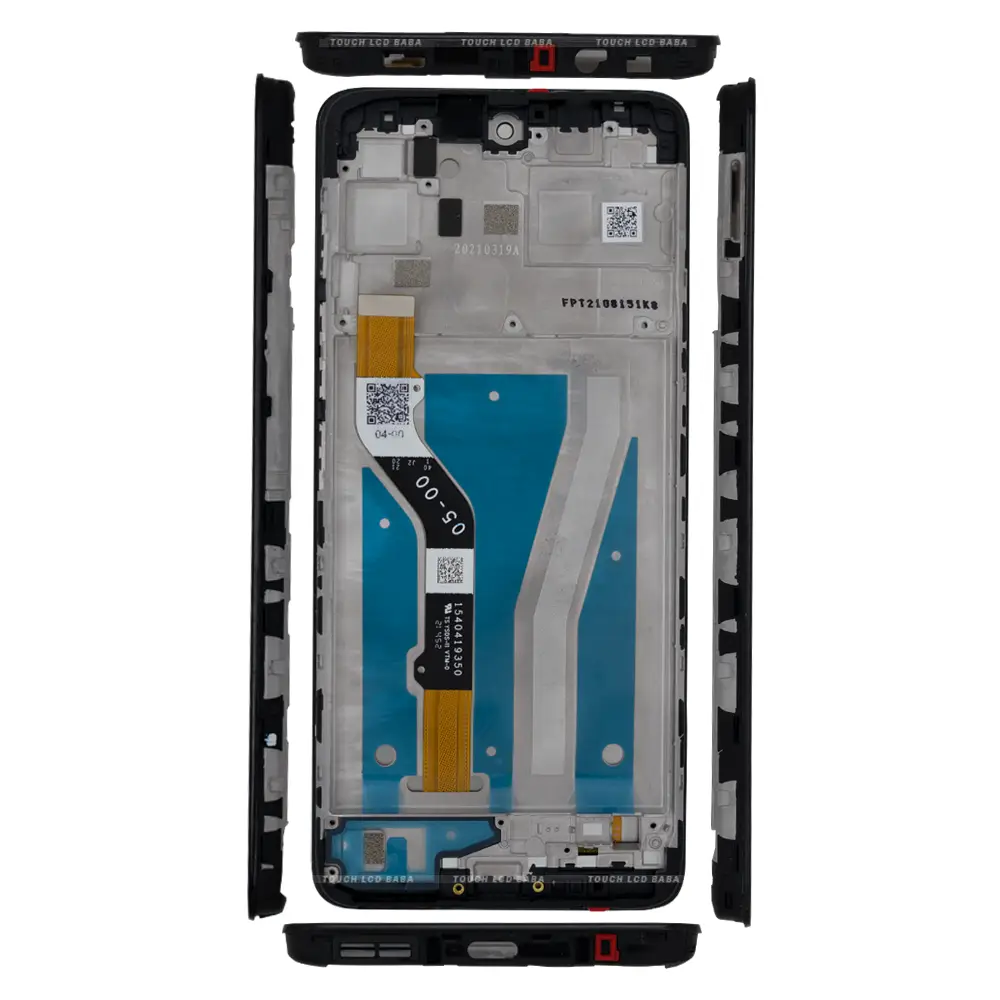 Shipping, Return and Refund Policy
All our products come with 30 days return, refund, and replacement guarantee. To return a product, It should be in the same condition we sent. You can't use or fix the new Motorola G60 display with a frame if you want to return it. For complete details about Shipping, Returns and Warranty, please click here.