Are you looking for a screen replacement for the Motorola One Action? If yes, then this is the right place to be. On this page, we offer Motorola One Action Display combo that consists of an IPS display and touch screen digitizer glass.
If you recently dropped the phone accidentally, you don't need to worry as you can easily restore your phone to its previous working condition. You will need to replace the Moto One Action combo so that your phone can function properly once again.
What is Motorola One Action Display Combo?
The Motorola One Action combo is a whole unit of display and touch screen glass combined into a single unit. The combo can overcome any problems related to the display or touch screen glass. If you have a cracked, broken, or damaged display or touch screen digitizer glass, you will need to purchase the complete combo (Also called Moto One Action Folder) to resolve the problem.
The meaning of combo replacement is, you are replacing a broken display unit with an identical new display unit. That is why original combo replacement is the best option after a broken screen. You can take out the broken display and fix the new one in place of that. You will not even realize if you have ever replaced the display. The key is using the original Moto One Action combo.
Can I Fix the Motorola One Action Display at home?
It is not so tricky fixing a Motorola one action display screen, although it depends on your ability to handle the task. If you have your fears and reservations concerning the fixing, especially if you are not a DIY person, we recommend that you request a technician to fix the display for you.
You can take your new display folder to a mobile service shop and have him do the job for you. The service person will charge like Rs 200-300 from you for installing the display, but your device will be safe as the handler is an expert. That is how our customers do the display replacement. They buy a genuine spare part online and get it fitted locally.
Can I keep using the phone with a broken display?
Yes, you can continue to use the phone with a scratched touch screen glass if the damage is subtle. If the damage is extensive and glass bits are coming out from the touch screen glass, then you should consider replacing it immediately.  Always make sure to backup your data before you proceed for replacing the display.
Don't let the Mechanics Choose a First Copy Display For You!
When you visit a mobile repairing shop, you hand over your broken phone to the shopkeeper, and you don't even know what type of part he is fixing on your phone. The local technicians usually buy the first copy duplicate display and place it in your phone and market it as the original. It is the general practice followed by almost all technicians to extort money from customers.
The time has changed, and the market is evolving. Now the customer can himself buy the original parts by his choice and have the technician fix the display. Don't let your money go down the drain on duplicate parts.
If you are buying clothes from the market, you choose what to buy and you will not buy what the shopkeeper wants to sell to you. The same thing applies to the Moto One Action display, buy an original combo yourself and don't let the mechanic buy duplicate products for you. It is your money so make good use of it.
Moto One Action Display Specifications
| | |
| --- | --- |
| | This combo is 100% original, brand new and suitable for Moto One Action. |
| | The Moto One Action display size is 6.3″, display type is LTPS IPS LCD display and resolution is Full HD+ 1080 x 2520 pixels @435 PPI |
| | You can use this combo to replace a broken display or touch screen glass. |
| | The combo offers 100% same colors, quality and brightness as your stock display. |
| | The main touch screen glass is protected by Corning Gorilla Glass. |
| | We make sure to test the display on actual motherboard before shipping to the customer. |
| | We buy our stock from OEM manufacturers so that you always get the 100% original product. |
| | The combo comes with manufacturing warranty for any defects. |
| | We back our products with 30 days refund, return and replacement guarantee. |
| | The combo is readily available in stock and shipping time is very fast. |
| | You can purchase the product using Cash on Delivery or Online Payment. |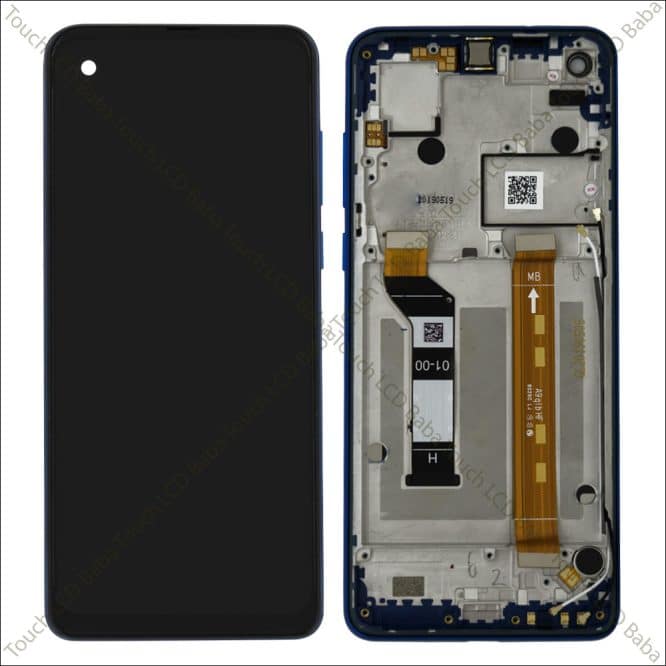 Frequently Asked Questions
Below, you can find answers to the most frequently asked questions. If you've any further questions, please feel free to call us.
Q: How much it costs to replace a broken Moto One Action display in India? 
The price of a 100% original Moto One Action display replacement is around Rs 3200-3500. If you buy a first copy screen replacement, then the combo costs about Rs 1300-1500 in India. There is a huge quality difference between the first copy and the original.
Q: What is the difference between an original and first copy combo?
The difference between an original and a first copy combo is large and worth considering. The first copy combo comes with a fragile plain glass that can easily break with little pressure while the original copy combo. We supply the 100% original combo that comes with a Gorilla Glass protection, which has the perfect colors, quality, and brightness.
Though the original Motorola one action combo costs almost double the price as the first copy combo but bear in mind that the lower you pay for a product, the lower the quality you will get.
Q: Do you test the Motorola one action combo before dispatch?
Yes. We do test each display for 100% perfect working before dispatch. To complete the testing, we use an actual motherboard of Moto One Action phone, and that's how we can be sure about the working condition of the display. It is very important to test a product to avoid any problems that might come from defective parts.
Q: Can I change only the front glass for my Motorola one action?
To overcome a broken touch screen glass problem, we do not recommend that you replace the front glass only.  Imagine having to replace the glass, again and again, frustrating, right?
The new glass used by mechanics to replace your broken glass is worth Rs 40. Yes, you are reading it right. The only glass costs only Rs 40 and mechanics will typically charge Rs 1200-1500 for that. We are not talking about the tempered glass here; we are talking about the main touch screen glass. You are replacing a Gorilla Glass with plain Chinese glass.
The glass replacement often results in dust and strange spots inside the display. If you don't care about the quality and want to get your phone repaired anyhow, then you can go for glass replacement because you don't need the quality solution anyway.
Q: Will you fix the display on my phone?
We will not install the display on your phone as we are just selling original spare parts. To install the display, you will need to consult which a mechanic/technician. They will normally charge you for like Rs 200-300 and install the display on your phone.
Q: What can I do if the new display is not working after purchasing?
We always guarantee our customers about the quality and perfect delivery. All our products are test run by our team of efficient engineers before they are shipped out.
Each of our products is manually tested, meaning that you cannot receive a display from us that is not working upon testing, but in any case of any problem, you can return the product to us in unused condition. You can test the product freely, but you can't paste it or fix it.
Q: Will I get a broken screen warranty from the service center?
It is your sole responsibility to handle your phone with care and prevent the screen from breaking or getting damaged. A warranty for a broken, cracked, or damaged screen cannot be claimed as you may out of negligence get your Motorola one action screen glass broken or scratched. You can repair the phone in the service center, but you've to pay the full price.
Q: How can I test the new display before fixing it?
It is effortless to test the new Moto One Action display. You need to connect the new display to your phone's motherboard in open condition, and you can take a trial. Once the new display turns on, you can use it just like you use your phone every day. When you are satisfied, you can fix the display on your phone.
Q: Will, my data on the phone, be lost?
No. your data will not be lost in replacing your Motorola one action folder. The data is stored on the motherboard, and we are just replacing the display combo. So don't worry about the data as everything will stay the same after screen replacement.
Q: The Motorola one action display price is lower locally, should I get it?
Please bear in mind that the display from the local market may not be really good, that is probably why the price is lower. Authentic products are always higher in price than the inferior ones, and it is always better to go for products that are guaranteed and durable. Every quality product comes with an extended life span. For a lower price, you will certainly get a duplicate first copy display in the local market.

Shipping, Return and Refund Policy
All the products supplied by us come with 30 days return, refund and replacement guarantee. To return a product, It should be in the exact same condition as we sent. You can't use or fix the items If you want to return. For complete details about Shipping and Returns, please click here.