If you're dealing with low backup time and battery drains quickly, you need a new battery for your Moto One Fusion Plus phone. Please note that a mobile phone's battery must be in 100% good condition; otherwise, you'll face unexpected issues. It is impossible to linger on the problems because they will ramp up daily, and you must replace the battery sooner or later. Please note that no technique will help you repair or revive the old battery, and buying a new battery is the only solution.
A mobile phone battery is available in varied qualities, as all customers don't buy original batteries. All budget-friendly batteries are duplicates, and their backup time is disputed and unpredictable. If your original battery used to last 24 hours, the duplicate might last only for 16 hours because its actual capacity is not in line with the original battery. On this page, we offer a 100% original battery replacement for Moto One Fusion Plus, which helps you overcome all the pertinent issues.
Motorola Moto One Fusion Plus Battery Specifications
| | |
| --- | --- |
| | This battery is 100% original, fresh, tested for full capacity, and suitable for Motorola Moto One Fusion Plus. |
| | The Motorola Moto One Fusion Plus battery's model number is LG50, and the capacity is 5000mAh. |
| | Max Voltage 4.4V. |
| | Nominal Voltage 3.87V. |
| | Rated Capacity 4750mAh |
| | Typical Capacity 5000mAh |
| | The original battery can easily resolve all the battery issues. |
How to identify a worn-out Moto One Fusion Plus battery?
In most cases, battery problems don't suddenly appear but ramp up gradually. You'll indeed feel like something is wrong with your phone, and its battery drains way too quickly, but for some days, all customers ignore the problem and feel that it might be a temporary hiccup. Later, when the problem amplifies, they visit a technician or try to dig into what's wrong with their phone. Here are some indications that your phone's existing battery is wearing out and replacement is necessary :
The existing battery charges to 100% levels but discharges way too quickly.
You know that the battery used to last much longer before and is not working well now.
Even in standby mode, the battery drains itself without using the mobile phone.
You see random battery percentages, up and down, without charging the battery.
You feel a bulge inside your phone because the battery is swollen.
The battery has not its solid condition and feels flexible.
You charge the battery, but the charging percentage no longer moves up.
After a certain percentage, your phone automatically shuts down.
You must keep the charger connected to your phone, and only then you can use it.
All the above issues indicate a worn-out battery, but please note that such issues don't appear with new batteries. If your phone's battery is relatively new (say six months old), you shouldn't face these issues as that rarely happens, so additional investigation might be necessary before concluding. If you're a heavy gamer and charge your battery 3-4 times daily, issues can appear too soon.
Original Vs. Duplicate Battery – What are the differences?
We'll all agree on the point that a new mobile phone comes with a perfect battery, and that is known as the original battery. So the definition of original battery is what the manufacturer uses, and all other local batteries are third-party manufactured. If you carefully see the original battery, you'll see a particular manufacturer's name on the battery that makes these batteries from scratch and is the OEM. All batteries that come from OEM are original, while all others are duplicates. Here are the main differences between an original and a duplicate battery :
The OEM factory makes the original battery, while a local battery is made in small factories.
To make a local battery, low-quality raw material is used, while the original battery uses the best-quality raw material.
A duplicate battery's main target is reducing cost by sacrificing quality, and the original battery's main target is paramount quality.
The capacity of a duplicate battery is around 30% less than advertised, and the original battery's capacity is accurate.
The OEM factory has so much quality control over their products, while local batteries don't meet set standards.
Shopkeepers market duplicate batteries and customers search for original batteries themselves.
The life of an original battery is two times better than a duplicate battery.
You don't need repeated visits to the repair centers after installing the original product.
An original battery provides many benefits, but the price difference is not much. It doesn't make sense if you save Rs 500 and then face problems every day. That's why you should always replace the original battery with an identical new one and avoid all the potential problems.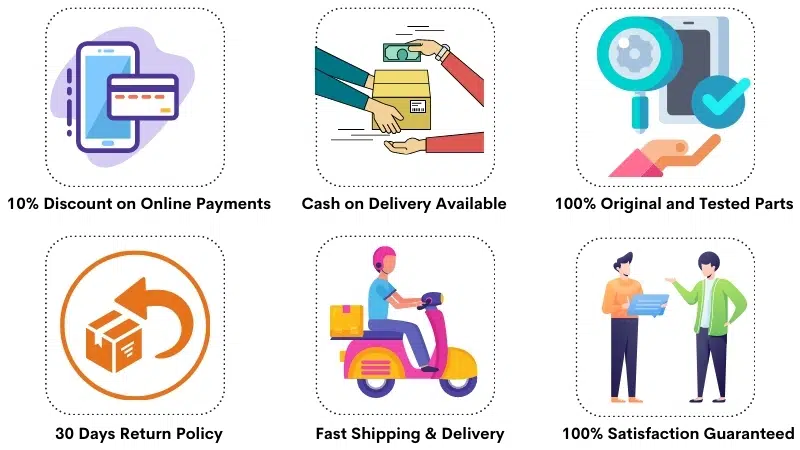 Frequently Asked Questions
Q: How much does buying a new Motorola Moto One Fusion Plus battery cost in India?
A 100% original Motorola Moto One Fusion Plus battery replacement costs around Rs 1500-1600. The battery sold on this page is 100% original and the same as you get with a brand-new phone. It would be best always to trust original batteries because their benefits surpass your expectations, and long-term benefits protect you from unforeseen issues.
---
Q: Is this battery 100% original and fits well into Moto One Fusion Plus?
Yes. It is a 100% original battery like the one that comes assembled in a new phone. It fits well into your phone and is suitable for Moto One Fusion Plus. The battery's model number is LG50, and the mobile phone is XT2067-3. You can match the model numbers of the battery and phone before placing the order.
---
Q: I found another battery for Rs 700-800 online. What is that?
You can find many compatible/duplicate/fake batteries in the market which are non-original. These batteries are cheaper because their standby and backup time is less than the original battery. Please note that a warranty on a battery is useless if it doesn't last as long as it should. All cheaper batteries are widely known for issues; always avoid them.
Customers rush behind low prices without understanding the product's make, quality, and benefits. As you already know, cheap products don't offer true value for money, but customers buy them because they feel like they are getting a much better value. You'll understand the actual value of a product only when you use it, and experience with duplicate products is always disappointing.
---
Q: Can I install the Moto One Fusion Plus battery at home?
We always discourage self-installation because built-in batteries are pasted on the frame, and you can't simply lift and replace them. To remove the old battery from the frame, you'll need a specialized solution to soften the underneath battery adhesive, and only then remove the battery. The battery can prick and burn if you act forcefully or use sharp tools.
Therefore, you should only attempt the battery installation at home if you know how it works. If you only have basic knowledge and have never done this in practice, we suggest you sail on the safer side. Visit a local technician and pay Rs 150-200 to him and easily replace the battery without worrying about adverse effects.
---
Q: How can I test the new Moto One Fusion Plus battery without assembling it completely?
You can easily test the new battery without assembling it by connecting it to your phone in open condition and testing it for an hour. Here is how it works :
First, you need to dismantle the phone and remove the old battery from your phone.
After that, temporarily place a paper or a bubble wrap in the frame and connect the new battery with your phone.
We have asked you to place bubble wrap underneath the new battery so it doesn't get dirty with glue.
In open condition, you can charge the battery and even use the phone easily, just hold the battery properly and don't let it dangle.
You can use the phone with new battery and test it for 1 hour or 2 hours as per your desire.
You can also check the battery usage graph in setting and know how much battery is draining in one hour.
In most cases, you won't find any issues whatsoever and once you're satisfied, you can assemble the battery permanently and put up everything back together. Testing the battery in open condition is helpful as you can easily verify the battery, charge it, discharge it and verify that old problems are now resolved.
---
Q: What actions impact the battery life negatively? 
Most customers don't take their phones seriously and charge them with whatever they get. It would be best always to use the original charger and cable because other companies' chargers will not suit your phone. Please note that even other branded chargers are not good for your phone, even if your phone charges perfectly with them. Please note that a battery will never stop working suddenly, but using non-specified charges, duplicate cables, power banks, and other similar accessories is a big no, and you should always avoid them.
Some customers start facing battery issues too often because of overusing the battery. If you play resource-intensive games or stay active on social media all day and churn reels all day, you'll need to charge the much more quickly. That's because a battery's life depends on its charging and discharging cycles. The more you charge the battery, the sooner its charging cycles are over, and you'll need a replacement.
---
Motorola Moto One Fusion Plus Battery Photos
If you want to visualize the Motorola Moto One Fusion Plus battery, please refer to the images below and let us know if you've any questions.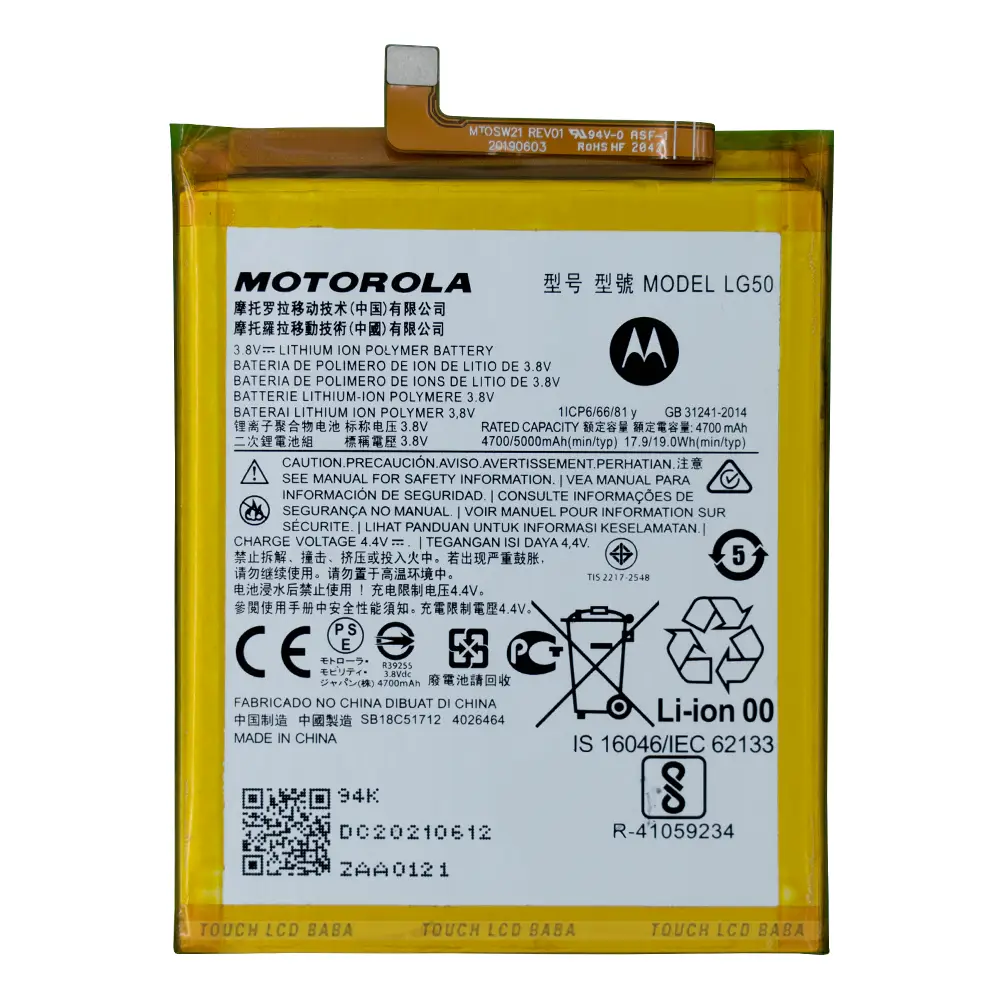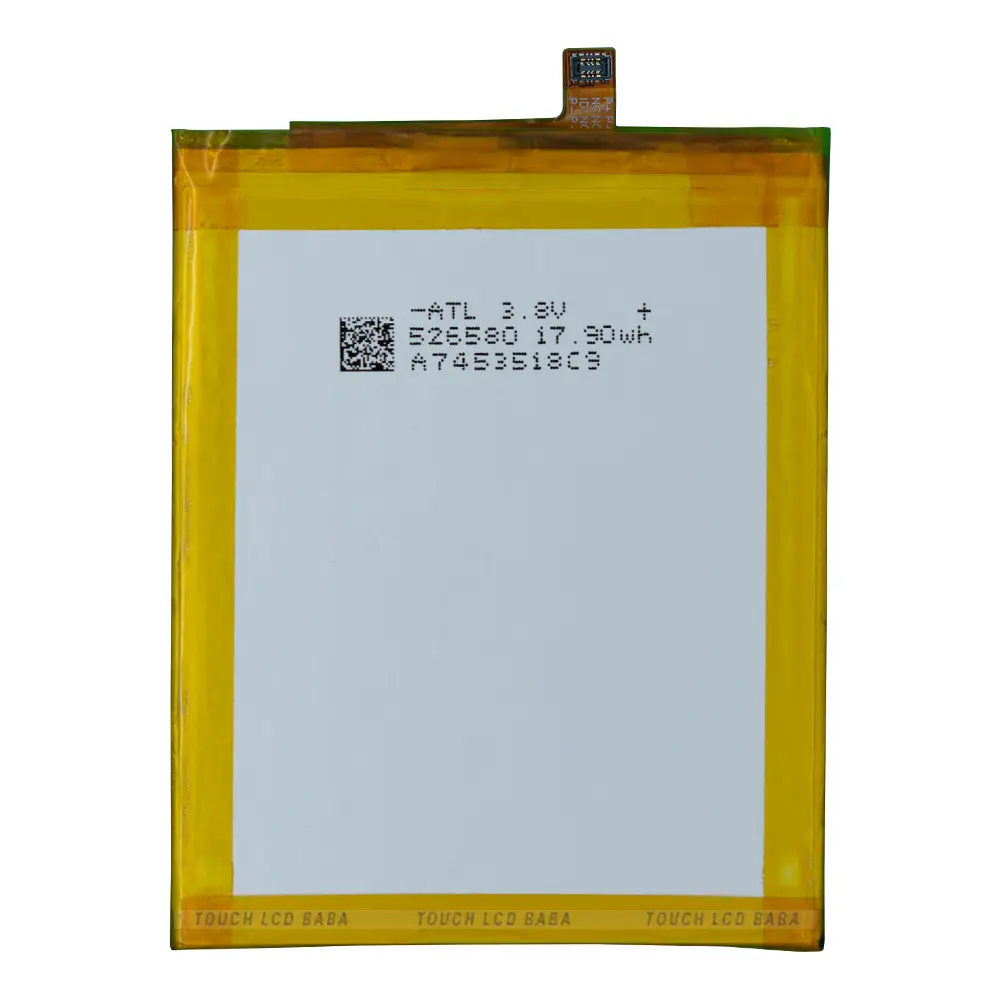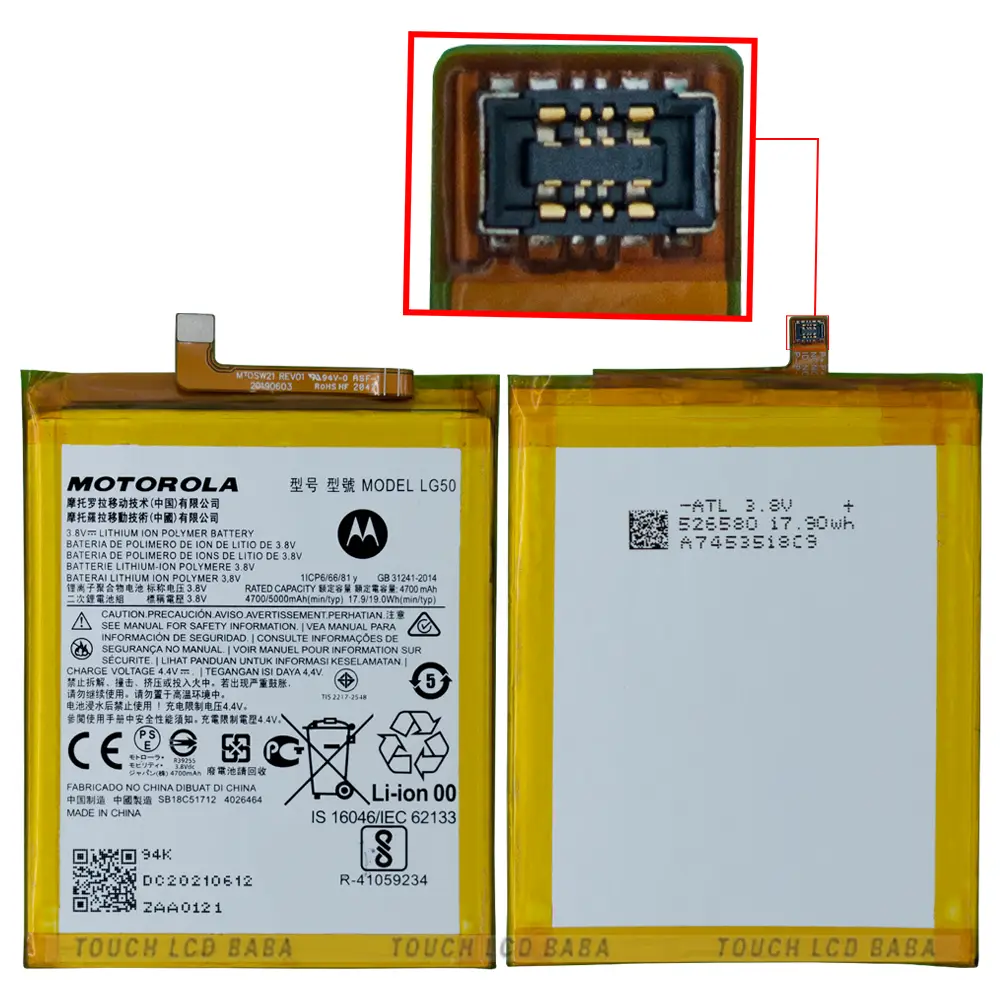 Shipping, Return and Refund Policy
All our products come with 30 days return, refund, and replacement guarantee. To return a product, It should be in the same condition we sent. You can't use or paste the new Motorola Moto One Fusion Plus battery if you want to return it. For complete details about Shipping, Returns, and warranty, please click here.