The Motorola Moto Z Play is a trendy phone because of its wonderful features and stunning AMOLED display. Many people who possess this phone are unwilling to give up on this because it still provides the best display quality you'll not find even in the latest phones.
The Moto Z Play phone has a pre-installed AMOLED display, and Gorilla Glass 3 protects the screen from minor drops. Still, the phone is prone to breakage if it skids off your hands from a great height. The AMOLED display is complicated, and once it breaks, you've to replace the complete combo of display and touch screen glass.
What is the meaning of the Moto Z Play Display Combo?
The display of Moto Z Play comprises two individual parts, the display, and the touch screen glass. When companies manufacture the phone, they combine the display and touch screen glass using LOCA (Liquid Optical Clear Adhesive). It means that the display and touch screen come glued together, but still, you will not see any signs of glue because of the optically clear adhesive, and it is precisely what the word combo means.
When the display attaches to the touch screen glass, we call the resultant unit a Combo/Folder. In case of any physical damage to the glass or inner display, you need to replace the entire assembly because you cannot replace them individually. If you have broken the top layer of gorilla glass or damaged the internal display, this part is useful for both cases as it comprises both display and touch screen gorilla glass. We sell a 100% original combo of Moto Z Play, which offers the same colors, brightness, and sharpness as the factory-fitted display.
How does the display replacement work?
To replace a broken screen in Moto Z Play, you have to take off the broken screen from the front side and paste the new display in place of the old one. The company designed the phone so that you can't open it from the backside. You don't even need to unscrew a single screw to replace the display.
All you need to do is blow some hot air on the broken display to soften the adhesive and take it out. Then paste a new display by using Glue or Double tapes, and that's all. It is probably one of the easiest phones to repair. Please note that the display replacement requires utmost care and takes a maximum of 15 minutes. Just be sure to seek an expert's help because these things require expertise when you fit them. Always test the combo before you fix it permanently to avoid any problems later.
How can you test the new combo before fixing it permanently?
As a customer, you must test the new Moto Z Play display before fixing it on your phone. This testing process ensures your safety and allows you to make sure that everything is in order. We never recommend fixing the display without testing it first. It is a rule of thumb in this business to test the display to rule out any possibilities of defective parts. From our end, we try each screen manually and then send it to our customers.
After receiving the new screen, you can connect the display's flex cable to your phone's motherboard in an open condition and test the screen. There is no need to tear off the display's protective films or use glue/double tapes to paste it. First, test the new display just like you use your phone every day, and after verifying the working condition of the display, you can go for the final installation of the product.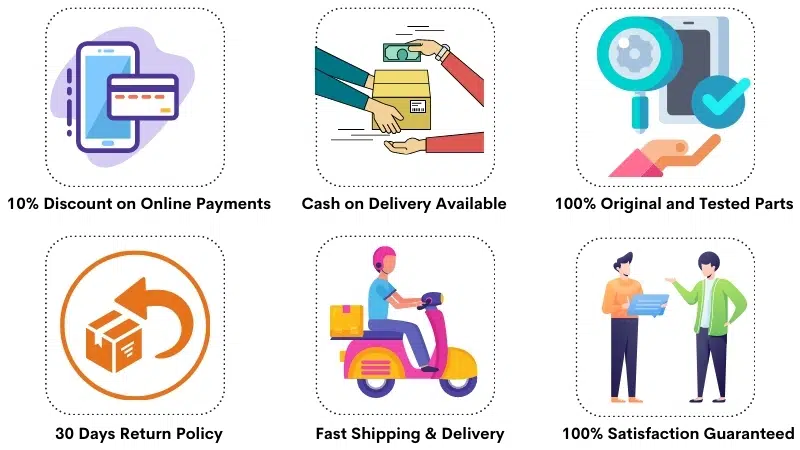 Is it possible to replace only the glass and reuse the same display?
It is possible to replace only the glass, but that is another inferior quality solution. The only glass replacement is seldom successful, and even if successful, you will not get the same quality again. A refurbished screen can never match the quality of the original Moto Z Play display.
The glass replacement is a secondary solution and can't resemble the original screen quality. It is a thriving business locally because of low prices, and customers often think they have got nothing to lose. Customers know that complete Moto Z Play combo replacement is the eventual choice, but why not take the risk and see if glass replacement works for them? Customers hope that glass replacement will be successful for them, and even if there is a compromise, at least they saved some cash. So you can try your hands on glass replacement if you are cash-strapped and don't want to spend much on display.
Moto Z Play Display Secifications
| | |
| --- | --- |
| | This combo is 100% original, brand new and suitable for Moto Z Play, model number XT1635-02. |
| | The Moto Z Play display size is 5.5″, the display type is AMOLED and resolution is Full HD 1920 x 1080 Pixels. |
| | It is exactly the 100% original screen as comes assembled in a brand new phone. |
| | This combo comprised both the display and touch screen glass into one. |
| | The Corning® Gorilla® Glass 3 protects the top layer of touch screen glass. |
| | It offers 100% the same brightness, sharpness and color reproduction. |
| | The smoothness of touch screen and color hue will not change after replacement. |
| | We provide tested screen replacements that come with a money-back guarantee. |
| | We pack your order safely in hard plastic boxes and use additional layers of thermocol to protect the content. |
| | The stock is readily available and turnaround time is quick. |
| | You can order the product using Cash on Delivery or online payments. |
Frequently Asked Questions
Q: What is the Moto Z Play display replacement price in India?
The price of a 100% original Moto Z Play display replacement is around Rs 4500-4600. If you buy a first copy screen replacement, the combo costs about Rs 1300-1500 in India. You may have to pay additional repairing charges to a mechanic on top of the display's price.
Q: I'm getting a very cheap deal in the local market. Why is your price high? 
The so-called deals always have some hidden facts that the customer is unaware of. The replacement screens come in several qualities, and the locally available screens are TFT quality screens. It means you are looking at a replica screen, not the original one you got with the phone.
According to our experience in this industry, the original parts have a minimal supply. The original screens are never available in local shops because people want low prices and it is not worth investing in original screens. The original screens are very costly (twice as high compared with duplicate ones), and people often turn down the offer for the original screen because they don't want to spend that much money.
So the deals you get in the local market or online are merely counterfeit displays and will never provide you with the same quality. Surely, such a screen works with lots of drawbacks but don't keep your expectations high as you'll surely regret buying such a screen replacement for your Moto Z Play.
Q: How much visible difference in AMOLED and TFT display quality?
You can easily distinguish between an AMOLED display and a TFT display. Honestly, there is no quality comparison because both are different display technologies, and nothing beats an AMOLED display, by far. People love to buy phones having AMOLED screens because the color reproduction and brightness are so good, which is never possible with the TFT quality screens.
Roughly, The TFT screens offer 40% original quality, and you've to sacrifice a major chunk of quality in favor of a low price. If you compare both (AMOLED and TFT) Moto Z Play displays side by side; you'll turn down the TFT quality in a few seconds. We know that there are budget problems, and not everyone can buy the original screen replacement, but the TFT screens are easily available in the market for such cases.
Q: We are afraid of shoddy business practices online. How can you help us?
This industry is full of false commitments and taking advantage of the customers not knowing the screens. The original display of Moto Z Play is pricey, and you can't buy it for cheap. Still, many customers try to find originals for throwaway prices, and that's why shoddy business practices are so common.
The customers want original screens for cheap rates, and the seller knows that it is not possible to give the original Moto Z Play display for a low price. To overcome this, many online and offline technicians sell counterfeit goods under the name of the first copy, 99% quality, OG, AAA grade, and other similar words. All such screens are duplicates and sugarcoated with appeasing names, so you buy them easily.
At Touch LCD Baba, we sell 100% the same screen of Moto Z Play as it comes assembled in a brand new phone. We source the screen from the same OEM manufacturer who makes it for the company, and our prices are high. We don't want to sell counterfeit screens, and it doesn't matter if a customer buys from us or not. However, it stands true that once a customer buys from us, we'll keep that customer forever.
Q: What if the new display arrives damaged or doesn't work during testing?
We wrap your products carefully and use rigid packing material to ensure everything goes smoothly. First, we pack your display in bubble wrap and then place it inside a hard plastic container. Then we place the container inside a solid cartoon and place thermocol sheets all over the sides for maximum safety.
So far, all our customers have appreciated the way we pack their products. Still, we take insurance for all parcels during transit. You can always record an unboxing video for your safety. If you find anything damaged, we'll happily replace it for you.
Regarding the product not working on arrival, we want to assure you that we supply tested products, and such occurrences are non-existent. Still, we protect you with our 30 days return, refund, and replacement policy if you face any issues.
Just make sure you don't remove the screen guard and protective film/stickers from the display and keep it in brand new condition, the same as we supplied. You can test the new Moto Z Play display, but you can't fix it if you want to return/replace it for any reason. We don't accept used returns, so please be sure to follow all the terms and conditions.
Moto Z Play Display Photos
These are the actual photos of the Moto Z Play Display and Touch Screen combo. As you can see, the display assembly comprises the inner display and the top layer of the touch screen glass. You need to take out the broken screen from your phone and fix this one.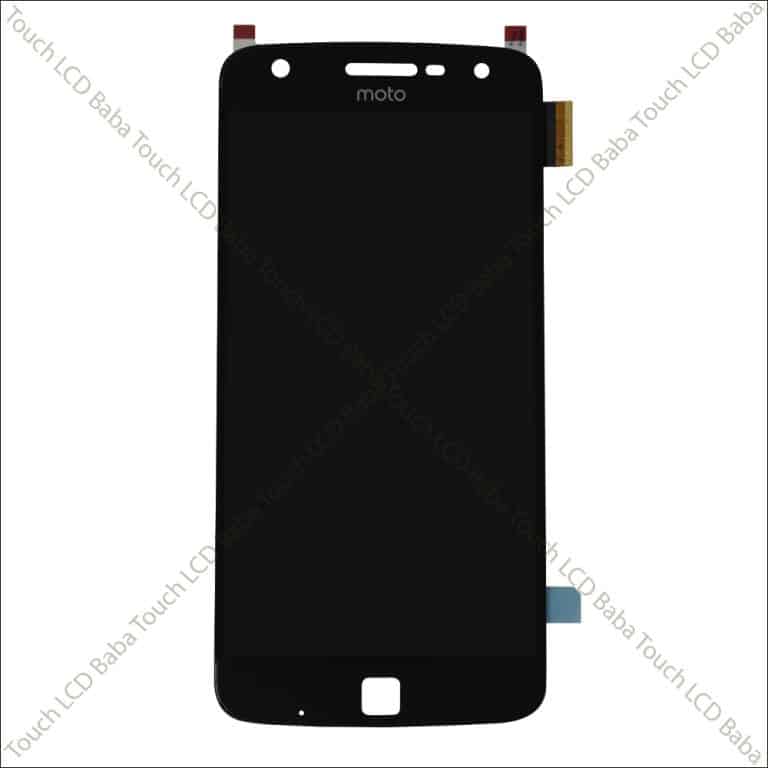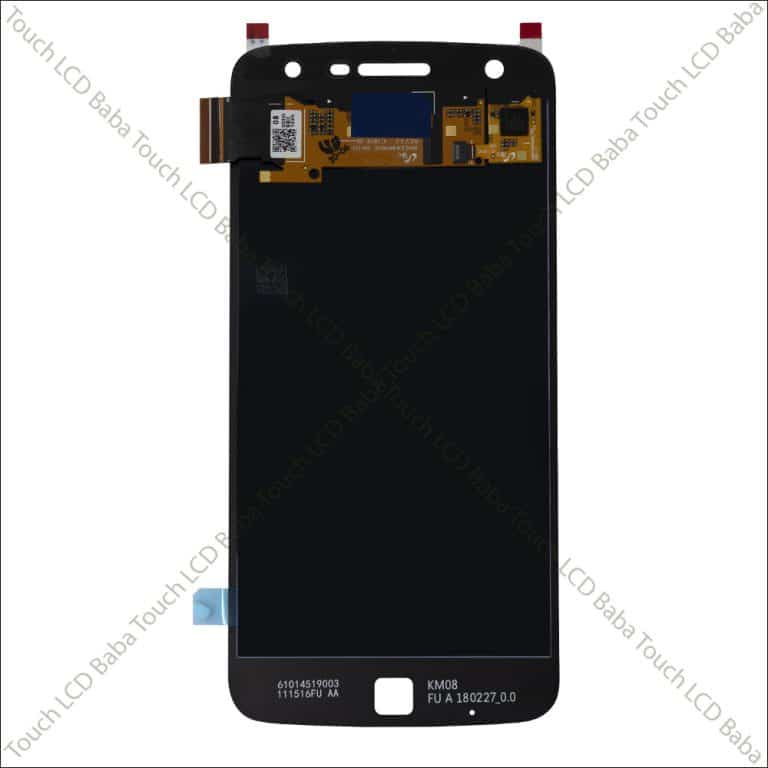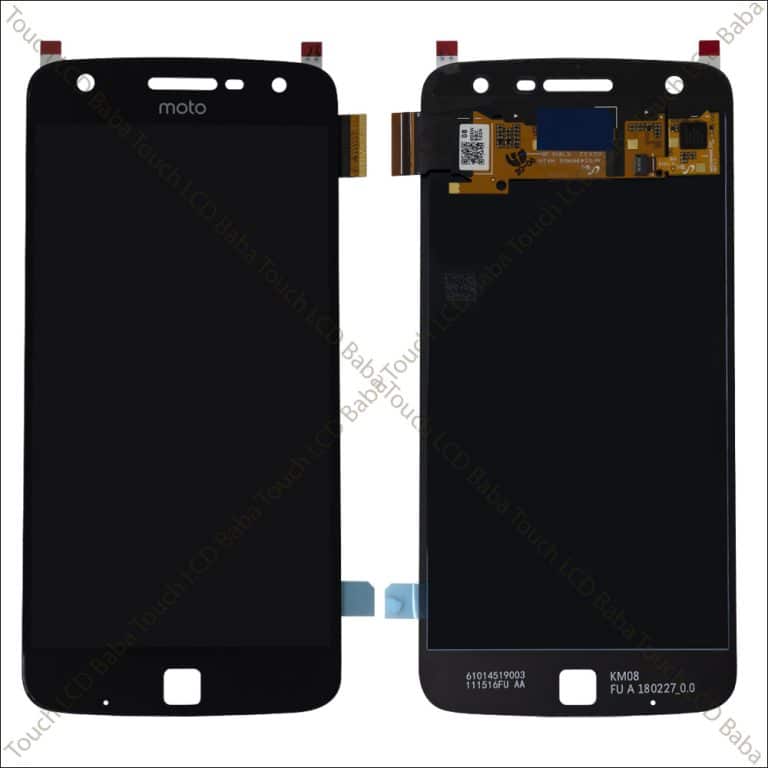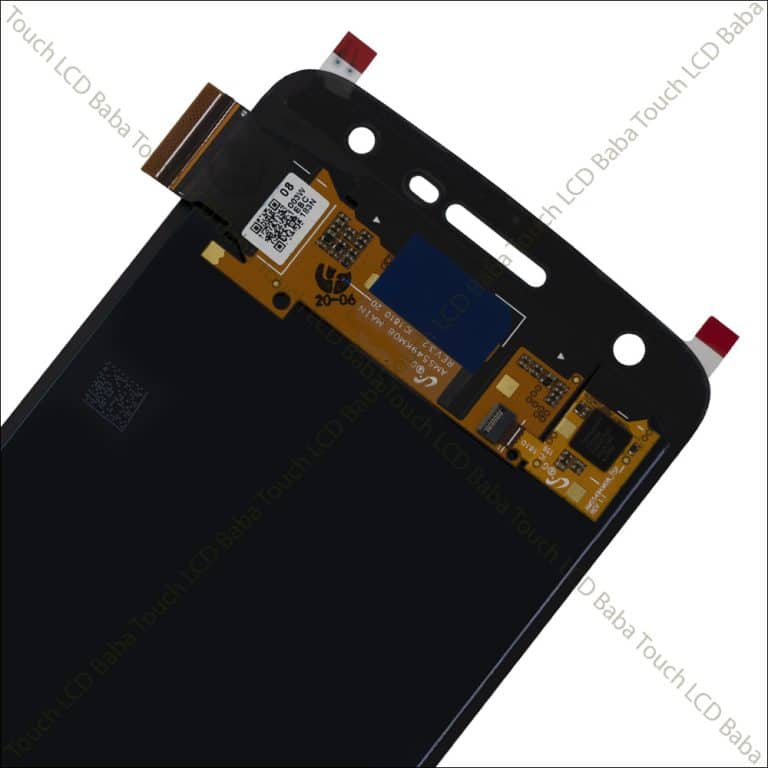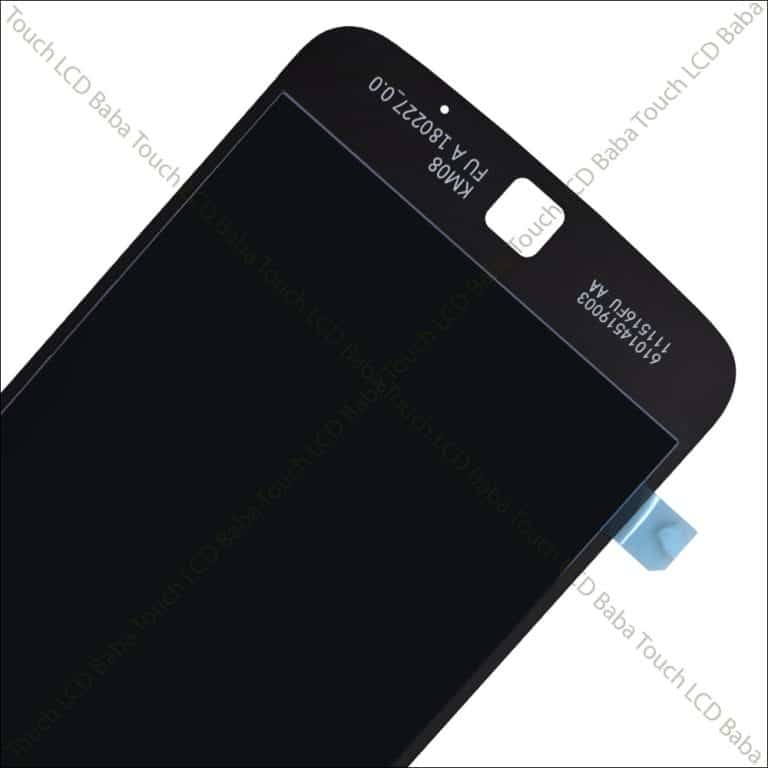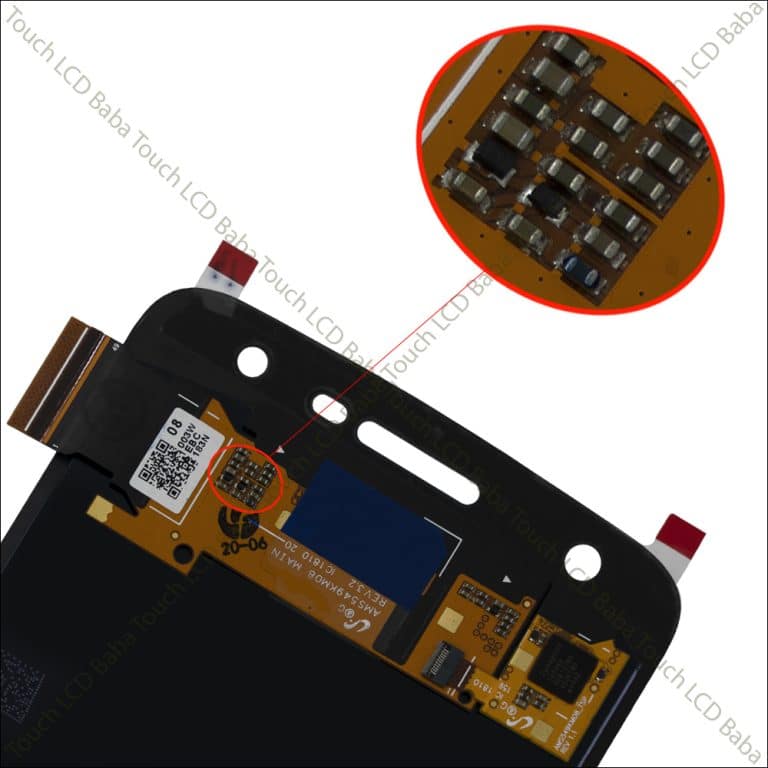 Shipping, Return and Refund Policy
All the products supplied by us come with 30 days return, refund, and replacement guarantee. To return a product, It should be in the same condition as we sent. You can't use or fix the new Moto Z Play display if you want to return it. For complete details about Shipping, Returns and Warranty, please click here.