The charging port is an essential part of a mobile phone because you fully depend on this to charge your phone. It also includes the microphone, and if the charging PCB of your Nokia 7 Plus goes bad, you can't use the phone. It is essential to charge the phone, and if the charging connector doesn't work because of any reason, the phone will turn off itself because you can't charge it anymore.
Why the charging PCB of the Nokia 7 Plus goes bad?
The charging PCB of Nokia 7 Plus goes bad more often than other phones. Sometimes, that happens because of natural wear and tear, and many times, several other reasons cause the charging connector to stop working properly. If you always use the original charger and cable, you can use the charging connector for a long time, and if you don't use the original cable, you'll make it bad soon.
Often, people keep the original charger at home and work; they use a substitute charger or cable to charge the phone. They often borrow it from a colleague or buy a compatible charger, but that is usually not a good practice. All the charging Type C charging cables have a very slight variation in the jack's shape, and if you insert different connectors into your phone, soon, the charging jack will start giving problems. For example, you have two different phones, and both use a Type C jack for charging. Now, you interchange the chargers often, and despite having branded cables with both charges, you shouldn't interchange them.
Samsung's charger might not be perfect for Nokia 7 Plus and vice versa. All chargers have different outputs, and if you try to use a universal one, that will not work out in most cases. We have tried this and tried using the OnePlus charger with a Samsung phone, and the charging time was much longer. That's why if you don't use the original charger or cable, that is the biggest reason for facing charging PCB issues after a short time.
Is it true that some phones have more charging problems than others?
Nokia 7 plus charging problems are widespread compared to other phones, and lots of customers have issues. Some issues are because of customer negligence, and others are because of the design of parts. The normal wear and tear, water damage, broken charging jack, and the loose charging jack are common problems.
You can resolve all these problems by replacing the Nokia 7 Plus charging connector. It would help if you replaced the Nokia 7 Plus charging jack when :
If you damaged the charging connector after using different chargers and cables to charge the phone.
The charging connector is loose, and you've to keep the charging cable in a certain possible to charge the phone.
If you've to press the charging cable hard inside the jack to charge.
The charging speed has slowed down to a great extent, despite having the original charger and cable.
You are facing network issues after buying a duplicate charging connector.
During a call, the person on the other side can't hear your voice because of the microphone problem.
Some people replace only the charging jack instead of replacing the complete board and face frequent issues.
The charging issues in Nokia 7 Plus are prevalent, but you can easily resolve them by replacing the charging PCB. If you need a 100% original charging sub-board for Nokia 7 Plus, you can order from our store and then replace it with a technician's help.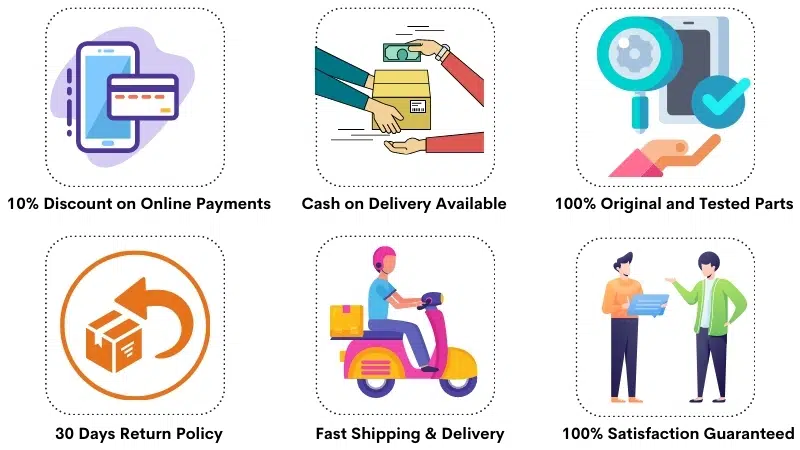 Nokia 7 Plus Charging PCB Specifications
| | |
| --- | --- |
| | This charging PCB is 100% brand new, original and tested for flawless working. |
| | You can use this charging board to replace a defective/non-working PCB. |
| | It is exactly 100% original, exactly the same as it comes with a factory fitted phone. |
| | The stock is readily available and shipping time is quick. |
| | A technician can easily replace the charging PCB. |
| | We test each Nokia 7 Plus charging board before shipping. |
| | You can order the product using Cash on Delivery or Online Payments. |
Questions and Answers
Q: How much does it cost to replace the Nokia 7 Plus charging PCB?
The price of a 100% original Nokia 7 Plus charging PCB is around Rs 1600-1800. Please note that duplicate charging boards will not work. They will show that the mobile phone is charging, but the charging percentage will never increase. That's why buying the original charging board is a must.
Q: Can I replace the charging PCB at home with no help? 
Please note that it is difficult to replace the charging port because it is located under the display. To replace the charging PCB, you need to take off the display, and if the display is still working, it is risky. That is because the display comes glued in the frame, and if you decouple the display yourself, there is a considerable risk of breaking the display. Without decoupling the display, you can't replace the charging port. So please don't do this at home and take the help of a trained technician. We are not saying that it is very tough, but it still takes some expertise to replace it.
Q: I bought a Nokia 7 Plus charging flex from another website, but many components were missing. Why?
If you purchase a duplicate charging PCB, you will find that the charging PCB is missing many components. The missing components indicate a duplicate charging PCB, and the local markets are full of those. Such duplicate charging PCBs are not worthwhile as they don't work properly. Sometimes, you'll find that Mic is defective, and many other times, even the charging PCB won't charge the phone. So buying such products will not solve the problem. Many customers buy such products because of lucrative prices, but they don't understand that they are throwing the money away.
We sell a 100% original charging PCB for Nokia 7 Plus, and you can match your original one with the photos on our website. All the components are present and it is exactly the same charging port as comes with a brand new phone. The price is surely not cheap, but it is worth the investment.
Q: Does the charging PCB connector helps network signal?
Yes. The network section is also a part of the charging PCB, and one end of the network wire goes into the charging PCB. If you are facing poor signal problems after purchasing a duplicate charging connector, buying this PCB will help you resolve all the issues regarding the network. An original part offers unmatched quality which you'll never get with cheap offers that are designed to dupe you.
Nokia 7 Plus Charging PCB Photos
This is the actual product you get after your order. If you've questions about the spare part, please call us at 9587954273.
Shipping, Return and Refund Policy
All the products supplied by us come with 30 days return, refund, and replacement guarantee. To return a product, It should be in the same condition as we sent. You can't use or fix the items If you want to return. For complete details about Shipping and Returns, please click here.