If you are trying to find a back panel replacement for the OnePlus 10R, you've found the right website. Here, we offer a 100% original back door for the OnePlus 10R, which helps you replace the original rear panel with an identical panel. It means that you'll get a 100% original back panel, the same as you got with a brand new phone, and that's why the price of the back panel might be a little expensive, but it's worth it.
The OnePlus 10R back panel is plastic and doesn't break easily. However, If you open your phone for repair, the back panel will likely damage or lose its shape. We know that plastic back panels don't require much maintenance, but still, you'll need to replace the back panel in many cases. The back panel is glued on the frame, and if you overheat the plastic back panel, it will crumble, and you must replace it.
We offer a 100% original battery back door for OnePlus 10R
The OnePlus 10R back panel changes colors like a chameleon, and different angles produce different colors. The camera of this phone protrudes outwards; if you drop the phone, the lens will certainly break. A broken camera lens won't allow capturing good photos, and you need a replacement. When the back panel cracks or loses shape, you can easily buy a new back panel and restore the beauty of your phone.
The OnePlus 10R back door on this page is 100% original and comes with a camera lens and flashlight diffusor. The back panel consists of a pre-installed camera lens, and you can refer to product images for more clear visualization of our offerings. If you've any questions, please get in touch with us at 9587954273.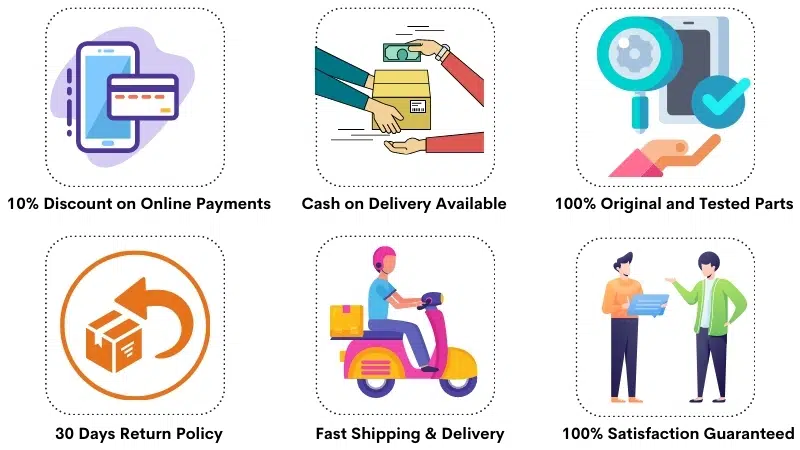 OnePlus 10R Back Panel Specifications
| | |
| --- | --- |
| | This OnePlus 10R back panel is 100% original, the same as you get with a sealed phone. |
| | The back panel has a pre-installed camera lens, as demonstrated in the product photos. |
| | You can match your old back panel with ours and find no differences. |
| | The back panel fits seamlessly into your phone without leaving any openings on the side. |
| | You can easily install the new back panel at home without any assistance. |
| | We sell 100% fresh, new back panels and source them from the OEM manufacturer. |
| | The back panel's material is plastic, and the back panel's color looks different from different angles. |
| | The back panel is as shiny, vivid, and sturdy as the original one. |
| | We verify the condition of each back panel before it goes out to the customer. |
| | You can buy it in three colors,  Sierra Black, Prime Blue, and Forest Green. |
| | You can order the product using Cash on Delivery or Online Payments (additional 10% discount). |
Questions and Answers
Q: How much does replacing the OnePlus 10R Back Panel in India cost?
The price of a 100% original OnePlus 10R Back Panel replacement is around Rs 1600-1700. Please note that cheaper back panels cost less because they are made of low-quality material and don't provide the same quality. The back panel replacement costs vary primarily on the quality you purchase.
Q: Is the OnePlus 10R battery back door made of glass?
No. The OnePlus 10R rear panel is not made of glass but plastic. It is good for customers because if you drop the phone, the back panel will likely not break, and you can use it for a long time without worrying about durability. You must replace the back panel if it loses its vividness over time or you've got so many scratches on it because of natural wear and tear.
Q: Can I get the camera lens separately without the entire back panel?
We are sorry, but the back panel comes as a whole, and the camera lens is not available separately. You might want to check other websites where duplicate camera glasses are easily available, but their quality is not worthwhile. We understand that you want to buy only a camera lens because that's what you want, but the original back glass comes as a complete package.
Q: Can I buy a different color back panel than my existing one?
Yes. You can choose a color according to your preference, which doesn't hurt. All back panels are the same in size and fitting, but their colors differ. So if you want to change colors, you can freely do that without hesitation.
Q: What steps should I take to replace the back panel?
It would be best if you didn't replace the back panel on your own because you might not be qualified to do that, although it's not that technical. It hardly takes 15-20 minutes to replace the back panel, and any competent technician can do that. A technician usually charges Rs 150-200 to replace the rear panel. Just for your information, these are the steps one should follow :
First, you must blow hot air around the old back panel to soften the adhesive.
Then use a pry tool to glide through the adhesive slowly.
Clean the frame properly, and don't leave any leftover glue.
Then apply glue all over the frame and let it dry a bit.
After that, you can carefully paste the new back panel.
When you replace the back panel, you can use this opportunity to clean the camera lens and other parts of your phone with a lint-free cloth. Please ensure you don't mess up with other parts of your phone during the back panel replacement.
OnePlus 10R Battery Back Panel Photos
These images represent the actual OnePlus 10R back panel you'll get after your order. It is a 100% original spare part, the same as you get with a brand-new phone. While the price might be high for some customers, it is worth the investment.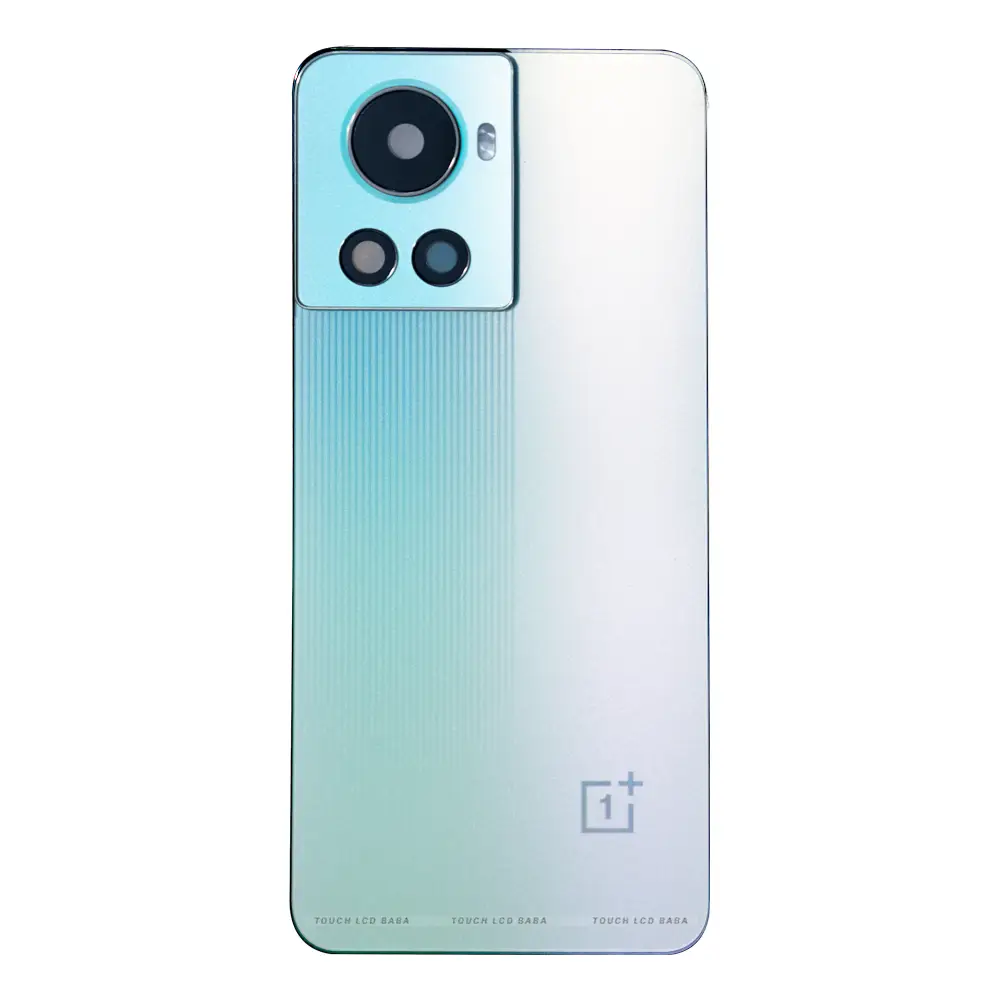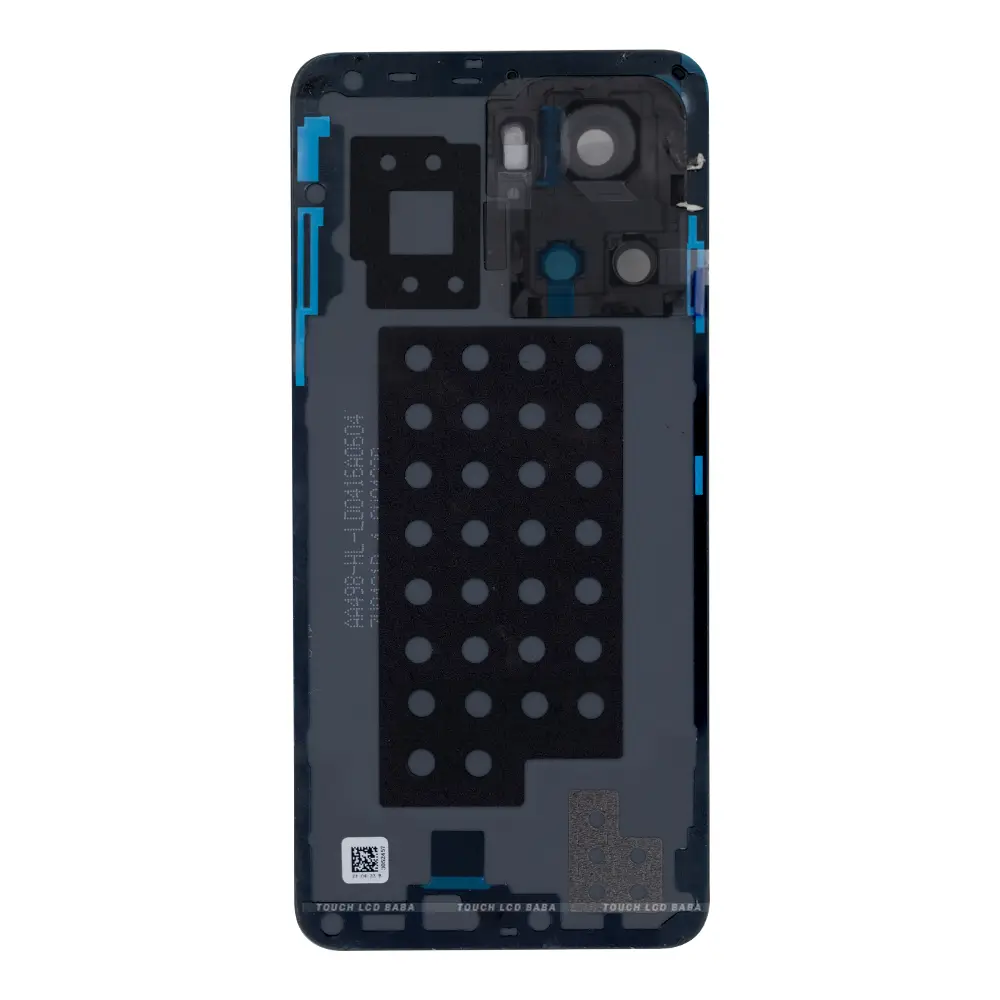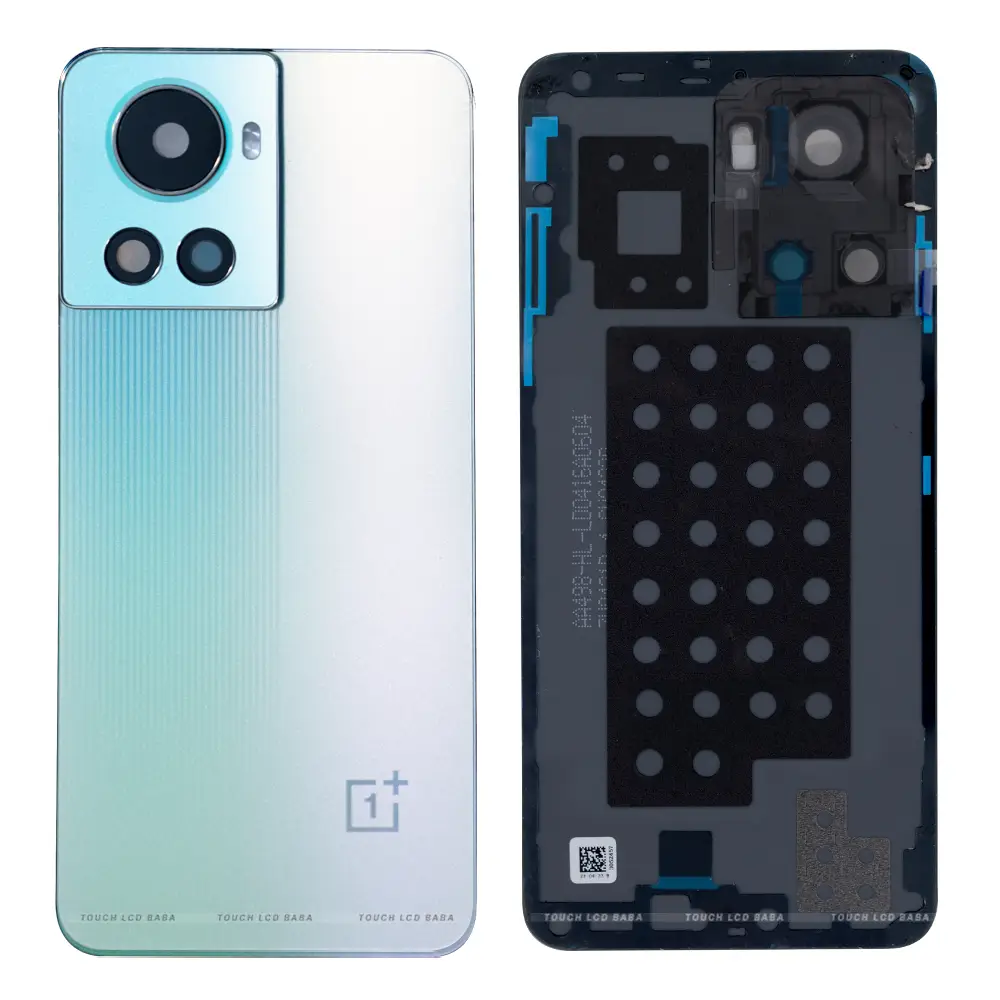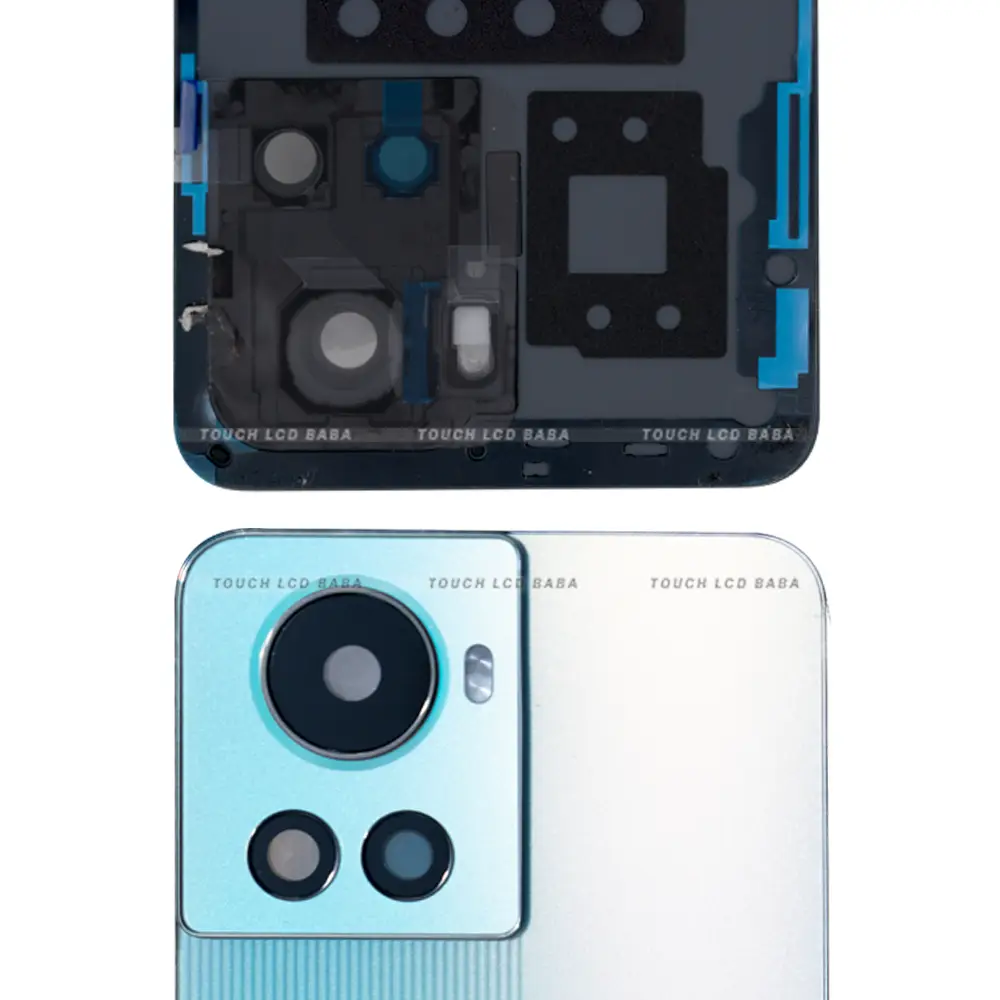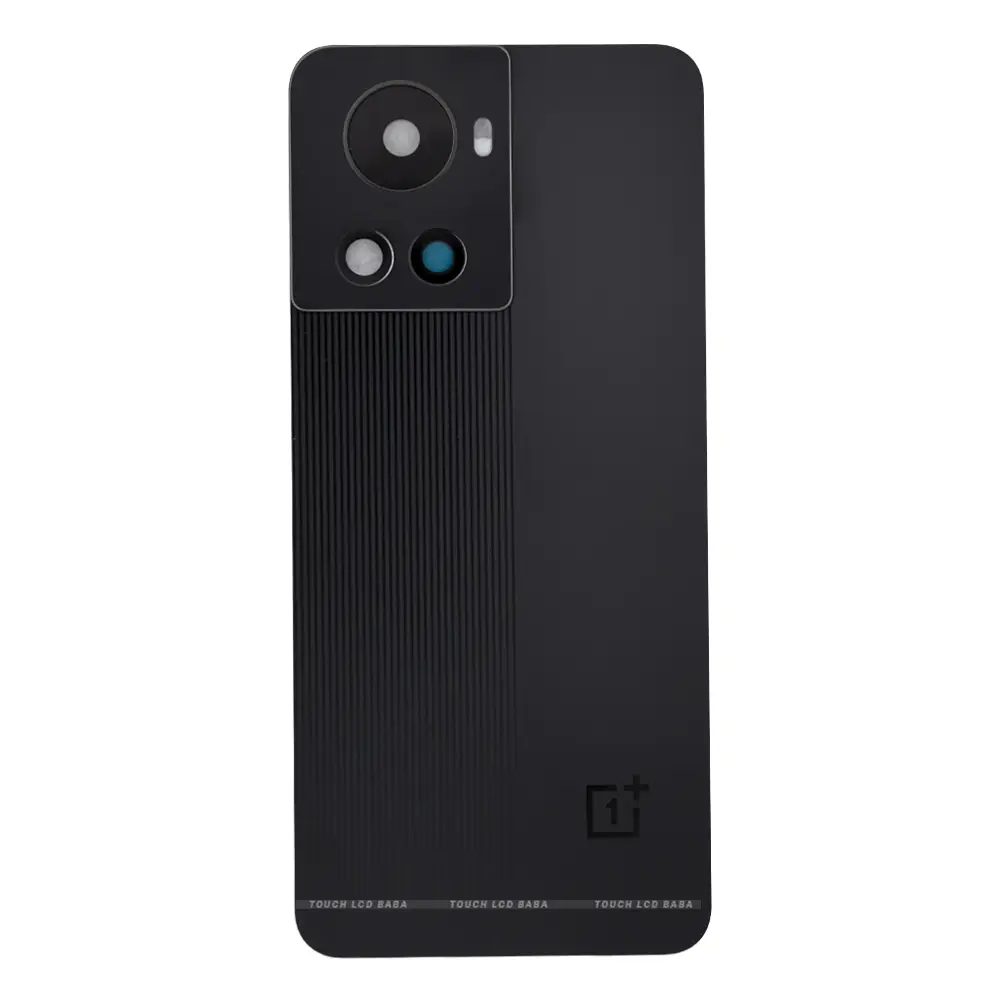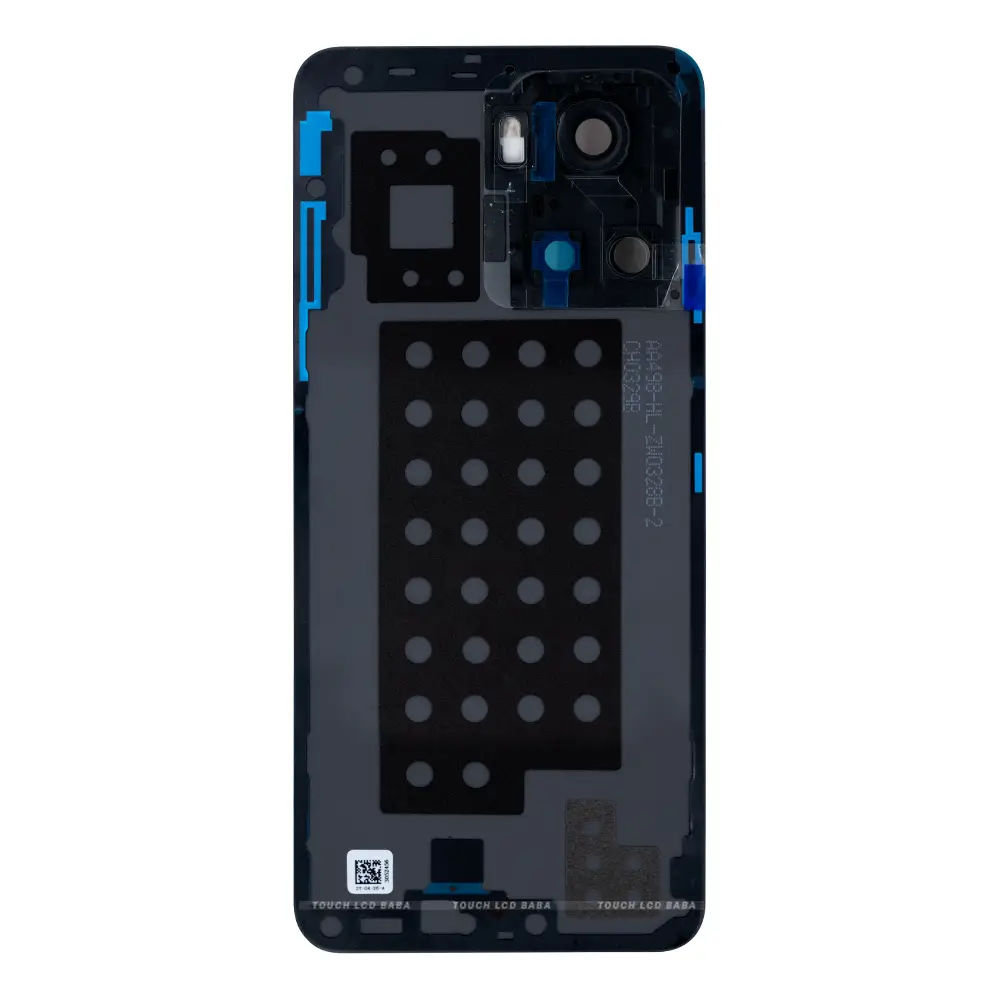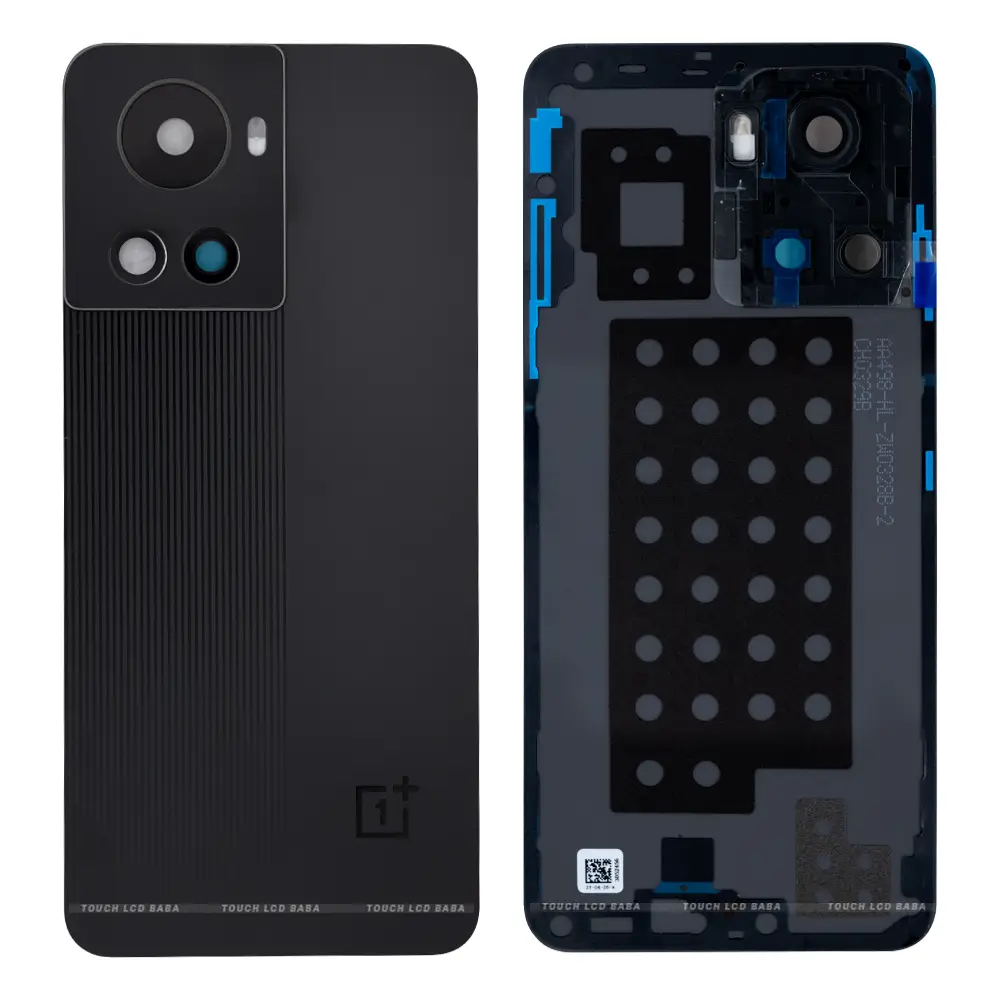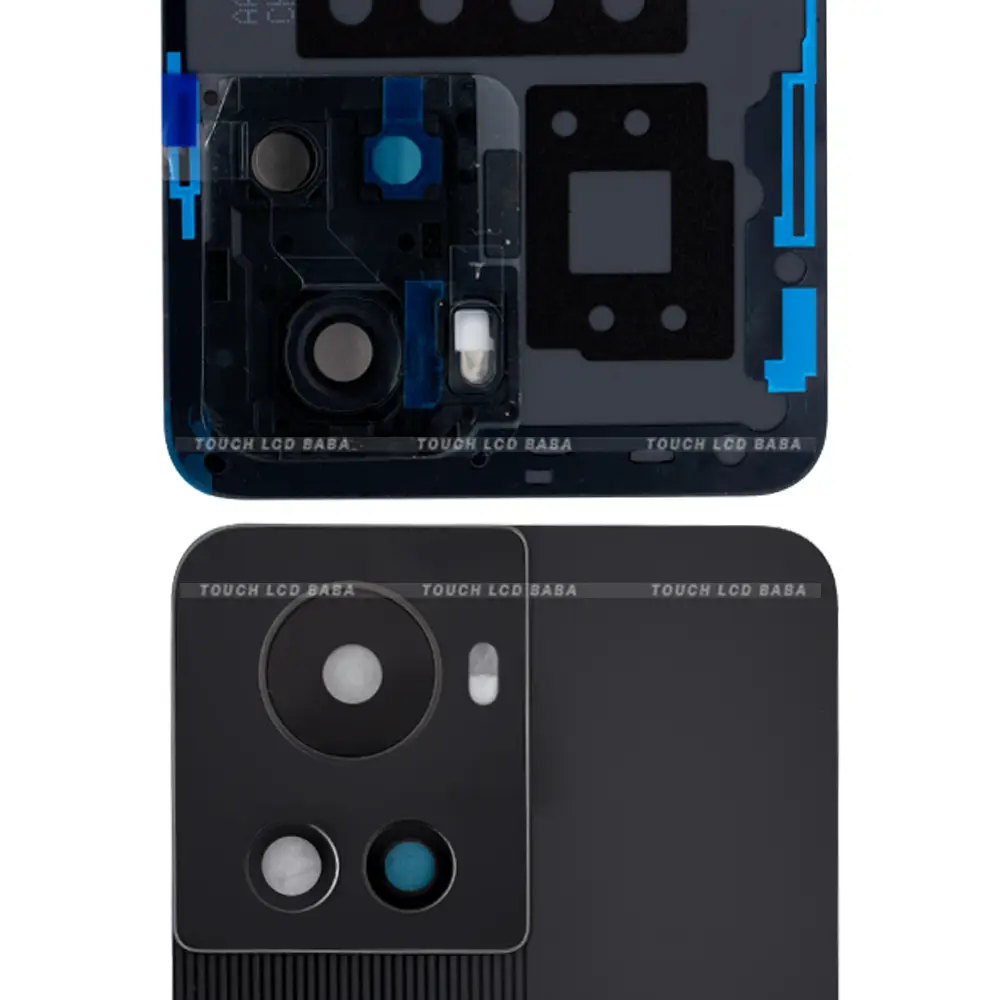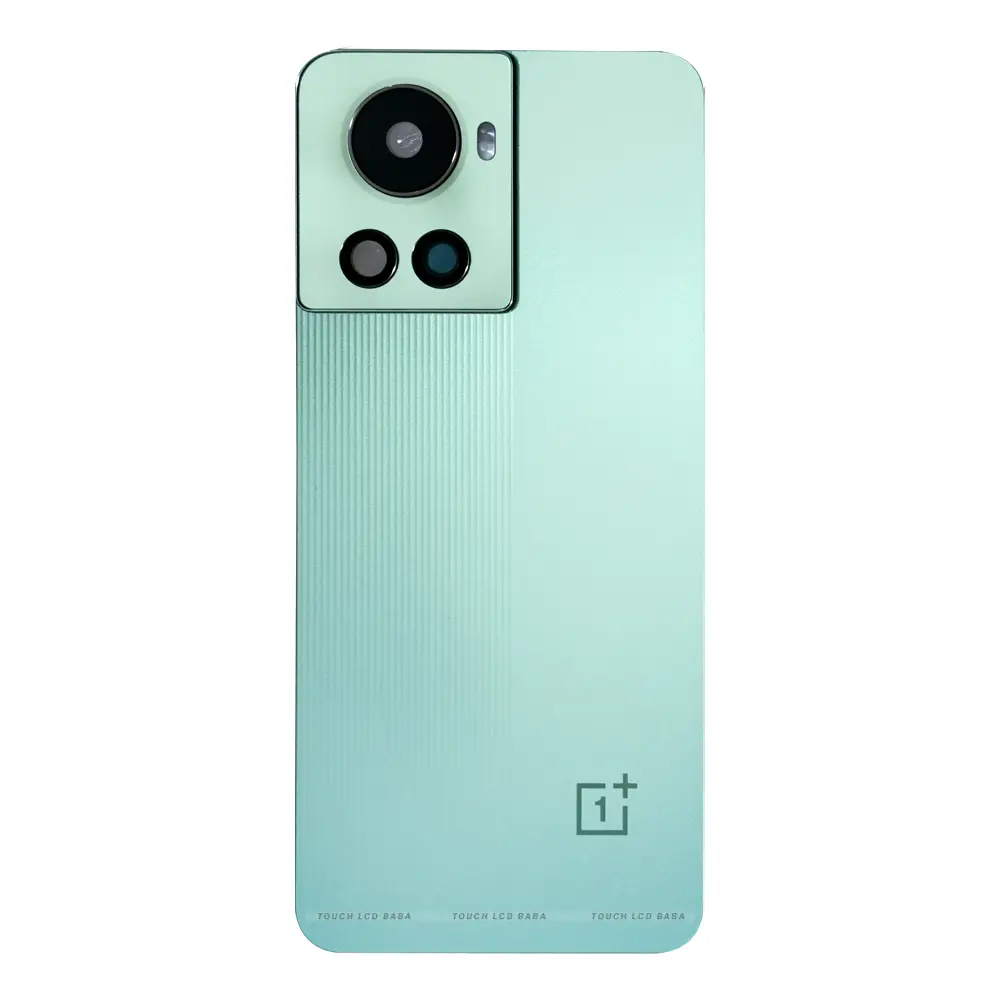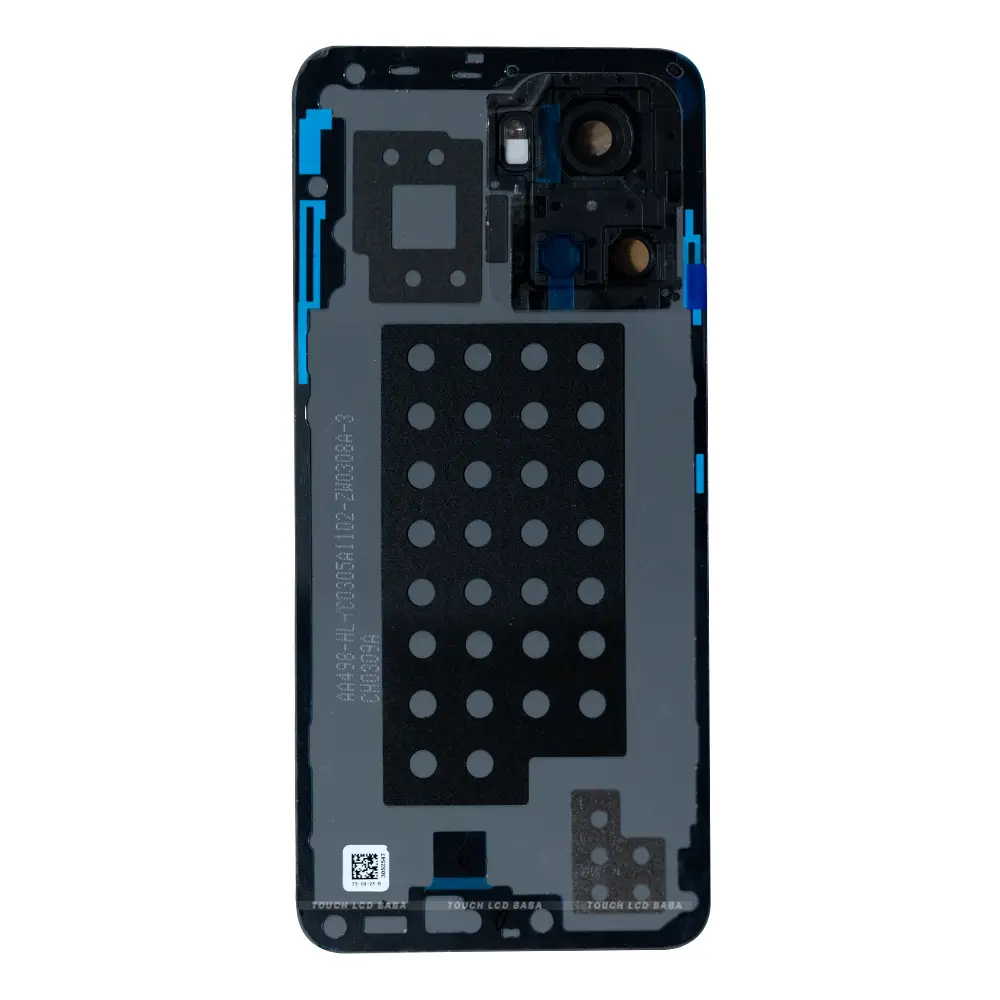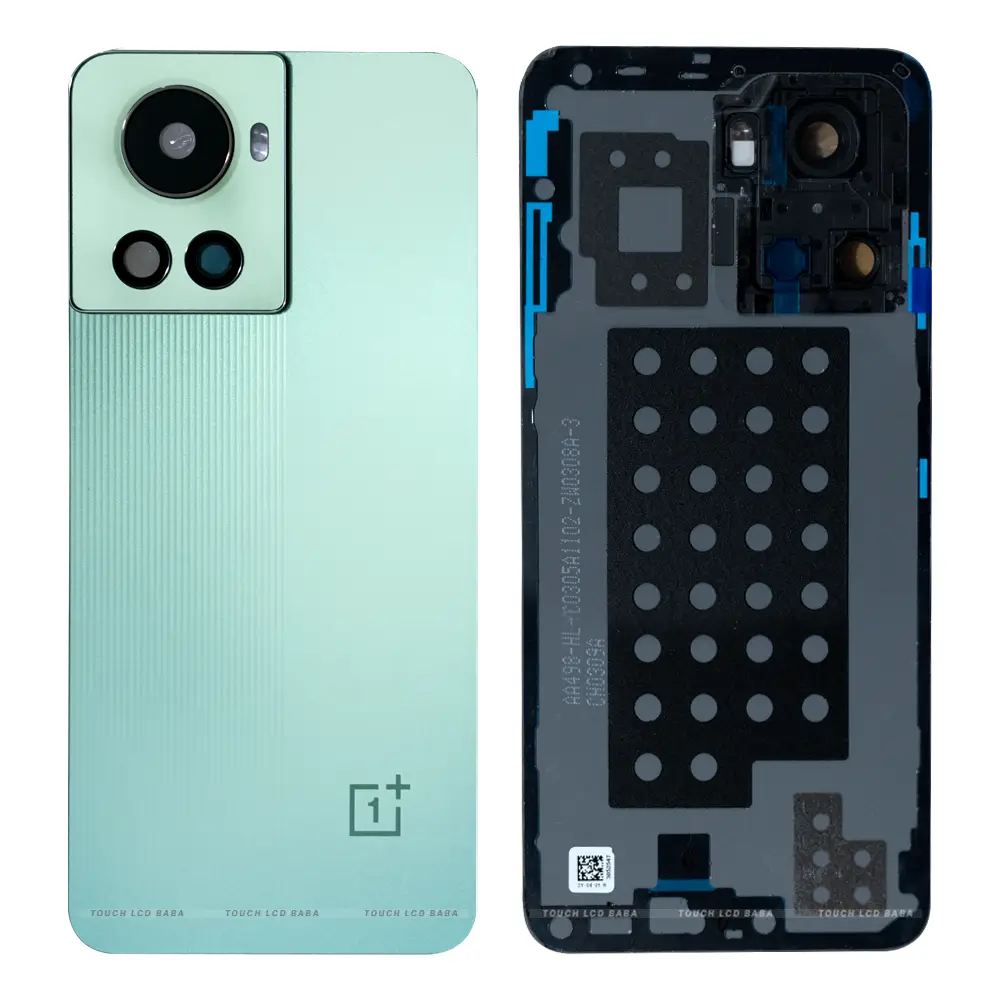 Shipping, Return and Refund Policy
All our products come with 30 days return, refund, and replacement guarantee. To return a product, It should be in the same condition we sent. You can't use or fix the items if you want to return them. For complete details about Shipping, Returns and Warranty, please click here.