Welcome to Touch LCD Baba, where you can find a 100% original display replacement for your Oppo A16 phone. We don't offer the best deals, bargain deals, and budget-friendly products. Our business revolves around selling original spare parts, and hence our prices are not the lowest. Many customers need the best price to buy a product, and if you need an economical solution, you might want to look elsewhere.
You never know when you are in a hurry and your mobile phone skids from your hands. As soon as the mobile phone drops, you pray that nothing happens to your device, but mostly some scratches are inevitable. You'll surely see some scratches on the glass, and while you should still be able to use the touch screen, you won't feel confident using a broken phone.
What is the use of an Oppo A16 display combo?
The only way to replace a broken LCD or touch screen glass is to use a display combo. The Oppo A16 display combo consists of an IPS LCD and a touch screen glass layer. In any case of damage, whether it is the display or the touch screen glass, you still need to replace the complete display combo.
A display combo is a readymade part available in several different qualities. All Oppo A16 screen replacements are not original, so you'll find considerable variation in prices. If you purchase a low-cost product, that's undoubtedly a copy display, and you shouldn't expect much from such products. Later, we'll discuss all the Oppo A16 display replacement details on this page.
What to do if the Oppo A16 display starts to flicker badly?
It is common to have a flickering display, and that's a consequence that generally happens after damage. Customers know that they had dropped the phone, and after that, the screen has started to flicker. But when a customer goes to a mobile repairing shop, they pretend as nothing terrible happened with the phone. We have dealt with numerous customers who dropped the phone badly and asked us to check if the display flickers because of a loose connection with the motherboard.
Customers want to avoid expenses and often start talking about imaginary things. They know that the display has broken, but they have a ray of hope that someone will magically restore the original condition of the phone. If you've broken the display, it's time to admit that you need to purchase a display replacement. You can choose a first copy or an original display according to your budget.
Oppo A16 Display Specifications
This combo is 100% original, tested, brand new and suitable for Oppo A16, model number CPH2269

.

The Oppo A16 display size is 6.52 inches, the display type is IPS LCD and the resolution is 720 x 1600 pixels.
You get a complete combo of inner display and front layer of touch screen digitizer glass merged into one.
We buy our stock from the OEM manufacturer to ensure 100% original quality.
Our testing engineers test and verify each display before shipping to the customer.
You can enjoy the same colors, quality and brightness as before without any degradation.
We pack the display products securely in hard plastic boxes accompanied by additional layers of protection.
This display supports all variants of Oppo A16 and we've verified it numerous times.
Any damage during transportation is our responsibility and you don't have to worry.
You can always contact us at 9587954273 if you face any problems while testing the display.
We offer Cash on Delivery and Online Payments (10% additional discount).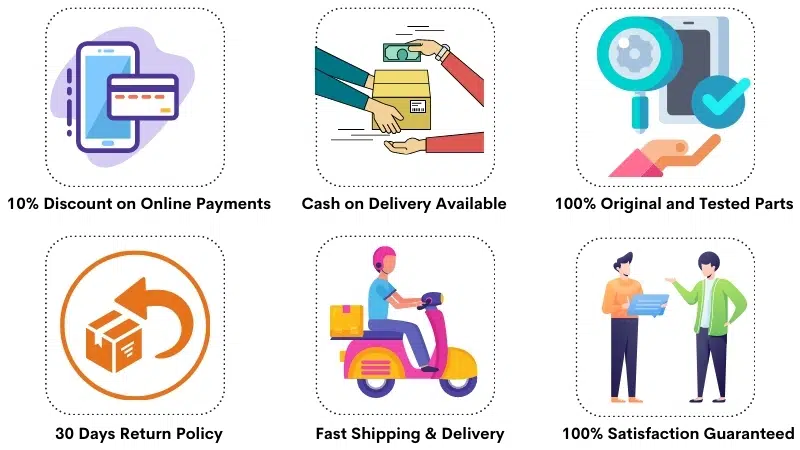 Frequently Asked Questions
Q: How much does it cost to replace a broken Oppo A16 display in India?
The price of a 100% original Oppo A16 display replacement is around Rs 2990-3000. The local market will be the best option if you want a budget-friendly solution. You can easily purchase duplicate screen replacements from the local market for Rs 1400-1600, but their quality is not worthy. Such fake products damage very quickly, and you've to spend money repeatedly.
Q: Should I replace the original display with a duplicate product?
We don't recommend replacing the original display with a duplicate one because you'll lose all the glory of your phone. Customers often want to purchase original products for the lowest price, but that is never possible. Beware, if you are a customer focusing on budget deals and feeling that someone will magically provide an original display to you, it's time to stop giving fake assurances to yourself.
You can surely purchase a duplicate product and replace the broken display, but that would directly impact the display quality. If you were enjoying 100% brightness before, now the brightness levels and all other aspects will drop to 50% levels, and that's why a copy display costs less. We hope you now understand why duplicate screen replacements are cheap.
Q: Do you sell only the touch screen glass without the display?
We are sorry but only touch screen glass is not available separately. We know that all such products are counterfeit and available almost everywhere in the local market. Therefore, if you need only the glass, you better visit the nearby mobile phone shops and try to find this part there. If not, you can find it on many online shopping websites but not us.
Q: Is purchasing the Oppo A16 display online safe?
Yes. It is 100% safe to purchase a display online because you get the full value for your money, and all parts also come with a testing guarantee. Some customers think that if they purchase a display online and then it doesn't work, their money will waste, but that is not true.
We stand behind our products because we want to provide the best experience to our customers. We supply tested screen replacements, and after delivery, you also get 30 days to test the product. If you face any issues with the product while testing, you can easily return the product, exchange it or get a refund.
Q: Does the return policy apply to used/installed products? 
The return policy applies only to unused products. In other words, when you test the display before installation and face a problem, we'll gladly arrange a return or refund for you. Once you've verified that the display is working perfectly and installed it on your phone, we can't accept a return. That's because used products are not eligible for a return. On a side note, you should always test and verify the new display before installation. Without testing the display, you can't know whether a product works or not.
Q: Is it even possible to test the display without installing it?
Yes. It is 100% possible to test the display without installing/pasting it on your phone. Testing the new Oppo A16 display is easy. Follow these steps :
First of all, please open the phone and access the motherboard.
Gently eject the old display's connection and connect the new display's flex there.
Turn on the phone, and you can test the new display like it's installed on your phone.
You can verify the working condition and all the vital aspects of the display.
After verifying the display in open condition, you can install it permanently on your phone. We suggest you always test the display gently for at least 30 minutes, lock and unlock the phone several times, and then install the display gently.
Q: Can a new Oppo A16 display break during installation?
It is certainly possible to damage a display during installation if you install it using incorrect techniques or excessively bend the flex cables. A mobile phone display needs gentle handing during installation, and if you press the display harshly or don't fit it into the frame properly, you might run into issues.
According to our experience, the chances of such mishappening are 1% with an original display and 20% with a duplicate display. The original screens are quite sturdy, so damage cases during installation are rare. That's because the material of the original display is sturdy, and the display's flex cable comes with an additional protective layer that isn't present on a fake product.
Q: I feel that the price is a bit high. Is it a worthy investment?
Please note that original parts are always a worthy investment because you get a durable product. Unlike duplicate screens which break and go bad very easily, original products are sturdy and last long. After replacing a broken Oppo A16 display with a new original combo, the phone becomes brand new again without fear of quality degradation.
Contrary, if you replace the broken display with a duplicate spare, the display quality drops, and you never know when the display will break again. The risk is always there because a local touch screen glass breaks away easily. It is always better to purchase an original display once rather than purchase a duplicate display three times a year. You can do the math and understand which option is better for you.
Oppo A16 Display Photos
These images refer to the actual photos of the Oppo A16 display combo. You can match the version number and other aspects with your original display. For any additional questions, please call us at 9587954273, and our support team will assist you further.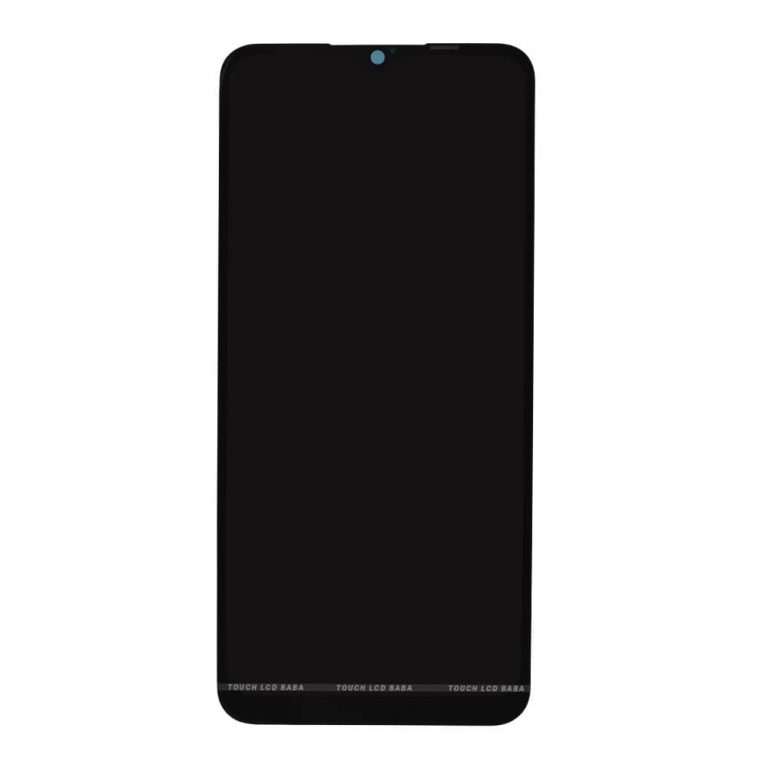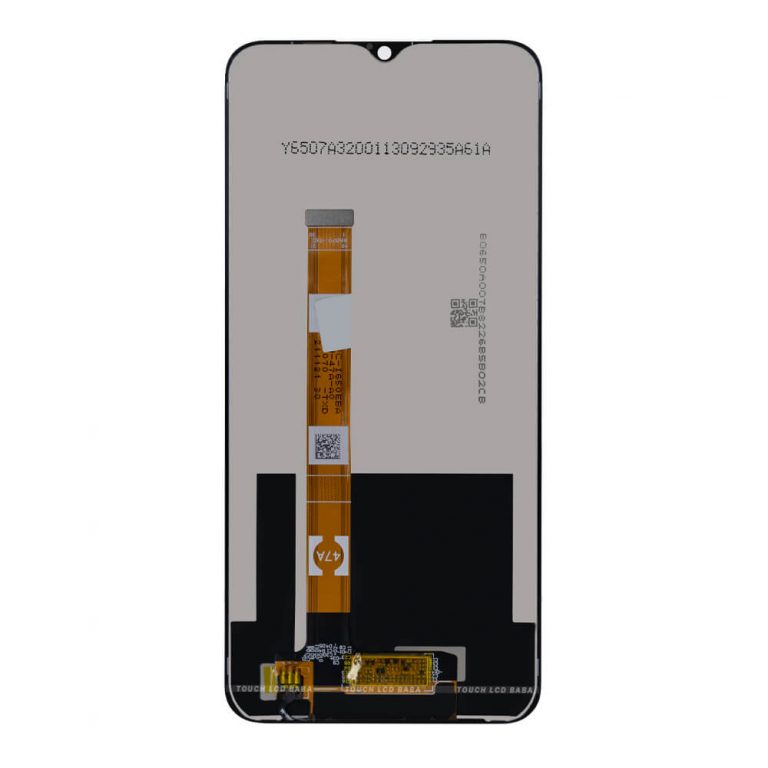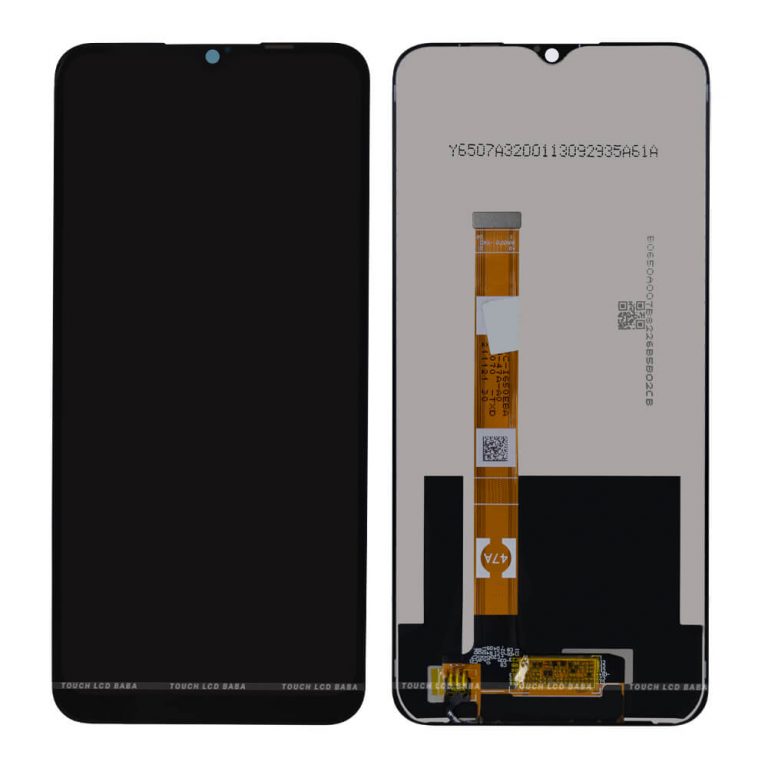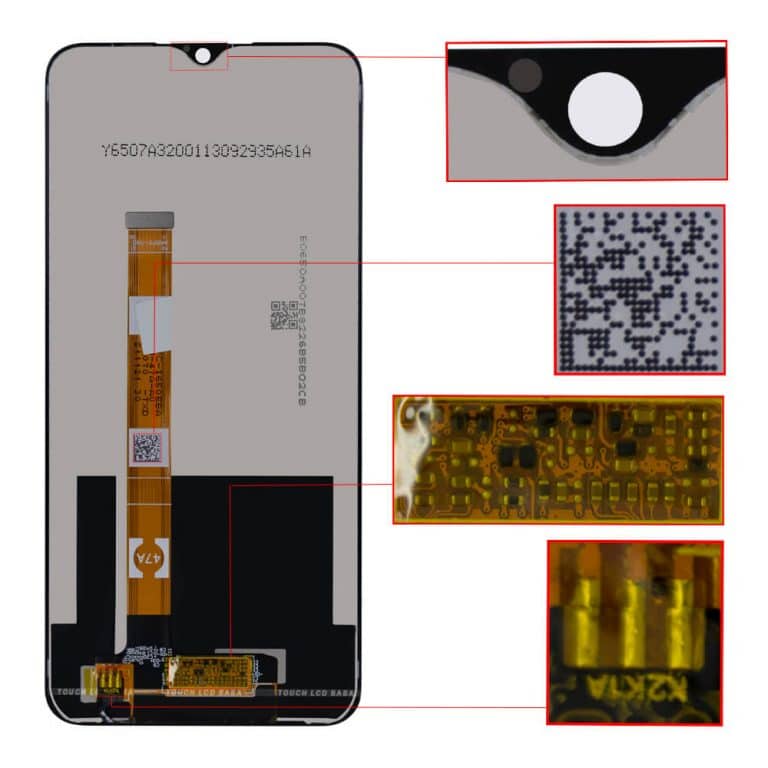 Shipping, Return and Refund Policy
All the products supplied by us come with 30 days return, refund, and replacement guarantee. To return a product, It should be in the same condition as we sent. You can't use or fix the new Oppo A16 display if you want to return it for any reason. For complete details about Shipping, Returns and Warranty, please click here.