If you own a Poco F1 and facing issues with battery life or stability, you're not alone. After using the phone for three years, it is normal for a battery to behave weirdly because it is a natural decay process. A mobile phone's battery is designed to last around three years; after that, its backup/standby time will reduce significantly and occur naturally. If you follow the best battery usage practices, you can lengthen the battery life by a few months, but you can't stop it from going bad. You don't need to worry about battery degradation because you need to replace the worth-out battery with a new one to resolve all the issues.
Poco F1 is a flagship phone, and thousands of customers still own this device. It doesn't make sense to ditch the phone because of battery issues. You can easily replace the battery and bring it back to life without hassle. After replacing the battery, you should be able to use the phone smoothly without any issues for around three years. This page will provide complete information about Poco F1 battery replacement and all the other relevant information to overcome the issues.
When should you replace the Poco F1 battery?
You need to replace the battery only when you face issues with it. These issues can appear in several forms, and all customers face different problems when the battery is no longer in healthy condition. You should watch out for these problems as these are the most common problems that appear because of a worn-out battery :
Your phone's backup/standby time has greatly reduced to 50% levels or more.
You must charge the phone more often to keep up with your usage pattern.
The phone randomly reboots itself, and you don't know the reason for this issue.
Your phone's battery is not taking charge or charging very slowly, even with the original charger and cable.
The battery charging percentage is stuck at a certain level and won't go beyond that.
You see sharp declines in the battery power from 70% to suddenly 40% and upswings similarly.
Your phone switches off automatically after a certain percentage.
Sometimes, the phone reboots intermittently because of a worn-out battery.
The battery has puffed up, and pressure on the back panel of your phone.
We believe most battery issues are easy to diagnose as they reduce your phone's standby and backup time. You should always buy an original battery to use your phone to its maximum potential without facing any issues later. Battery replacement must be a one-time operation because you can't dismantle your phone every week to deal with issues related to the new battery. You can avoid all the problems only if you purchase original spare parts, which we offer on this page.
What are the most common issues with a duplicate battery?
You can easily find duplicate batteries in the local market for low prices, and many websites also sell low-quality products online. Please note that these products offer mediocre quality and don't last long. These are the most common problems with a duplicate battery :
A duplicate battery's backup/standby time is way lower than the original.
The battery capacity is false, and you get a 30% lower capacity than advertised.
If 4000 mAh is written on the battery, the actual capacity is 2800 mAh.
A duplicate battery often overheats the phone, and you face other issues.
Most fake batteries don't support fast charging and other prominent battery features.
Within six months at maximum, the new battery will stop working, and you will need to replace it again.
Duplicate batteries are readily available for a fraction of the price, but you can't replace the battery every six months. That's why we recommend buying original batteries to avoid any hassle later. You can't open the phone every two months for battery issues, so a one-time stress-free investment should be your primary goal.
Poco F1 Battery Specifications
| | |
| --- | --- |
| | This battery is 100% original, tested, and suitable for Poco F1. |
| | The Poco F1 battery model number is BM4E, and the battery capacity is 4000 mAh. |
| | This new battery can replace an old, swelled-up, non-working battery. |
| | Rated Capacity: 3900mAh |
| | Typical Capacity: 4000mAh |
| | Rated Voltage: 3.85V |
| | Limited Charge Voltage: 4.40V |
| | You can easily resolve all battery-related issues by replacing the battery. |
| | We offer a seven days testing period for the battery so that you can check its capacity to your satisfaction. |
| | The Poco F1 battery is readily available in stock, and shipping is fast. |
| | You can order the product using Cash on Delivery or Online Payments (an additional 10% discount). |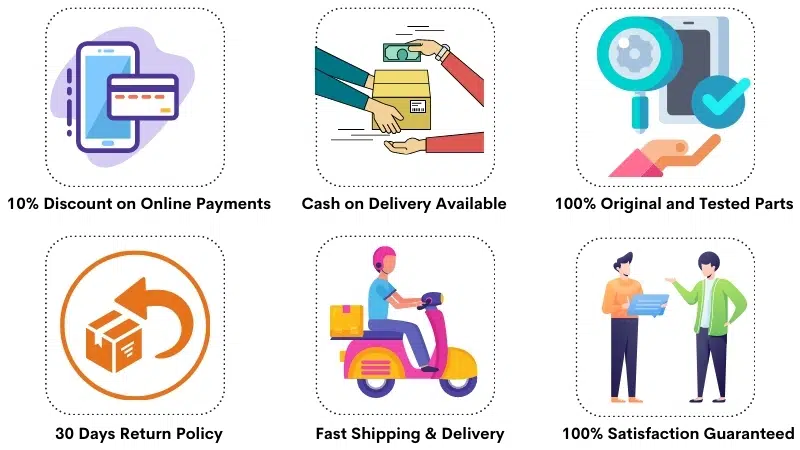 Frequently Asked Questions
Q: How much does it cost to replace a Poco F1 battery?
A 100% original Poco F1 battery replacement costs around Rs 1300-1400. A duplicate battery costs around Rs 450-500, including installation, and such knockoff batteries are infamous for their performance issues, and your phone starts to scramble with such products. Therefore, always buy original batteries and avoid all unforeseen issues.
---
Q: Should I purchase cheaper local Poco F1 batteries?
You can go for local batteries if you are low on budget and don't want to invest money in original batteries. We don't say these batteries don't work, but their backup time is not good, and you'll need to charge your phone more often. Customers often report buying local batteries and must charge their phones twice daily to cope with the daily requirement. That's a huge drawback of local products.
You can find low-cost products in every category, but their quality is rarely good. You certainly don't want to compromise on the quality for saving such a negligible amount, and that's why local products are a big no. If you buy a duplicate battery that provides 60% capacity of the original battery, you'll still need to charge the phone at least two times daily.
---
Q: How can I improve the battery life?
The battery life depends on many factors, and you can increase the battery life by employing the best usage practices. Some best practices are :
Always use an original adapter and original charging cable.
Never install duplicate charging connectors.
You should avoid charging the phone overnight when the battery is 100%.
Don't use local unspecified power banks to charge your phone.
It is easy to use the battery to its maximum potential when following the best practices. The battery life shortens only when you use the phone excessively for YouTube, Social Media, and gaming. If you use your phone moderately, you'll never face battery issues with your phone.
---
Q: Is it easy to replace the in-built battery?
Some customers think replacing the in-built battery is impossible, but that's not true. An in-built battery is assembled inside the phone and pasted on the middle frame. You must dismantle the phone and remove the pasted battery using the proper techniques to replace the battery. If you don't have the proper tools and expertise, removing the in-built battery can be tricky because you can't simply lift it.
The battery is stuck on the middle frame, and you must pull off the magic tapes underneath it to take it off. These days, most phones come with a battery-pulling sticker, so pulling off the battery using the sticker is rather easy and can be done easily. However, in the case of Poco F1, you'll likely not find those stickers; hence, you should be careful.
---
Q: What are the primary benefits of an original battery?
You should always prefer an original battery because it is a core part of your phone, and all other parts rely on the battery. These are some major benefits of an original battery :
Long Battery Life and Durability.
Promised Standby and Backup time.
Charges quickly and retains the charge.
No overheating issues.
No repeated visits to a technician's shop.
Peace of mind and confidence when using the phone.
No compatibility issues with other parts of your phone.
The original battery is always a worthy investment, and if you can't find an original battery in your locality, you can order one online and easily overcome all the battery issues. If you want to discuss a problem with us, please feel free to call us at 9587954273 and we'll surely assist you.
---
Q: How long would it take to deliver the battery?
After a confirmed order, we can deliver the product within 48-72 hours in most metro locations. If you reside in a small town, city, or village, delivery time varies from 5-7 days. Please note that faster deliveries are impossible, and parcels travel at their normal pace in most couriers. Villages have no faster delivery provisions because the necessary infrastructure is unavailable.
---
Q: How much would a technician charge for installing a new battery?
A technician would charge around Rs 150 to replace the battery, and that's reasonable. Please note that you need to give an original battery to the technician, and it hardly takes 15 minutes to replace the worn-out battery with a new one. When you replace the battery, it is a good time to clean the camera lens and remove all dust from the speaker grill because the phone is open, and cleaning things hardly takes 5 minutes.
Poco F1 Battery Photos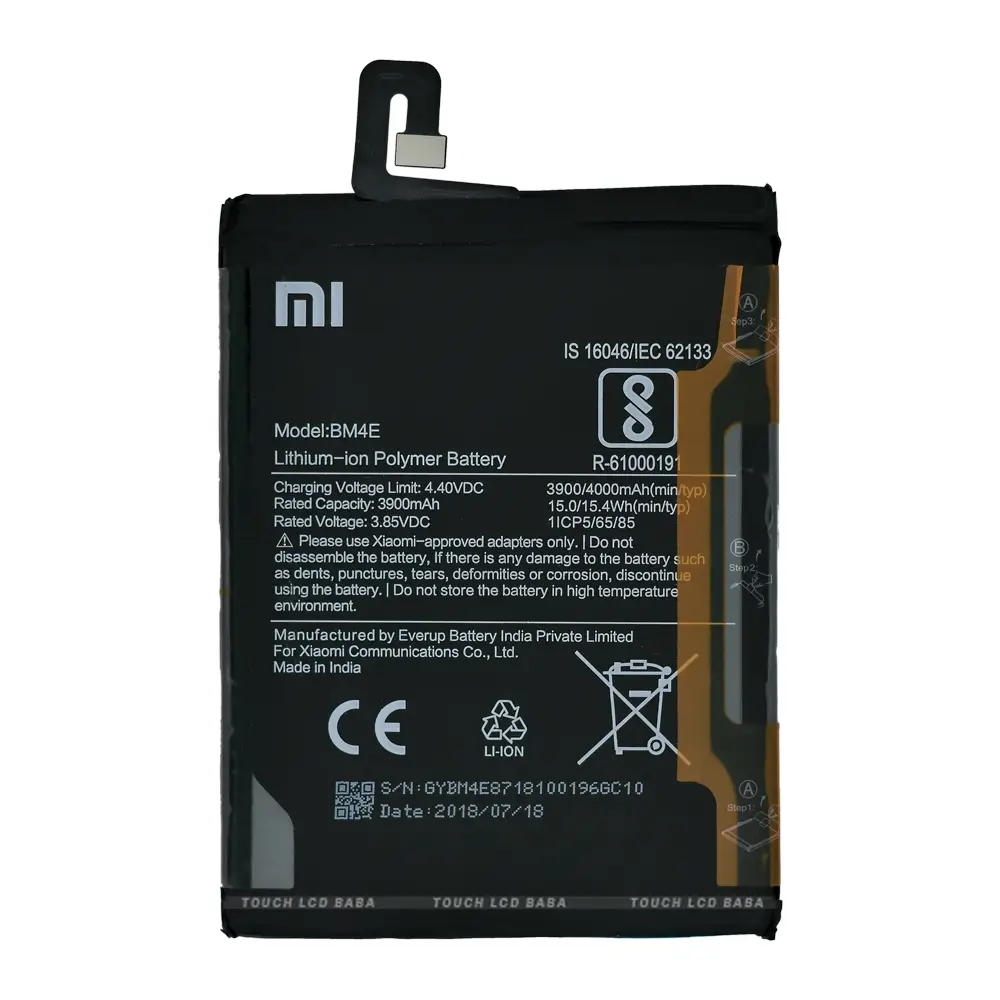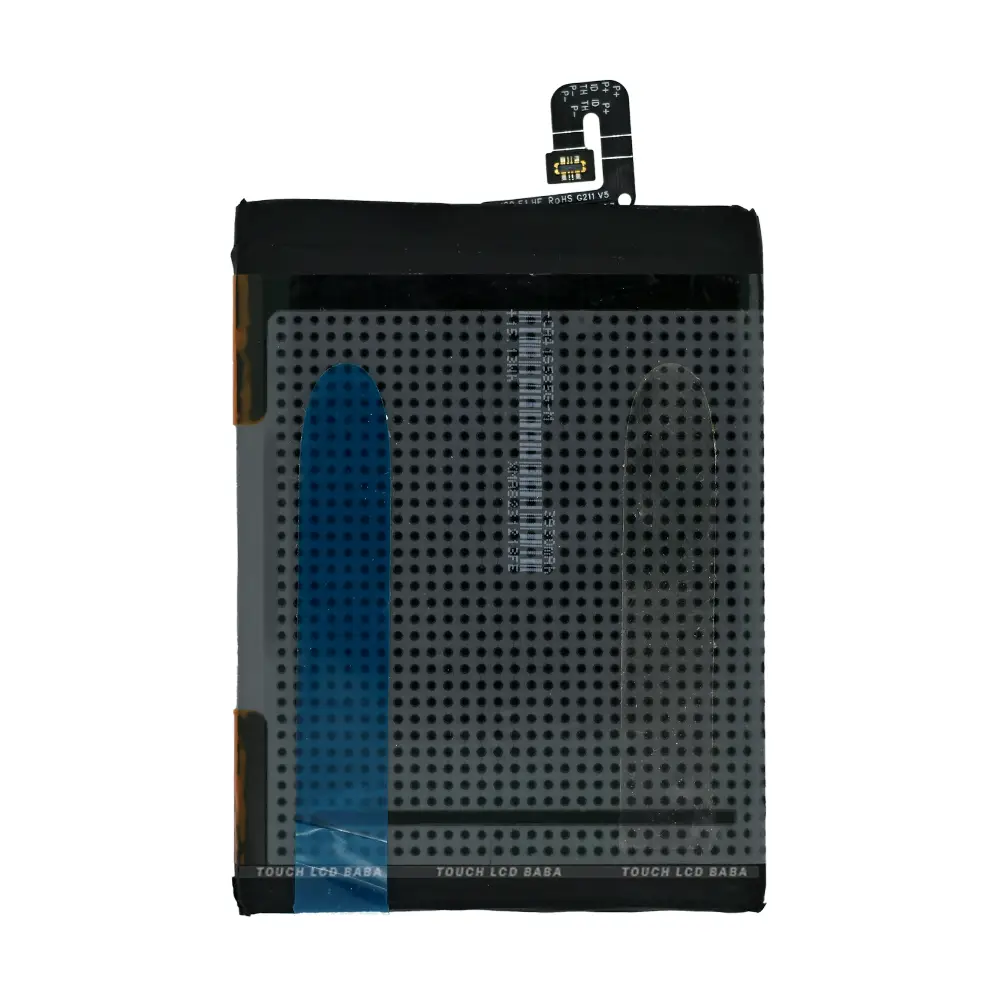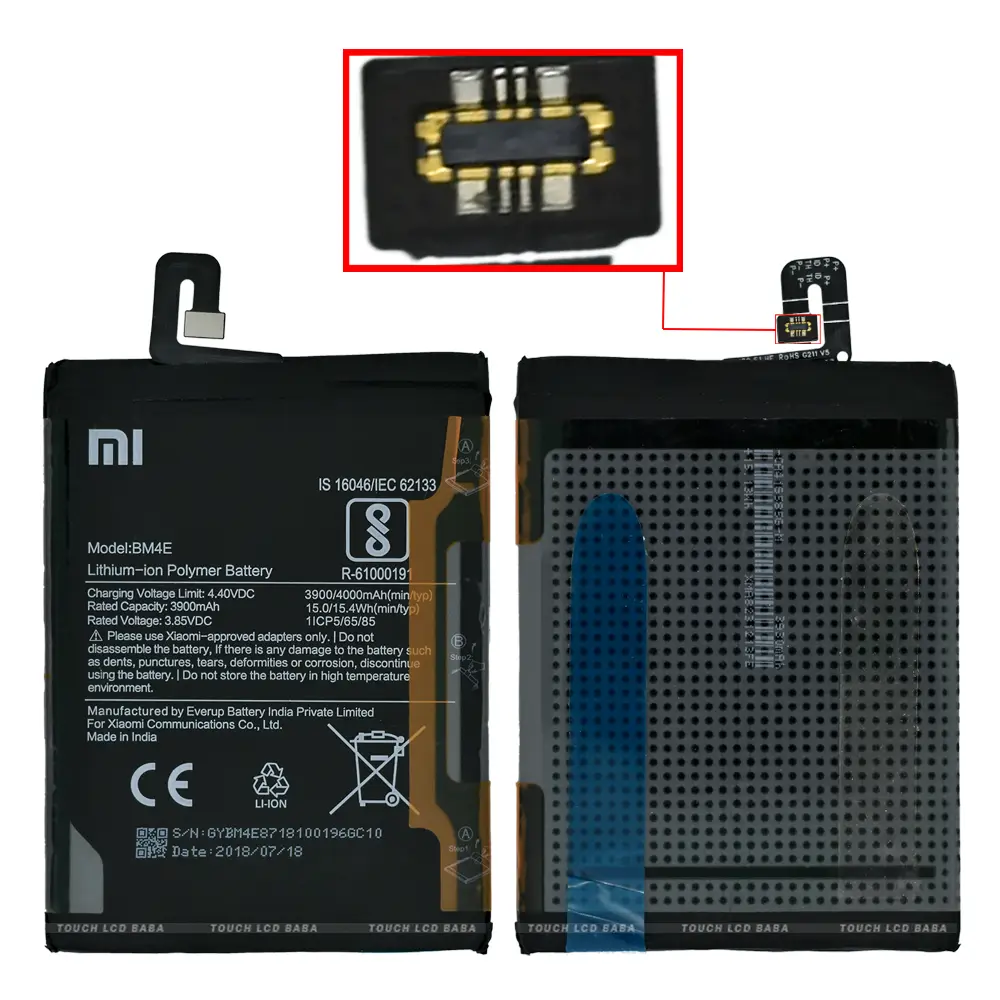 Shipping, Return and Refund Policy
All our products come with 30 days return, refund, and replacement guarantee. To return a product, It should be in the same condition we sent. You can't use or fix the new Poco F1 Battery if you want to return it. For complete details about Shipping, Returns, and Warranty, please click here.