If you found this page while searching for the Redmi Y1 display replacement, you are on the right web page. The Redmi Y1 was launched in November 2017, and it is a trendy phone in the mid-range segment. If you accidentally dropped the phone and broke its display or touch screen glass, we can provide a new display to replace the broken one.
Mobile phone screens are always fragile, and we all use tempered glasses to protect the screens from accidental damage. Still, we never know when a harsh drop will damage the screen, which actually happens in many cases. If you drop the phone from more than 3 feet of height, the touch screen glass will surely break, and a more intensive drop will also break the inner display. It is impossible to use a phone with a broken screen, and you will need to replace it as soon as possible.
What is the meaning of the Redmi Y1 display combo?
The Redmi Y1 display combo is a brand new display unit widely used to replace a broken LCD or touch screen glass. The display combo is a complete solution because the display and the touch screen glass come in conjunction, and this is the ideal way of replacing broken screens. If you replace the complete display unit, you can enjoy the same display quality as before.
If you wonder how the official service center replaces the broken screens, they also use a combo to replace the broken part. The display combo is a fresh unused part widely used to replace a broken LCD or touch screen glass in Redmi Y1. You can see the actual combo in the product photos below.
Is it essential to change the complete display combo?
These days, all mobile phones are made on folder technology. It means that the display and touch screen glass are connected. Even if one individual part breaks (either the display or the touch screen glass), you still need to replace the complete display unit if you want to retain your mobile phone's original quality.
Many customers want to explore alternative options to save some money and prefer to replace only the touch screen glass and reuse the same display. This solution delivers a refurbished kind of display that uses a duplicate touch screen glass, but you'll give up all the fluidness of the original touch screen glass. The duplicate touch screen glass never works as desired, and if you press the letter A, something else will be taken as an input command. The duplicate touch screen's response is not accurate, and you've to correct the typings several times to make it work.
It is essential to replace the broken combo with a new original combo if you want to preserve your screen's original quality. Replacing only the touch screen glass can give you a refurbished screen, but that doesn't last long anyway. If you don't care about the screen quality, you can try your hands on touch screen glass replacement and first copy duplicate screens.
Redmi Y1 Display Specifications
| | |
| --- | --- |
| | This display is 100% original, tested, and suitable for Redmi Y1, model number MDI6S. |
| | The Redmi Y1 display size is 5.5″, the display type is IPS LCD and the resolution is 720 x 1280 pixels. |
| | The top layer of touch screen glass comes with Corning Gorilla Glass 3 protection. |
| | You can use this combo to replace a broken display or touch screen digitizer glass. |
| | We buy our stock from OEM manufacturers to ensure 100% original quality. |
| | The display offers 100% the same colors, quality and brightness as before. |
| | We test each display on the actual motherboard of Redmi Y1 before shipment. |
| | We back our products with a 30 days return, refund and replacement guarantee. |
| | You can also test the display by connecting it with your mobile phone in an open condition. |
| | The display is readily available in stock and turnaround time is very fast. |
| | You can order the product using Cash on Delivery or Online Payments. |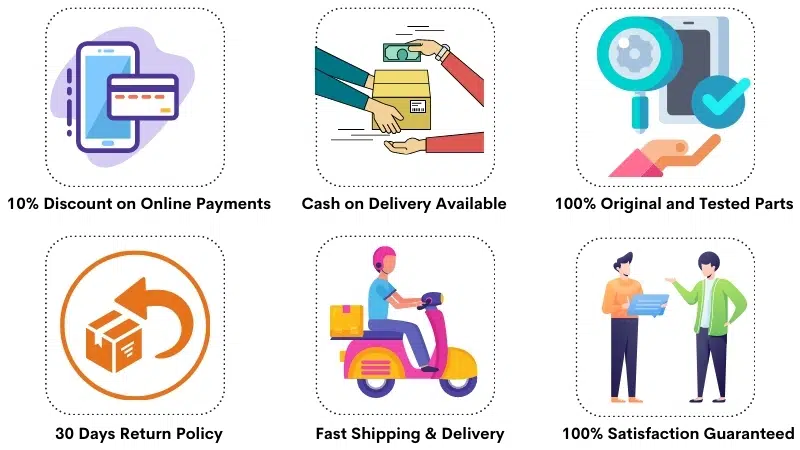 Common Customer Questions
Q: How much does it cost to replace a broken Redmi Y1 display in India?
The price of a 100% original Redmi Y1 display replacement is around Rs 2200-2500. If you buy a first copy screen replacement, then the combo costs about Rs 1100-1400 in India. You may have to pay additional repairing charges on top of the display's price to a mechanic.
Q: What is the first copy display easily available in the local market?
Many customers assume or are misinformed that the first copy display is a 99% quality product or closely resembles the original Redmi Y1 display. In reality, a first copy display is a low-grade version of the original screen that provides around 50% quality of the original display in terms of colors, quality, and brightness.
The first copy display is the biggest culprit behind the unsatisfied customers in the local market because almost everyone markets and sells it. You'll even find lots of technicians who claim to provide an original display and even charge you a high price for that, but under the hood, they use the same duplicate display. Mostly, original screens are not available in the local market because the price war is blooming on a large scale. All the customers want original spare parts for low prices, which is practically not possible. The first copy word is a sugary term to trap you into duplicate display replacements.
Q: Can I purchase an original Redmi Y1 display for a low price?
Many customers want to purchase the original screens for a low price, but that is not possible in any trade. Almost all customers wish for an original display, but only a few of them actually want to spend the money required for purchasing such a spare part. Mostly, customers try to find deals and order from the website that offers the lowest price. Such price comparison is flawed because you compare apples with oranges.
When you compare the price of an original display with a duplicate screen and then buy the cheaper one, you'll not get what you are looking for. The price comparison strategy is useful only in an industry where the product's aspects are 100% equal, like mobile phones. In this business, you can't simply compare the price and buy the cheapest one because the quality differs a lot. According to our experience, you will never get an original spare part for a low price.
Q: Which color's display should I purchase?
The Redmi Y1 phone comes in 3 different colors, Rose Gold, Gold, and Dark Grey. If you are using the Rose Gold or Gold variant, you should purchase a white color display. If you are using the Dark Grey variant, then you should purchase a black display. You should always purchase the display that matches your phone's color. It is possible to swap the colors, but then the phone will look a little strange.
Q: Is it possible to test and verify the new display before installation?
Yes. It is certainly possible to test the new display before installation, and you must always do that. We always inform all customers to test a display before assembling it first because if you install it right away without testing and later, if it doesn't work, you can't replace it. After all, it is a used display now.
You should always connect the new Redmi Y1 display to your phone's motherboard in an open condition and turn on the phone. The open condition testing is a perfect way to test new screens, and it is how all the technicians and service center people do it. After verifying the working condition of the new display, you can install it permanently on your phone.
Q: What if the new display doesn't work or turns out to be defective?
All mobile phone screens come with 30 days return, refund, and replacement guarantee. Please note that you can't return a product after installing it on your phone, but this 30 days policy is valid only on unused products. When you test the new Redmi Y1 display on your phone in an open condition and face any issues, you can share a small video of the problem with us on WhatsApp 9587954273. We'll verify the issue and then arrange a pickup for you.
If you've a genuine issue and you follow all the guidelines, there will be absolutely no issue with the replacement or return. We don't accept any returns after removing their screen guard because that indicates some shady things done to the display. Removal of screen guard means you have already verified the display for working.
Redmi Y1 Display Photos
These photos show the actual product you'll be getting. This is a complete combo of Redmi Y1 consisting display and touch screen glass both. You can see two flex cables in the pictures. One is for display connection and one is for touch screen connection.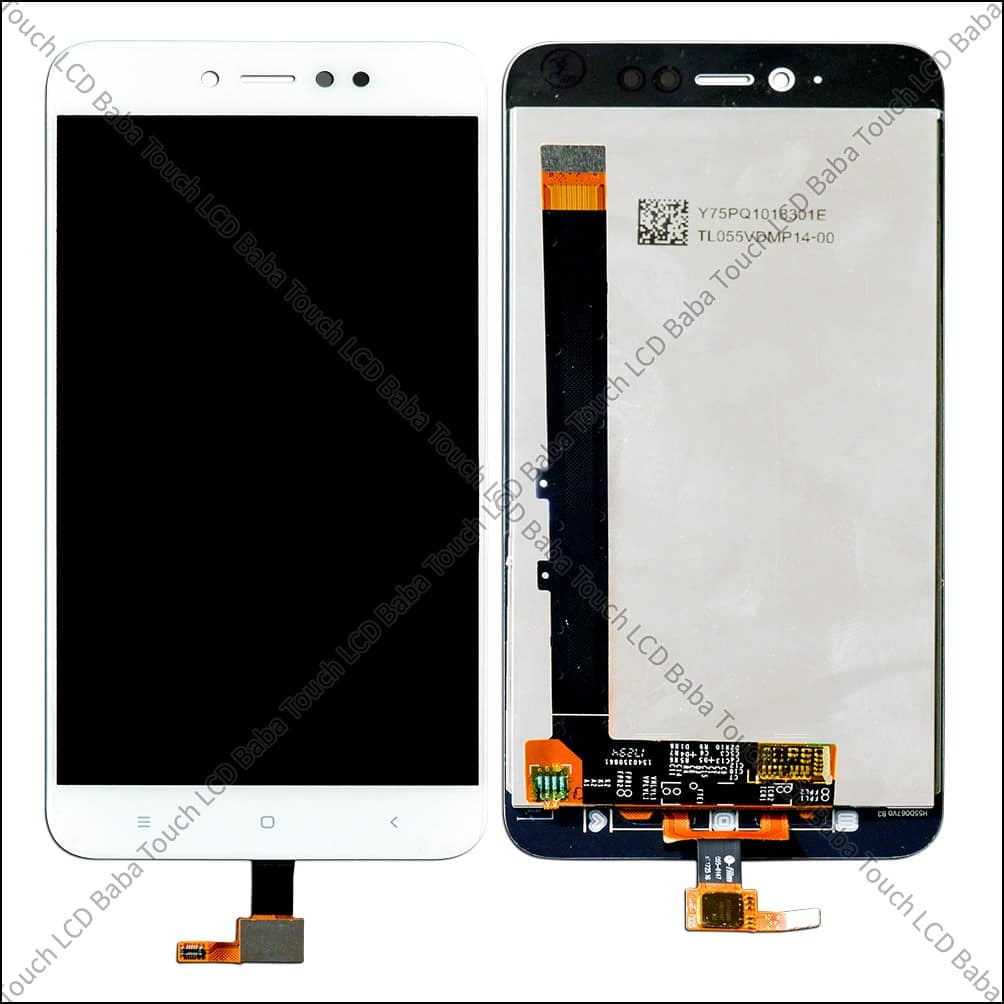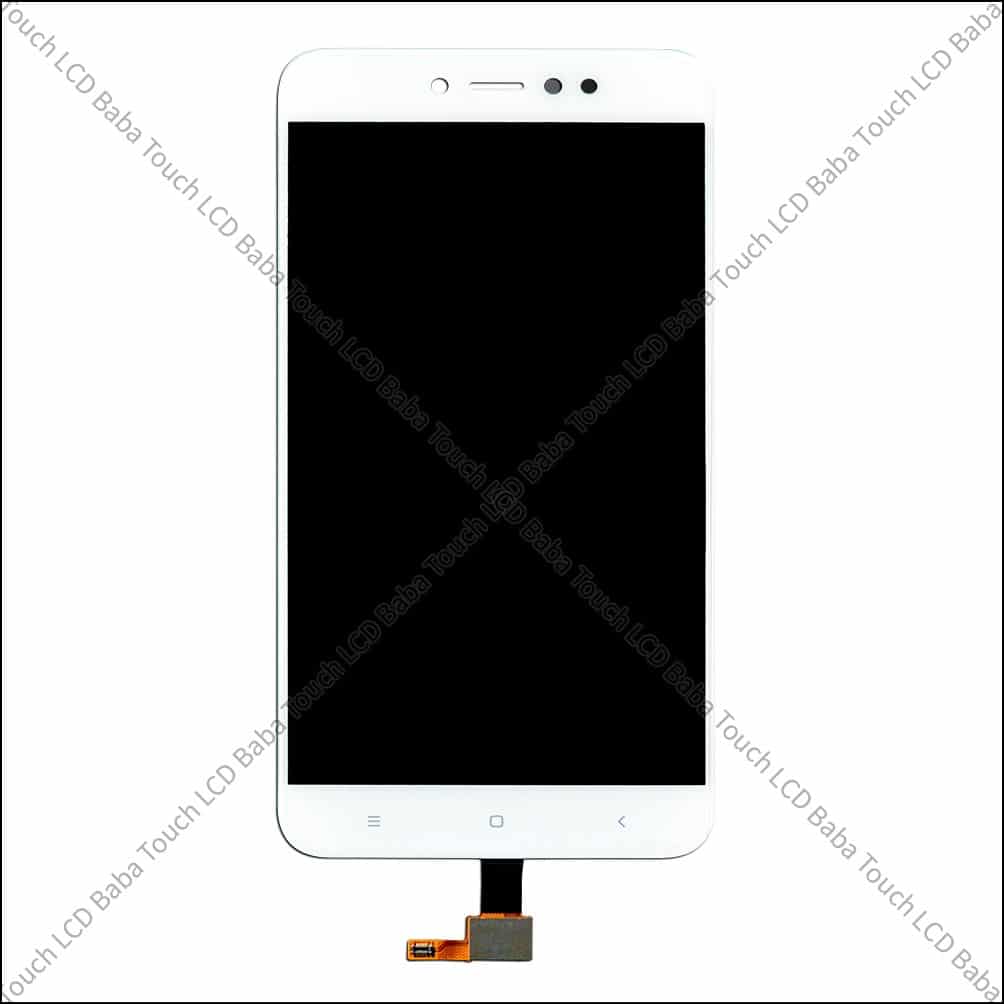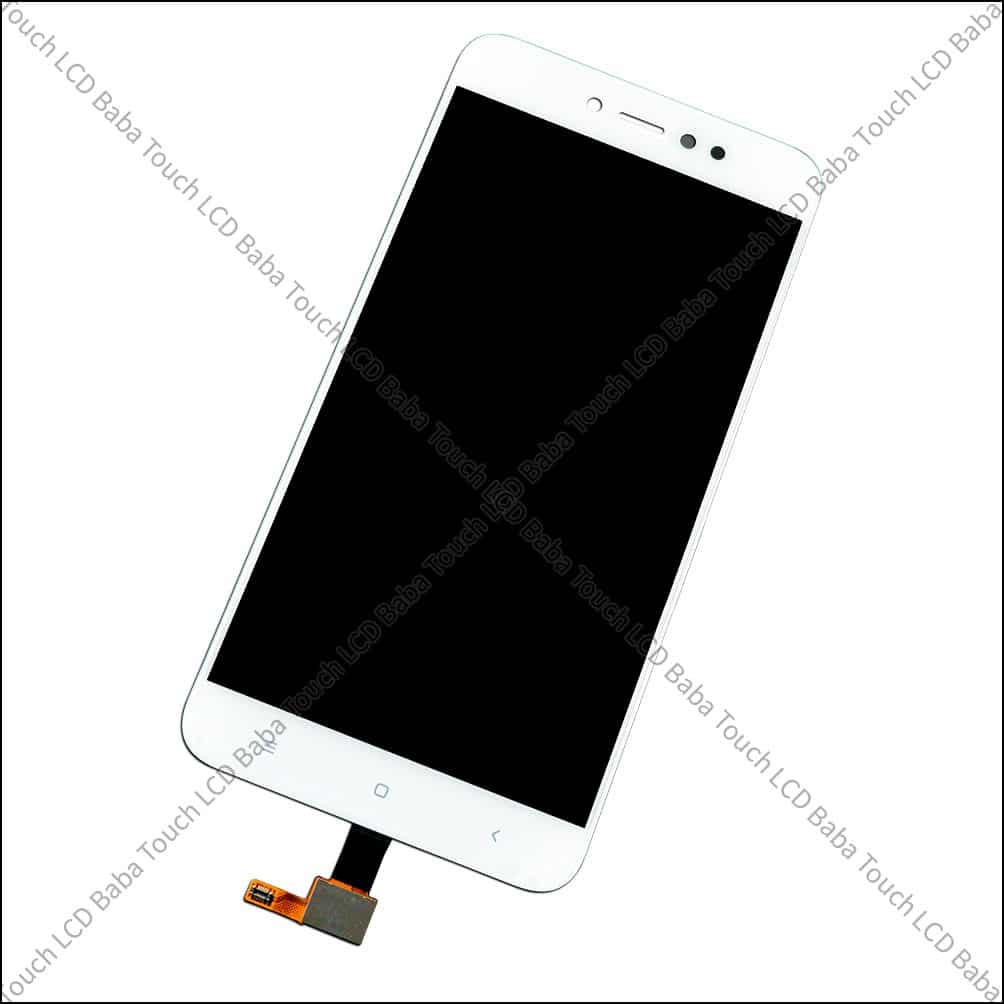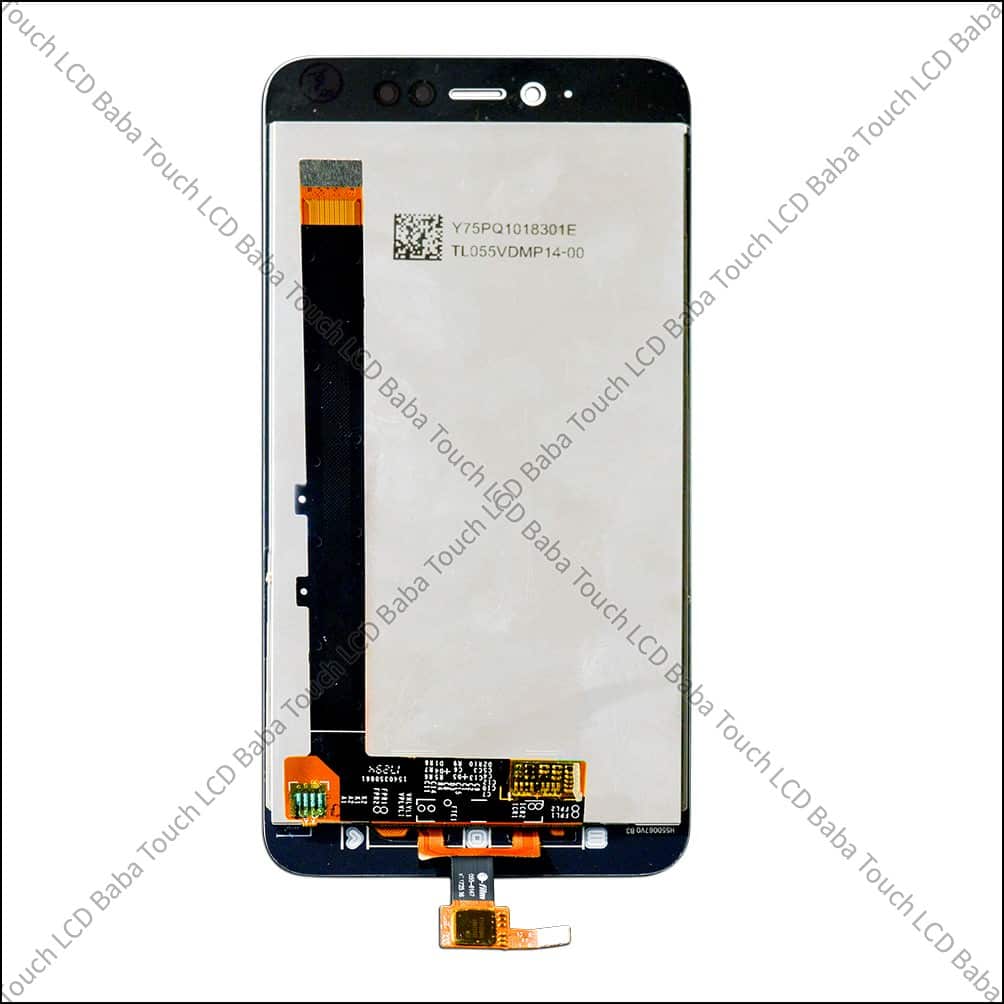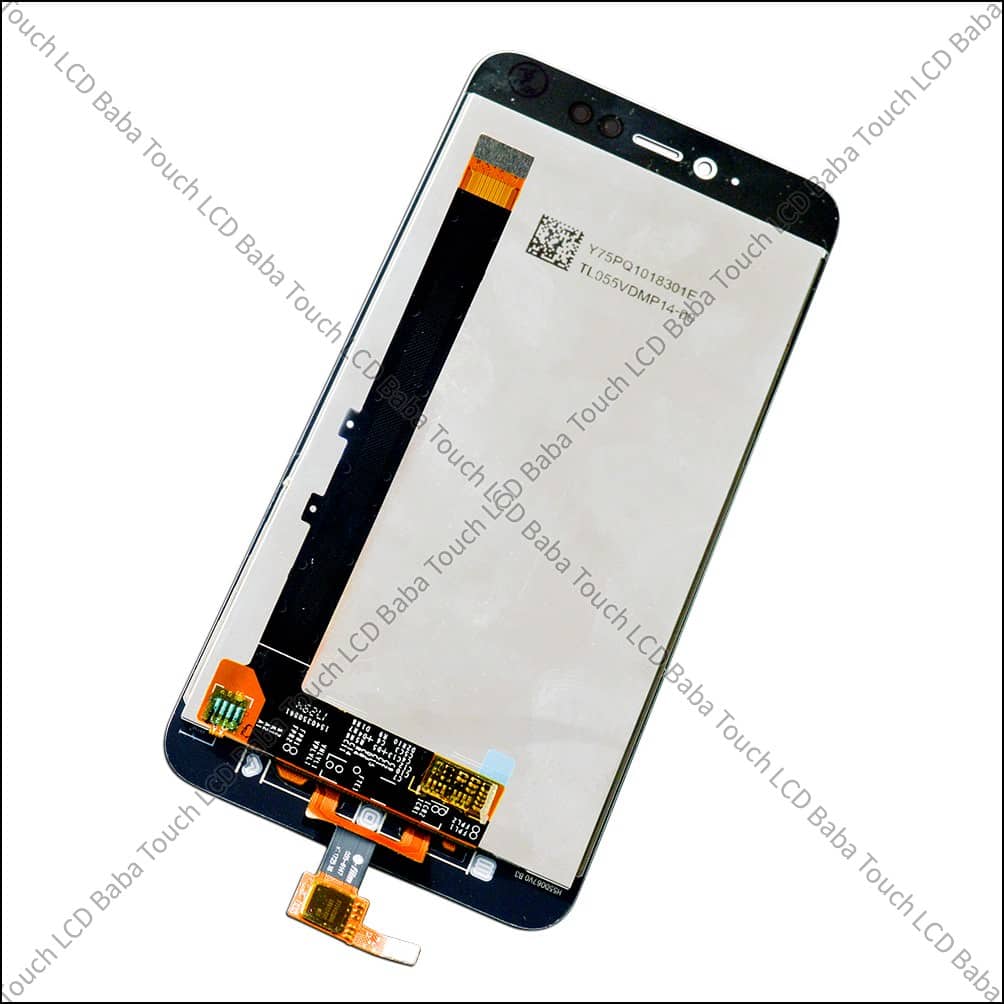 Shipping, Return and Refund Policy
All the products supplied by us come with 30 days return, refund, and replacement guarantee. To return a product, It should be in the same condition as we sent. You can't use or fix the items If you want to return them. For complete details about Shipping, Returns and Warranty, please click here.